All gay porn videos and gay porn videos of Sergio Moreno.
Our hot-blooded Spaniard, Sergio Moreno is a work in progress, as he likes to put it. Sergio says that he is constantly working on being a well-rounded individual, in mind, body and soul. He keeps his mind active by trying to learn new things all the time, the gym 6 days a week, for that perfectly sculpted body and true friends to keep him grounded. He failed to mention that he is horny 24/7.
Hair Color: Brown
Sign: Unknown
Eye Color: Brown
Dick Size: 9 inch dick (22.86 cms)
Height: 6'0″
Cut / Uncut: Cut / Circumcised
Weight: 185lbs
Sexual Positions: Versatile
Sexual Orientation: Gay
Nationality: Spanish
Sergio Moreno gay porn scenes at Kristen Bjorn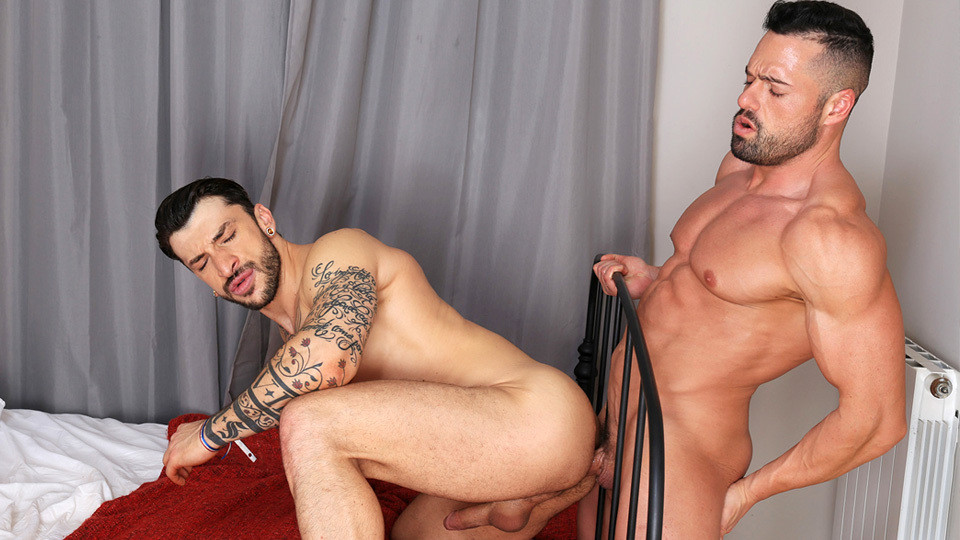 Sergio Moreno and Gabriel Lunna are having a great holiday at the sunny beach resort. Gabriel and Sergio return to their room all worked up from seeing all the hot men on the nude beach.
They quickly drop their shorts and begin exploring their smooth, muscular bodies and throbbing, thick cocks. Sergio drops to his knees and immediately consumes Gabriel's cock, balls deep.
Those full, luscious lips of Sergio's wrap around Gabriel's cock and suck him deep inside of his hungry throat. Sergio then stands on the chair and Gabriel shows him that he also knows how to suck cock all the way down his throat as well.
Taking Gabriel's head into his hands, Sergio drives Gabriel up and down his rock-solid cock shaft. Gabriel moves onto all fours on the table and Sergio applies his full lips to his perfect pink hole.
Sergio's tongue probes in and out and fills Gabriel with pure pleasure. The guys move to the bedroom and Gabriel plunges his raw cock through the iron bed rails and deep into Sergio's awaiting ass.
Gabriel pumps his cock in and out of Sergio's hot hole as Sergio's balls draw up tight, preparing to unload. Flipping Gabriel onto his back on the bed, Sergio rams his cock full depth into Gabriel's bare ass.
With every thrust of Sergio's hips, his cock delves deeper and deeper into Gabriel's ass and his cock responds with being on the verge of explosion.
Sergio picks up the pace and Gabriel is left with no choice but to let his hot load of cum fly.
As the cum floods out of Gabriel's cock, Sergio picks up his rhythm and his cock springs out of Gabriel and his huge load of cum coats Gabriel's ripped abs, spent balls and drenched ass.
Sergio slowly slides his cum drenched cock back into Gabriel's ass then leans in and begins to lick his cum from Gabriel's thighs and suck his cum from Gabriel's ass.
Sergio's felching skills reward him with his own hot load of cum…Join them!
Traversing the city has its challenges, but Mario Domenech knows the right streets to cut through and somedays you just might run into a hot man like Sergio Moreno. Mario notices Sergio getting off of his motorcycle, because every man on a motorcycle is hot, and exchanges that special look with Sergio.
Mario joins Sergio at his flat and both men begin working over the other's nipples and pits. With a quick dose of spit Mario easily glides his lips down the full length of Sergio's rock-hard cock. Mario loves the feel of that fat cock filling his mouth and chokes it all down.
Sergio leans Mario back and applies his ample lips to his meaty cock, sucking him to his full length and girth. Mario flips Sergio and licks, laps and fucks his hairy hole with his probing tongue. Once Sergio's hole is fully lubed up with spit, Mario shoves his raw cock deep into that furry ass.
Mario finds that Sergio's ass is getting him too turned on too fast and has to pull out. Sergio flips Mario and has him squat down on his huge cock. Mario loves the sensation of this motorcycle studs raw cock deep inside of him and drives his ass harder onto his steely rod as his own cock flops around with pleasure.
Sergio continues flipping Mario in multiple positions before he ends up on his back and his ass filled to capacity. This position strokes Mario in all the right places and forces his hot load of cum to erupt and shower his ripped abs.
Mario's ass grips Sergio's cock and massages him into an explosion of thick gooey cum that coats Mario's furry hole. Sergio massages, then penetrates Mario's wet ass with his cum slicked cock.
A motorcycle stud always knows how to mount a hot man and ass…Join them!
After looking at hot naked men all day at the beach, Xavi Garcia and Sergio Moreno return home horny and ready to fuck. Sergio and Xavi enjoy the slow ritual dance of stripping away their clothes and unveiling their rock hard cocks.
Sergi wraps his full, succulent lips around Xavi's straining cock and swallows him whole. Sergio then instructs Xavi to swallow his cock slowly as he guides his mouth onto his thick, uncut cock. Xavi turns and Sergio spreads his hairy ass cheeks open to expose his hot, pink hole.
Sergio's ravenous tongue dives in and heightens both men's levels of pleasure. Xavi begs Sergio to fuck his raw ass so Sergio teases his wet ass before plunging his rigid cock deep within his bare ass. Squatting down on Sergio's steel rod, Xavi lowers his ass onto Sergio's cock and fills his canal and entire body full of ecstasy.
Sergio fucks Xavi until he fucks the cum right out of his throbbing cock. Sergio continues to fuck Xavi as his balls draw up tight and as his cock fills with his load of cum that floods out of his hood like a geyser exploding into the sky.
Xavi lowers his raw ass back onto Sergio's cum drenched cock. Seeing so many hot, naked men at the beach can make us all horny as fuck…Join them!