All gay porn pics and gay porn videos of Trenton Ducati.
Hair Color: Brown
Sign: Leo
Eye Color: Brown
Dick Size: 8-inch dick
Height: 6'1″ / 185 cms
Cut / Uncut: Cut / Circumcised
Weight: 220 lbs / 100kgs
Sexual Positions: Versatile
Sexual Orientation: Gay
Nationality: American
Trenton Ducati gay porn scenes at Titan Men
A pulsating charge courses through their buff bodies, an erotic energy they can't ignore. They're Hot Wired from head to toe, and things are about to explode.
Get electric with TitanMen exclusive Trenton Ducati, who leads a handful of blue collar contractors as they enjoy some on- the-job training in hot male mechanics.
In need of a break from work, Race Cooper offers his hard tool to boss Jessie Colter who is happy to take orders and offer his services as the tables are turned.
With his massive frame towering over beefy Brad Kalvo, smooth and tattooed Trenton Ducati face fucks his hairy bud before bending over and taking it like a man.
Smooth and tan Jordan White is eager to please Trenton Ducati, who shuts his bud's inquisitive mouth before bending him over—and then holding him up—for a moan-filled fuck…Join them!
Hard at work all day long sweating in the heat of the summer sun what you need is a long hard fucking, pounded by big muscle men Jesse Jackman and George Ce.
They have the right tools to service your every need and make you ache for more.
Hot porn star model Trenton Ducati loves getting his photo taken by photographer George Ce, his cock is already hard.
The two of them suck down hard on each other's huge massive cocks before Trenton's dick stays rock hard as he gets his hot bubble ass fucked hard.
Another big muscle dude Landon Conrad isn't shy at all.
After a full day's hard sweaty work, he goes in for the kill forcing himself on hairy boss Jesse Jackman who is more than happy to offer his holes.
Jock Adam Herst needs a break.
After pulling in tattooed co-worker Collin Stone for a kiss, they share sucks before Adam bends over.
Trenton Ducati gay porn scenes at Hothouse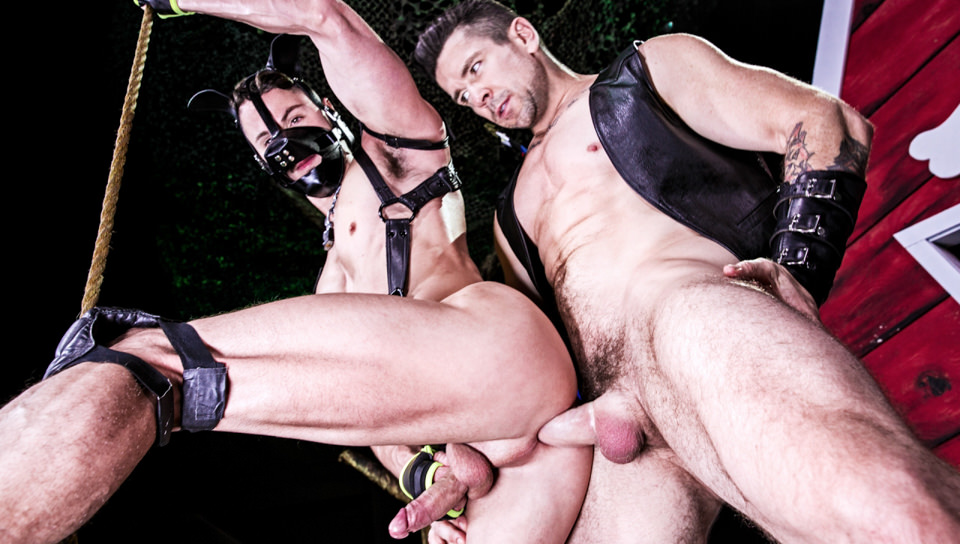 Trenton Ducati is an incredible puppy trainer and when he gets Skyy Knox on his leash, Skyy will do anything to make his master happy. With a reward of recognition for being a good boy with every proper command carried out, from sitting to fetching, Skyy gets his belly rubbed and his ass patted.
Skyy knows he's been a good puppy when Trenton moves from thumping his butt to rimming his smooth hole. Once Trenton is sure that Skyy is opened and lubed up he commands Skyy to suck his cock.
Skyy once again pleases his master by slobbering all over the massive throbbing dick. As with everything pups do, they know there will be a reward and this time Skyy's reward for a proper dick sucking is Trenton planted balls deep firmly in his ass.
Skyy assumes the position and lets Trenton pump away as the puppy pants and begs for more. The pup's warm hole feels amazing and Trenton works himself to the brink before he pulls out and gives Skyy the ultimate reward with a face and mouth full of cum.
Skyy laps it all up as his trainer gives him permission to let loose. Happy to have their release, the two studs roll around in the grass and share Trenton's jizz by licking each other clean…Join them!
Trenton Ducati scenes at Maskurbate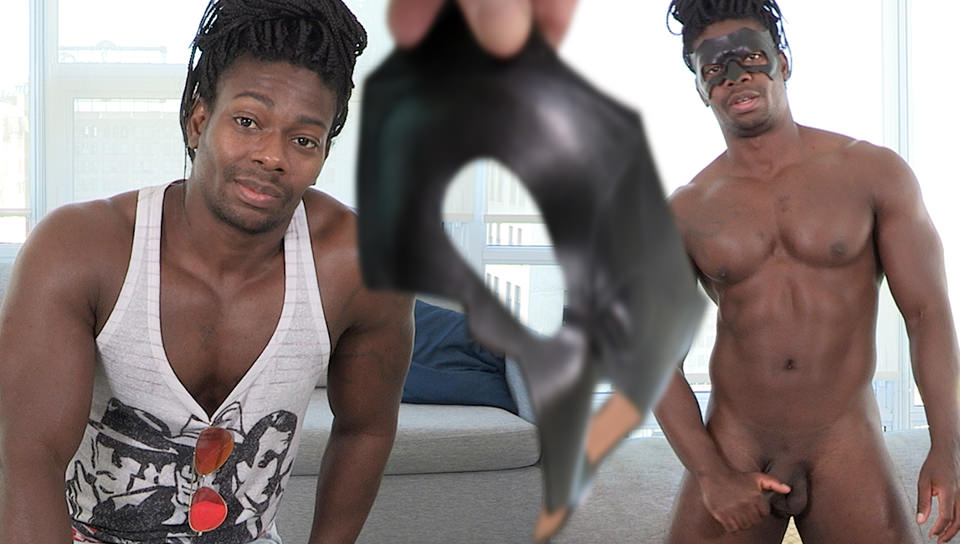 Tommy Smith came to L.A. to apply on a waiter job. This very special position required some nude dancing. Tommy wasn't comfortable being filmed while auditioning, so Trenton offered him to wear a mask.
It didn't take long for Tommy to show him his best moves and he surely had what it takes to entertain our guests. Trenton Ducati noticed how the new guy fucked his Flesh jack and took note to call him back to see how his large cock can actually fuck a guy for real. To be continued…Join them!
Trenton Ducati scenes at Dylan Lucas
Sam Truitt is in trouble with the law and this time Officer Trenton Ducati is going to make him pay his dues. Sam has been busted beating off in the storage room again and his friend has ratted him out to cover his own ass.
Officer Ducati grills him with questions until he finally gives in and that's when Trenton dicks him down with his hard cop cock. Sam will do anything to get out of this and by the looks of it he is doing just that. Officer Ducati is calling the shots as his boy deep throats his hard dick.
Sam's big cock needs attention also and Trenton is making sure he wraps his mouth around it to feel it throb in his mouth. Officer Ducati bends Sam over the chair to spread his ass to get his tongue deep inside his hole and ready to be fucked.
Officer Ducati pushes his hard cop dick into Sam and begins to fuck him hard and fast. He fucks him in a few positions but makes his offender bust a nut while lying on his back. Trenton isn't letting him get away that easy as he releases his built up load all over this young offender…Join them!
Trenton Ducati scenes at Naked Sword
It's the ultimate fight, everything's on the line and these fine athletic studs will do anything they can to finish off their opponents.
They're jacked up, they're hot as hell and they're horny as fuck, they're, TKO Total Knockouts.
They will fuck you until you beg for mercy and throw in the towel. Nick Foxx directs eight relentless, horny studs who punch, grapple, wrestle, suck, and fuck their way to mixed martial arts victory.
Ian Greene is the up and comer vying for the win against Ryan Rose, but Ryan's USMC training gives him the upper hand over Ian and his tight ass.
Austin Wolf asserts his solid, massive body in dominance against Josh Conners, claiming his prize with a no-holds-barred fuck.
Trenton Ducati imparts some pro tips upon Alexander Gustavo, winning the fight and giving Alexander a hands-free cum shot.
Micky Jr takes a beating from Sean Zevran, bending over to take Sean's cock doggy style and receiving a load to the face.
Watch the excitement, intensity, and heavy action as the studs of 'TKO Total Knockouts' fight for the sexual dominance…Join them!
Horned up grease monkeys Kyler Ash and Kory Houston are hitting the hooch hard and soon they turn their attention to each other's hard cocks.
Right in the middle of the throat-fucking, ass-pounding action the young greasers are joined by boss daddy Trenton Ducati who shows these punks the ins and outs of a hot flip-flop-fuck three way…Join them!
The day started out like any other on the Ridge Family Farm. Duke (Rocco Steele), his son Ryder (Colton Grey), brother-in-law Fredrick (Trenton Ducati) and nephew Beckett (Jacob Peterson) head out for a long, hot day of hard labor.
Ranch hands (Brian Bonds and Brandon Wilde) soon discover their trusted tractor won't start and domineering Fredrick has little patience for excuses. Its payday again and Fredrick is less than satisfied with their performance on the field, its time to make it up with a load yielding performance on his big dick.
Fredrick pushes the guys down to face fuck innocent Brian and Brandon then rips their pants down to have his way with their pink holes. Brandon makes it up to his angry boss by climbing the ladder in the barn and warming up his hole with a ranch hoe.
The guys switch from circus fuck to train to both of them swallowing all the loads. Paychecks are earned but Uncle Fredrick forgot there are eyes everywhere on the Ridge Family Farm…Join them!