All gay porn pics and gay porn videos of Tristan Jaxx.
Hair Color: Brown
Sign: Unknown
Eye Color: Brown
Dick Size: 9 inch dick
Height: 5'7″
Cut / Uncut: Uncut / Uncircumcised
Weight: 185lbs
Sexual Positions: Top
Tristan Jaxx gay porn scenes at Men.com
Boyish-looking, athletic Tristan Hunter just got hired to be the new nanny for muscular Tristan Jaxx, and his wife. Hunky Tristan Jaxx works from home, and occasionally comes down to make sure things are running smoothly.
Tristan finds his hot, new "manny" in his jockstrap, with his ass cheeks out cleaning the counter. He's both shocked, and turned on as his massive meat quickly rises.
It doesn't take much convincing for the straight stud to give in to his curiosity, and sexual desire before his wife comes home….Join them!
Tall, chiseled Jack Hunter heartlessly left behind fit hunk Paul Canon in the clutches of his sadistic power-top stepdad Tristan Jaxx.
Trying to do the right thing, brown-haired Jack comes back to the basement to rescue Paul, only to find that he's been converted into an obedient leather stud by Tristan, and that he's none too pleased about how his supposed friend abandoned him.
Horny Paul and athletic Tristan teach him a lesson in loyalty, allegiance, and obedience with their hard, hung erect cocks….Join them!
Tristan Jaxx gay porn scenes at Titan Men
Face it: times are tough. You're looking for anything to provide some relief in these difficult days, whether it's an intense stare from a stranger or an erotic opportunity you can't pass up at work.
You're Hard Up, but luckily you're not alone—plenty of other hot and hung studs are ready to give you what you need.
Caught with a "not safe for work" photo, blond Christopher Daniels has no choice but to strip for co-worker Johnny Hazzard the two sucking and fucking each other to release their stress.
Muscular and bearded Spencer Reed sets his gaze on smooth stranger Carsten Andersson who gets his face and ass fucked by the tough-talking top.
One smile from masculine Tristan Jaxx is all it takes for cute Devin Adams to get seduced—the two slurping each other before Tristan shoves his huge uncut slab deep inside the bottom….Join them!
Luke Adams gets caught in his jockstrap by gym bud Tristan Jaxx: "Damn dude, that's a big ass." Tristan fingers the jock's muscle butt, slapping it as they smooch.
Luke grabs the big bulge in Tristan's shorts, the tent pole grinding against him. Luke frees the beast ("Fuck, dude! Holy shit!"), sucking it deep before Tristan wraps his scruffy lips around the smooth stud's thick boner.
Tristan eats him out and pounds him from behind. Luke sits on it, his own pole slamming up against his stomach. "I love that big dick" he moans on his back, slamming his own cock against Tristan's abs.
The top shoots a monster load on Luke, rubbing it into his stomach and feeding it to him…Join them!
Tristan Jaxx is cruised hard by big-biceped passerby Jeremy Spreadums. They take their make-out session inside, Jeremy working up the bulge in Tristan's briefs.
He swallows the salt-and-pepper stud's big uncut cock, Tristan whipping it on his tongue. Jeremy gets his face fucked, spit dripping down his arm.
Tristan sucks the jock back, Jeremy smiling as he begs the top to fuck him. Tristan pounds him from behind, Jeremy then riding it balls deep as his own boner bounces.
He gets the cum fucked out of him on his back, Tristan gushing a huge load over the smoothie…Join them!
Tristan Jaxx gay porn scenes at Raging Stallion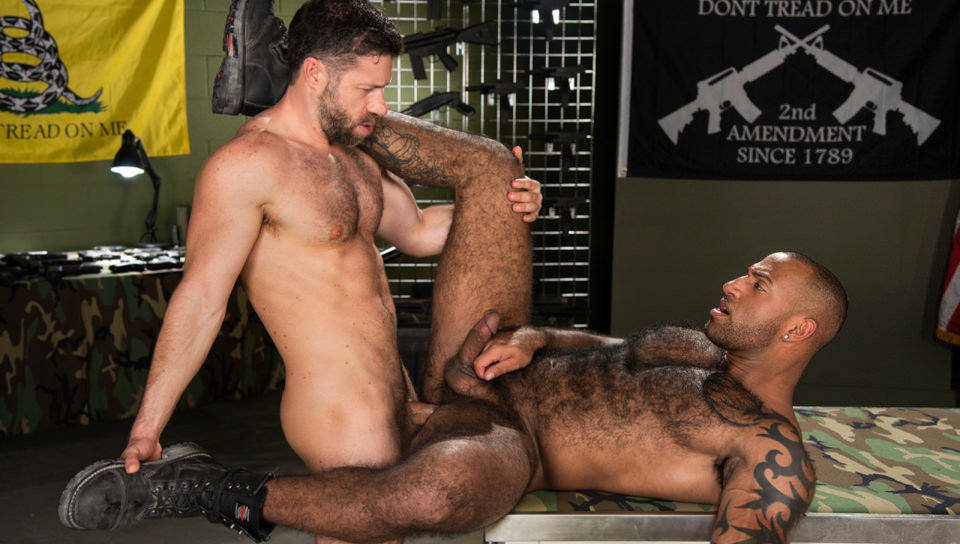 Gay gun seller Daymin Voss is running a booth at the gun show when Tristan Jaxx shows up just as Daymin's stand is closing for the day. Tristan is looking to buy something for self-defense but doesn't know much about owning a gun.
Daymin shows him how to hold it and when Tristan is holding the weapon up, Daymin comes up behind him. The touch of Daymin's big manly hand on his side makes Tristan get a stir in his pants and the two studs start to make out. Daymin gets the stranger out of his shirt before peeling off his own.
The scent of Daymin's manhood is almost more than Tristan can handle and he goes in to worship Daymin's ripe sweaty pits. The session drives Tristan wild and he gets on his knees to take Daymin's big cock in his mouth. Daymin loves dick and can't wait to taste what Tristan has pressing against the fabric of his pants.
Daymin removes Tristan's pants and gets dirty by sucking his cock. Daymin loves every inch of it in his mouth and tells his new friend that he's going to open his ass for him. Tristan is more than willing to honor the request and bends Daymin over the gun table to eat him out.
Tristan takes his time with the fresh meat and gets as far inside Daymin's butt as he can get with his fingers and tongue. When Tristan is convinced that Daymin is good and opened up, he stands and slips his hard cock deep inside. He gives Daymin a pounding that the stud won't soon forget and stretches him even further with each thrust.
Daymin begs for Tristan to go deeper and grunts harder the further in Tristan gets. Tristan's pelvis slaps against Daymin's bubble butt as skin hits skin. The two studs switch it up more than once and finally settle with the gun dealer on his back getting plowed.
Tristan increases his intensity to get himself closer and plugs away as Daymin begs for him not to stop. Daymin yells out: 'Dude, you're so fucking deep.' as his cock explodes and varnishes his hairy body with a thick layer of cum.
Tristan is happy to have given so much pleasure and pulls his cock out of Daymin's tight hole to blast his own load of cream. It's a real gusher, and it covers Daymin's bush and stomach with a seemingly never-ending barrage of squirts.
Daymin can't believe his eyes and feels lucky to be covered in so much jizz…Join them!