All gay porn pics and gay porn videos of Lorenzo Flexx.
Hair Color: Brown
Sign: Unknown
Eye Color: Brown
Dick Size: 7 inch dick
Height: 5'9″
Cut / Uncut: Cut / Circumcised
Weight: 200lbs
Sexual Positions: bottom
Lorenzo Flexx gay porn scenes at Bromo
Hairy, buff boy Lorenzo Flexx wants nothing more than to command his new, sexy bottom bitch, Dane Stewart.
Lorenzo pours a bottle of water all over him, demands he get naked and start sucking on his big, curved dick until he's gagging on it.
Once primed and wet, he turns Dane's bottom around and fucks him bareback doggy style…Join them!
Lorenzo Flexx gay porn scenes at Raging Stallion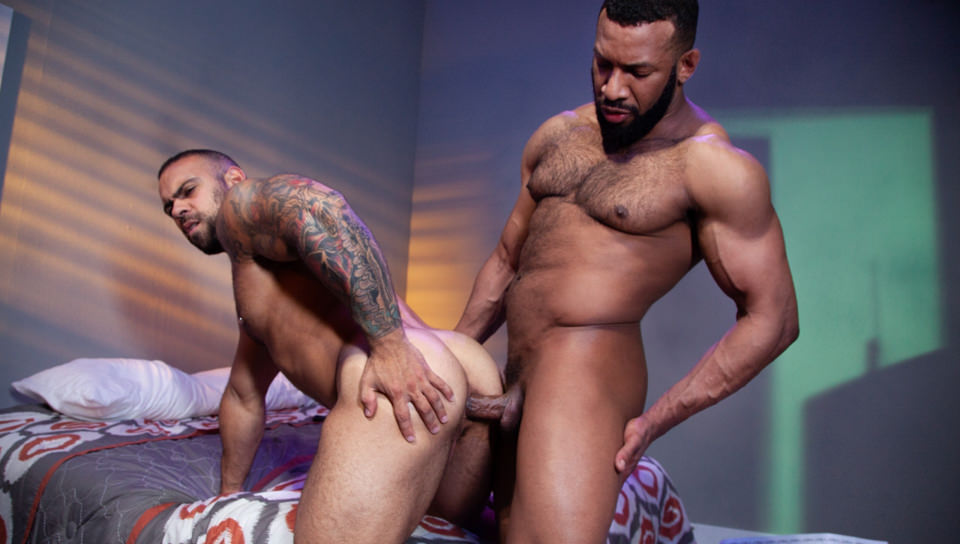 Chasing dangerous fugitives is tense, stressful work, and sometimes the only thing 'Bounty Hunters' can count on is their partners. Especially when you're on the trail of a hardened drug runner. When Lorenzo Flexx and Jay Landford discover their plan to take down their mark leaves them with a few hours of alone time in a ratty motel room, barely repressed passions boil to the surface.
These gorgeous men surrender fully to their forbidden desires; going from stressed out hunters of men to sweaty sex gods the minute they shed their gun holsters. They're desperate to give each other that special kind of raw, relentless pleasure a man who chases danger can only get from the guy who always has his back.
Lorenzo hits his knees, so lost in servicing god-like Jay's cock he ignores the transmissions coming through their police scanner. Eager to take control, Jay marvels over Lorenzo's muscle ass, nibbling Loreno's meaty cheeks, teasing Lorenzo's tight hole with his fingers and leisurely swipes of his tongue.
Jay takes ownership of his partner's hole with passionate kisses and long, driving thrusts of his raw, glistening cock. Before long, Jay's pinned his fellow musclebound bounty hunter face first into the mattress. Then he claims Lorenzo missionary-style, with slow kisses and lingering eye contact and a hot, frenzied sense of connection.
When you spend all day chasing dangerous men, sometimes you can't help chasing your gorgeous partner's hot load…Join them!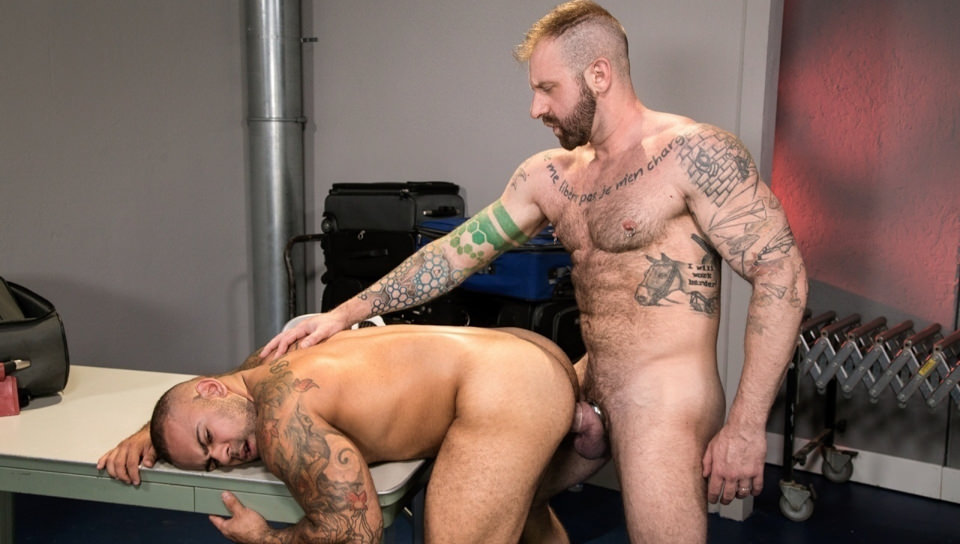 Lorenzo Flexx and Aleks Buldocek are airline baggage handlers and when they take it upon themselves to have a little fun going through some bags, they find a few things to make their day a little brighter.
Lorenzo tries on some used underwear and Aleks finds a stash of sex toys that makes Lorenzo beg for his co-worker to shove one of the dildos up his ass. The small toy isn't enough for Lorenzo so Aleks pulls out a giant rubber dong and slips it all the way into Lorenzo's hairy bubble butt.
Lorenzo wants the real thing so Aleks obliges him by standing up and slipping his extra-large cock into Lorenzo's fully stretched hole. Aleks' giant balls swing and slap on Lorenzo's fuzzy taint as Aleks drills away, keeping a steady pace to fill his buddy full.
Aleks wants to see Lorenzo's face as he gets plowed, so he throws the stud on his back and keeps up his relentless fuck session.
Lorenzo loves the feeling of Aleks deep inside of him and lets his inhibitions go to blow a load of spunk all over his hand.
It's a thick mess and after watching Lorenzo gobble up every drop, the tatted muscle daddy sprays his giant cock all over the floor…Join them!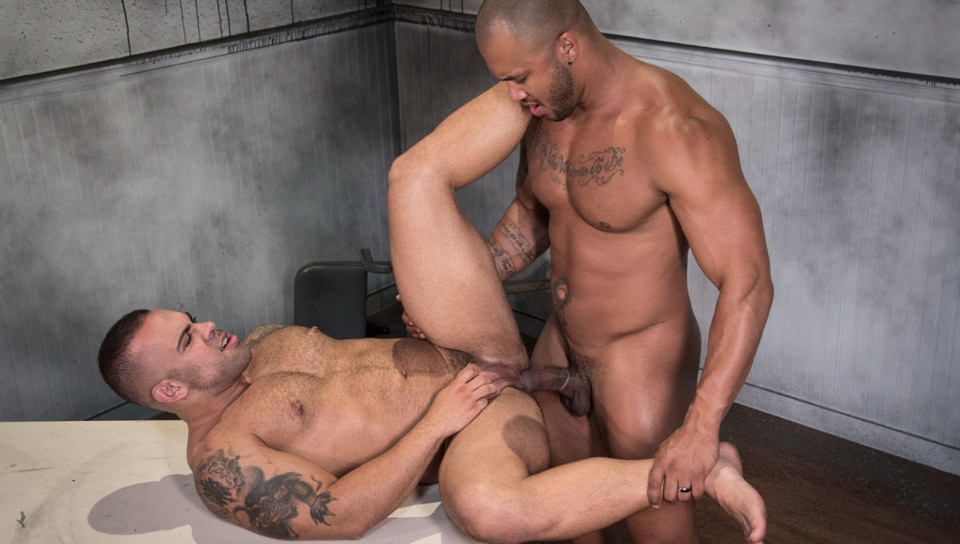 Jason Vario and Lorenzo Flexx got away from their buddies, Jack and Damien. Without wasting a minute of time, Lorenzo gets down to business and opens his hole for Jason to slip inside.
It's a big cock and Lorenzo isn't used to something that large inside his ass. There's lots of grunting as Jason picks up the pace and pounds Lorenzo's ass faster and harder with every thrust of his massive dick.
Lorenzo likes to get fucked on his back and Jason will do anything to please his friend and get his dick wet at the same time.
Lorenzo lies back and spreads his legs wide as Jason once again enters his buddy and stretches his hole even further.
Lorenzo's ass feels amazing enveloping Jason's throbbing dick and he pulls out to blast Lorenzo with his load of love.
Jason has been ridden hard and lets his cock splash with an extra white and creamy load of thick jizz. After blowing his giant load, Lorenzo wants to leave because he's convinced he and Jason already won the bet.
Jason isn't convinced and wants to stay all night to be sure. Who will be the last one left?…Join them!
Lorenzo Flexx gay porn scenes at Titan Men
In the pool, muscle men Lorenzo Flexx and Jason Vario kiss as they wrap their arms around each other before hitting the outdoor shower.
They continue to lock lips, cocks pressed against each other, as the massive Jason towers over Lorenzo—who feasts on Jason's uncut throbber. He takes it all in, water cascading down their built frames. Lorenzo gasps for breath as his face gets fucked, the two soon toweling off inside.
"Fuck, that feels amazing" moans Lorenzo as his ass gets eaten, thumbed and fucked. Lorenzo sits on the top, balls slamming against balls, before getting on his back—licking Jason's thumb as the top grinds in deep.
"Come all over me" moans the bottom, who is soon soaked—Jason rubbing and licking it off him before one last kiss…Join them!
After breaking ground on their latest site, two hard hat studs decide to celebrate—and beefy Lorenzo Flexx knows exactly what he wants, dropping to his knees to worship Tex Davidson's monster. "Fuck yeah!" moans Tex as his knob gets slobbered.
Lorenzo works up steady streams of spit that cling from his mouth to the shaft, dripping down to the floor from his scruffy face and Tex's sac.
"Get down on that mother fucker!" moans Tex as he whips his dick on the sucker's chest. "Yeah baby!" Tex sucks his bud back, his own dick throbbing in excitement.
He then fucks Lorenzo ("Gimmie that big dick!"), whose cock twitches as he gets pounded before they squirt…Join them!
Checking in on former convict Lorenzo Flexx, officer Jesse Jackman finds the painter at work—and is tempted by the muscle man's jockstrap, peeking out above his ass. He frisks him and checks his monitoring device—which has a broken seal.
"It was a mistake!" pleads Lorenzo. "I can't go back to prison!"
Sensing the opportunity, Jesse Jackman advises "It's all about give and take" as he rubs Lorenzo's ass. "Take it," he replies. "It's yours." Jesse fingers the jock, then spits on his hole. He turns the sub around and shoves him to his knees, unleashing his massive dick.
Lorenzo sucks him deep, coughing as he reaches the base as spit drops cling to Jesse's groin. Jesse rams Lorenzo from behind, slowly grinding in deep.
The top spits down on his own dick as he fucks, then turns the bottom over. Lorenzo strokes his big cock as he gets pounded, releasing a white hot wad Jesse's massive muscles and abs then clenching as he squirts on him…Join them!
no images were found