Every gay porn video and gay porn image gallery of Drake Masters.
Hair Color: Black
Sign: Unknown
Eye Color: Brown
Dick Size: 8 inch dick
Height: 5'10"
Cut / Uncut: Cut / Circumcised
Weight: 190lbs
Sexual Positions: Versatile
Drake Masters gay porn scenes at Lucas Entertainment
When Dylan James, Drake Masters, Max Arion, Ruslan Angelo, Andrey Vic, and Adam Killian all got together this past September on Fire Island.
It was instantly known that they were all going to strip down and fuck rough and raw together at the Belvedere Guest House for Men.
But wasn't know at the time was the introduction of some Ass-Hammering Hardware into their gay bareback orgy! This is first part of a two-part encounter…Join them!
Drake Masters gay porn scenes at Raging Stallion
Drake Masters needs to face his actions, in exile in the desert. He thinks he's alone, but the wind carries his scent to a nearby campsite where Drew Sebastian is polishing his big gun.
Drew finds Drake and takes him back to his tent, where the older, wiser wolf daddy educates the pup in more ways than one, starting by aggressively rimming Drake's fine jock strapped ass.
Opening his hole with his tongue and thumbs, Drew prepares Drake to take his ginormous cock in a hardcore bareback ass pounding.
Drew totally owns and dominates Drake's fuck-hole 'Stay there! Good Pup,' and uses the jock waistband as a handle to maneuver a grunting Drake onto his titanic tool.
Going ass to mouth, Drake tries to deep throat Drew's unforgiving cock and gets throat-fucked, till Drew finally lies down and Drake hops on top, riding the bearded stud with all the secret tricks his hungry muscle-butt knows.
Deep drilling finally takes a load out of Drake, who feeds his seed to his wolf daddy. Drew laps up every drop and blows his own orgasm, then Drake nurses his spent cock and they sleep…Join them!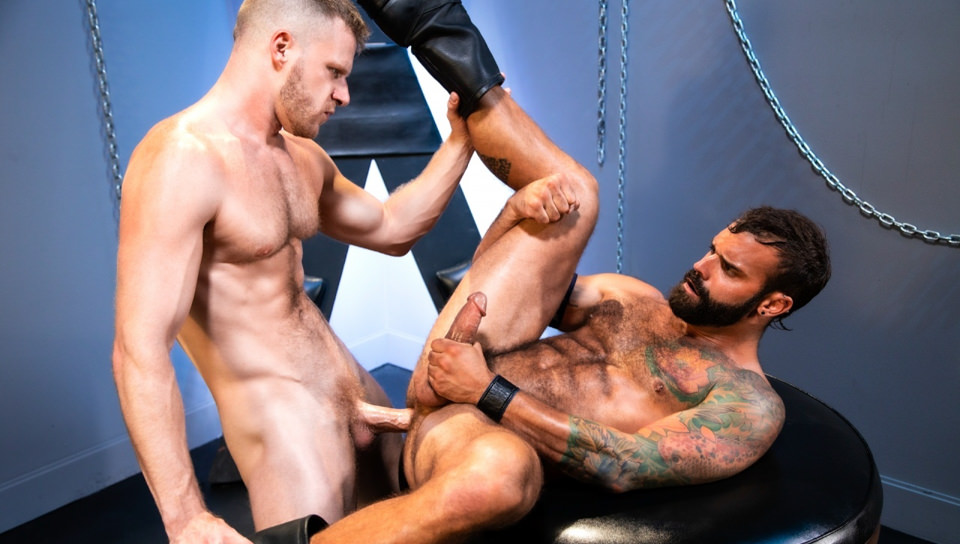 Drake Masters is on the hunt for cock when he sees Brian Bonds in a sex-sling getting fucked. Drake whips out his cock and enjoys the show. Brian notices and winks at Drake as he jerks his meat.
Drake wanders off, where Brian finds him to have some more fun. Taunting Brian with his hard dick, Drake bends Brian over to stick his cock into Brian's freshly fucked ass. Drake wipes the sweat dripping from his face as he continues to fuck Brian's used asshole.
Drake wants a taste of Brian's insatiable ass and sinks to his knees to rim Brian's open hole. He turns Brian around to suck and gag on his thick pole. Brian proves he's ready for more when Drake lays back with his legs in the air to let Brian tongue-fuck his hairy hole.
Brian laps his tongue in and around Drake's hole before sliding his bare cock deep into Drake's crack. Brian keeps switching between rimming and fucking Drake's hole, keeping Drake panting and moaning.
Brian can't resist any longer, so he pulls his cock out of Drake's deep hole and paints Drake's balls with his thick load.
When Brian slides his cock in one last time, Drake dumps his load out onto his thigh. Brian wipes every last drop with his tongue…Join them!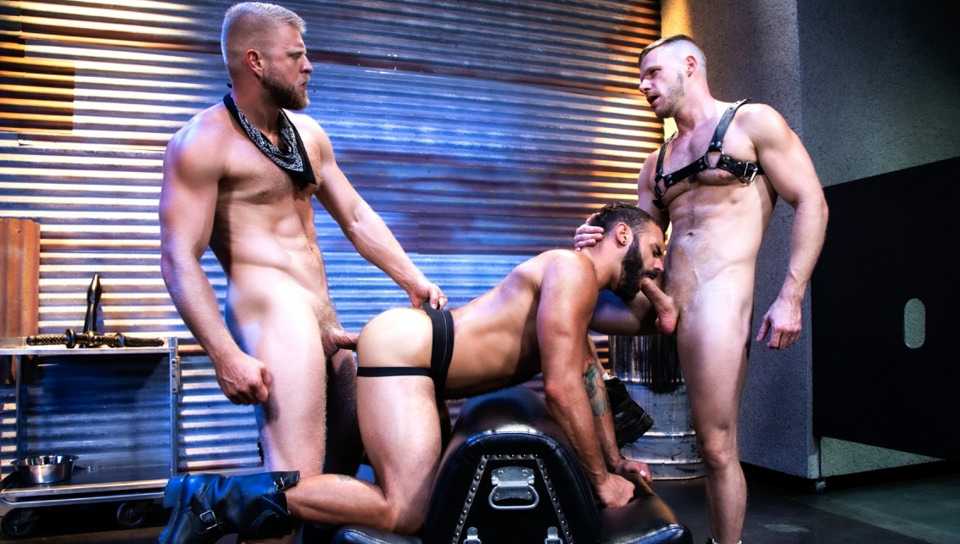 Down in the cruising grounds, Brian Bonds and Logan Stevens slide their hard cocks thru a glory hole, prompting Drake Masters to get down on his knees and begin servicing the two swollen dicks. After Drake has had his fill of cock in his mouth, Logan and Brian join him face to face to return the favor.
Brian takes the front, feed Drake his cock, while Logan takes the back end, tongue-fucking Drake's hairy hole. After rimming Drake's crack, Logan stands up to mount Drake raw from behind. It's a musky spit-roast and Drake can't get enough. Logan alternates between plunging his bare cock in and out of Drake's ass and kneeling down to lick Drake's sweaty fuck-hole.
Brian and Logan trade places and Drake offers his sore hole up to Brian's tongue and his mouth to Logan's uncut pole. When Brian slides it in, Drake lets out a deep moan with Logan's cock down his throat. Drake wants to be in charge now, so Logan bends over to swallow Brian's cock while Drake fucks his hole from the other side.
Logan takes each raw pump from their cocks with a smile on his face, opting to receive both of their rods in his hole. Drake spreads apart Logan's ass while Brian keeps hammering Logan's prostate. When Drake goes in to fuck Logan again, Brian gets into position and mounts Drake while he's still inside Logan.
The fuck-train continues until Logan gets on his back to take some more pounding from Brian's cock. Brian keeps drilling Logan before emptying his balls onto Logan's and shoving his cummy cock back inside.
Logan takes that as his cue to stroke his own load out onto his scruffy abs which Brian licks up and shares with both Drake and Logan…Join them!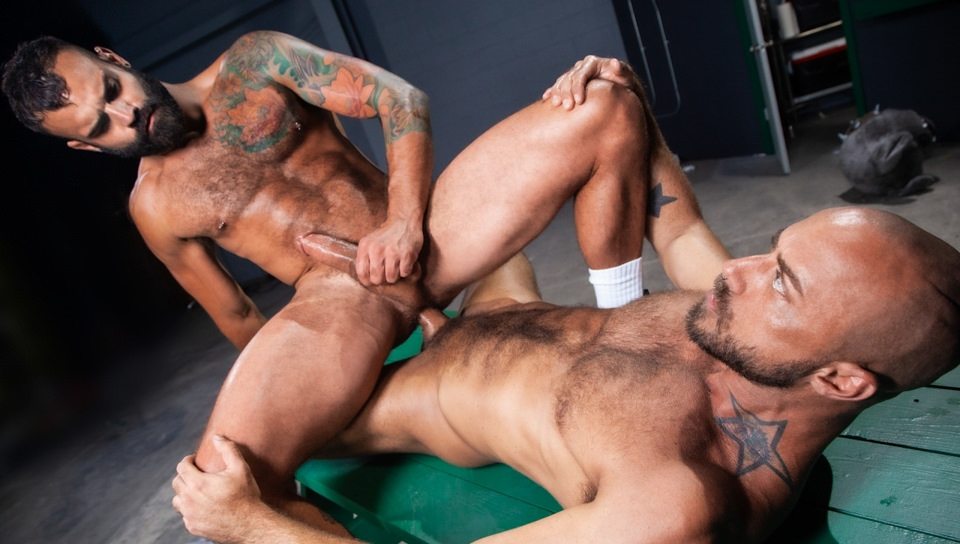 Opposing team mascot, Drake Masters, starts harassing concession vendor, Jessie Colter, by trashing his stand and throwing things around. When Jessie comes around the counter to get rid of Drake, the mascot pulls his pants down to show off his thick dick.
Jessie tries in vain to get Drake to pull his pants up but ends up finding out that Drake's sausage tastes better than the wieners he sells. Jessie gobbles up Drake's growing cock and gets his own dick rock-hard. When Drake sees Jessie's hard-on, he can't resist getting it in his mouth.
He takes off his costume and gets to work sucking on Jessie, taking it all the way to the base as he gags and spits. Drake wants that dick bad and bends over to let Jessie have a taste of his hairy hole to prepare it for a deep bareback fucking.
When Jessie senses that Drake's ass is nice and opened up, he steps up to the plate and slides his cock into the strike zone. He fucks the dirty mascot hard, keeping a steady pace with his plump, raw cock.
The horny hunks throw a change-up a few more times until Jessie is ready to drop his load. With Drake on his back and his legs in the air, Jessie fucks the cum out of Drake's cock before dumping his own load and fucking it back into Drake's busted hole…Join them!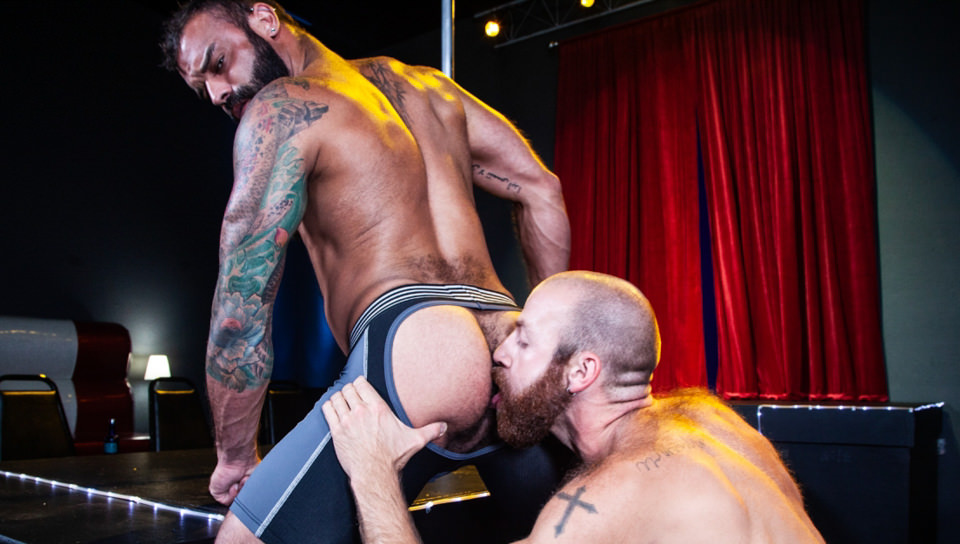 James Stevens is late to Drake Masters' show on the main stage but when Drake takes one look at James, Drake is more than willing to stick around a little longer for a private after-show.
Drake doesn't waste a minute and drops to his knees to work on James' thick hairy cock, taking it in and out of his mouth all the way down to his big fuzzy balls. James loves the way Drake's mouth feels wrapped around his throbbing cock and he picks up the pace to face fuck the hairy hunk.
When James is rock hard, he knows he needs a taste of Drake's hairy hole. He turns the stud around and eats his hairy ass until Drake is also hard as a rock. Drake turns around and offers up his throbbing dick, which James is more than happy to service.
Drake takes control and throat fucks James' face until his talented mouth brings Drake to the brink. Drake pulls out and unloads on James' beard and lips while he works his own cock.
It's time to return the favor to the horny stud and he stands above Drake while he drains his full balls all over Drake's face and beard…Join them!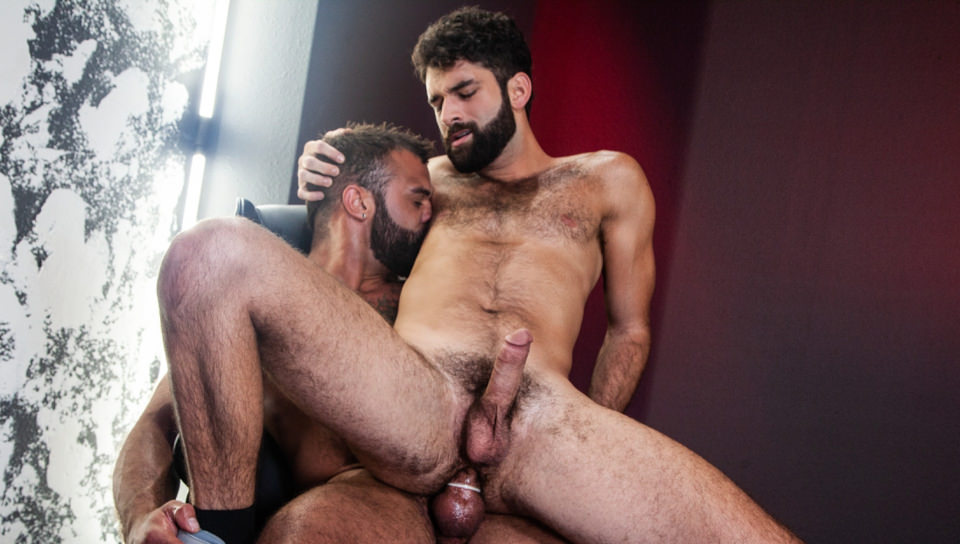 Tegan Zayne discretely slips into a peepshow to watch Drake Masters do a striptease. Tegan feeds his coins into the booth to keep a constant view of Drake as both horny studs pull out their dicks and start stroking.
When Tegan finally feeds enough money into the booth, Drake relents and allows Tegan to step through the window. Tegan offers up the rest of his money and makes the demand that Drake fuck him hard and deep. Drake happily offers up his swollen cock and slips it deep into Tegan's hairy hole.
The ripped stud pounds away on Tegan's scruffy ass from behind before sitting back to let Tegan take over the work. Tegan eagerly hops on Drake's big pole and rides away, moaning and grunting from every inch that's planted deep in his ass.
All the cock that's stuffed up Tegan's ass pushed him to climax and release his load. With Drake still balls deep in his hole, Tegan coats the floor with an explosion of cum.
After he nuts, Tegan still wants some more of Drake and kneels down in front of the hairy hunk with his mouth open wide, ready to receive his load.
'Paint this beard,' Tegan commands as Drake finishes off the session by doing as he's told. Drake unleashes a monster load all over Tegan's face and mouth before the studs stand up and share Drake's jizz with a sloppy, sticky kiss…Join them!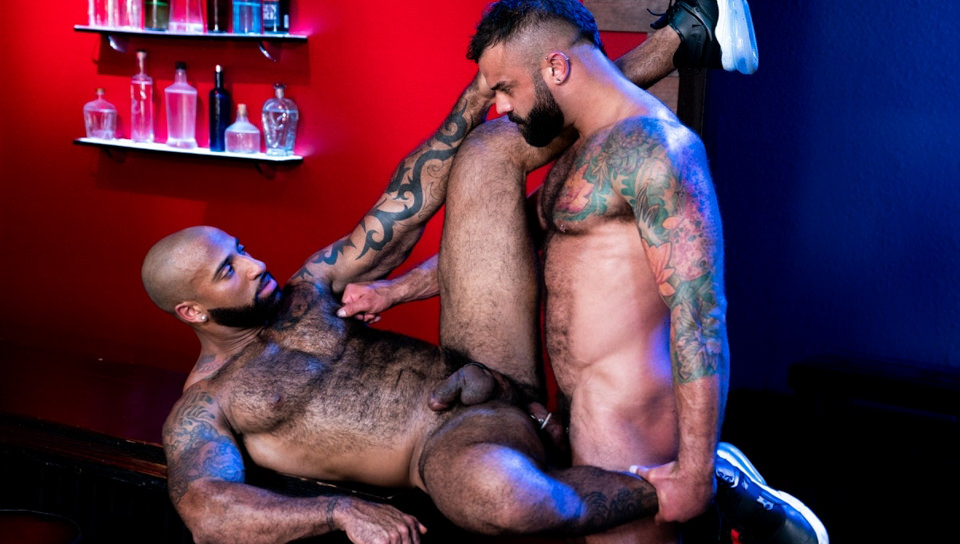 Bartender Drake Masters is slinging drinks when Daymin Voss enters without words. Daymin can't resist touching Drake's rock-hard, hairy body and Drake responds by reaching down to grope Daymin's massive bulge.
That's Daymin's cue to get on his knees to take Drake's thick hairy cock down his throat. He services Drake with an urgency, getting the rough and tumble muscle hunk hard as a rock. Daymin needs a taste of Drake's hairy asshole and bends the stud over to spread his cheeks.
When both furry hunks are worked up and sweaty, Drake is ready for dick so Daymin slides his throbbing cock deep into Drake's hole. He pumps away and enjoys the feeling of Drake's warm hole surrounding his big dick.
It's Drake's turn to feel Daymin from the inside and bends the stud over to plunge deep into his hole. Drake keeps pounding in and out until Daymin's furry hole makes him ready to blow. Drake pulls out and dumps a load of creamy cum all over Daymin's big sack and hairy taint.
Drake isn't quite done yet. He wants a taste of Daymin's load and gets in front of the stud to get what he deserves. Daymin drains his balls all over Drake's beard and face to finish off the furry fun at the bar…Join them!