Every gay porn video and gay porn image gallery of Josh Brady.
Hair Color: Brown
Sign: Unknown
Eye Color: Brown
Dick Size: 8.5 inch dick
Height: 5'11"
Cut / Uncut: Cut / Circumcised
Weight: 160 lbs
Sexual Positions: Top
Sexual Orientation: Gay
Nationality: American
Spank This gay porn scenes of Josh Brady
Garrett Kinsley has been fantasizing about his big, beautiful, brawny new roommate, Josh Brady since they moved in; and, tonight's the night all his dick thickening dreams cum true. The tight tailed twink kneels on the bench at the foot of his bed, showing off that spectacular seat in a sexy pair of super snug slacks.
Beefcake Brady can't resist, and steps right up behind him, to takes care of business, letting his new roomie know who's in charge. After a rig rocking, rump rub down, alpha boy Brady smacks that incredible ass hard, holding onto the boy by his belt to keep the lad in line.
He dishes out porny punishment to the pretty boy's perfect posterior, kisses his neck, then strips his slacks off swiftly, and gets back to work wailing on that underwear clad ass. He hits hard, turning that bangin' bubble butt, beat red.
He hikes up the boy's briefs to show off his heavy handed work on Garrett's crimson colored can before closing the curtains, and really goin to town on that tail. He smacks Kinsley's sexy seat hard enough to make him wail with the perfect combination of pleasure and pain, before completely pantsing pretty boy, spreading that smooth hole, and continuing the cracking on that naked can.
Kinsley loves Brady's big handed beat down, and lets him know it. He takes it like a champ, as his cherry cheeks and slender thighs burn bright. Then, in a stunning surprise, and a BIG bonus for us, Kinsley wakes from his delicious dream, ROCK HARD in a pair of tight shorts that can barely contain his colossal cock.
He whips his big beast out, then starts beating' his meat like Brady beat that ass. He smacks that super sized schlong against his tight torso while slapping his own backside, imagining it's josh's hot jock hand, handling his dreamy can.
His fuckable frame tightens and tenses as with erotic anticipation; then, his extra thick dick douses his tan torso with white hot nut, as the rest oozes down his king kong dong and onto his hand, which he shoves up his hot little hole…Join them!
Helix Studios gay porn scenes of Josh Brady
Wrapped snugly in Josh Brady's brawny arms, Ashton Summers is woken by the young man's massive morning wood, poking him in his perky posterior.
Summers turns around and gives the early riser a good morning kiss, AND cock sucking, before Brady reaches in the lusty Latin's tighty whites to choke down his big, bronze, breakfast sausage.
He sucks the succulent schlong on all fours, while Summers reaches behind the dude to check out his further destination. Ashton smacks the stud's sexy seat, gives the sweet center a little lick, then stuffs Brady's beautiful butt with cock.
The Puerto Rican prince pounds him out doggy style, with hip grinding gumption before Brady offers his sunrise sex partner a ride on his rig. Summers accepts and shifts his hot ass into high gear, bouncing on the boy's beefy stick while taking in the sexy sight in a mirror next to the bed.
The double vision is a feast for the eyes, doubling down on the deep dicking, as the beautiful boys tag team, topping one another's tight tunnels till Ashton erupts in a creamy white explosion. His bronze skin looks beautiful covered in the creamy confection.
He tosses his head back with sweet release, while Josh jams his giant jock deeper and harder, bringing his big balls to a bone bursting boil.
The hot hunk pulls out and splatters Summers' shredded six pack with his salty seed, before delighting in a postcoital kiss…Join them!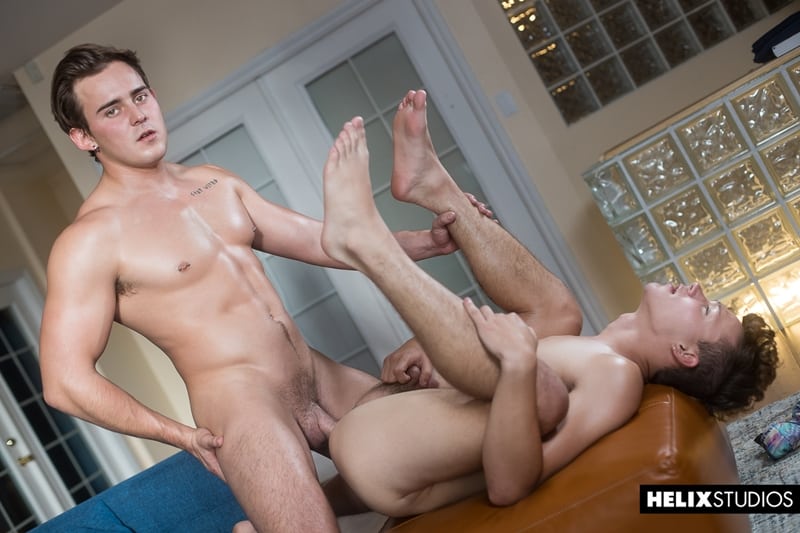 Fresh, young hottie, Hayden Lee takes the bull by the horns, tackling Josh Brady, and his brawny beast of a bone, balls deep with some serious suck skills, well beyond his years. The tall drink of twink slayer sizes up the boy's beautiful hole as he does.
But first, Brady shows the twink his own tonsil tickling talents. After throating Hayden's hard on nice and deep, Brady gets the boy on his back and works his big beef stick inside Hayden's hot, little hole.
Lee wraps his arms around his nimble legs, hiking his knees up to his shoulders to allow a deeper dicking, and clearing a porny path to play with his piece. The top titan folds the lil' spinner up like a pretzel, then pile drives his back door, legs over head.
He beats his meat down into the dude, deep and steady with strong, long, thick dick strokes. Lee's cock dangles above his ecstasy filled face, dancing around, promising delicious drops of precum, before Brady orders his boy onto his bone for a raw ride.
Josh cups Hayden's hot ass as the beautiful bottom bolts up onto the balls of his feet for a harder hammering. He squeezes his already tight hole, spits on his fingers, then reaches down to stroke his surging cock.
He gives his swaying schlong a few tugs, then Brady's big fat piece does the rest, fucking a fountain of pleasure right out of the boy! His large load splatters onto Brady's thickly muscled torso. The warm sensation sizzles down to Josh's jizz fill nads, and he nuts…..
He nuts BIG time! His cock thrashes, blasting cream up Hayden's hot crack, and across his smooth cheek; then, it oozes around his freshly fucked hole before drizzling down Josh's giant jock right as he thrusts it back up the boy's bum…. one… more… time…Join them!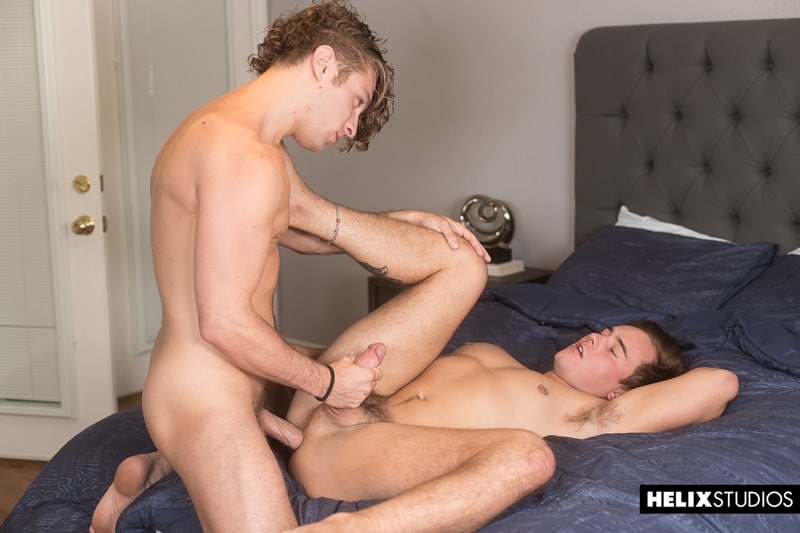 Handsome, horny and thick with muscle, Josh Brady and Calvin Banks are vying for dominance the moment they appear on screen locked in an erotic embrace. The hot hunks wrestle, tickle and tantalize, testing one another to see which alpha will give it up first.
Calvin can't contain his urge to slob Brady's knob; and, he delivers a sloppy good suck job, swallowing every inch of Josh's extra long dick down to the base! Impressed with his skill, the juicy jock returns the favor. He pulls at Calvin's sexy black ball huggers and deep throats that dick on all fours.
Banks keeps Brady in that position as he saddles up behind him, his stiff schlong swaying back and forth from the sheer weight of it. He slaps Brady's beautiful butt hole with his hefty hog, then dives in deep with his tongue.
The normally dom dude does as he's told and even spreads that amazing ass for the epic eating. But, Banks isn't finished with him yet… not by a long shot. He manhandles Brady's backside down a bit, then dips his dick in a few times, making sure the alpha dawg can take it.
Once Josh is open and Banks is lodged deep, Calvin crushes that ass, even getting Brady to throw that booty back at him. Somehow, Calvin's cock has tamed the wild beast that is Brady; so, he gets the brawny boy on his back and gives him even more.
Not wanting Josh to have all the fun, Calvin inches forward and climbs Brady's beefy bone; then, he sits his tight tail right down on that D, swallowing every inch. Josh reaches back and spreads Calvin's hungry hole for the cock cam; and, Banks ups his back door bounce.
Calvin thrusts that thick donk down and gets the dick in deep, right where he wants it. Then, the erotic alpha forms two fists and pounds Josh's hot jock chest. In turn, Brady beats the boy's butt up GOOD; and, Calvin just keeps egging him on.
Then, he flips over onto his back and immediately gets impaled spread eagle. Brady practically splits the sexy stud down the middle; and, Calvin just calls out for more. Brady hammers even harder and our boy busts! He covers his thick, muscled torso with a hearty helping of musky, man milk.
Josh's giant is ready to roar as well. He pulls out and spits spooge all over Bank's freshly banged booty hole; then, he crams his still creaming cock back in and keeps right on pumping…Join them!
It must've been a great night at the club because we catch up with Josh Brady and Cameron Parks after having WAY too much fun. The guys play through the night dancing on street lamps like strip poles, running the deserted roads tackling each other and flirting hard.
You can tell we're in for one uninhibited, balls to the wall, good time bang-a-thon. Back at the house the guys slip into something more comfortable, their COCKS.
They gobble one another's knobs with wild abandon, slurping on schlong like it's last call. Brady's big beef stick is beckoning to plow Parks with bareback pleasure.
Cameron's caboose gets cocked gloriously while his own heavy hammer swings around like a baseball batt. Josh jackhammers Parks smooth pucker, pounding his prostate with the pure pleasure that a big dick like brawny Brady's can bring.
Our bottom boy showers his appreciation with thick white wads of wonder worthy of his ginormous rig. Josh has been entranced by pretty boy's perfect complexion and fuck me face all night long.
He adds his thick thanks to Cameron's cum-plexion with his own fresh batch of boy that oozes down Parks pretty face and into his hungry mouth…Join them!
Josh Brady, Kane, and Seth Peterson are surprised when Trevor and Levi arrive at their campsite, but nobody is more shocked than Trevor, who is aggravated that he's sharing the reserved space with a bunch of boys.
He wants to be alone with Levi and is annoyed that his boyfriend is acclimating well to the group.
The tension is too much for Josh, and he suggests that Seth come with him to get some firewood and blow off some steam.
Young beefcake hottie, Josh Brady, and sexy, slim Sam Ledger give us ALL the goods with gorgeous gusto, in this rump-ramming romp.
The perfect pair permeate pure pornstar perfection.
Hot hunk, Brady showcases his lusty legend status, while Sam is an absolute twink lover's wet dream. Through the sex-soaked steam, one can easily see how the lil' hottie has quickly become a fan favorite.