Every gay porn video and gay porn image gallery of Hayden Lee.
Hair Color: Brown
Sign: Unknown
Eye Color: Brown
Dick Size: 7 inch dick
Height: 5'10"
Cut / Uncut: Cut / Circumcised
Weight: 140 lbs
Sexual Positions: Bottom
Sexual Orientation: Gay
Nationality: American
Hayden Lee gay porn scenes at Helix Studios
Tattooed, tough stuff, Ashtin Bates teams up with uber hot, twink star, Hayden Lee in this cum lovers dream scene.
Both boys are packin' a plethora of peen, and each satisfy their spit dripping, dick downing desire to the fullest, before tatted bad boy Bates breaks in Hayden's hot little hole.
He takes the twink's tight tail for a talley whacker tour in several seat smashing, balls to booty bouncing positions before Lee lands himself on the best ride in the park.
Hayden rides Ashtin's raw rig like a pro, before Bates ups the excitement by opening his cum hungry mouth just inches from Lee's large, looming loin.
Lee accepts the challenge, and fills Ash-tin's gullet with oozy goo.
One good turn deserves another, and Hayden gets a hot, hole full of creamy comeuppance, courtesy of Bates' bionic bust bone. Cum connoisseurs, this ones for you…Join them!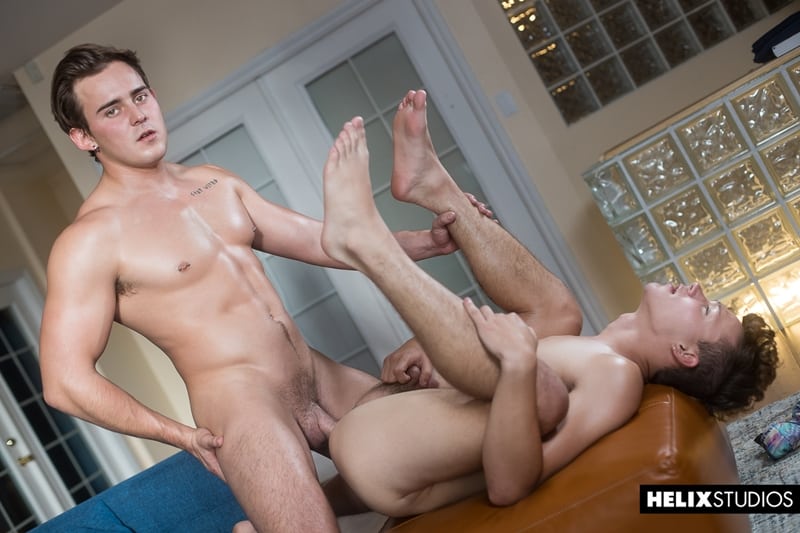 Fresh, young hottie, Hayden Lee takes the bull by the horns, tackling Josh Brady, and his brawny beast of a bone, balls deep with some serious suck skills, well beyond his years. The tall drink of twink slayer sizes up the boy's beautiful hole as he does.
But first, Brady shows the twink his own tonsil tickling talents. After throating Hayden's hard on nice and deep, Brady gets the boy on his back and works his big beef stick inside Hayden's hot, little hole.
Lee wraps his arms around his nimble legs, hiking his knees up to his shoulders to allow a deeper dicking, and clearing a porny path to play with his piece. The top titan folds the lil' spinner up like a pretzel, then pile drives his back door, legs over head.
He beats his meat down into the dude, deep and steady with strong, long, thick dick strokes. Lee's cock dangles above his ecstasy filled face, dancing around, promising delicious drops of precum, before Brady orders his boy onto his bone for a raw ride.
Josh cups Hayden's hot ass as the beautiful bottom bolts up onto the balls of his feet for a harder hammering. He squeezes his already tight hole, spits on his fingers, then reaches down to stroke his surging cock.
He gives his swaying schlong a few tugs, then Brady's big fat piece does the rest, fucking a fountain of pleasure right out of the boy! His large load splatters onto Brady's thickly muscled torso. The warm sensation sizzles down to Josh's jizz fill nads, and he nuts…..
He nuts BIG time! His cock thrashes, blasting cream up Hayden's hot crack, and across his smooth cheek; then, it oozes around his freshly fucked hole before drizzling down Josh's giant jock right as he thrusts it back up the boy's bum…. one… more… time…Join them!