Every gay porn video and gay porn image gallery of Ashtin Bates.
Hair Color: Brown
Sign: Unknown
Eye Color: Brown
Dick Size: 8 inch dick
Height: 5'9″
Cut / Uncut: Cut / Circumcised
Weight: 165lbs
Sexual Positions: Versatile
Ashtin Bates gay porn scenes at Helix Studios
After some heavy flirting, dom dude, Johnny Hands craves some kink. With a head full of of dominant desire, Hands tells tattooed twink, Ashtin Bates to bring him a glass full of ice. Horny and curious, Bates fetches a freezing glass full of future pleasure.
With an orgasmic grin, Hands grabs some rope, and a black hood from under his bed. When the boy returns, Johnny instructs him to put on the hood, then lay down. Hottie Hands breaks out the red rope. He binds the boy's wrists, then ties them above his head, with skilled knot knowledge and deliciously devious thoughts.
Then, our guy get the ice. He taunts, teases, and tantalizes the twink's tender flesh with the cold, running the ice around Ashtin's sensitive nipples, before depositing the cube in Bates' boner filled boxer briefs. Refreshing his erotic arsenal, hands grabs another ice chip and runs it along the lad's inner thigh's.
After much anticipation, johnny finally strips the young stud of his drawers, then he works dude's dick, going between the cold of the cube, to the hot heat of his skilled mouth.
Hands then takes it to the next level, massaging Bates' body with the entire freezing cold glass of ice, and then breaking out a sharp surgical looking sextrument they causes complete ecstasy when he grazes his twink's tattooed flesh.
Keeping with the theme of "more," johnny uses the boy's feet to jack his fat cock, while pausing here and there to take a taste of Ashtin's ample appendage. After his meaty meal, johnny jacks them both to a cummy climax, then removes Ashstin's good, and feeds it to him.
But, our boys aren't done yet, not by a long shot!
Hands hammers Bates butt like a beast, bangin' one inside the boy till he busts AGAIN!
Then, Johnny keeps cramming cock inside the dude till he's ready to feed him another salty serving, this time straight from the spunk spitting, spigot…Join them!
Tattooed, tough stuff, Ashtin Bates teams up with uber hot, twink star, Hayden Lee in this cum lovers dream scene.
Both boys are packin' a plethora of peen, and each satisfy their spit dripping, dick downing desire to the fullest, before tatted bad boy Bates breaks in Hayden's hot little hole.
He takes the twink's tight tail for a talley whacker tour in several seat smashing, balls to booty bouncing positions before Lee lands himself on the best ride in the park.
Hayden rides Ashtin's raw rig like a pro, before Bates ups the excitement by opening his cum hungry mouth just inches from Lee's large, looming loin.
Lee accepts the challenge, and fills Ash-tin's gullet with oozy goo.
One good turn deserves another, and Hayden gets a hot, hole full of creamy comeuppance, courtesy of Bates' bionic bust bone. Cum connoisseurs, this ones for you…Join them!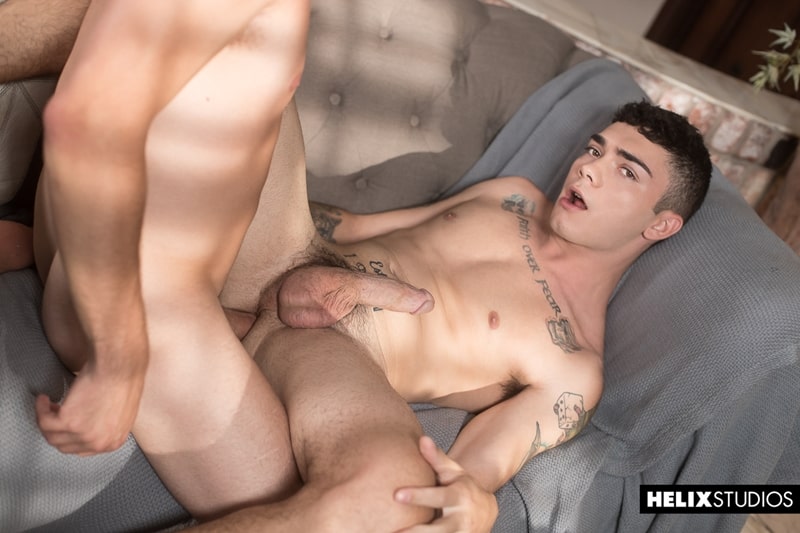 With a few movies under his belt now, uber hot, tattooed twink, Ashton Bates is ready for the BIG boys.
So, we paired the tatted pretty boy with meaty dicked, fuck monster Micah West; and, the result is a raw ramming, ass stretching smash fest.
The beautiful bad boys are lip locked and the chemistry is off the charts, as evidenced by the excited appendages whipped out just a few minutes in.
Micah grabs their juicy jocks and jacks them together with one massive hand; then, he backs the black haired hottie onto the couch and fucks his face for all he's worth.
With his own bone in hand, Ashtin takes the colossal cock like a champ! West doesn't stop thrusting hips till his cum filled sack smacks the thirsty schlong slut right on the chin.
Bates stops only to take a breath here and there, but is always tied to the trade with a slick string of sex spit. Impressed with the boy's sword swallowing skill, West heads south to show off his talents on the tatted twink's tasty tool.
He thrusts his thirsty throat down on that D, and works the boy's bone like a beast, sucking and stroking the stiff staff like a true hog hungry, cocksmith. After the five star suck job, Micah maneuvers between Bates' legs and presses his pulsing piece into Ashtin's tight, young ass.
The brunette bottom's jaw drops and he only resists for a moment while the sweet pain turns into undeniable pleasure as West thrusts his thick dick deeper and deeper. Ashtin gets his twink tail trained in the art of ass stretching as West works his hot, little hole in several salacious, peen pumping positions.
By the time the twink hops on the big rig for a ride, he's taken quite a beating and is breathing heavy; but, he keeps right on bouncing on that big boy! Bates finally busts, and spews seed all the way up the top's torso, and nearly to his nipple.
It's well known that Ashtin is always thirsty for a load; and, the only way to get him off that dick was with a fresh batch of bust in front of him. He licks his own load off West's chest; then, he anxiously waits for more.
Micah beats his meat, aiming his wide weapon directly at Ashtin's open mouth. Our boy catches nearly every cum spurt on his tongue; and, the few that escape, get licked up by the lad like it's his last meal…Join them!
Ashtin Bates gay porn scenes at Active Duty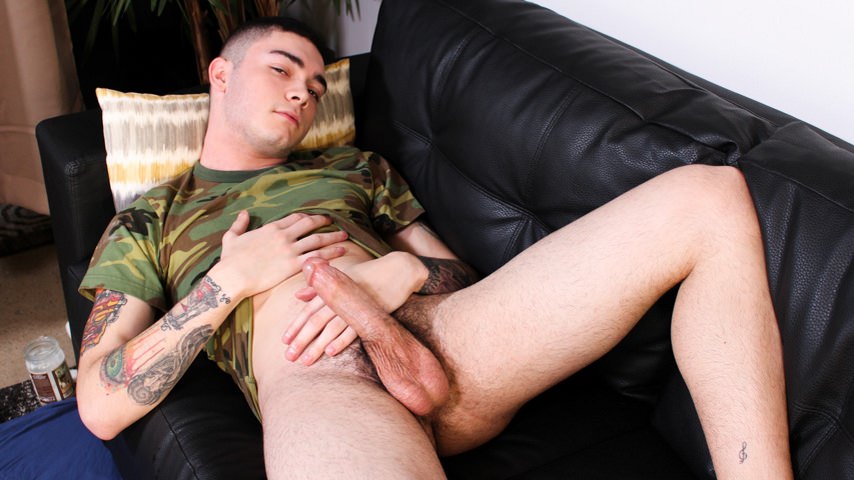 Let me just say that Ashtin Bates may not look limber but this boy is as limber as they come. He has smooth milky skin with some very sexy hair that isn't too over bearing.
His ink fits him perfectly and he loves to show off for the camera. He has some really big low hanging balls that look ripe for the picking and a very sexy hard cock that I'm sure our vets would love to tackle.
Ashtin is very comfortable on our couch and once his cock is rock hard and throbbing he begins to finger his tight ass showing it off to the camera.
At first he lies out on the couch and plays with his hole but then he stands up and spreads his legs wide and bends over showing us his sexy ass.
Somehow this sexy young man gets his mouth wrapped around his dick and he licks and sucks his very own cock. It is amazing to see.
Just when you think he's done amazing us all Ashtin flips over on to his back with his legs up high and his cock pointing straight to his mouth.
Ashtin strokes his dick and licks it as he shoots a hot steamy load of cum into his own mouth and onto his face…Join him!
Ashtin Bates gay porn scenes at Helix Studios
Corbin Colby is glued to his video game when horny, tattooed hottie, Ashtin Bates comes into the room in desperate need of some dick. The cock king kisses the young cutie but goes right back to his game. But, Bates does not give up that easily.
He gets on his knees and sucks Colby's giant joystick while the hard hunk continues his game! Ashtin slurps down every sloppy inch, and even turns this gamer knob job into a two player adventure when he takes his own command center out and strokes the controls.
When the cocky gamer finally finishes up, he goes from one joystick to the other, returning the deep throat favor to Bates' rocked up bone. Corbin goes in on Ashtin's ample appendage, gagging down the dude's dick with a slurpee suck job before moving on to the next level.
He turns Bates around and buries his pierced tongue deep in the boy's smooth butt while Ashtin strokes his thick stick swinging beneath them. Staying bent over, he tells Corbin to stick that big dick inside me.
Colby is more than happy to oblige and hammers the hottie bent over the pool table. Ashtin hikes a sinewy leg up on the table for a deeper dicking before Mr. Colby orders the boy into his back.
He pounds the brunette bad boy hard as hell right by the corner pocket as Ashtin throws his head back and takes the bareback beating like a champ.
He moans for Colby to keep the fuck coming, so Corbin cranks up his thick thrusts and pushing oozy ounces of pure pleasure from the tatted pretty boy's perfect piece.
Then the cock king commands his conquest "get down here and take this load." Bates is a true cum connoisseur; and, he milks Corbin's magnificent monster right into his hungry mouth.
He also milks the moment, playing with the creamy treat while licking Colby's unloaded low hangers and thick shaft before the gooed out gamer goes in for a sticky kiss…Join them!