Every gay porn video and gay porn image gallery of Joaquim Cruze.
Hair Color: Brown
Sign: Unknown
Eye Color: Brown
Dick Size: 8 inch dick
Height: 5'9″
Cut / Uncut: Cut / Circumcised
Weight: 165lbs
Sexual Positions: Versatile
Joaquim Cruze gay porn scenes at Falcon Studios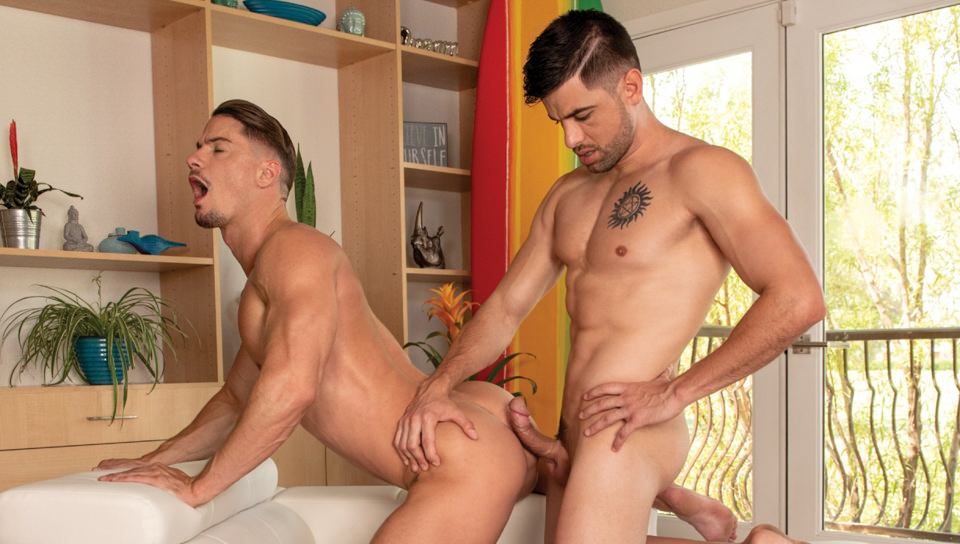 Skyy Knox leans over the balcony and sees Joaquim Cruze skinny-dipping in the pool below. When the two lock eyes, Skyy wastes no time inviting the Brazilian hunk up to his room.
Skyy is infatuated with Joaquim's rock-hard body and kisses his way down to the bulge in Joaquim's bathing suit. Skyy dives in and is met with a thick, uncut cock that he quickly gulps down. After receiving some sensual attention to his shaft and balls, Joaquim decides to return the favor.
Joaquim goes all the way down on Skyy's uncut dick, taking it down to his bushy pubes. He bends Skyy over a couch, spreads his cheeks, spits on his hole and goes to town eating Skyy's hairless muscle-butt. Sneaking a few fingers in between licks, Joaquim is preparing Skyy's hole for his thick cock. When Joaquim's done with prep, he slides his thick pole deep into Skyy.
Skyy loves taking cock and does so like a champ, taking it doggy style before switching to his back and getting his hole stretched with his leg up on Joaquim's shoulders.
After taking Joaquim's pounding from every direction, Skyy lets out a burst of cum that coats his abs and leaves him spent.
Joaquim isn't done with him yet and jerks his load out onto Skyy's face giving him a thick facial before the two lock lips one last time.Join them!