Every gay porn video and gay porn image gallery of Zander Lane.
Hair Color: Brown
Sign: Unknown
Eye Color: Brown
Dick Size: 8 inch dick
Height: 5'8″
Cut / Uncut: Cut / Circumcised
Weight: 185lbs
Sexual Positions: Versatile
Zander Lane gay porn scenes at Falcon Studios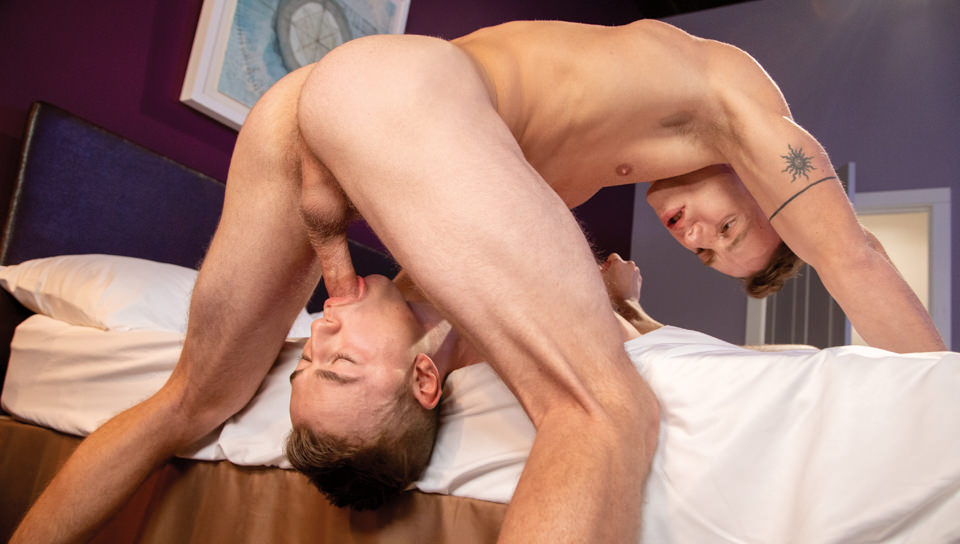 Mormon Missionaries Justin Matthews and Zander Lane head back to their room after a long day of door-to-door preaching. Eager to wash the day away, Justin gets in the shower to clean up. While Justin is in the shower, Zander discovers a gay porn magazine under the bed, opening his eyes to a new world of gay sex and lust.
With his body and mind swirling with new sensations, Justin almost catches Zander and comments on how strange he is acting. During the night, neither can sleep because the neighbors are fucking loud in the next room. When Justin asks Zander if he ever has sinful thoughts, Zander is quick to deny. Justin then pulls out the magazine teasing Zander about it.
Zander jumps on Justin trying to wrestle the magazine from his hands but soon they end up locking lips on the bed. As the two Elder's strip down, Justin brings his mouth down to Zander's cock. Zander explores his impure curiosities and returns the favor. He gets on his back with his head over the bed to receive Justin's long cock down his throat.
Justin fucks Zander's throat, then bends him over to tongue-fuck his hairy hole. After Justin has lubed up Zander's ass, he slides his girthy rod into Zander. Zander takes every powerful thrust from Justin as he pounds the sinful stud bareback from behind. They switch it up with Zander on his back taking swift pumps from Justin's dick.
As Justin fucks his ass, Zander strokes a load out onto his fuzzy torso. Justin pulls out to blast his load all over Zander. Both Missionaries are spent, and sexually satisfied with their sin…Join them!
Zander Lane gay porn scenes at Boy Gusher
Zander Lane doesn't waste any time wrapping his soft lips around his visitor's cock as his guest pushes that sweet prick through the door.
Zander plays with his visitor's balls as he sucks on his rod, drooling all over it as he runs his tongue up and down along that shaft.
When Zander's skilled mouth has his visitor's dick hard as fuck, he bends over and backs that tight ass up until he's filled with the visitor's cock.
The visitor pushes deeper into Zander's hole, fucking him raw as Zander wraps his own hand around his cock and jerks his dick as he gets rammed from behind.
They get closer to orgasm until the visitor shoots his creamy load all over Zander's ass, and Zander strokes out his own cum as his sore ass recovers from that pounding.…Join them!
Zander Lane gay porn scenes at Men.com
Working as a caddy has made Zander Lane realize just how much there is to learn about golf… and he hasn't learned any of it, since he's been too busy chasing daddies instead.
For his and fellow caddy Kaleb Stryker's last day at the country club, they plan a foursome, hoping their sexy silver foxes will putt in their butts.
The daddies undress their caddies and 69 before country club owner Dale Savage fucks Kaleb while avid golfer Dirk Caber fucks Zander doggy style, then Dirk gets one caddy sitting on his dick and the other sitting on his face as Zander sucks Dale's dick.
Dirk wants some of that daddy dick too, so Dale fucks him in missionary as Kaleb penetrates Zander.
Once Dirk cums, both hot twinks jack their cocks till they cover Dale with their loads and Dirk fingers Dale's ass till he cums…Join them!
It's porn newbie Bobby Bates's first meeting with hot twink Zander Lane, and he's excited.
After telling his coming-out story, describing the kind of guys he's into, and explaining how he got into porn, Bobby's ready to get right down to business, starting with going down on Zander.
Zander sucks Bobby's cock, then hops on top to ride him reverse before getting on all fours for some hot doggy style.
These guys are definitely getting along by the time they both cum hard…Join them!
Adorable Zander Lane doesn't want to hear about his friend's sexy, hung stepdad, Bruce Beckham, anymore because the fit bottom gets extra horny.
Boyish Zander sneaks into the house so he can find the muscular hunk, and get a piece of his big dick to try for himself.
He finds naked Bryce out back by the pool, and stages a fake drowning. As expected Bruce comes to his rescue, and soon the real fun begins when Zander rewards Bruce with his open mouth, and tight hole
Zander Lane gay porn scenes at College Dudes
Masyn Thorne has been extra stressed lately and Zander Lane knows just the thing to get him much more relaxed.
Moving toward Masyn, Zander kisses him deeply before pulling Masyn's shorts off and sucking on that already erect cock.
Zander works his lips and tongue over that shaft and then lets Masyn get a taste of his meat next as he gets that dick sucked by Masyn.
Zander's ass gets rimmed and explored by Masyn's tongue too, pushing and licking Zander's tight hole before stretching it open with his dick.
Zander takes every inch of Masyn's raw cock, bottoming for him as Masyn fills him up inside with that fat prick.
They move to the bed and Zander lies on his back, legs spread as Masyn enters him over and over while Zander plays with himself.
Masyn fucks Zander bareback until both these guys explode, shooting huge loads and leaving Zander dripping with hot cum…Join them!
Horny college boys Zander Lane and Tyler Slater kiss briefly but are both keen to get down to some cock action.
Zander is first out of the gates, taking Tyler's dick deep to the back of his throat, in long strokes ensuring his lips caress the full length of his long cock.
As Zander wanks his own cock, Tyler licks his balls carefully sucking them in and out of his lips. Zander just loves the sensation of a wet mouth and tongue on his ball sack and he moans with pleasure.
Tyler's attention is changing focus and he slides his tongue up and down Zander's smooth butt cheeks, parting them to get down and deep into his warm sweet hole. He rims it with his inquisitive tongue tip.
Tyler makes sure to lube Zander's ass hole with a copious amount of saliva, getting him wet and ready for his young dick.
As Zander relaxes, Tyler goes in for the kill, reaming his mate's hot anal passage with his big raw dick. Tyler continues with rhythmic pumping actions getting deeper and harder as he presses home.
Zander can't help but moan as he feels every thrust of Tyler's erect cock splitting his ass.
He flips over, lying on his back and spreading his legs wide so that Tyler can fuck him deep until his balls slap against those smooth butt cheeks.
This is all too much for big bottom boy Zander who loves a big cock, he wanks his dick furiously all the while Tyler continues his punishing ass pumping.
Then Zander can hold off no longer and he blows a whole stream of cum all over them both.
Tylers relentless fucking comes to a climax with long deep strokes until he is on the edge and pulls out just as he delivers his load all over Zander's dick and ballsack.