All gay porn pics and gay porn videos of Dean Monroe.
English born Dean Monroe has had a hugely successful career on camera. Aside from his extensive oeuvre in the adult entertainment industry, Dean has also worked with such avant-garde filmmakers as Bruce LaBruce and Anton Dickson. As a professional actor and a porn model, Dean had retired from the industry until director Jake Jaxson recently offered him a role in Answered Prayers: The Lamb. Combining his skills in acting, sex, and art, Dean is thrilled to return to the screen at CockyBoys. And he's just as hot as ever — that body, those eyes, that accent! If you weren't already swooning over him already, his comeback is sure to leave you breathless!
Hair Color: Black
Sign: Unknown
Eye Color: Brown
Dick Size: 7 inch dick
Height: 5'11"
Cut / Uncut: Uncut / Uncircumcised
Weight: 165lbs
Sexual Positions: Bottom
Dean Monroe gay porn scenes at Hothouse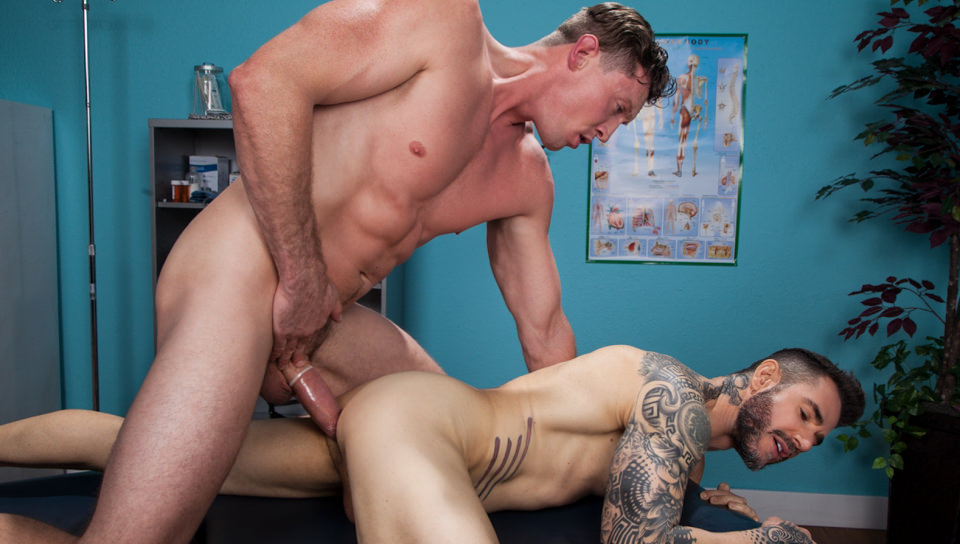 Pierce Paris has a sore shoulder from practice and is waiting to be checked out on the exam table. When nurse Dean Monroe gets a look at Pierce, he puts on a white lab coat and pretends to be the doctor.
Dean isn't going to let this stud get away, and after massaging Pierce's shoulders, he can tell that Pierce is receptive to his advances.
Dean can see that Pierce's bulge is growing by the second and he reacts quickly by getting the hunk out of his pants.
Dean takes Pierce's massive dick in his mouth, and as Pierce continues to disrobe, Dean takes full advantage by sniffing and licking every article of clothing that Pierce throws to the floor.
Soon the ripped studs are fully naked and Pierce knows exactly what his new 'doctor' needs. Pierce takes Dean's uncut cock and balls in his mouth and then flips him over to lick his tight ass.
Pierce wants to feel Dean from the inside and slides his monster cock deep into his hole. It's exactly what Dean needed and after flipping around to take Pierce's cock in as many positions as he can, he blasts a load in Pierce's hand that feeds it back to Dean.
Pierce has worked himself to the brink and needs to bust a nut. He throws Dean down onto the table and straddles the stud until his cock explodes into Dean's open mouth.
This is just what the doctor ordered…if only Dean were really a doctor…Join them!
Dean Monroe gay porn scenes at Cockyboys
Introducing a new short film series "Porn This Way". This First film was shot on location in Berlin, Germany at the Schwules Museum, one of the few museums dedicated to LGBT history, art and culture.
One of the major exhibitions was PORN THAT WAY featuring the evolution and history of gay porn in various media and CockyBoys was proud to be part of the exhibition, representing "The New Romantics".
CockyBoys was there in Berlin for the exhibition which provides the setting for a very special "meet and greet".
Mischievous flirt Liam Riley runs into Dean Monroe one late afternoon at the Schwules Museum and their attraction is immediate! Dean starts to make out with Liam, but Liam wants a bit more privacy and he plays hard to get with Dean.
Liam leads him on a fun little chase through the museum and into the library where Dean finally captures his prey. There among the tall stacks Liam goes down on Dean and sucks him off until Dean shoots load over his chest. End of story? Not quite.
While the guys were "busy" the museum closed and they're locked in for the night! Whatever will Dean & Liam do?? After they enjoy some champagne that Liam pilfered from the bar they make the most out of their all-night dilemma.
With Liam bent over a counter in the gallery Dean rims his tight hole and fucks the moaning young man, no longer playing hard to get. Their impromptu live sex show becomes part of the exhibition, just without the audience.
Liam gets the idea to move to the "Porn That Way" exhibition in another room where Dean fucks the limber lad against one of the entry way walls adjacent to framed erotic illustrations and comic art.
They get close but Liam, inspired by the art, asks Dean to fuck him in the same way as one of the illustrations. In a dimly lit corner of the gallery Dean sits on a chair as Liam caresses the contours of his muscular body and strokes his cock.
Life imitates art as Liam sits on Dean's cock and rides him every which way while Dean strokes Liam's cock and milks a heavy thick load out of him. Dean follows with his SECOND orgasm..with the help of Liam's hands…Join them!
Dean Monroe gay porn scenes at Falcon Studios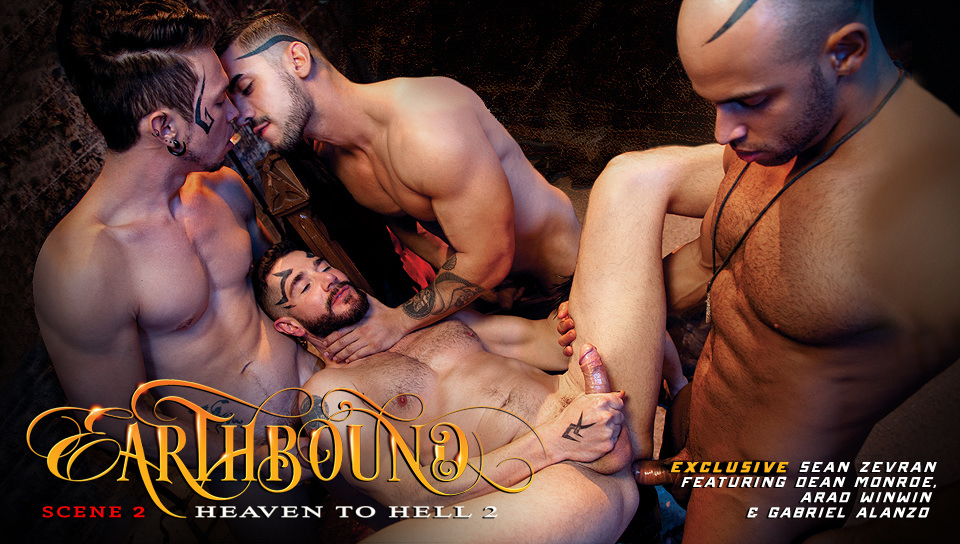 'Please me,' says the Devil (Dean Monroe) to his Dark Angel servants. Duty-bound to satisfy their master, Dark Angels Sean Zevran, Arad Winwin, and Gabriel Alanzo press their hands on Dean's muscular body. The four menacing demons of the underworld turn to each other and savor the pleasures of their flesh.
Gabriel opens his mouth to receive Sean's monster cock, slathering it with spit, as Dean swallows Arad's massive sword. Sean eats Gabriel's ass, and Arad spits into Dean's mouth. Borrowing the Devil's throne, Sean takes a seat as Arad services him orally.
The four dirty angels congregate together in a seething, writhing mass of bulging muscles, hard cocks, and open mouths. Sean and Dean tag team Gabriel's cock as Arad face fucks him. As Dean relaxes on his throne and watches, Sean thrusts his cock inside Gabriel's ass and pounds him with all his supernatural strength.
Gabriel licks Dean's nipples, always trying to please his master. Dean savors the taste of Arad's spectacular cock as it slides into his gullet. But now it's time for the boss to get what he really wants: his hole pounded. Sean slides in first, stretching out Dean's hole.
Arad steps up next and drives his meat deep inside Dean. As Dean strokes his cock, Arad moves up to Dean's face and shoots his load into Dean's open mouth and across his dark beard. Sean pounds Gabriel's load out of him, but he's sure to deliver it directly to his master.
Sean sprays his load across Dean's thigh, and Dean shoots off a white-hot load…Join them!
Dean Monroe gay porn scenes at Bulldog Pit
Caught with his fingers in the till, handsome, toned Seth Roberts must appease his captor, dark haired Dean Monroe, by giving in to what he really wants. Scared to lose his job, Seth quickly realises what's going on and strips naked, drops to his knees and gets face fucked by this hung stud.
Both smooth bodies, defined torsos are fucking hot as they rub against each other, proud dicks standing to full attention. Seth's hungry ass is wet with the anticipation of Dean's entire dick being slammed deep.
If you aren't already rock hard by now, Dean's perfectly smooth body flexing and tightening as he thrusts into the yelping Seth will get you there. And when the close-ups begin of the fucking, hold on tight because Seth's gonna get his own back, fucking Dean until they both bust a nut.
Seth explodes all over Dean's stubbled face, leaving him covered in fresh spunk…Join them!