All gay porn pics and gay porn videos of Spencer Whitman.
Hair Color: Brown
Sign: Unknown
Eye Color: Brown
Dick Size: 8 inch dick
Height: 5'9″
Cut / Uncut: Cut / Circumcised
Weight: 165lbs
Sexual Positions: Versatile
Spencer Whitman gay porn scenes at Bromo
Fit and young Marcus Tresor needs to be shown how to fuck and beefy Spencer Whitman is just the man for the job. Hairy Spencer tells Marcus to undress so he can get a look at that sweet, little ass.
If dark-haired Marcus is going to prove he's a good boy, he's going to have to do exactly what Spencer says. In the end, Marcus turns out to be a perfect, obedient bottom, and hot and hung Spencer rewards him by cumming all over his tight, little hole….Join them!
Spencer Whitman gay porn scenes at Raging Stallion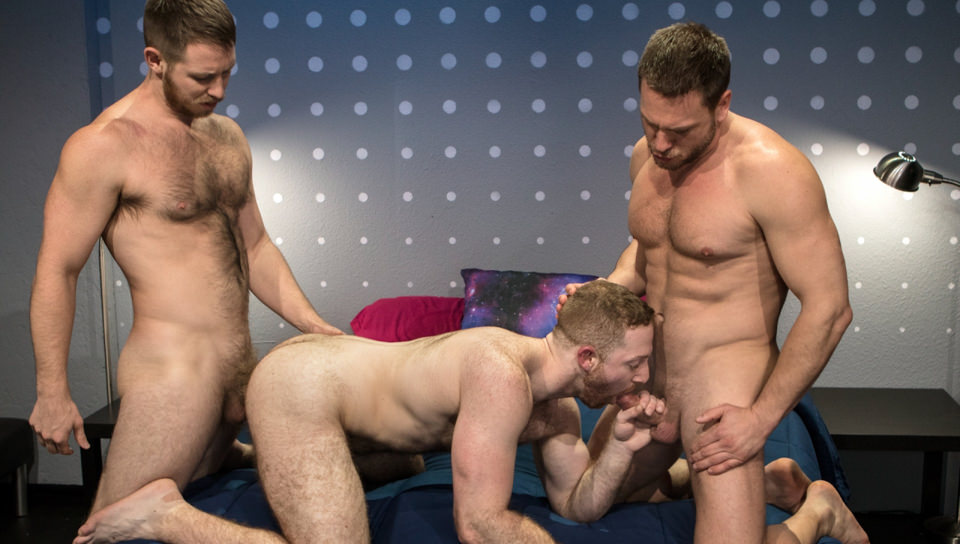 Hans Berlin, Spencer Whitman, and Sean Knight are horned up and ready for all the cock and ass they can get.
The three make out in a circle until Sean caves to his desires and gets on his knees to service both hung studs in front of him.
He alternates dicks on his lips and tongue, being mindful to give each hunk equal time in his eager mouth. When all three are rock-hard, Hans decides to take charge and slams his cock deep into Sean's hole as Spencer shoves his cock in Sean's face.
It's not long before Spencer wants to try Sean's warmed up ass so Hans and Spencer swap positions with Spencer taking it hard.
Seeing Spencer fuck Sean works Hans into a frenzy, and he takes his turn on the bed with his legs in the air. With Spencer up his ass and Sean down his throat, Hans gets spit-roasted until Sean pulls out and announces that he's about to blow.
The sight of Hans drinking Sean's cum makes Spencer ready to nut and he shoots his load all over Hans' hairy sack.
With cum in his mouth and his crotch covered in jizz, Hans drops an extra thick load that oozes out of his cock and flows onto his heaving stomach.
Spencer doesn't want all those loads to go to waste and cleans up Hans' mess with his tongue before sharing them all with the other studs…Join them!
Spencer Whitman gay porn scenes at Dylan Lucas
Kory Houston's plane arrived late so he didn't show up to his step uncle's house at the agreed time. He walks into his step uncle's house while calling out his name but he no response back. He walks into his room and sees his step uncle passed out in bed wearing nothing but the sheet that is barely laid on him.
Kory begins to rub his cock inching his way closer to his step uncle. He pulls his big hard dick out and begins to stroke it fast. Kory is standing above him when his uncle Spencer Whitman opens his eyes to see a big fat dick being stroked near his face.
Kory doesn't know he's awake yet until Spencer tells him to slow down and suck his cock. Kory is turned on and gets between his step uncle's legs and begins to suck on his big, thick, uncut throbbing cock. Kory is running his hands through his step uncle's manly hairy chest while deep throating his big dick.
Kory can't get enough of that juicy cock but Spencer wants a taste of that sweet young cock. He grabs it and begins to give Kory his best blow job he's ever had. Kory can't believe he hadn't done this sooner. Uncle Spencer lays Kory out on his bed spreading his legs wide and pushing his back down to reveal his sexy smooth hole.
Spencer dives head first in burying his face between those smooth milky white butt cheeks. He licks his ass up and down tonguing that young hole deep with his wet mouth. Kory's sweet revealed hole is all lubed up with spit from his step uncle's mouth.
Spencer mounts him pushing his fat cock slowly deep into Kory until he's balls deep. He starts to thrust into Kory hard and fast making every inch count as he fucks his Nephew. Kory then rides that big dick sitting on it slowly and sliding up and down with precision.
The length and thickness begins to stretch Kory's young ass making it easier to glide up his step uncle's hard aching shaft. Spencer lays his Nephew onto the bed and fucks the cum right out of him which makes him shoot his load all over Kory's jazzed up chest…Join them!
Austin Ryder is hanging out at his Uncle Spencer Whitman's pad, lounging about shooting some FB IM's to a friend. His Uncle comes outside to check on him and sees him on the phone. His Uncle Spencer has his shirt off to reveal all his manly chest hair.
Austin has his shirt off as well with all his lovely young man hair out for all to see. Spencer can't believe how hairy Austin is and begins to rub his chest. Austin loves the way it feels and slides his fingers through his Uncle's hairy chest too.
Austin can see that Spencer is getting hard so he takes advantage of it and pulls down his Uncle's pants to reveal his uncut thick cock. Austin begins to suck him off stroking and licking every inch of his dick. Spencer is enjoying his nephew servicing him so much so he lays him down on the couch outside and takes his young cock deep into his mouth.
Sucking and playing with his young smooth balls Spencer spreads Austin's legs wide to reveal his sexy smooth hole and then begins to rim him deep. Austin can feel his Uncle's wet tongue swirling around his tight eager hole. He can't take the teasing no longer and wants his Uncle to fuck him in the bedroom.
They head back into the house making out and fondling each other every step of the way. Spencer spreads that young ass wide and far than pushes his hard uncut cock into that ass pumping slowly at first but building up speed until his balls are slapping that sexy ass.
Spencer fucks him in a couple positions but finally blows his load all over Austin's sweet ass. Austin lays on his back as his Uncle services his balls until his load is released all over his very own hairy chest…Join them!