Every gay porn video and gay porn image gallery of Brenner Bolton.
Hair Color: Brown
Sign: Unknown
Eye Color: Brown
Dick Size: 7 inch dick
Height: 5'8″
Cut / Uncut: Cut / Circumcised
Weight: 170lbs
Sexual Positions: Versatile
Brenner Bolton gay porn scenes at Raging Stallion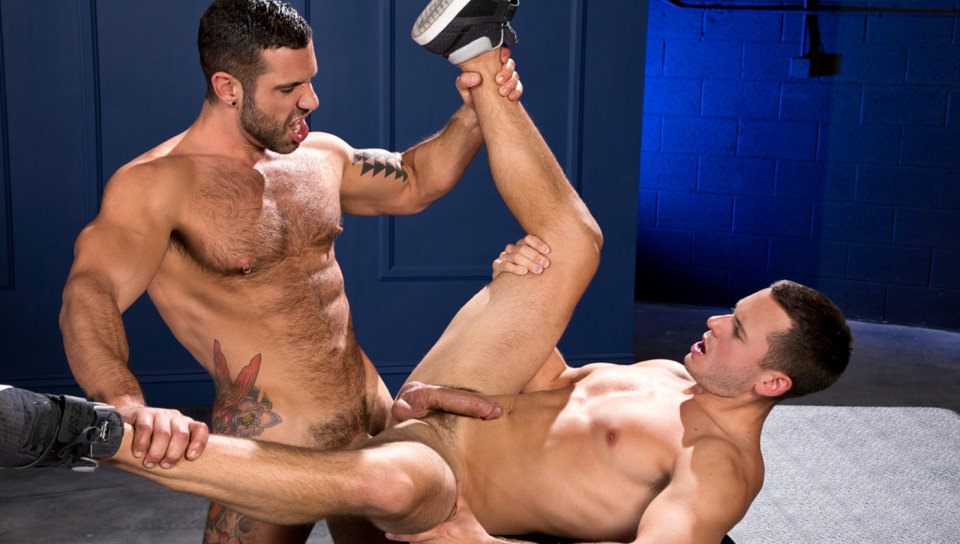 Beefy, tatted stud Letterio Amadeo shares some intense kissing with smooth, lean Brenner Bolton.
Letterio is furry, muscular and wears a ring in his right nipple. Brenner stretches the foreskin on Letterio's meaty, up-curved cock before sucking it.
Grabbing the back of Brenner's head, Letterio face-fucks him with and thrusting rhythm, as spit drips down onto his thick cock for lube.
Spearing Brenner's ass with two fingers of each hand, Letterio spreads and stretches the walls of Brenner's hole until his tongue can slip in easily.
Letterio's tongue paves the way to loosen up Brenner's ass to get it ready for Letterio's massive uncut cock to slide in.
Groans of pleasure echo through the room as fireworks of cum burst from Brenner's cock.
As sweet as Brenner's hole is, Letterio saves his load for Brenner's mouth…Join them!
When Derek Atlas and Brenner Bolton meet, it's obvious how eager Derek is to fuck Brenner's ass. They start by tonguing each other's mouths and jacking their erect cocks.
Brenner goes down and deep-throats Derek, who dribbles saliva into Brenner's mouth for an extra-slick suck. Derek uses his hairy forearms to guide Brenner's head, helping him swallow every inch.
Eager to eat some ass, Derek makes Brenner get on his hands and knees, and the rim job gets Brenner worked up and ready to get fucked! Brenner to give the 'ready' signal, and Derek drives his cock doggy-style into Brenner's hole.
It's a wild, uninhibited sexual connection, and the two fuck studs drive each other to the brink of orgasm. Brenner hooks an ankle over Derek's shoulder and sprays gobs of cum across his own ridged abs.
Derek straddles Brenner's shoulders and shoots high-velocity jets of semen across his face and neck…Join them!
Brenner Bolton gay porn scenes at Men.com
Brenner Bolton has a devious plan to steal Noah Jones' family wealth, and it begins with a quick lay. Watch as Noah pumps Brenner's ass with his hard cock, unaware of the scheming taking place behind his back…Join them!
Brenner Bolton gay porn scenes at Next Door Studios
When Brenner Bolton woke up today, the last thing this disgraced soldier expected was to find his Superior Officer in his office, and even more of a shock to him is that Sgt. Markie More has petitioned for Brenner's reinstatement.
It seems Brenner's very personal style of troop leadership was very good for morale, and now that he's gone, the battalion wishes he were back. Brenner isn't surprised that his men miss him, but never expected Markie to consent to his hands on approach, and yet, here he is, taking orders from Markie to strip down and serve his country.
Ever the dutiful soldier, Brenner does as ordered, and in the process, displays to Markie his dedication to the cause, and his qualifications as a people person. Also, Sgt. Markie notes, he sucks a mean dick and knows how to take a cock, which are both admirable traits to have in a candidate charged with over-seeing the men.
If Markie's experience is any indication, Brenner's abilities have stayed in fine focus, despite his absence, and it's Brenner's subtle touch and dedication to detail that will thrust him back into his former position, above his men, just as it was before, straddling the line between the good guys and the bad guys…Join them!
After being kidnapped from his own garage, Brenner Bolton comes to in an unfamiliar place, naked, bound and blindfolded. Hearing footsteps approaching, he pleads for his assailant not to hurt him. Allen Lucas smiles at the sight of the hostage in front of him, using a riding crop to tease his cock before whispering in his ear.
Allen works his way down Brenner's body, and begins to suck him off, to Brenner's surprise. He's even more surprised when Allen shoves his cock inside Brenner's mouth, but like a good little slave, he obeys Allen's commands and does what is expected of him.
Fully hard, Allen throws him onto the ground face first, then tongues Brenner's ass, before plunging his cock in his moist hole. Allen fucks Brenner from behind as Brenner takes his pounding obediently, then Allen flips him around and takes Brenner's cock for a ride, mounting him as Brenner lay tied and helpless, before flipping him back over one more time to resume fucking him.
As Brenner lay on his back, Allen fucks him missionary as he strokes Brenner to climax, pulling out and dousing Brenner's face with his load. Allen removes Brenner's blindfold and asks him if his fantasy was fulfilled.
Wiping the cum off his face, Brenner nods his approval…Join them!
Brenner Bolton gay porn scenes at Next Door Buddies
[gallery_master theme="masonry" source_type="selected" ids="1712″ gallery_type="extended" layout="grid" show_title="show" show_desc="hide" height="160″ width="200″ border_style="2px solid #000″ margin="10px 10px 10px 10px" padding="10px 10px 10px 10px" title_color="#000″ desc_color="#000″ lightbox="enabled" order_by="random"] [/gallery_master]
Brenner Bolton has a reputation for his work as a tattoo artist, so when Alexander Gustavo saunters into his shop with a recommendation, Brenner takes Alexander for a cool guy.
As they go over the details for what Alexander would like to have done, Brenner notices his lean body and nice, tight ass. When Alexander lets slip that he is low on cash, Brenner assumes Alexander is familiar with Brenner's alternative payment system, and slips his hand between Alexander's legs, fingering his taint.
Alexander shoots off the table in shock, and Brenner seems confused. Apparently Alexander wasn't aware of how things are done around here, but upon hearing the offer unlimited tattoos for a little bit of extra 'attention' Alexander finds himself contemplating something he never thought he'd do.
Moments later, Alexander is back at the table, as Brenner slowly begins to fondle his cock. Alexander proves hard as a rock, especially for someone contending to not be interested, and Brenner just smiles with a knowing look on his face as he devours his customer's cock.
Alexander closes his eyes as Brenner works his dick better than any woman ever has, and little by little, he realizes that Brenner is doing him more than one favor here, so when Brenner asks him to reciprocate, Alexander finds himself strangely into it, falling to his knees as he begins to suck Brenner off.
Brenner guides him through the process and Alexander does really well for his first time, but what Brenner really wants is some of that hard cock. He advises Alexander to bend him over the table and fuck him silly, which is definitely more than Alexander bargained for.
But it's definitely something he can get into, as he pounds and prods Brenner's ass with reckless abandon, fucking the cum out of Brenner before jizzing all over himself. As they clean themselves up, Alexander realizes he's going to be covered in ink in no time…Join them!
Football star Robert Axel shocks his friends when he excitedly locks lips with Brenner Bolton. Now that his secret is finally out, the two studs fuck like never before…Join them!