Every gay porn video and gay porn image gallery of Wade Wolfgar.
Hair Color: Brown
Sign: Unknown
Eye Color: Blue
Dick Size: 8 inch dick
Height: 6'0″
Cut / Uncut: Uncut / Uncircumcised
Weight: 165lbs
Sexual Positions: Versatile
Raging Stallion gay porn scenes of Wade Wolfgar
There is a certain swagger and confidence of a handsome hung stud who knows he's hot and knows what he's doing without being too cocky or arrogant.
Wade Wolfgar has it. Pair him with a stunning hunk like Dickie James and you see why he is one of the best tops in the biz: assured, relaxed and so skillful with his long fat uncut dick of delight.
Wade and Dickie clearly are into each other and that eager enthusiasm translates into a hole-shattering, semen-soaked jizz fest as Wade plunders Dickie's booty…Join them!
'Someone' has reported the bareback bakery to the Health Department, and Wade Wolfgar has to come down to work for a surprise spot check by hard-ass inspector Cain Marko.
The hunky bearded daddy rattles off a list of violations as he grills Wade for answers, then offers to go soft on him if Wade will go hard in return.
Wade gives in and gives Cain what he wants: a thick fat uncut cock pummeling his muscular manhole bareback after a thorough throat stretching face fuck.
The blond beefcake gets bent over a butcher block for some quality ass eating then the chef's sturdy rolling pin of a monster dick drills the inspector's guts.
The pile driving continues till Wade blasts a load, passing inspection with flying cum — and colors…or so he thinks…Join them!
Teammates Donnie Argento and Wade Wolfgar are training hard at the gym for this year's playoffs. As Donnie spots Wade doing bench presses, Donnie whips out his dick and lets it flop on Wade's forehead to distract him.
Wade takes the bait and promptly gets on his knees to suck the dick that was just slapped on his face. Donnie is cock-hungry too and eagerly opens his mouth to suck all the dick he can cram down his throat.
Wade's extra thick stick barely fits in Donnie's mouth, but Donnie is determined to get it all in and he does. There are no foul balls on this field as Donnie works Wade's meaty sack and sucks on his big nuts.
The guys are both eager to suck cock and continue switching it up fucking each other's throats until Wade wants a taste of Donnie's ass. He gets down between Donnie's cheeks and eats him out.
That's all it takes for Wade to get close and he stands up to spray his creamy load all over Donnie's waiting ass. He slaps his sticky, dripping cock on Donnie's hole then gets on his knees to take his teammate's load all over his hungry tongue…Join them!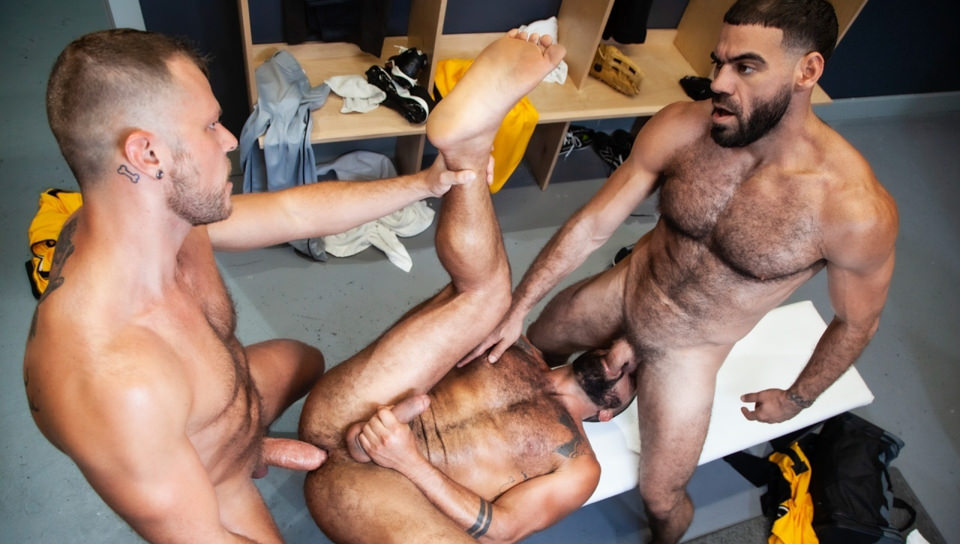 Bat boy, Sharok, is cleaning up the locker room when players Ricky Larkin and Wade Wolfgar enter from the showers after losing a game.
They pick on Sharok for being their bat boy but Sharok knows that they really need to blow off some steam after their loss.
Sharok gets on his knees and opens his mouth wide for Ricky and Wade to take turns fucking his eager face.
Sharok gets the guys rock hard and bends over to let them get a taste of his hairy hole.
Wade is the first to suck on Sharok's hairy crack and gets him nice and opened up for his buddy, Ricky, to fill up with his big raw bat.
Ricky slides inside and pounds away as Wade fills Sharok's face with his thick cock.
Wade wants his bareback turn now inside Sharok's dugout and takes up the rear with his fat bat.
It's almost too big to fit in Sharok's hole but Sharok is determined to take it balls deep and rolls onto his back with his legs in the air.
Wade stretches the hole in front of him as Ricky fucks Sharok's face.
The guys take turns railing both of Sharok's holes from each end until Wade wants his turn as the catcher.
As a last-minute pinch-hitter, Wade goes from pitcher to catcher and lies back to let Ricky pound his ass.
Ricky plunges Wade's open hole until he pulls out and sprays Wade's hairy balls with thick jizz.
Next up, Sharok steps off deck and up to the plate to fuck Wade until both spent studs blast all over Wade's furry body…Join them!
Hairy muscle hunk Sean Harding interrupts Wade Wolfgar in his personal bathhouse whilst he is jerking his huge hung cock.
Sean immediately kneels on the floor and sucks Wade's thick dick deep to the back of his throat.
Once he has pleasured Wade's huge cock and mighty heavy balls, he gets into position so that Wade can enter his hairy jock strapped asshole.
Wade goes straight for the kill pressing home his big raw cock making Sean take every solid inch with his balls smacking against Sean's ass.
Sean can't get enough of this ass drilling.
After taking it raw on all fours, Sean spins around and sucks the cock that was just deep inside his insatiable hole.
Sean wants more so Wade lays back, so Sean can receive his cock from up top.
Flipping on his back one last time, Wade strips off Sean's jock and breeds his hole one last time before Sean busts his nut all over his hairy chest.