Every gay porn video and gay porn image gallery of Jamie Steel.
Hair Color: Brown
Sign: Unknown
Eye Color: Brown
Dick Size: 8 inch dick
Height: 5'9″
Cut / Uncut: Cut / Circumcised
Weight: 165lbs
Sexual Positions: Versatile
Jamie Steel gay porn scenes at Next Door Studios
Bored with their mundane sex life, Aspen suggests he and partner Jamie Steel try something a little more adventurous, as suggested by their therapist.
It seems Aspen has a bit of a domination fetish that he's not indulging, and it's having an effect on his overall happiness.
Aspen has gone ahead and taken the liberty of ordering some toys for the two of them, and he anticipates an experience that is much more in his wheelhouse.
What he didn't envision was how much Jamie would enjoy being the sub, but as Aspen spanks away and chokes Jamie's throat with his hard on, Jamie just gets rock hard and begs for more.
Aspen could really get into this sort of partner, and he shows it by giving Jamie the hardest fuck of his life.
Jamie returns the favor by letting Aspen do whatever he wants with him, and the two of them are both surprised by how much it turns them on, as evidenced by the huge loads they both shoot.
Looks like this won't be the last rough encounter between the two of them…Join them!
For Jamie Steel, the only thing hotter than sniffing his roomie's jock would be to get a taste of his actual cock. Luckily for him, both things are about to happen, when Darin Silvers catches him perving on his stuff.
Jamie's not sure how to take Darin's reaction, but when he grabs Jamie and forces him to suck his dick, Jamie offers no resistance. Suddenly, he's having his jock and eating it, too, as he chokes on Darin's thick hunk of meat.
Now rock hard, Darin eyes Jamie's perfect little ass and decides to give it a test drive. He eases his cock into Jamie from behind, slowly at first, stretching Jamie out as he fills him up. Once Jamie proves he can handle it, Darin picks up the pace and proceeds to pound Jamie's hole any way he wants to.
He throws Jamie onto the bed, spreads his legs and continues to pound away. Jamie moans with every deep thrust, stroking himself as Darin fucks the cum out of him, then unloads a massive batch all over Jamie.
Cum covered in jock juice, Jamie discovers the reality beats the fantasy any day of the week…Join them!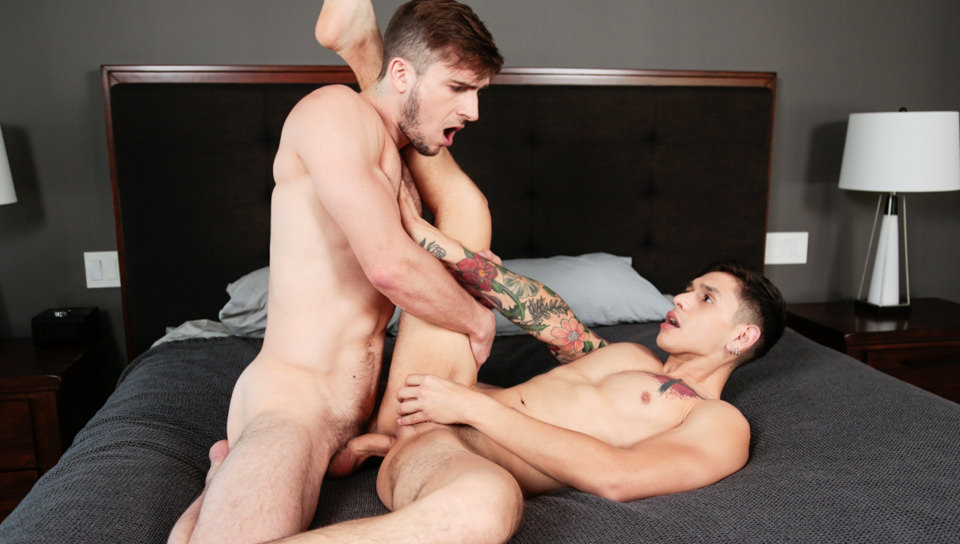 Best friends Donte Thick and Jamie Steel have been harboring the same secret from each other, but the truth is out in the open, and both have exposed themselves, literally.
Finally exploring each other's bodies, the engage in their fantasies and engorge on each other, taking full advantage of this first time fuck. Jamie shows just how deep he can take a thick cock as Donte fucks his face and then bends him over and slides it in raw.
Jamie gets his own taste of Donte's tight ass when he returns the favor, but his lust for Donte's cock is insatiable, and he begs for Donte to finish him off by fucking the cum out of him.
Donte is all too willing to oblige, and he christens the event when he showers Jamie with a massive load that signals just how long he's been waiting. You could say it's been a long, long time cumming….Join him!