Every gay porn video and gay porn image gallery of Julian Brady.
Hair Color: Brown
Sign: Unknown
Eye Color: Brown
Dick Size: 7-inch dick
Height: 5'9″
Cut / Uncut: Cut / Circumcised
Weight: 165 lbs
Sexual Positions: Versatile
Sexual Orientation. Straight
Nationality: American
Next Door Raw gay porn scenes of Julian Brady
It's a hot summer day with hard work ahead for cowboys Carter Woods and Julian Brady.
After admiring Julian nailing the poles on the fence, it's Carter's turn to do some nailing. The barn becomes hotter as the cowboys get it on. Yee-haw!…Join them!
Next Door Studios gay porn scenes of Julian Brady
Nic Sahara is all dressed up and ready for his interview for a new job.
Cocky young dude Nic Sahara likes the look of his 'would be' new boss sharp-suited Julian Brady. Mmmmmm. He certainly likes what he sees.
Luckily, an interview is a perfect place to display his natural assets. And they're big assets at that.
Don't believe us? Take a look for yourself. This member's fantasy is gonna blow you away…Join them!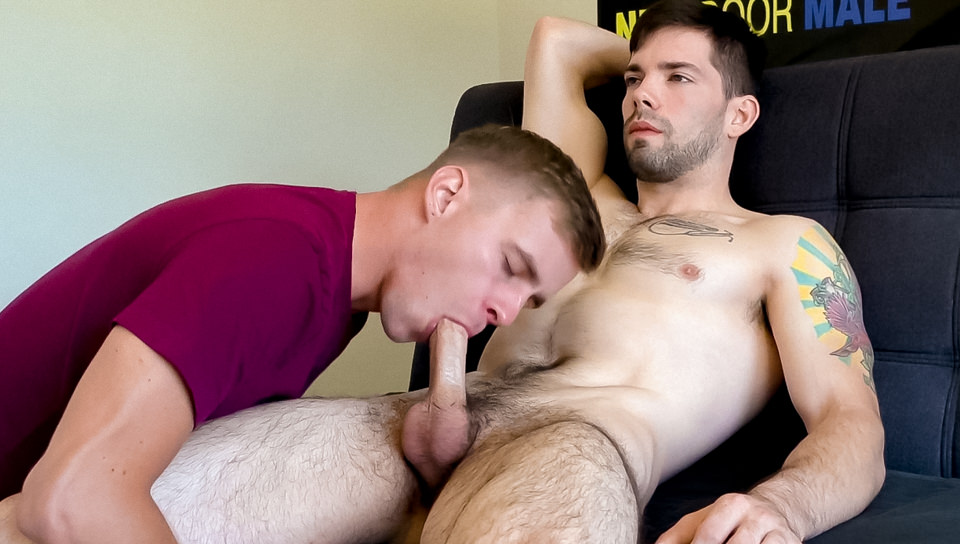 Well, members, you wanted him back and he is back and he's going to have Ryan Jordan give him a BJ for the very first time. Our casting agent can work some magic and Julian Brady is ready to have his cock sucked by a man for the very first time.
Julian is nervous but our casting agent is amazing at calming the nerves. He sets him up with some porn and gives him the breakdown of when Ryan will come in and tells him to go with the flow.
If he can't get hard then Ryan will help him with that but if he can get hard then Ryan will be in the room much sooner. Sit back members and see what your collective voice has brought back…Join them!
Chaos Men gay porn scenes of Julian Brady
We so much enjoyed it when Julian Brady introduced himself a few months back, here, that we had to invite him back at the earliest convenience.
So here he is with our super top Kyle Wyncrest.
We are a little bottom-heavy just now, so Kyle will stay as our resident top for the time being.
Perhaps we will persuade him to bottom at some point in the future but for now let's enjoy his superb topping skills.
Julian and Kyle look great together in front of the cameras. Both have beautiful bodies and well-developed abs with matching dicks.
Julian's previous video saw him cumming after getting his ass fucked and he didn't make a fuss about it at all.
Prior to starting I instructed him to play with his dick a bit more.
Previously he just 'took it' and didn't seem to be pleasuring himself. So let's see how he fares today.
Towards the end while he was being fucked doggie style, I asked if he thought he would be able to cum and he shouted, 'fuck yeah!'
I only have a very few videos where both guys cum at about the same time, and Julian appeared to be very impressed with that sensation.
It was always Kyle who could not help but rush to cum, after a few moments of pounding a tight ass, especially a virgin ass like Julian's I was worried he would blow his load before Julian.
But amazingly enough, he waited until Julian called out that he was close. His load kept dripping out of his dick.
Kyle managed to keep the fucking going for another 30 seconds or so before he pulled out shooting a bit of cum into Julian's hole and then finally finishing off pushing the cum back into his ass with his wet dick.
I edited it all in one camera shot underneath. I show the other angles too, along with my balding head right there! Sorry!
This video is terrific all the way through, but I have to say, their cum shots are nearly perfect and should be in the top 10 of the site's history!
A bit of a change around for this video.
Initially, Julian Brady was keen to try his hand at bottoming in this originally planned flip-flop fucking video.
He was so keen that he had been in practice sessions at home with a big sex toy.
Although he was a little bit too successful and he was suffering sitting down for the flight to the studio.
So Daniel Greene ever the professional decided that's fine I'll get fucked the whole way through and Julian can be the top.
So again we just missed seeing Daniel fucking, someone. It will happen one of these days.
Whatever, Daniel makes a truly sexy bottom, and Julian is a proficient top.
Julian starts by massaging Daniel with some oil rubbing his back and front and oiling up his already erect cock.
They are eager to fuck so Daniel sits on Julian's cock, cowboy style, taking control and grinding his hole down until it is balls deep inside him.
They clearly both enjoyed the bareback fucking which went on for ages with Daniel silently moaning to himself.
We ended with Julian fucking Daniel on his back. Julian creams Daniel's ass first, shoving his load into Daniel.
We always try to rush fucking the Bottom of the Top has cum, Just in case, the Tops cock goes soft after a big nut.
Sure enough, Julian's cock was just not hard enough to fuck the cum out of Daniel, who honestly could have used a break from the fucking and breeding.
Julian played with his cummy hole, while Daniel easy blew his load. Julian straddled Daniel's chest and made Daniel lick his cock clean!
Straight young hunk Boris has his girlfriends at home, but he loves being fucked.
I just find him so interesting. He is not a nervous freshly out guy or closeted. But his primary interests are women.
The same goes for Julian Brady. While Julian takes a bit of time to warm up to bottoming, Boris really has found that getting fucked makes stroking his cock that much more fun and is eager for it.
These two really got on great, and it is a must-see video.
Active Duty gay porn scenes of Julian Brady
Ex-army recruits Julian Brady and Kyler Drayke are horny as fuck and ready to get into each other as soon as they arrive at the camp.
Smooth muscle stud Kyler grabs ahold of Julian's jeans and pulls them down, exposing Julian's peachy hairy ass cheeks.
Bottom stud Julian falls to his knees releasing Kyler's massive erection from his pants sucking it right to the back of his deep throat.
Julian's expert cocksucking comes from years living in the ranks of the army and blowing the other straight men on the base.
Always a taboo subject but plenty of straight army guys admit that they often pick straws with the shortest going around the bunk room sucking each of the horny army dudes.
It is understood that the guys pull out before unloading although it occasionally happens that the guy being blown loses control and sprays his jizz down the throat of the unsuspecting cock sucker.
After getting so turned on, Kyler pumps Julian's hot raw hole with his big dick powerfucking him in long strong in and out strokes.
Beefy muscle hunk Julian moans and groans as his asshole takes a bareback pumelling bringing him close to orgasm, but being an expert bottom he manages to hold back.
Eventually, the hardcore anal assault means that Julian can hold off no longer and he shoots a huge volley of cum shots all over them both before Kyler pulls out and unloads all over Julian's ass and balls.
Sexy new army recruits Julian Brady and Finn August first intro to hardcore gay sex.
They never realized being around hot fighting men was going to set their temperatures rising.
Finn August needs a big, strong man to show him the ropes, and Julian Brady is happy to do so in this hot steamy gay sex scene.
Hardcore armyboy threesome Julian Brady, David Skylar and Jonathan Tylor big dick ass fucking.
Get to know what turns on David, Julian and new recruit Jonathan before they have a wild, wild threeway.
See all Julian Brady gay hardcore fuck sessions at Active Duty here.
See all David Skylar gay hardcore fuck sessions at Active Duty here.
Next Door Buddies gay porn scenes of Julian Brady
Brandon Anderson and Julian Brady, what a sexy combo.
When they're not out on the field, they're inside, having some of the hottest sex imaginable.
Take a look as the two really 'drill' each other.