All gay porn pics and gay porn videos of Chad Piper.
Hair Color: Brown
Sign: Unknown
Eye Color: Brown
Dick Size: 8 inch dick
Height: 5'9″
Cut / Uncut: Cut / Circumcised
Weight: 165lbs
Sexual Positions: Versatile
Chad Piper gay porn scenes at Next Door Studios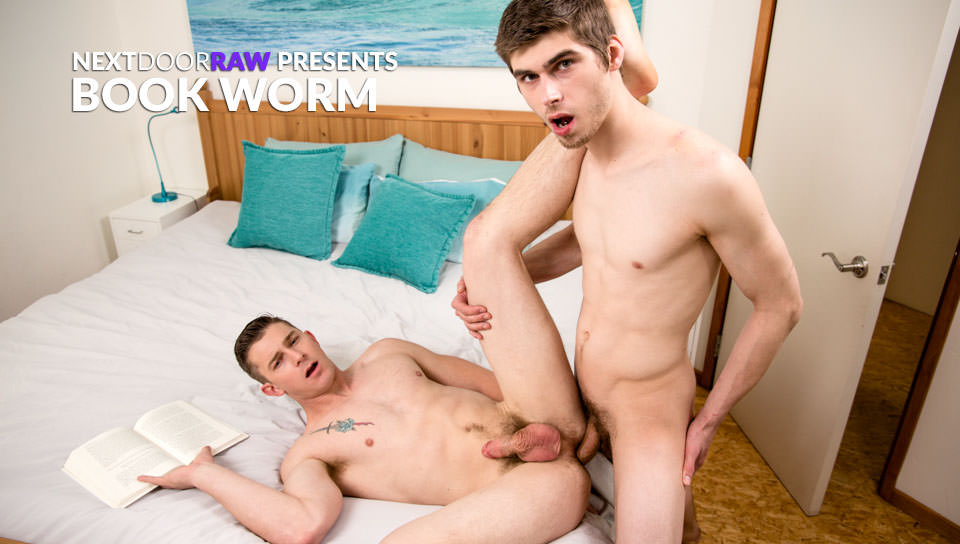 When Chad Piper sees roomie Nathan Styles reading alone in his room, he figures Nathan is just doing some nerd shit to kill the time, but when Nathan rolls over and reveals his rock hard dick bulging in his jeans, Chad realizes Nathan is in here reading some hot and heavy material.
Chad asks him if he wants the real thing and Nathan tells him he wants to see what he's packing. Chad unzips his pants and shows Nathan all he needs to see to get on board with the idea. They trade sloppy blow jobs before Chad bends Nathan over and begins to eat his ass.
He tongues Nathan's hole until it's ready for more, and then Chad stands up fulfills Nathan's literary desires, inching his raw cock as deep as it will go. Nathan lets out a gasp as he realizes just how much pipe Chad is laying, and Chad begins to fuck him harder.
He pounds from behind as Nathan strokes his dick feverishly as Chad begins to ease up. Slowing down, they decide to switch up, and Nathan climbs on top of Chad, lowering himself onto Chad's pole, then sliding all the way down as he parts his cheeks. He takes the cock balls deep and gives Chad the ride of his life.
Both guys are close to cumming, but Nathan wants to try his hand at laying the pipe. Chad is game, but almost as soon as Nathan can get his cock inside the hole, Chad clenches and tightens up around the head of Nathan's dick, causing him to erupt all over Chad's stomach.
Chad realizes it's now or never, and busts his load as Nathan exhales, and they both laugh, wondering what the next chapter will bring…Join them!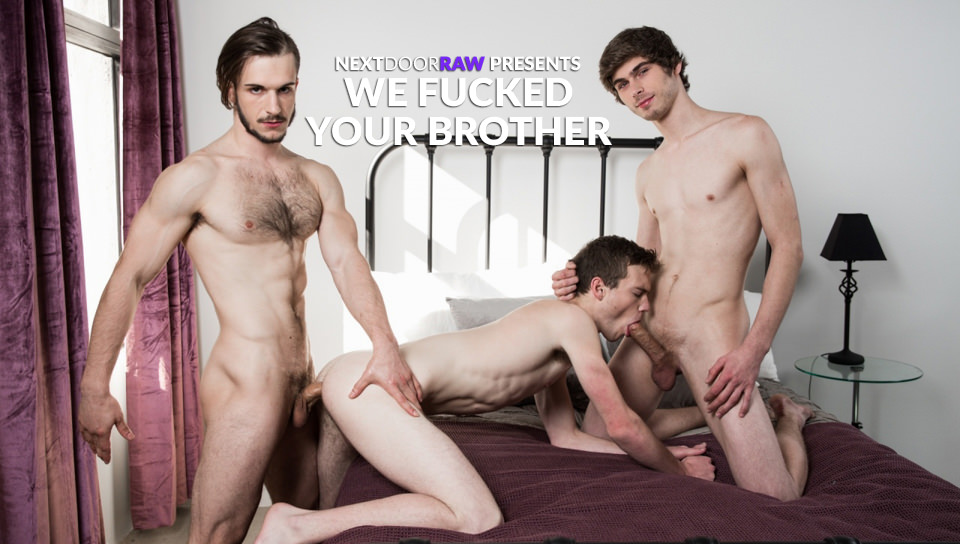 When Scott Finn shows up at his older brother's apartment, he's greeted by his brother's roommates, Donte Thick and boyfriend Chad Piper.
The two of them quickly realize that Scott is the spitting (or maybe the swallowing) image of his brother, so the guys can't help but wonder if he's as kinky and cock hungry as his brother, too.
Scott quickly reveals that he is, and Donte gets a look in his eye that Chad understands all too well. In no time, the three of them are engaged on the bed, each sucking the other off in a dick sucking triangle of lust.
Donte gets Scott nice and hard and then bends his little ass over, plunging his raw cock deep inside his roomie's brother. Scott takes the dick willingly, and Donte fucks him hard from behind while he chokes on Chad's thick pipe.
Having had his fill, they switch, and dirty Donte positions himself in the middle as boyfriend Chad gives him his meat, pounding him while Scott gags him on the other end with his rock hard cock.
Scott's about to burst, so they switch one last time, and Scott begins to plow Donte. He shows he's just as good at giving as he is receiving, pulling out and blasting Donte's bubble butt with his nut, coating Donte with a huge load.
Chad follows suit, giving Donte a nice facial as Donte licks up every drop.
Turning over onto his back, Donte jacks his load all over himself as Chad and Scott look on, and with Donte now thoroughly covered in cum, Chad, and Donte realize that good fucking runs in Scott's family…Join them!
Now that Grayson Lange and his brother's friend, Johnny Hill, have hooked up, Johnny is back for more. This time Grayson is the hesitant one, as Johnny tries to initiate with him while he sits in the living room.
Grayson is nervous because his step-brother, Chad Piper, is in the next room, but Johnny assures him Chad wouldn't care. In fact, Johnny thinks Chad might be into it. Grayson is skeptical so Johnny tells him to ask Chad himself, as Grayson turns and finds his step-brother standing there, cock in hand, ready for action.
Grayson laughs and then shrugs, thinking why not. He quickly bends over and begins to suck Chad off, while Johnny tongues his hole and shoves a finger deep inside. Grayson shows his pure cock lust as he lets both Johnny and Chad face fuck him at the same time.
Chad never knew that his brother was such a cock pig, but now that he realizes it, he decides to take full advantage, bending Grayson over and plunging his meaty cock bareback into Grayson's waiting hole. He pounds Grayson doggy style before giving Johnny a turn.
Johnny mounts Grayson onto his cock, fucking him from beneath while Grayson bounces on his hard dick. After taking both of them separately, Grayson is still not satisfied, so he tells them both to fuck him at the same time. Johnny isn't even sure it's possible, but sure enough, he watches Grayson mount Chad's pole before sliding his in too.
They double penetrate his hole as Grayson smiles and takes it willingly. Johnny feels his cock up against Chad's and the sensation causes him to pull out and blow his load.
Chad follows suit, standing up and blasting Grayson's face with his jizz, as Grayson strokes himself off and lauches all over himself…Join them!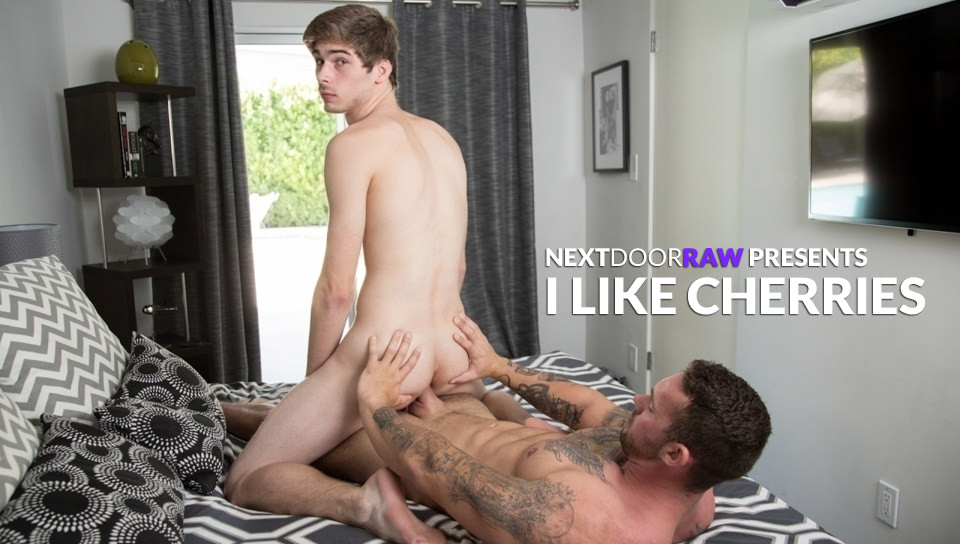 As Chad Piper makes his way home, he doesn't realize that he's being watched, until neighbor Steve Rogers approaches him at his front door way.
Steve cups his hand over Chad's mouth and tells him not to make a sound, explaining that he knows Chad has been watching him at night.
Chad begins to protest but Steve tells him it's ok, that he enjoys the idea of Chad watching him, and Steve wonders if Chad is willing to act on his desires. Chad tells Steve he's still a virgin.
Steve smiles, telling Chad he likes busting cherries, and they quickly make their way to Chad's room. Once there, Steve is all about business, telling Chad to suck him off. Chad does as he's told, taking Steve's massive cock into his mouth and downing it.
Steve gets rock hard as Chad deep throats him, telling Chad to bend over. Chad pensively gets on his hands and knees as Steve pops his cherry, sliding his bareback cock deep into Chad's virgin hole.
Chad surprises himself and Steve by taking every inch down to the base, so Steve proceeds to pound him, first from behind, then letting Chad mount him and take a spin.
Chad bounces his virgin ass up and down on Steve's meatstick, and having had his fill, Steve flips Chad onto his back and fucks him one last hard time, pulling out and spitting his seed all over Chad's hole, before shoving his cock back in and fucking the cum out of Chad.
As he bursts his first load all over himself, he smiles at the release, and Steve tells him he'll be back soon for round 2. Chad tells him he can't wait…Join them!
Chad Piper is a little nervous as he knocks on the door to this internet stranger's house, but as soon as Ian Greene lets him inside, Chad is immediately distracted by how nice the place is.
He immediately conjures fantasies of fucking in every corner of the house, and luckily, Ian is ready to start right now on the stairwell, grabbing Chad and kissing him as he takes off his clothes.
Removing Chad's pants, Ian gets his an up close look as his cock, and realizes he isn't about to be disappointed, as he downs Chad's cock in one fell swoop, taking him into his mouth all the way to the base, gagging on the shaft as Chad breaks out of his shell and pushes Ian's head down even further.
He comes off it for air and Chad tells him he wants to give it a go, so Ian reclines back onto his elbows as Chad sucks him off and fingers his hole.
Spitting in it, he tongue fucks Ian's hole before plunging his raw dick deep inside, fucking Ian in a standing doggy as he clings to the stair rail for dear life. Chad fucks him hard from behind before giving Ian a chance to ride.
Ian jumps at the opportunity, mounting Chad's cock and giving it a nice spin, before laying back and stroking himself off as Chad fucks the cum out of him.
He finally empties his seed into Ian, breeding him as Ian closes his eyes and imagines where Round 2 should happen…Join them!
Chad Piper gay porn scenes at Next Door Buddies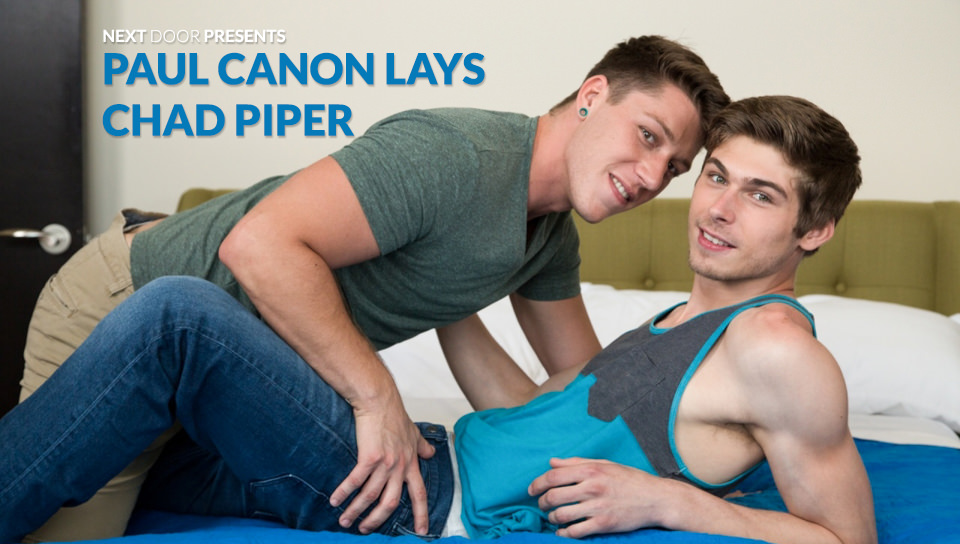 Chad Piper isn't brand new, but he's new to Paul Canon, and that's good enough for Paul. After chilling together by the pool, Paul is ready to get his hands on Chad's assets. Chad is also eager to experience Paul's cannon, and as Paul begins to suck him off, Chad realizes Paul knows more than one way to take care of his partner.
Chad gets rock hard from the head and then returns the favor, sucking Paul's cock until it's nice and hard and ready for action. Paul plunges his dick deep inside Chad's waiting hole, and proceeds to pound Chad from behind as Chad rides him reverse.
Throwing him down face first, Paul continues in doggy, squeezing Chad's nice little ass as he watches his cock go in and out. He flips Chad over and gives him one last pounding before pulling out and wetting his face, emptying his load all over Chad's mouth.
Chad strokes his own load all over his stomach, leaving him cum-drenched and in need of a shower, which is always the sign of a job well done…Join them!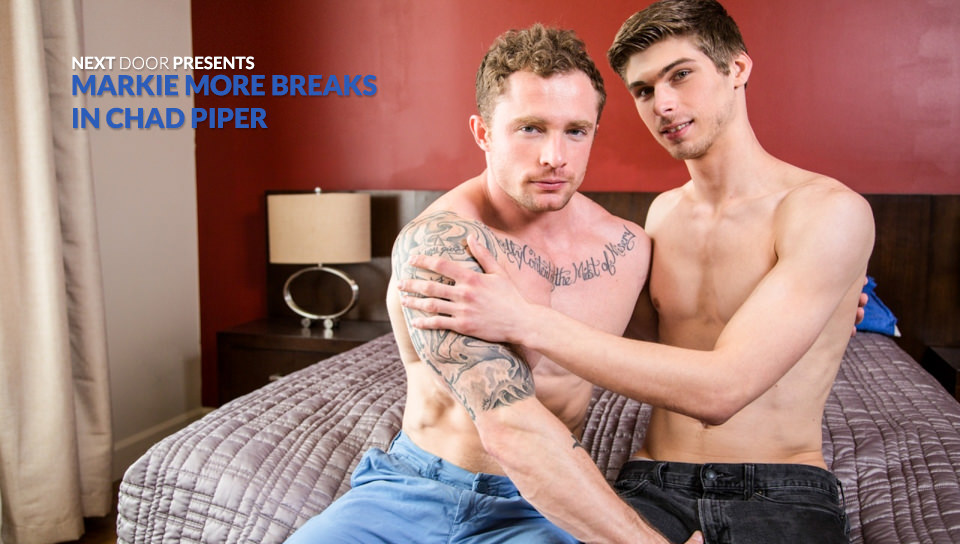 Fresh outta Pittsburgh, newbie Chad Piper finds himself in the hungry clutches of Markie More. The two of them are getting handsy as Markie can't wait to get Chad out of his clothes. Tearing off his jeans, Markie discovers that Chad lives to his name, as he unleashes his Steel City pipe for Markie to behold.
Markie takes a deep dive onto Chad's cock, gagging himself with it before flipping Chad over and fingering his hole. After tonguing Chad up and down, Markie gives Chad the pipe and lets him have it from behind.
Markie breaks him in and Chad proves he can take a dick like a champ, so Markie asks if he's as good at being on top. Chad grins as he flips Markie over and plunges his thick cock deep inside of Markie's tight hole.
Chad clearly has what it takes, as he fills Markie up and pounds the cum out of him, pulling out and wetting him down with is own load, leaving Markie covered in irrefutable evidence that Chad has what it takes to come back for more…Join them!