Every gay porn video and gay porn image gallery of Leo Luckett.
Hair Color: Blonde
Sign: Unknown
Eye Color: Brown
Dick Size: 8 inch dick
Height: 5'9″
Cut / Uncut: Cut / Circumcised
Weight: 165lbs
Sexual Positions: Versatile
Icon Male gay porn scenes of Leo Luckett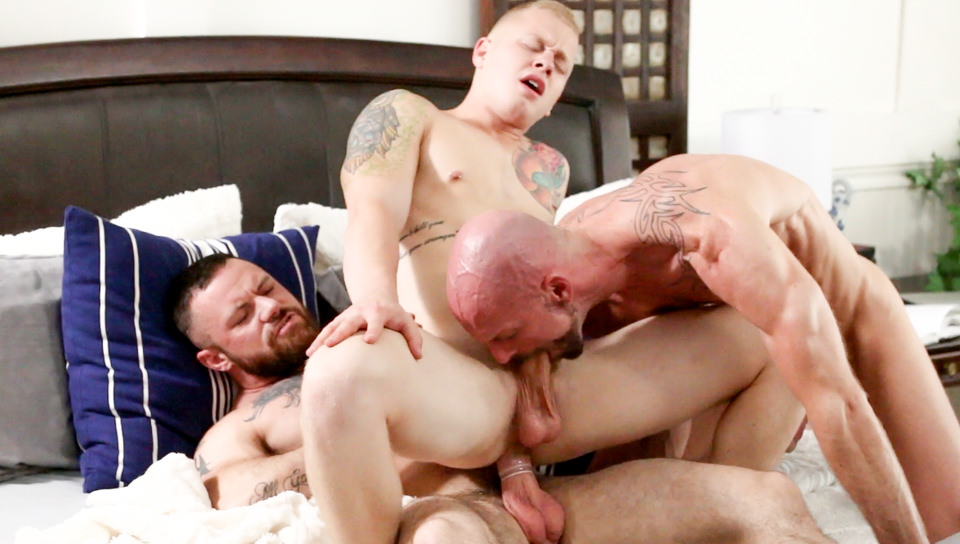 Young and horny Trent is ready for more and he has his sights set on his hard-bodied Uncle Heath. The experienced uncle starts by worshiping the young man's body and taking care of his rock hard dick. Just when they thought they were alone, in walks Trent's cum-hungry stepdad, Jack. Now they can really get down to business as Jack takes full control. He begins by eating his stepson's tight pink asshole. After Jack's stepbrother and stepson service his thick hard cock, he fucks them both in this torrid family three-way. Starring: Leo Luckett, Mitch Vaughn, and Sergeant Miles.…Join them!
Extra Big Dicks gay porn scenes of Leo Luckett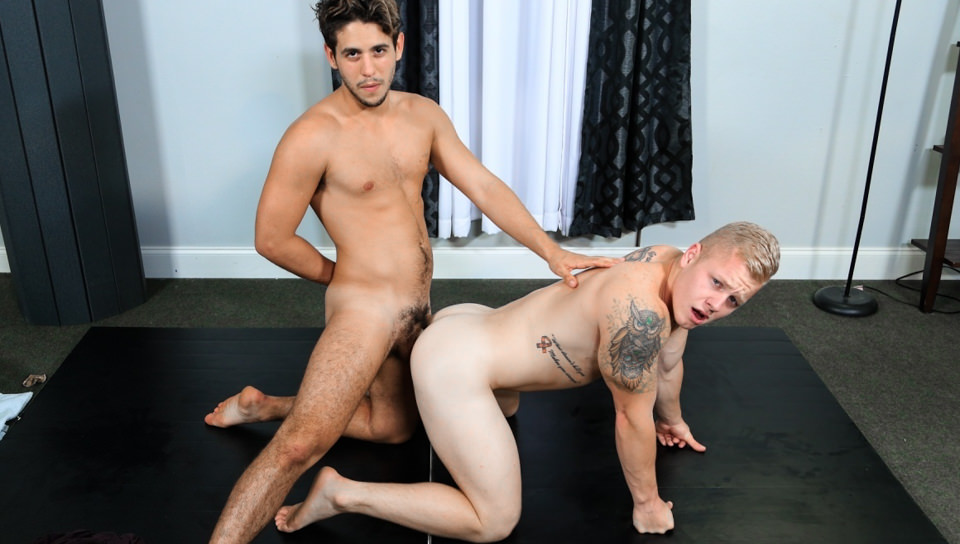 Leo Luckett is instructing Dylan Drive in a few Yoga Positions and stretching exercises. When they put their feet together and start stretching.
Dylan's big cock falls outside the side of his shorts and he is obviously getting aroused because he is leaving a pre-cum trail from the end of his cock to the exercise mat.
Leo cannot resist when he sees it and after stroking it for a bit, he starts deep throating Dylan's big cock. They then move into a 69 position and Dylan starts rimming Leo's beautiful bubble butt.
Once his ass is nice and wet Leo lowers himself onto the massive cock and rides him long and deep. Dylan then takes advantage of Leo's flexibility and he pile drives his cock deep into Leo's eager ass.
They fuck in a couple more positions and Leo then shoots his load all over himself and Dylan does the same…Join them!
Men gay porn scenes of Leo Luckett
Will Braun and Leo Luckett are visiting Will's mom when the lights go out.
Panicking, Will's mom bursts into his room and takes what she thinks is a flashlight out of their hands she discovers what it really is when they finally get the lights back on…Join them!
A yoga class gets real hot when the students can't control themselves after Arad shows them how to move their bodies for maximum pleasure, starring, Wesley Woods, Arad Winwin, Jacob Peterson, Leon Lewis, Casey Jacks and Leo Luckett.…Join them!
College Dudes gay porn scenes of Leo Luckett
Todd Haynes and Leo Luckett kick this sexy scene off with some kisses, exploring each other until their clothes are off and Todd is lying back on the bed with Leo between his legs.
Leo takes Todd's dick in his mouth, sucking that long shaft until he's got Todd hard as fuck and then he stands back and lets Todd get a taste of his dick next.
Todd sucks Leo's cock and then bends him over the bed and eats his ass too, rimming that tight hole while Todd massages his own hard prick and then stands up to give it to Leo.
Leo takes Todd's hard cock in his tight ass, moaning as Todd shoves it deeper into him, fucking him full of that throbbing dick and then turning him over and taking him from behind.
As Leo massages his own cock, he turns over onto his back and opens his legs, letting Todd fill him up again until Leo busts a nut and Todd pulls out, unleashing his cum as he strokes out every last drop…Join them!
Next Door Studios gay porn scenes of Leo Luckett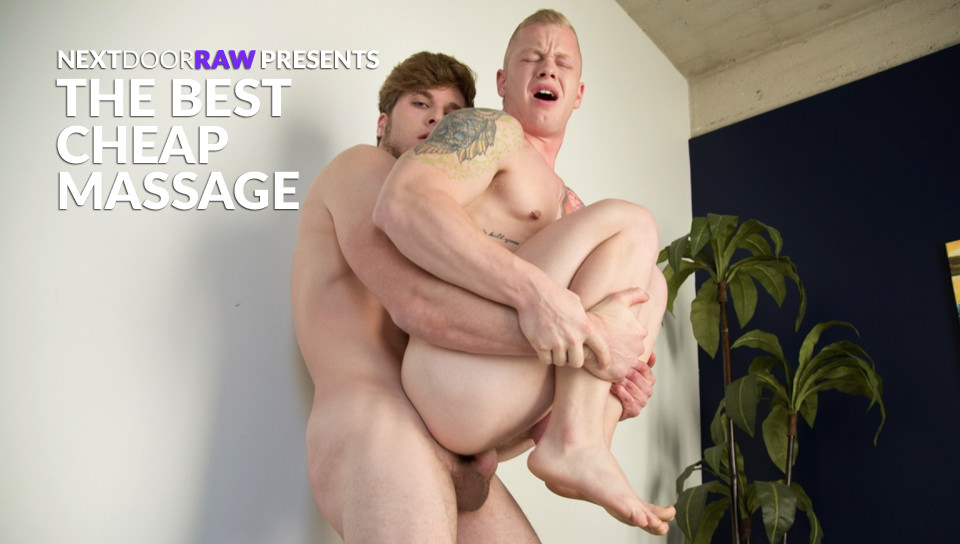 Newbie Colton Cain hasn't had too many happy ending massages, so when he sits up from Leo Luckett's table and finds Leo naked and hard as a rock, he's a little shocked.
Leo assures him this is all standard, and for $60 Colton concedes Leo's pricing is hard to beat. So he relents, letting Leo do what he does, and from there Leo takes over.
Having already rubbed Colton from head to toe, Leo begins to focus his efforts on Colton's hardest area, as he works Colton's cock with his mouth.
Colton immediately begins to feel the tension easing, but in order for a full release, he'll need to do some deep intensive work with Leo.
Leo is down for it and bends over as Colton pokes and prods, fucking Leo hard on the massage table. Leo strokes himself off as Colton raw dogs him from behind, fucking the cum out of Leo before pulling out and dropping his load all over ass freshly fucked hole in front of him.
He coats Leo with a sweet and sweaty release, and Leo smiles at the thought of another satisfied customer, certain that Colton will soon be back for yet another booking…Join them!
With his step-brother, Leo Luckett, in a tough jam, Ty Thomas tries to help him come up with a way to find a place to stay.
Ty tells Leo about an incident that took place when he was in college and ran up his credit card bills, relating a story about a guy who helped Ty out in exchange for a little personal attention.
Leo seems slow to make the connection Ty is hinting at, so Ty just comes out with it, telling Leo he can stay with Ty if he sucks Ty's dick.
Leo wonders if Ty is serious, but glancing over at the bulge in Ty's jeans gives him a definitive answer. He realizes he's caught between a rock and a hard-on, and opts for the lesser of two evils, falling to his knees as Ty whips out his cock.
Ty has clearly been waiting for this for some time, as Leo can barely fit the girth of Ty's rock hard cock in his mouth. It chokes Leo as he tries to deep throat it, but he sucks Ty off with vim and vigor, working Ty's balls with his tongue as he inches up and down the shaft.
Ty flips him over and returns the favor, downing Leo's dick before flipping his step-brother over and eating his ass. He tongues Leo's fresh hole, stroking himself all the while.
Now that Leo's hole is primed and moist for the intrusion, he mounts his step-brother's raw cock, mounting Ty and riding him reverse cowboy as Ty bounces his perfect ass up and down.
Ty has been waiting for this his whole life, and now that he has the opportunity, he seizes it completely, flipping Leo onto his hands and knees and plowing him from behind, fucking Leo bareback doggy style before flipping him onto his back and fucking the jizz out of him.
Leo's load flings all over Ty's couch as Ty pulls out and blasts his step-brother with a brotherly load of spunk, and as Ty shoves his cock back inside Leo's cum-dripping hole, Leo realizes there will be at least one extra fringe benefit to his new living situation…Join them!
Zay Hardy has got something Leo Luckett might be very interested in obtaining for himself, and once he reveals it, Leo is certainly interested in seeing what it does.
Leo checks out the precious 'magical' stone, which Zay assures him will give the possessor the power to have anyone he or she wants. Leo is skeptical until he puts his hands on the stone and feels Zay's hands on his shoulders.
Looking up at him, he realizes that maybe the stone does have magical powers after all, as Zay stands up and begins to unzip his pants.
Moments later, Leo is gagging on Zay's hard on, and when Zay slides his bareback cock deep inside his waiting hole, Leo becomes a converted believer in the stone's powers.
Zay pounds him from behind before letting Leo ride the dick to his heart's content, and when Zay flips him over and fucks the cum out of him, Leo tells him he just made his sale.
Zay smiles, knowing full well he'll be seeing the stone and Leo soon enough again…Join them!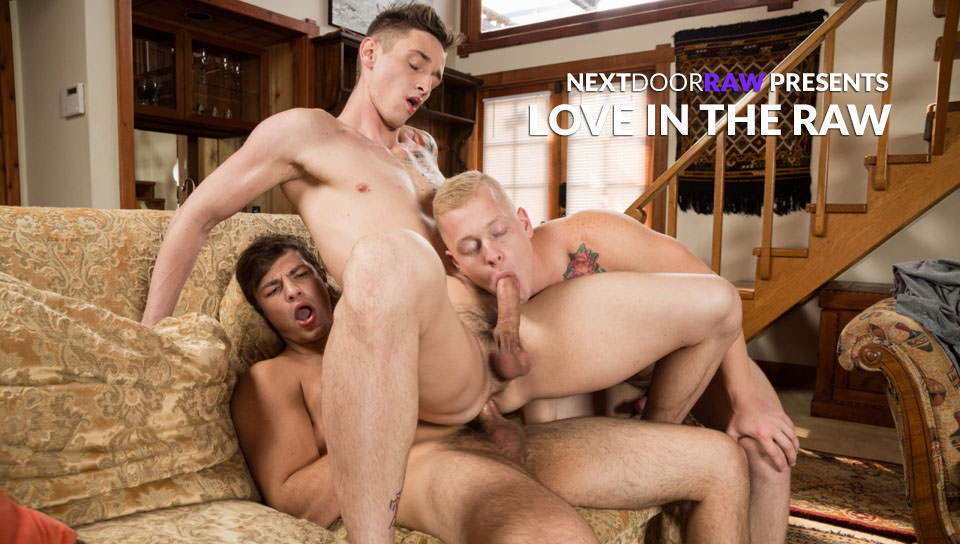 Out for a holiday drive, Leo Luckett and Lance Ford spot a wanderer on the side of the road.
Leo thinks nothing of it but Lance has seen the guy walking around town for a few days now, and despite his disheveled appearance, Lance thinks he and Leo can help the guy get back on his feet.
Charlie Pattinson is more than gracious for their help, and when the two of them set him up in their guest house, he feels like he's hit the lottery.
But Charlie's luck has just begun. Over the course of the next few days, he learns that Lance and Leo are in an open relationship, and he begins to wonder if maybe there isn't something to such a lifestyle.
When Lance catches him spying on him through the window, he invites Charlie inside and they talk about Charlie's sudden feelings on the subject.
Lance tells him he'll never know what it's like if he never tries it, as Leo makes his way down the stairs.
Charlie thinks about it and decides now is the time for him to engage in his fantasies, and that Lance and Leo are the perfect pairs to show him the ropes. What follows is an experience young Charlie will never forget…Join them!
When his yard worker Leo Luckett knocks on his door for back payment, Dean Phoenix thinks there might be something else going on, especially since Leo keeps eyeballing the bulge in his pants.
As Dean comes out of his upstairs bedroom and finds a shirtless Leo there to greet him, his suspicions prove true, and when Leo tells him he needs a little something extra, Dean grabs him and brings him into his bedroom, throwing him down on his stomach and eating his perfect boy ass while Leo's eyes roll back from pleasure.
Dean sucks Leo hard then flips him around, plunging his 9′ cock deep down Leo's throat. Leo takes it down to the shaft, gagging on Dean's cock, before sliding down off the bed headfirst with his legs spread, allowing Dean to slide his bare cock all the way into Leo's hole.
He fucks Leo suspended upside down before rocking onto his back. Leo flips with him and begins riding Dean as he strokes himself off, cumming all over Dean's chest and begging him to seed his hole.
Dean flips Leo over and pounds him from behind before pulling out and dousing him with his nut, cumming all over Leo's freshly fucked hole.
Leo gives a satisfied smile and tells Dean he'll be back next week to 'mow the lawn' again…Join them!
Manalized gay porn scenes of Leo Luckett
Sexy older muscle dude Manuel Skye is dreaming about sexy young blonde dude Leo Luckett.
Manual is feeling super horny and this shoots into overdrive when he catches a glimpse of Leo's young athletic body.
Leo gets his phone out to start recording their hot sex.
These two started kissing and groping on the bed, sucking each other and moaning from excitement.
Manuel being the dominant one and more experienced, quickly took control of Leo's ass and ate it with his big tongue.
His huge cock was more than ready to smash Leo from behind, and Leo took it like a champ.
The whole room echoed from bareback smashing, in various positions from doggy to riding.
Leo was first to cum as his anus was probed deep and satisfying.
Manuel quickly followed, cumming all over Leos yummy balls, but he kept fucking him for a bit, showing just how horny he really is.