Every gay porn video and gay porn image gallery of Nikko Russo.
Hair Color: Brown
Sign: Unknown
Eye Color: Brown
Dick Size: 8.5 inch dick
Height: 6'1″
Cut / Uncut: Uncut / Uncircumcised
Weight: 165lbs
Sexual Positions: Versatile
Nikko Russo gay porn scenes at Men
When the beautiful Gabriel Clark says that he's a sensual lover, you better believe him. The way he describes kissing, licking, and grabbing a handful of ass is enough to make anyone hot and bothered.
So it's no surprise that when Gabriel met tall Nikko Russo, sparks flew. They started by kissing gently, with Gabriel softly teasing Nikko's nipples as they passionately rub their groins against each other.
Nikko then slowly gets on his knees to pull down Gabriel's underwear and starts sucking on his huge, uncut dick until Gabriel pushes him onto the bed and returns the favor by licking Nikko's big, uncut cock from the base to the tip before deep-throating him.
Gabriel then lifts Nikko's legs to have better access to his beautifully puckered butthole, and dives right in, rimming Nikko as he gently moans.
Ready to slide his big dick inside Nikko, Gabriel thrusts slowly at first and then rhythmically builds momentum with each new position until Nikko cums all over Gabriel.
Gabriel then blows his huge load on Nikko's cock and ass before exchanging one final, passionate kiss…Join them!
Tattooed cutie Theo Ross just wants to get his dick wet, but his roommate slender Nikko Russo really isn't having it.
Muscular Theo devises a plan and purchases a 3D dildo sex doll so he can at least get off watching him ride it, but has an even better idea and swaps places with the doll when Theo gets off it to answer the door.
He places himself in the same position with his erect dick, and waits for Nikko to come back, and slide onto his cock. How long will it take Nikko to notice?…Join them!
Nikko Russo gay porn scenes at Falcon Studios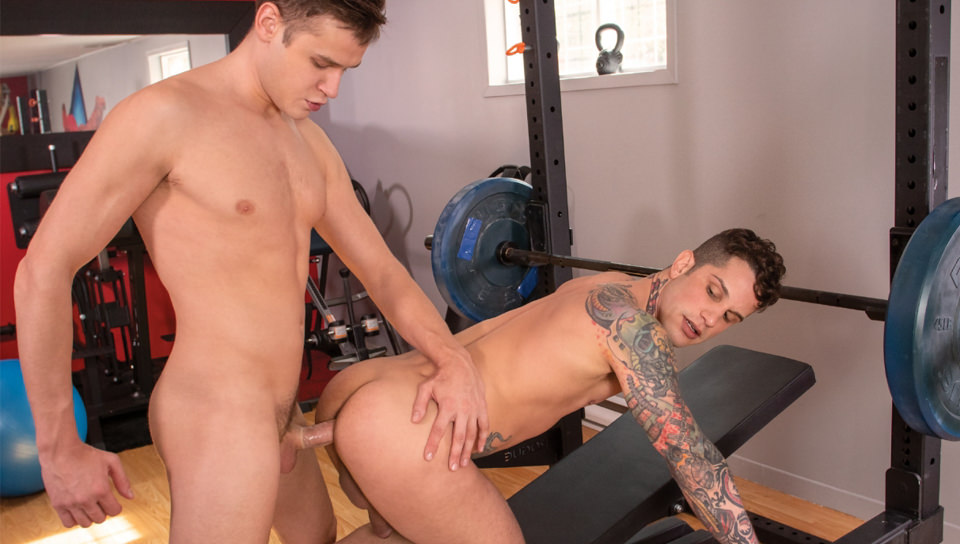 Pierre Fitch and Nikko Russo are working out together and when Nikko comes over to spot Pierre on the weights, Pierre spots something better between Nikko's legs. Nikko peels off his shorts to give Pierre access to his thick, uncut cock.
With his hands still gripping the weights, Pierre opens his mouth wide to let Nikko fuck his face. There's nothing better than Nikko's cock sliding down Pierre's open throat, except possibly Nikko's thick dick in his ass.
Pierre wants it bad and bends over the weight bench to let Nikko slip it in his hole. Nikko goes slow at first, giving Pierre the chance to open up and adjust to his massive member. Once Nikko knows that Pierre's hole is ready for fucking, Nikko pounds the moaning stud hard, going as deep as he possibly can.
Pierre wants it even harder and rolls onto his back to give Nikko complete access to his prostate. Continuing to give Pierre what he wants, Nikko doesn't stop until he's ready to blow. Nikko pulls out and spills his cum all over Pierre's balls and bends down to lick it off.
Nikko wants to share his taste with Pierre and gives him an intimate kiss as the two share Nikko's load. With the taste of Nikko still dripping from his mouth, Pierre stands over Nikko and finishes off with a massive load to the stud's hungry face..Join them!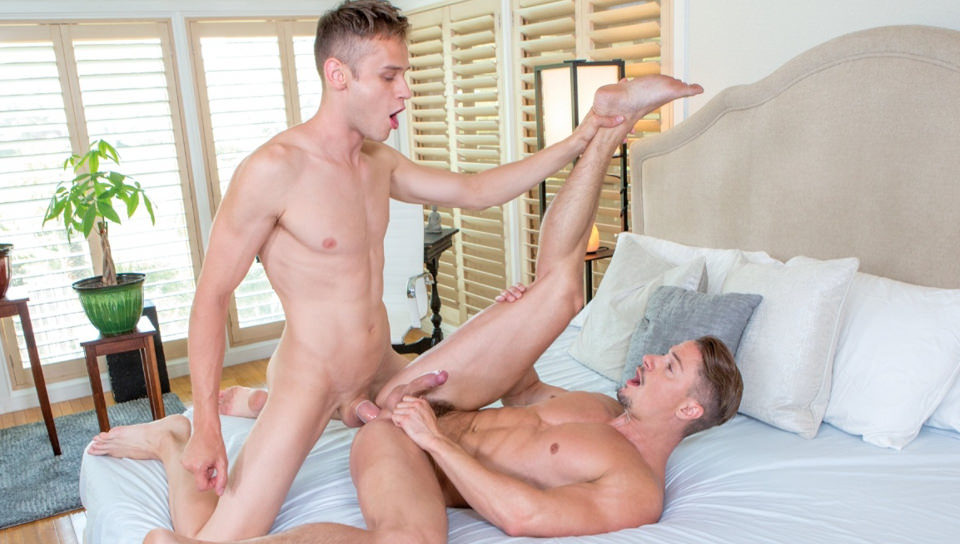 Skyy Knox is giving Nikko Russo a quick tour of his house. When the tour finishes in the bedroom, Skyy offers to take some sexy photos of Nikko for his dating apps. When Nikko pulls his cock out, Skyy's idea of taking photos goes out the door in favor of taking the big dick in his mouth.
Skyy takes the whole thing down his throat and gets the stud hard as a rock with his eager mouth. Skyy can sense that Nikko is ready to fuck and bends over to let the stud probe his ass with his tongue. When his ass is nice and opened up, Skyy hops on and takes it deep in his ass.
Skyy rides it long and hard and savors every inch that Nikko has to give. As deep as Skyy is taking it, Nikko knows he can go a bit further and bends Skyy over to pile drive the horny stud. Nikko pounds it home, going balls deep inside Skyy's hole as Skyy begs for him to go deeper and harder.
Skyy rolls over for the home stretch as he yells for Nikko to slam him with his big dick. Nikko does as he's told and reams Skyy…Join them!