Every gay porn video and gay porn image gallery of Guido Plaza.
Hair Color: Black
Sign: Aries
Eye Color: Brown
Dick Size: 8.5-inch dick / 21.59 cms
Height: 5'7″
Cut / Uncut: Uncut / Uncircumcised
Weight: 158 lbs
Sexual Positions: Versatile
Sexuality: Gay
Nationality: Venezuelan
UK Naked Men gay porn scenes of Guido Plaza
Hot damn, latest crush alert, how smoking' hot is Guido Plaza? new in town and we were there to meet him off the bus.
This hot jalapeño is a pushy bottom, one of those cute as fuck power bottoms, he's shoving back as hard as you're poking, hmmmm just imagine that dick-milking hole.
But I digress, Donnie Marco was Guido's pick from the stable and he's a firm ( rock hard) favourite, its not just Donnie's ripped body, big dick and the way he brings his sub lads to shuddering climaxes, its that mean mother fukka attitude of his, fuck thats a turn on.
Guido can't wait to strip down and show off his tan lines, that boy is a taut package of muscular 'Yum'.
Donnie Marco slides into that raw hole with gusto ( no condom) but plenty of gusto, a little bit of spit and then splatter after splatter of hot man-sauce. …Join them!
Kristen Bjorn gay porn scenes of Guido Plaza
On a balmy day in the city porn superstars Dann Grey and Guido Plaza hook up for a sultry, sexual feast. Their uncanny appearance makes one take a double look and question, are these cousins, long lost twins, or just some really hot guys getting it on?
The guys begin with some salacious kissing on the balcony but have to move indoors because this encounter is about to erupt and this show is not for free to the neighbors. Dann quickly drops to his knees and begins sucking on Guido's throbbing, hard cock.
Putting his full cock sucking skills on display, Dann inhales the full length of Guido's cock shaft as it parts his lips, slips across his tongue and down his throat. Dann's masterful cock sucking has whipped Guido into a frenzy of desire as he is hungry to get his lips wrapped around Dann's cock.
Guido also is an expert cock sucker as he demonstrates that he too is capable of hitting the base of Dann's cock with his lips and massaging the head of his cock with his throat. Flipping Dann around, Guido is elated to see the perfectly smooth, chestnut-colored pucker hole that awaits his skillful tongue.
The sex juices are flowing and as Guido stands up, he gently thrusts his entire cock deep into Dann's muscular ass. The guys flip and this time it is Dann that sets his eyes on the magnificence of Guido's perfectly sculpted ass. Dann gives Guido's ass an incredible tongue lashing that sets him up for so much more.
As Dann penetrates Guido's ass, both men moan out in complete and utter pleasure. Dann begins a rhythmic fucking that raises the pleasure level and the heat in the room. One last flip and this time Dann is squatting down onto Guido's pulsating cock. As his cock enters Dann's ass Guido sets off on a rapid-fire fucking that only sees one outcome.
Dann then takes charge and fucks himself with Guido's cock as the two share in the joys of fucking. It isn't long before Guido's cock has massaged and aroused Dann to the point of no return as his cock begins oozing a creamy load of cum.
Guido is relentless in his fucking and continues pounding Dann's ass until he feeds his thick, load of cum to Dann.
The newest member to the team is Valdo Smith and he is more than ready to take on the ever-impressive Guido Plaza.
From the moment these two walk into the room you know that kissing is going to be paramount and we are blown away with their level of passion.
Valdo and Guido go back and forth from kissing to nipple pleasure as each man seduces the other with his expert tongue flicking skills.
Valdo drops to his knees and puts his full pleasure of cock sucking on display as he seductively worships Guido's impressive cock.
Not to miss out on any of the hot action, Guido drops to his knees and takes in the full view of Valdo's meaty cock before taking his balls into his mouth one at a time and giving them a good tugging before making his way to the thick cock awaiting his moist lips.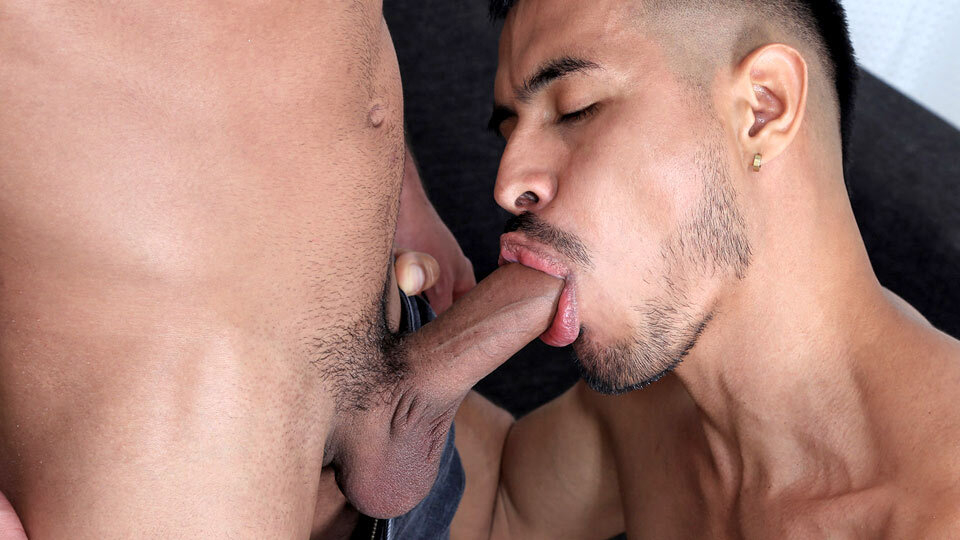 Guido works his way down Valdo's cock shaft until he reaches the full musky aroma that is lingering on Valdo's pubic hair.
Valdo gives Guido a good throat fucking that brings both men to a level of being drenched, drained and begging for more.
Being spun around and bent over, Valdo's ass is spread open as Guido dives into that beautiful brown berry and gives it a tongue fucking it so richly deserves.
Guido then stands up, rams his raw cock deep inside of Valdo and gives him a hardcore fucking that sucks out a huge load of cum from his throbbing cock.
With his cock still oozing cum, Guido squats down onto Valdo's fat cock and takes both of them for a wild ride.
Valdo is unable to resist the pleasures engulfing his cock and unleashes his thick, creamy load of cum as Guido slides his ass back down onto Valdo's cum drenched cock.