Every gay porn video and gay porn image gallery of Nick Milani.
Hair Color: Brown
Sign: Leo
Eye Color: Brown
Dick Size: 6 inch dick
Height: 5'6″
Cut / Uncut: Uncut / Uncircumcised
Weight: 165lbs
Sexual Positions: Versatile
Extra Big Dicks gay porn scenes of Nick Milani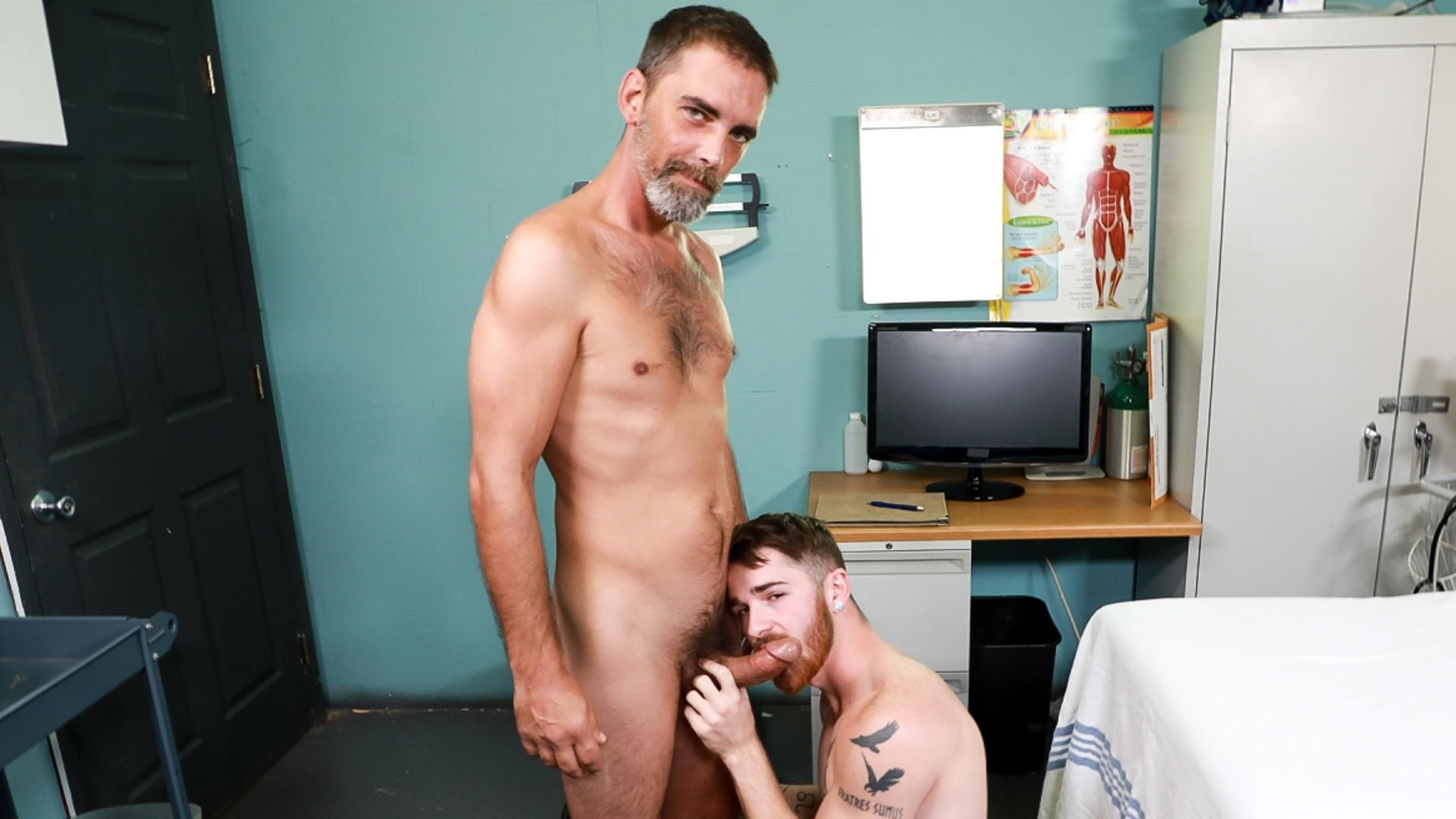 Nick Milani has come to see his Doctor Mr. Parker in hopes of figuring out why he has to use so much lube when he gets fucked.
Joe Parker exams him deep and hard and when he doesn't see anything wrong he decides to go for a full exam.
Nick begins to worship Joe's cock and soon enough he's gagging and blowing his big hard cock. Joe bends him over and rims his ass getting it ready for his big cock.
Nick's ass is wet and ready he's in the perfect position so Joe pushes his cock into him balls deep and starts to fuck him giving him one special exam.
Nick's ass seems fine and with a few more hard thrusts Nick cums all over himself.
Joe pulls his raw cock out and strokes his nut out onto Nick's smooth chest…Join them!
Men gay porn scenes of Nick Milani
Roommates Paul Canon and Nick Milani can't see eye to eye on anything, but they don't want to break their lease, so they visit a couples' therapist for help.
The therapist proposes an unorthodox solution: they need to get their feelings of anger out with a hate fuck. The guys get competitive over who can out-fuck the other, trash-talking in between making out before Nick starts sucking Paul's cock.
Paul eats his roomie's ass and can't believe how tight it is when he fucks him in pile driver. Nick rides that dick till he cums first, but Paul makes the bigger load all over Nick's face and chest…Join them!
College Dudes gay porn scenes of Nick Milani
After making out and kissing that sweet mouth, Nick Milani pushes Mateo Rose onto the bed, pulling Mateo's underwear off and taking that big cock in his mouth.
Nick sucks on that dick, making it stand at attention as he runs his lips across it and then lies back to receive head from Mateo.
Mateo goes down on Nick, tasting every inch of him as he sucks that sweet cock and then rims Nick's tight hole before filling it up with his hard dick.
Mateo enters Nick slowly from behind as he lies face down on the bed, ass in the air and eager to get fucked as Mateo sheaths himself fully in that hole.
Nick takes every inch of that dick that Mateo gives to him, letting himself get pounded hard before they flip and Mateo bottoms for Nick.
And Nick is barely inside Mateo for more than a couple minutes before that hard cock is making Mateo bust a nut.
He cums hard all over his face and across his abs and chest as Nick leans in for a quick taste before getting himself off, hot cum spurting from his pink cock…Join them!
Masqulin gay porn scenes of Nick Milani
Rikk York is an online "Vlogger" who's invited three of his bros to a weekend trip to Fort Lauderdale where he has secured a house with a boat and jet-ski.
After checking out the house and the water sports toys, Rikk takes Armando De Armas to his favorite bedroom for some hot sex. Meanwhile, Jay Seabrook and Nick Milani get their hands on Rikk's Vlog Camera and capture the debauchery.
Today is the final episode of "Sun, Fun, and More" starring hot gay porn stars Armando De Armas, Jay Seabrook, Nick Milani, and vlogger Rikk York.
The sexy muscle men take their motorboat and jet ski out on the water intent on enjoying the sun and having a little bit of naughty fun too.
After a beautiful day, they return to the house and shower, that the "more" happens ending their weekend away with extreme hot indulgence in all their sensual pleasures.
Pride Studios gay porn scenes of Nick Milani
Fresh out of the closet, Nick Milani hasn't seen his step-uncle Hans Berlin in many years.
Now an adult, Nick doesn't really know what to expect from his mother's brother, but he does know that Hans has a very unique job as a producer of sex toys.
When he shows up to Hans' hotel room, he discovers that his uncle's job and his private life often coincide, and before too long, Hans is giving Nick a thorough, first-hand demo of his product line.
Nick has to admit the quality of his sex toys are top-notch, but nothing compares to the feeling of the real thing.
Hans agrees and tosses the dildo aside, shoving his cock deep into his nephew and pounding him until Nick cums all over the bedsheets.
As Hans covers Nick with his load, the two of them fall back onto the bed and agree this is one secret that should just stay between the two of them.