Hair Color: Ginger / Redhead
Sign: Unknown
Eye Color: Green
Dick Size: 7 inch dick
Height: 5'10"
Cut / Uncut: Uncut / Uncircumcised
Weight: 172lbs
Sexual Positions: Versatile Bottom
Andro Maas gay porn scenes at UK Naked Men
These two hotties are pretty much dating since they were flung together in the flesh pot of porn, and they're loving it. Nathan Raider popped his porno cherry with us (on our sofa) and said at the time he'd like to 'fuck the arse of Andro Mas', we're here to make wet dreams come true.
Our two young, hung and soon to be emptied-of-cum, studs are messing around on Grindr, Nathan knows Andro's a total cock-slut, and the dildo he finds in his bedside table is proof, so lets hang up the Grindr and get down to business.
Hairy, horny, ripped Nathan does a total number on Andros' tight, wet, pink arse, first with the big, black dildo, then with his even bigger uncircumcised cock.
But first lets linger on Nathan's magnificent, long, elastic foreskin, (I've said it! before – Italians produce the best foreskins in the world) but Andro's got a corker too, long and pink and Nathan's making a meal of it, finer-licking-forekin-munching yum and we linger a little longer on these sexy boys feet too, (yes we do read your requests and we know what you kinky gents want).
When Nathan has totally fucked the bejezus out of Andro, doggy, missionary and with his muscular legs pushed back in his face he can hole back that creamy, steamy sticky load no longer, but where's he gonna squirt that wad this time?…Join them!
Andro Maas gay porn scenes at Falcon Studios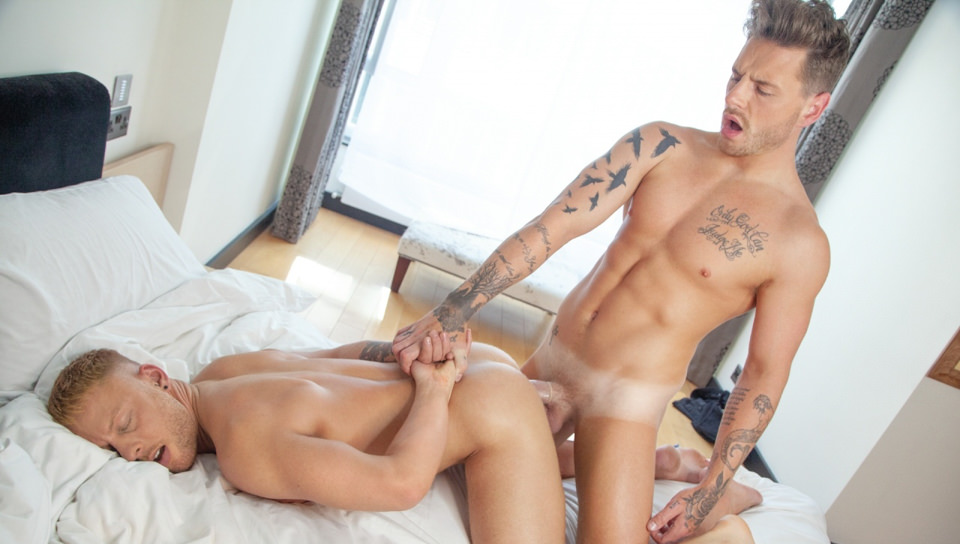 Josh Moore gets a call from Colton Reece and Austin Sugar that they're in London and want to hang out.
They make plans to meet up at Buckingham Palace in an hour, but a sexy ginger bottom named Andro Maas hits Josh up on an app right after he hangs up the phone.
He's too sexy to pass up, so Josh invites Andro over for some quick fun before meeting his friends.
The minute the door opens, their hands are all over each other and they start making out furiously.
Andro is quick to drop to his knees and nurse on Josh's huge, uncut cock. Josh can't get enough of Andro's amazing mouth, but he craves more.
They 69 each other, working each other's uncut cocks before Josh mounts Andro from behind as both studs work up a sweat.
Andro rides Josh's hard cock, taking his pounding with joy.
As Andro gets fucked, he enjoys the sensation of Josh's manhood stretching his hole and sliding in and out of him.
The intensity of his pleasure crescendos as he shoots his hot cum with Josh's cock still plunging his ass.
When Josh sees Andro unload, he pulls out and shoots his steaming load all over Andro's face…Join them!