Every gay porn video and gay porn image gallery of Trevor Laster.
Hair Color: Brown
Sign: Unknown
Eye Color: Brown
Dick Size: 8 inch dick
Height: 5'9″
Cut / Uncut: Cut / Circumcised
Weight: 165lbs
Sexual Positions: Versatile
Trevor Laster gay porn scenes at Men.com
Johnny Rapid is chilling on his boat at the marina when he spots muscular stud, Trevor Laster.
Trevor doesn't have a boat of his own, so Johnny invites him aboard for a little cruise.
Trevor enjoys the boat ride so much, he gets a big boner, and Johnny wants to suck it.
This generous ex-military guy returns the favor with interest, swallowing Johnny's cock before tonguing his hole, then bends him over the rail to rail him doggy style.
Johnny rides that huge dick and Trevor breeds his hole till they both cum, then jump into the lake to rinse off. This is the life…Join them!
Finding himself in a strange room, Dante Colle follows the hallway to a door marked "LUST"…and enters.
With bondage gear on the walls and a sex swing in pride of place, this room is only missing one thing: a horny top with a big dick, and soon he appears, masked and clad in PVC from head to toe.
Trevor Laster beckons Dante forward, roughly undresses him and pushes him into the swing, then tantalizingly teases him with a huge black dildo before slowly penetrating his ass with it.
Trevor makes Dante submit as he fucks him and eats his hole, and Dante moans with pleasure as Trevor shoots hot jizz all over his ass before the bottom jacks his own cock till he cums…Join them!
Trevor Laster gay porn scenes at Next Door Studios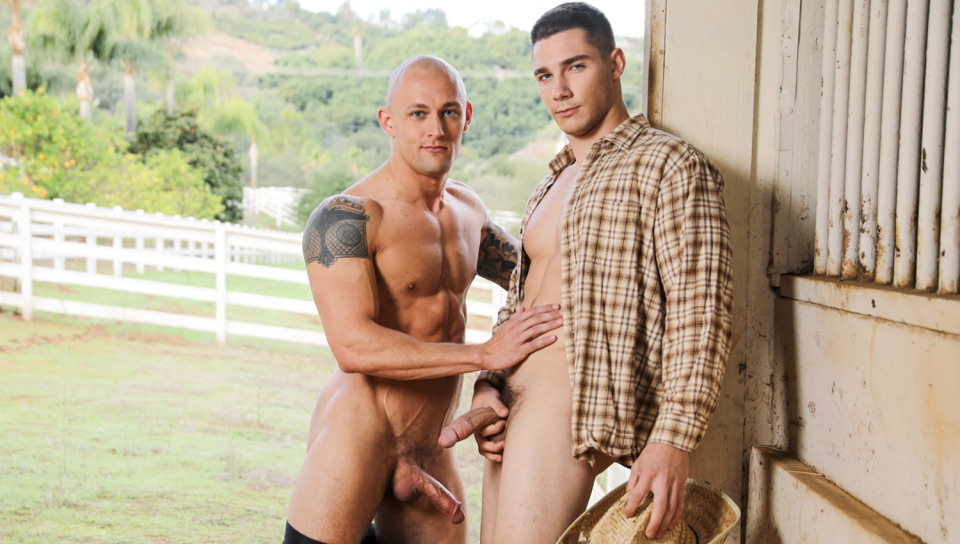 Out in the country, things are a little bit slower than normal, and sometimes you have be creative to fill the time, but that doesn't mean that country boys don't know how to have their fun.
The only thing is, there ain't a lot to choose from out in the sticks, so sometimes you have to make do with what you have in front of you, and in Spencer Laval's case, what he has in front of him is a big ol' naked cowboy named Trevor Laster.
Now Spencer ain't gay, as such, but he does like the feeling of a mouth on his nuts, and right now, the only mouth available belongs to Trevor.
What Spencer doesn't realize is that Trevor could suck a golf ball through a garden hose, and now that he's got his big ol' farmboy lips wrapped around that dick, he might never let go.
Spencer's hesitation gives way to his lust and the cowboy inside him takes over.
He saddles up Trevor and takes him for a ride, pounding him all over the stable until the cows come home and the cowboys cum hard…Join them!
When Ryan Jordan asked buddy Trevor Laster to take his suit measurements, he didn't think it would be very hard, but as Trevor takes his waist measurement, Ryan's wang pokes him in the face, practically bulging out of his pants.
Trevor asks him if he's ok and Ryan tells him it won't go down. Trevor tells him he's got a solution to that and reveals Ryan's dick, quickly downing it in his mouth. Ryan moans as Trevor takes most of his gigantic cock down his throat, but the problem is his dick is just getting harder.
So Trevor climbs aboard and takes Ryan's deep measurement, sitting down on it as it stretches his hole open. He slowly gives Ryan a nice ride before bending over and letting Ryan go to pound town. Ryan fucks Trevor raw and ragged, tearing him up until Trevor can take no more.
They switch positions and Trevor slides his cock into Ryan's hole as Ryan strokes himself. Trevor grabs his legs and goes harder and harder as Ryan comes to climax. He spits his load all over his stomach as Trevor fucks even harder.
He pulls out and soaks Ryan with his load and the two of them laugh, agreeing that suit measuring is quite the hard ordeal…Join them!
Trevor Laster gay porn scenes at Next Door Buddies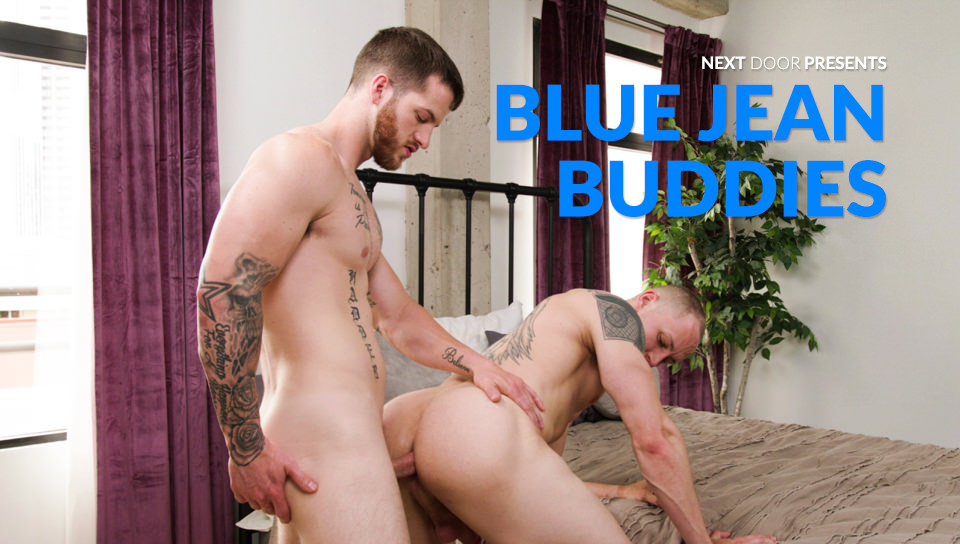 Quentin Gainz and new boy toy Trevor Laster are stripped down to nothing but their denim as they explore each others bodies. Quentin takes his time to appreciate Trevor's stunning body, admitting that Trevor can fill out a pair of jeans like no one's business.
But if you know Quentin at all, you know he thinks Trevor's pants would look much better crumpled up on the floor, so he peels his handsome stud out of his britches and has his way with him, as they 69 each other.
Trevor downs Quentin's cock while Quentin alternates between Trevor's balls and his hole, finally laying him back against a pillow and tongue fucking Trevor before sitting up to plunge his raw cock deep inside.
Trevor takes it willingly as Quentin eases it in, slowly prodding Trevor with a steady motion. Trevor moans with pleasure and Quentin picks up the pace, fucking Trevor harder and harder until Quentin is close to losing his load. He slows down, then pulls out, telling Trevor he wants to give him a chance.
He mounts Trevor and slides himself down onto Trevor's pole, taking it all the the way to the base and then spreading his legs. He rides Trevor's dick as his dick bounces up and down against Trevor's stomach. He grabs it and begins to stroke himself while he rides and he feels Trevor's dick get even harder inside him.
He can tell Trevor is close so he dismounts, and Trevor lays on his back so Quentin can fuck the cum out of him.
They both spit their loads almost instantly, Quentin blasting Trevor's hole with his seed as Trevor spits his all over his stomach…Join them!