Every gay porn video and gay porn image gallery of Sean Cody Joey.
Hair Color: Brown
Sign: Unknown
Eye Color: Brown
Dick Size: 6.5 inch dick
Height: 6'2″
Cut / Uncut: Cut / Circumcised
Weight: 200lbs
Sexual Positions: Versatile
Sexual Orientation: Straight
Nationality: American
Joey gay porn scenes at Sean Cody
A little dip in the pool couldn't cool these two studs down they wanted to get right to the action.
Being Archie's first time with a guy, he was definitely looking forward to these new experiences he was about to have.
Meanwhile, Joey was all smiles, "We got a new guy!" And Archie predicted the outcome "I think both of us will be happy." He was right…Join them!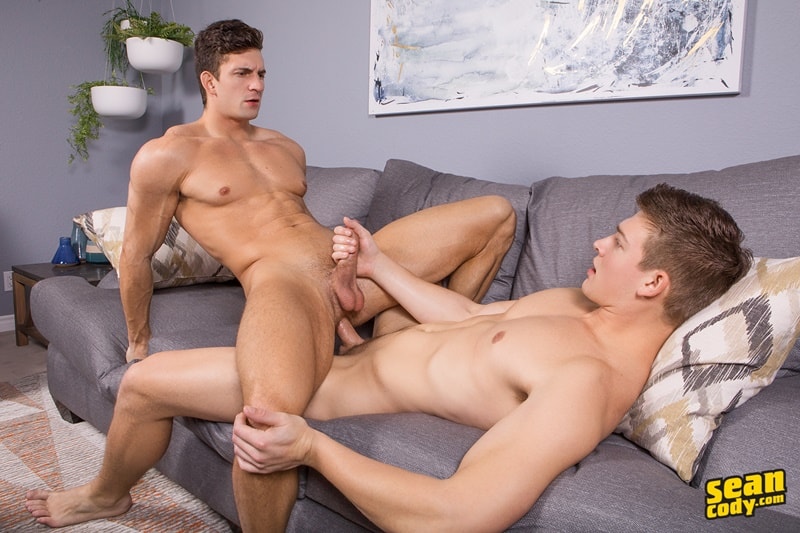 Talk about a good match. Dillan and Joey have similar playful personalities.
It came as no surprise to us to find them playing in the pool and getting along very well which translated nicely in the bedroom, or, in this case, the living room.
Clearly, these two hotties were hungry for each other…Join them!
Remember that sexy little solo that super sexy bearded muscle dude Brock pumped out just over two years ago (see it here). Well we thought we had seen the last of that young hunk.
Well today Brock is back, he's bigger and more muscled as ever and he is ready to bareback some ass. Joey's hot smooth ass to be exact.
After Joey showed Brock the joys of paddle boarding, seeing each other half naked and wet got these two muscle hunks in the mood, so back to the house they went so that Brock could show Joey the joys of taking dick…Join them!
Brysen was bragging all day about his great massage skills, so Joey put him to the test to find out for himself.
"I think I'm pretty good. Good enough that I used to use it to get a lot of straight guys in bed, so, we'll see!"
Brysen couldn't stop himself from getting as hard as a rock while he was massaging Joey's muscular body. Having Joey just lie there bare was enough to drive him mad.
The final verdict? Well, Joey's relaxed muscles and boner were an indication to support Brysen's claims.
The massage was definitely relaxing, but Brysen showed no mercy as he fucked Joey senseless…Join them!
The moment Hector met Joey, we immediately knew that he was definitely his type.
Even being on a hike in the great outdoors didn't stop him from taking Joey and feeling him up.
Eventually, the sexual tension got so intense that we had to bring it indoors where Hector took it nice and slow and showed his bottom the joys of taking every inch of his thick cock…Join them!
Joey has heard a few things about Frankie's aggressive poundings, but he had to experience it for himself to believe it.
"They're all true, by the way." Frankie set the record straight.
"I hope so!"
After some wrestling in the water, Joey reigned supreme but back at the house, Frankie dominated his ass, and Joey confirmed that the rumors were true…Join them!
Not only did these two muscle studs get along very well with their clothes on, but also with their dicks hanging out. Joey and Shaw both wanted to get into each other's pants so bad that they had to flip fuck to get a little bit of everything…Join them!
Joey didn't get enough of Randy's huge dick in the threesome they had with Jordan a few years back, so they've both come together to take care of some unfinished business…Randy was happy to oblige…Join them!
Howard couldn't get enough ass, so he's back to take Joey's big butt and my, oh my has it grown.
He kept sneaking a few peeks at Joey's ass throughout the day, and was so distracted by it he couldn't think straight.
"I've been doing my squats!" Joey explained how his ass got bigger and better.
"Joey's awesome but I'm a little distracted and bias because of the ass."
Howard couldn't get enough of it…Join them!
Nixon is at it again this time, with muscle bottom, Joey. These two muscle gods made us all weak in the knees watching them wash the car outside. Soap, water and a couple of wet, white t-shirts…these are the things dreams are made of, especially with bodies like these behind the shirts.
As the boys were getting all nice and wet, Joey admitted to something, "This is kinda turning me on right now!" Nixon continued to wet him, exposing the abs and chest behind the t-shirt, until the shirts finally came off and the rest of the playing was brought back inside the house for some more privacy…Join them!
Darryl hasn't had much experience with guys in the past, so what better way to introduce him to the wonderful world of gay sex than to just jump right into it with our favorite muscle bottom? Joey was happy to fill in the position.
Darryl talked a bit about his only experience with one of his soccer buddies, "We were both taking a shower and we jerked each other off. That's the most I've done.
Now, I'm kinda curious about doing more." And more he did. All over Joey's body…Join them!
After a leave of absence, Joey has returned. We're so glad to have him back and so was he, especially because we paired him up with Blake! What to expect?
Joey said it best: "Rough! We are going to pound town!" Joey is such a sweet guy, and we just couldn't picture him being too rough, but Blake begged to differ.
"I bring out the best in people." He smirked. They're both mostly bottoms, but we wanted to give them both the opportunity to show everybody they can fuck ass just as well as they can take dick. "Just because you know how to take a dick, everyone thinks that you don't know how to fuck.
No!" Blake made sure we all knew he meant business. This is surely to be a great flip-fuck with these two studs…Join them!