All gay porn pics and gay porn videos of Sean Cody Dillan.
Hair Color: Brown
Sign: Unknown
Eye Color: Brown
Dick Size: 7 inch dick
Height: 6'2″
Cut / Uncut: Cut / Circumcised
Weight: 195lbs
Sexual Positions: Versatile
Dillan gay porn scenes at Sean Cody
There's nothing better than watching a sexy stud try bottoming for the first time.
For Dillan, it's been a long time cumming and his tight ass is clearly thirsty for a thick cock.
For Jess, this is no challenge: his cock is throbbing to pop Dillan's man-cherry…Join them!
As Dillan and Randy played around skateboarding and joking around, playful touching quickly turned into wanting something more Dillan takes Randy straight to pound town, where both studs blow their hot loads all over each other…Join them!
no images were found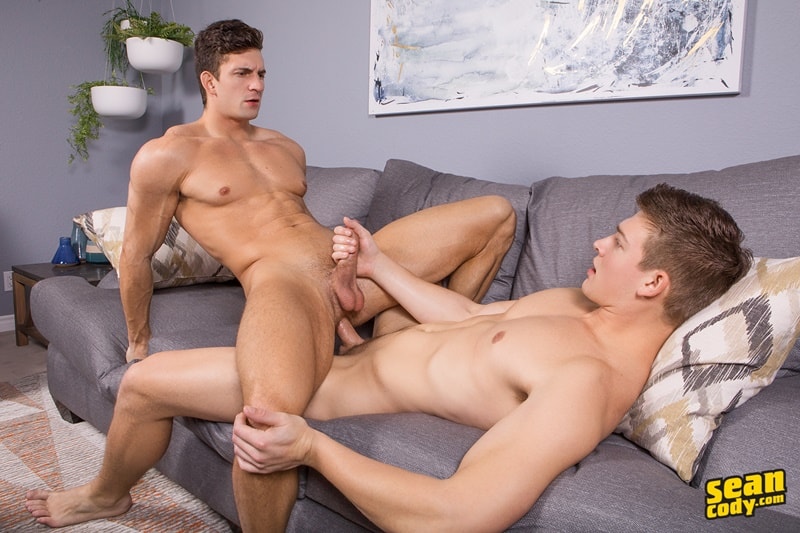 Talk about a good match. Dillan and Joey have similar playful personalities.
It came as no surprise to us to find them playing in the pool and getting along very well which translated nicely in the bedroom, or, in this case, the living room.
Clearly, these two hotties were hungry for each other…Join them!
Brysen returns to bottom for us again, and this time Dillan offers up his big dick to satisfy his every need! "I'm excited for it, been waitin'."
Brysen has admitted to being a huge power bottom, so we had to give him what he wanted.
Not only do these two studs look hot as hell together, but they also get along very well seeing as they both have playful personalities, which translates amazingly in the bedroom.
Brysen's hole was definitely ready to be filled by a big dick…and a huge load…Join them!
Dillan and Blake brought out each other's inner goofball in a friendly competition of who can deep throat the furthest using bananas, of course.
It's all about the angle, "I think that angle was actually helping me" Blake clearly knows his stuff, so Dillan had to try him out with his big dick to see for himself.
Verdict. Blake can deep throat like a champion, among other things but we already knew that…Join them!
Dillan is back, and on his birthday no less. It was a day of firsts here as Dillan taught Shaw how to surf, and Shaw taught Dillan how to eat ass…maybe he taught him too well; Shaw didn't want our cute newbie to stop.
"Where the fuck have you been?"
That didn't matter. What mattered was that he was right there at that moment to pound him out.
Dillan didn't hesitate once, so he let his wild side roam free. By the end of it all, Shaw was covered in cum and Dillan had the best birthday yet…Join them!