Every gay porn video and gay porn image gallery of Sean Cody Dean
Hair Color: Brown
Sign: Unknown
Eye Color: Brown
Dick Size: 7.5 inch dick
Height: 5'8″
Cut / Uncut: Cut / Circumcised
Weight: 165lbs
Sexual Positions: Versatile
Sean Cody gay porn scenes of Dean
"My favorite thing about Conrad is his beautiful hazel eyes. You just get lost in them."
Dean started off nice and sweet, but when the time came for the real fun, he pounded away at Conrad's tight hole until he was covered in cum.
Being the veteran that he is, Dean wanted to make sure Conrad was conformable and eased into all of this nicely.
Conrad has a few films under his belt already, but certainly not as many as Dean, so he definitely thought he would benefit learning a thing or two from an experienced hottie.
Needless to say, Dean sure gave Conrad a lesson he won't soon forget…Join him!
Jakob and Dean have sex on the brain. I mean, who doesn't? They have great bodies, so one look at each other and that's all they want to do.
But first, why not let loose in the pool and just have some fun?
They clearly got along well enough to be silly together, but that didn't exclude the bedroom Jakob gave Dean's nice ass a good pounding, and Dean was rewarded with a hot load right inside of him…Join them!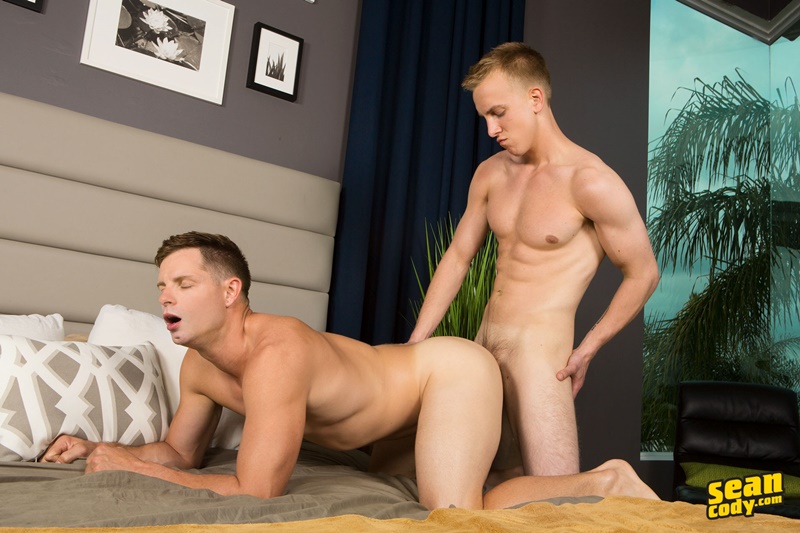 Casper is already back and it's his first time doing anything sexual with a guy.
Dean clearly liked what he saw and couldn't stop touching Casper, impatiently waiting for the moment to suck his dick and show him a good time.
Casper loved every second of it, "I like when he touches me, it feels good."
Dean explained himself, "I'm a slut!" Enough said.
At that point, our eager newbie was very ready to start exploring the wonderful world of Sean Cody and, of course, blow his hot load all over Dean's ass…Join them!
We thought today was going to be a day of all firsts for buff hunk Arnie, but it turns out the only new thing he's going to experience is having sex on camera. He was a little nervous, but ready to take Dean's ass and use it to his advantage.
After having a little conversation about what was to come today, Dean felt up Arnie's arms and couldn't wait to get started with him,
"I think we need to get to it"
Arnie couldn't agree more…Join them!
The chemistry between sexy muscle boys Shaw and Dean is really great. They're both clearly very handsome, but also extremely silly, so we took them to the great outdoors for some friendly sparring to encourage their playful nature.
"No cock punching! That's my job, I do all the cock punching." Shaw joked.
It obviously wasn't a joke, but Dean definitely wasn't opposed to it.
"Shaw, who's the winner?" We were curious to hear his response.
He pointed at Dean, "If he's the winner, then he's getting the dick trophy."
Dean looked happy about that, "Sounds like a prize!"
Shaw continued, "You're gonna take it. You're gonna take the trophy."
And he did take it. You can tell Shaw was giving it good with all the moans Dean made…Join them!
When Sean Cody brings together two of the most sarcastic models in the studio, you know sparks are going to fly.
In this classic throwback scene, watch Shaw and Dean start off with some verbal and physical sparring as they lace up their boxing gloves.
Find out Dean's hidden talents and watch the hunks compete to see who will cum out on top. "I want Dean pretty bad," Shaw says. Dean resolves to give it his all: "Fighting Shaw for Shaw? It doesn't make a lot of sense, but if that's what it takes."
Shaw takes the prize of Dean's hungry mouth deepthroating his big cock, while Dean gets to enjoy every inch of Shaw's dick penetrating his hole before giving himself a self-facial as he gets fucked in piledriver.
Shaw pulls out to leave a massive load pooling in Dean's hole, so it seems like everyone's a winner!
It's been a couple years since Dean made a visit to the studio, but he and his abs are back.
Dean's excited to work with new bottom Dax, and although Dax is looking forward to taking Dean's big dick, he's keeping pretty quiet about it.
The bearded cutie jokes, "I'm camera-shy.
My asshole isn't, but I am!" The guys compare their handstand skills and Dean shows off with a backflip before they head into the bedroom and get naked.
Dean rims Dax and gets him ready for his big cock, slowly penetrating him in doggy-style.
Dax rides the top, then gets on all fours on the bed to take it nice and deep before Dean fucks him in missionary.
The bottom moans loudly as he cums, and Dean pulls out to shoot his load before Dax sucks out every last drop.
Today we've got a hot threesome, and as it has been some time, we've brought together three hotties.
In fact, we could not have chosen three sexier guys for this threesome. Randy, Dean, and Cory are hot, playful, and horny as hell.
It was so much fun watching these studs play some football on the beach, especially when even football terms became sexual innuendos.
"We can run routes! Someone could play quarterback, someone could play defense, and someone is the receiver, you know?"
Randy had a grin on his face. After getting the guys all sweaty and wet, they couldn't wait to get back to the house for some real fun.
Every hole was filled with dick, and cum was everywhere 'hot' can't even begin to describe it.