My gay porn pics and gay porn videos of Seth Santoro.
Hair Color: Brown
Sign: Unknown
Eye Color: Brown
Dick Size: 7-inch dick
Height: 5ft 11in
Cut / Uncut: Cut / Circumcised
Weight: Unknown
Sexual Positions: Versatile
Nationality: American
Tyler's Room gay porn scenes of Seth Santoro
Armond Rizzo is not doing so well in basketball class, so he asked his coach to give him some lessons after school.
After chasing the ball around and not getting anywhere, his coach offers to give him a massage to relax his sore muscles.
Back in the massage room coach Seth Santoro get Armond really comfortable and becomes aroused seeing Armond's naked muscular body and smooth tight ass.
Coach Seth pulls his cock out and give Armond the massage and attention he secretly wanted the whole time. Armond rolls over and sucks his beefy coach cock until he's rock hard and ready to get it up the ass.
Coach Seth climbs on the table and fucks him every which way until the both bust a nut all over the place. It's a lesson in basketball Armond will never forget…Join them!
Raging Stallion gay porn scenes of Seth Santoro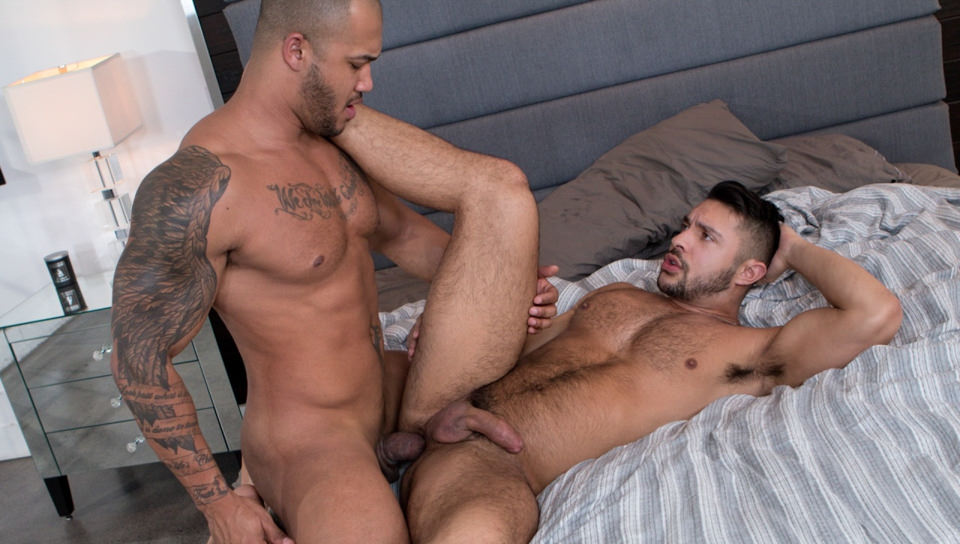 Seth Santoro and Jason Vario are kissing on the bed getting their cocks extra firm as they explore each other's hard bodies. Seth is the first to cave and get on all fours to suck on Jason's big, fat cock.
Jason wants to return the favor and gets Seth onto his back so the studs can 69. After filling up Seth's throat with cock, Jason takes a taste of Seth's hairy hole.
He knows that he's going to have to get it nice and loosened up before he can cram his extra large dick into such a tight space. Meanwhile, Tegan Zayne comes in the front door and hears the sounds of sex down the hall.
When Jason is convinced that Seth is ready to take him on, he gets behind the beefy stud and slowly slides his dick into Seth. He goes slowly at first, making sure to let Seth have time to get used to his big pole.
As Seth gets used to Jason's girth, Jason picks up the pace and pounds harder giving Seth exactly what he wants and needs, as shocked Tegan spies on them from the doorway.
Seth's hole feels amazing and after a nice long fuck session, Jason pulls out to cover Seth's hairy crotch with jizz. Seth follows along and shoots his own load just as Jason acknowledges that Tegan has been watching.
Tegan has been a bad boy. What will be the consequences of Tegan's broken promises and sexual indiscretions?…Join them!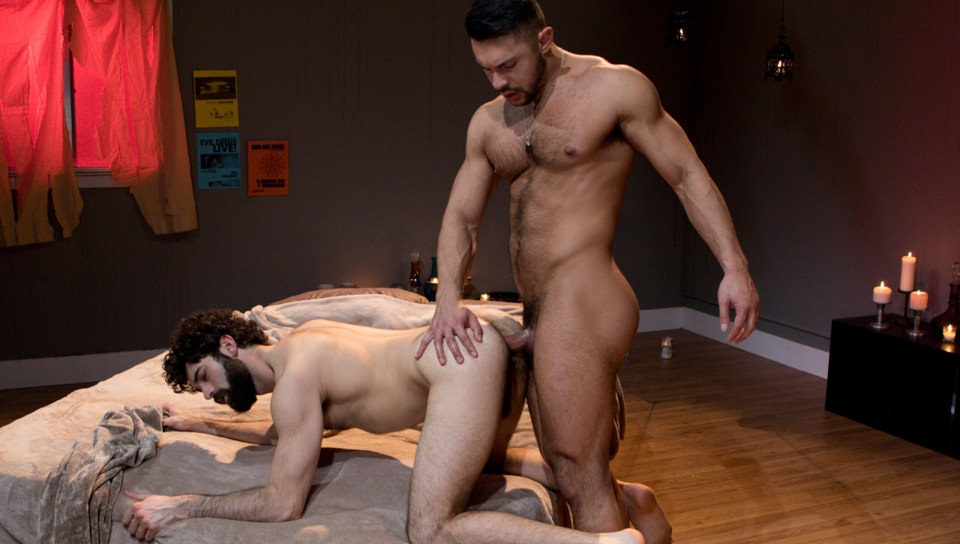 Tegan Zayne is trapped in a life that is going nowhere and he's wishing for a way to make it better. He meets up with Seth Santoro, who offers a magical spell to turn Tegan's life around.
Without a second thought, Tegan takes a drink of a potion as Seth performs some rituals including submitting to his giant cock. The two hung studs take turns sucking dick until they're both throbbing hard and ready for more magic.
To satisfy his hunger, Tegan gets down and spreads Seth's ass cheeks and rims him until Tegan is ready to get fucked. Seth is happy to give the young stud what he wants and lies back on the bed as Tegan hops on to ride Seth's giant rod.
Tegan bounces up and down, taking it deep until Seth is ready to fuck Tegan his way. He bends Tegan over the bed and slides his throbbing cock deep into the hunk's hairy hole and slams away until he's ready to blow.
Tegan needs Seth's load and turns around to take every last drop on his beard and lips. With his face dripping in cum, Tegan gives himself permission to let go and blasts his load all over the sheets.
Will this be enough for the spell to work, or will this be the beginning of something much more sinister?…Join them!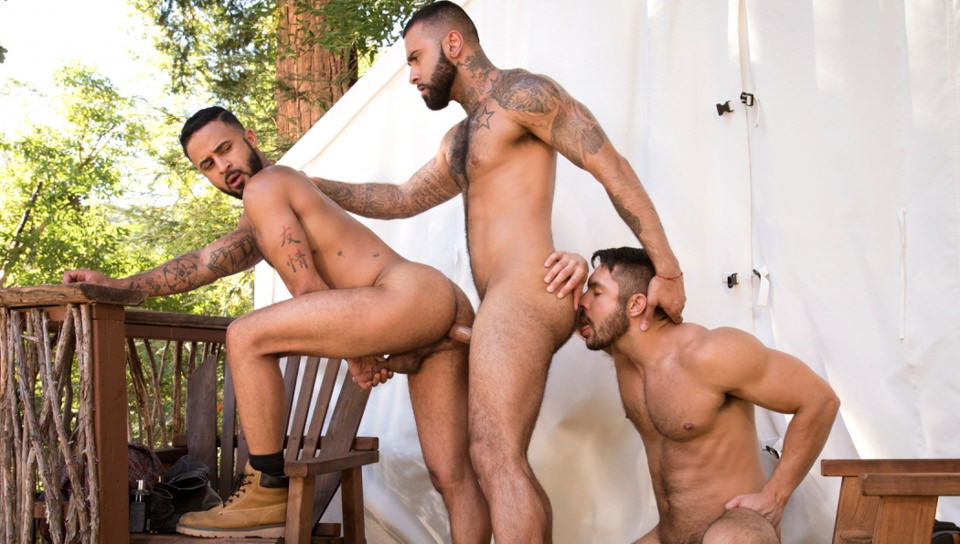 Rikk York has a dilemma. He's camping in the woods with Seth Santoro and Rikk York and he can't decide which one to fuck. Rather than make the decision himself, he lets the guys do their work to let the action play out naturally.
Damien is hungry for dick and gets down on his knees in front of both Rick and Seth to suck their big hard cocks. Damien and Seth make out as they get their dicks serviced by the horny stud. Seth wants to play the cock sucking game too and soon joins Damien on his knees to share Rikk's throbbing dick.
Each dude takes a side and opens his mouth wide to let Rikk take control and fuck their lips. All the attention feels amazing on Rikk's cock and he takes matters into his own hands. He bends Damien over a patio chair and slips his thick dick all the way into the tight ass in front of him.
Seth cheers the guys on and jerks his own meat before getting down to lick Rikk's hairy ass. He gets the ass lubed up and then stands to slide his cock deep inside. Rikk takes the dick like a pro and sucks on Damien's pole as Seth pounds away.
Rikk's asshole feels amazing enveloping his cock, and after a nice long fuck session, Seth pulls out and blows all over Rikk's fuzzy butt. Watching all the action around him is more than Damien can handle and he busts a load right into Rikk's open mouth.
One taste of Damien's jizz is all it takes for Rikk to let loose and return the favor by blasting all over Damien's beard and in his mouth. After all the fun, Seth and Rick get lost on a hike and stumble across Tegan and Colby outside. Something doesn't sit right with Seth.
Will he recognize Tegan and will he be able to help him before it's too late…Join them!
Falcon Studios gay porn scenes of Seth Santoro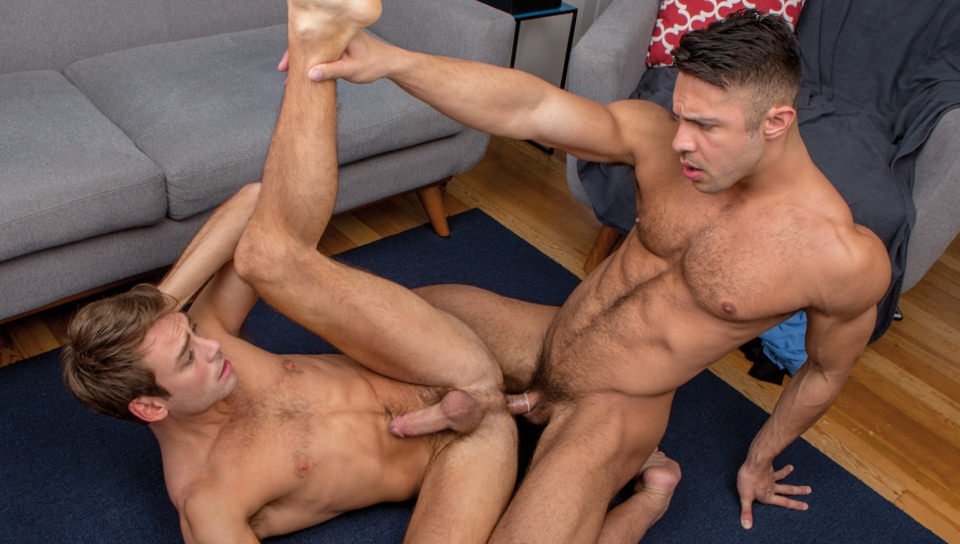 Max Adonis moves to San Francisco. Upon his arrival, first on Max's list is visiting his buddy, Seth Santoro, who he hasn't seen since they went to high school together 10 years ago. As they reminisce about what might have been, their hands wander, and one thing leads to another.
They start making out and soon their clothes are in a pile on the floor as Seth takes the lead to suck on Max's hard cock. Seth sucks Max like it's the last dick he'll ever get to swallow and greedily gobbles it down his throat.
Max needs to satisfy his own 10-year-old curiosity when he takes his turn sucking Seth's big hairy cock. All the sucking gets Max hard as a rock and soon his face is buried in Seth's hole. He laps it up with his tongue and gets Seth nice and open before the hunk is begging to get stuffed.
Max happily helps Seth with what he needs and slides his swollen cock deep into the stud's willing ass. Max pumps away from behind until he decides he wants to take Seth's meat for a spin. He hops on and rides his friend deep as his own dick flops up and down. Seth's cock feels amazing deep inside of Max backside.
Switching it up, Max gets on his back and cums hard as Seth continues to pound him. Seeing his buddy blast a creamy load is all it takes for Seth to let loose and blow his load all over Max's cum-covered body…Join them!
Seth Santoro is lounging in the hot tub when Ryan Rose approaches. Ryan's white swimsuit leaves little to the imagination, showing off the distinct outline of his massive boner. Seth reaches out to stroke Ryan's bulge as Ryan fondles Seth's muscular chest.
Seth worships Ryan's incredible physique, then opens his mouth to receive Ryan's thick, hard cock. Long, thick strands of saliva drip from Seth's mouth as he works his lips up and down Ryan's shaft. Ryan's been admiring Seth's ass, so he spins him around and spreads Seth's fuzzy ass cheeks to get a taste.
With his long, wet tongue, Ryan slathers Seth's hole with spit, then sucks Seth's hard cock. Ryan sits down on the edge of the hot tub as Seth resumes blowing Ryan's meaty dick. Seth's talented mouth brings Ryan to an incredible orgasm, and as Seth strokes his shaft, he ejaculates huge jets of cum that land inside Seth's open mouth.
Ryan opens wide as Seth jerks out a hot load, then stands up and snowballs it back into Seth's cum-hungry lips…Join them!
Underneath a bright clear sky, with palm fronds swaying in the breeze, Seth Santoro dives into the cool, blue waters of the swimming pool. His swimsuit shows off his smooth, toned body. JJ Knight lounges nearby, watching intently as Seth swims his laps.
A bulge grows in JJ's bathing suit that can't be contained: he whips out his hard cock and strokes it slowly, enticingly, waiting for Seth to notice. Slowly, Seth emerges from the pool, his own suit displaying the unmistakable outline of his boner.
He walks toward JJ, bends forward, and wraps his lips around the sensitive tip of JJ's cock head. As the sun shines on JJ's abs, Seth works his way down JJ's immense shaft, lubing it up with his spit. They strip and share a kiss before Seth turns around for JJ to rim his tight hole.
Bending forward, Seth pushes his hairy ass into JJ's face while sucking on JJ's massive cock. Spinning around to face JJ, Seth sits down on JJ's meat. As JJ's cock stretches and fills Seth's hole, JJ begins thrusting up from below, pressing deep into Seth's most sensitive spots.
Standing up, JJ fucks Seth from behind. As Seth braces himself against the lounge chair, JJ picks up speed, ramming his enormous meat into Seth's tight hole. Seth rolls on his back and raises his right leg to the sky, allowing JJ's cock to penetrate deeper than ever.
The sensation brings Seth to orgasm: jerking his cock, he shoots a massive, thick load across his furry stomach. JJ reaches for his cock and pumps out stream after stream of hot white cum right into Seth's face.
Drenched in cum, Seth pulls JJ close and exchanges a tender, creamy kiss…Join them!
Muscle stud Woody Fox hits the outdoor showers at the campgrounds. Hidden beneath enormous redwoods, the area offers up some instant excitement when Woody spies Seth Santoro naked under the water. Slowly stripping down, Woody casts subtle glances towards Seth, and Seth looks over his shoulder to return eye contact.
As Woody turns on the water in the next shower stall, he turns around to show off his swelling cock. Working the soap into a thick lather, Seth scrubs his muscular butt, then invites Woody to help wash his back. As Woody walks up from behind, his massive boner thrusts into Seth's ass cheeks.
With the water running over their bulging muscles, Seth and Woody turn to each other and kiss passionately. Sinking to his knees, Seth inhales Woody's enormous uncut cock. The oral service works Woody up to the point where he's eager to get a taste of Seth's tight hole.
Spreading Seth's meaty ass, Woody dives in tongue first for an epic rim job that has Seth eager for more. Moving to a nearby bench, Woody alternates between rimming Seth's ass and sucking his thick cock. Legs in the air, Seth eagerly awaits Woody's massive tool inside of him, and Woody delivers.
With powerful thrusting, Woody dominates Seth's tight hole. Turning around and bracing himself against the shower wall, Seth takes Woody's cock doggy style. When Woody sits down on the bench, Seth lowers himself down on Woody's meat and uses his powerful legs to ride it up and down.
Woody starts to thrust up from beneath Seth, which makes Seth's hard cock shoot a massive load. Kneeling down, Seth opens his mouth and catches Woody's load in his mouth…Join them!
Extra Big Dicks gay porn scenes of Seth Santoro
Alessandro Del Toro has banged Bill and now he is off to explore Seth Santoro to see which husband is better at fucking. In his latest update Alessandro is excited to see what the Santoro's have to offer.
He's been trying to hook up with them either together or separately and finally he has knocked one down and is ready to close this chapter once he experiences Seth.
Seth is bringing out the more intimate side of Alessandro as they make out passionately which leads the sex into a more passion driven experience.
With Billy he was more animalistic and Alessandro pounced on that ass deep and hard but with Seth its slow grooving as he takes in the enjoyment of being balls deep slowly pushing in and out.
The Santoro's are night and day as Alessandro completes his task of fucking the husbands. Check closer at the end to watch his final comments about the two sexy husbands…Join them!
Icon Male gay porn scenes of Seth Santoro
Hot boyfriends Jack Andy and Seth Santoro are relaxing in bed when Jack challenges Seth to a slut contest Seth is definitely up for the challenge.
He's going to show Andy just how nasty he can be.
Seth sucks his huge hairy cock all the way down to the balls and Jack takes care of Seth's perfect hairy ass.
These two studs are uninhibited and nothing is too wild for these two.
Men Over 30 gay porn scenes of Seth Santoro
Bennett Anthony and Seth Santoro just finished their workout.
When they go into the locker room, they start looking at each other with desire.
Seth starts to slowly touch the muscular body of Bennett.
They can't resist each other anymore.
They start kissing wildly.
Bennett can't wait any longer to start sucking Seth's big dick.