Hair Color: Brown
Sign: Unknown
Eye Color: Brown
Dick Size: 8 inch dick
Height: 5'9″
Cut / Uncut: Cut / Circumcised
Weight: 165lbs
Sexual Positions: Versatile
Ryan Finch scenes at Raging Stallion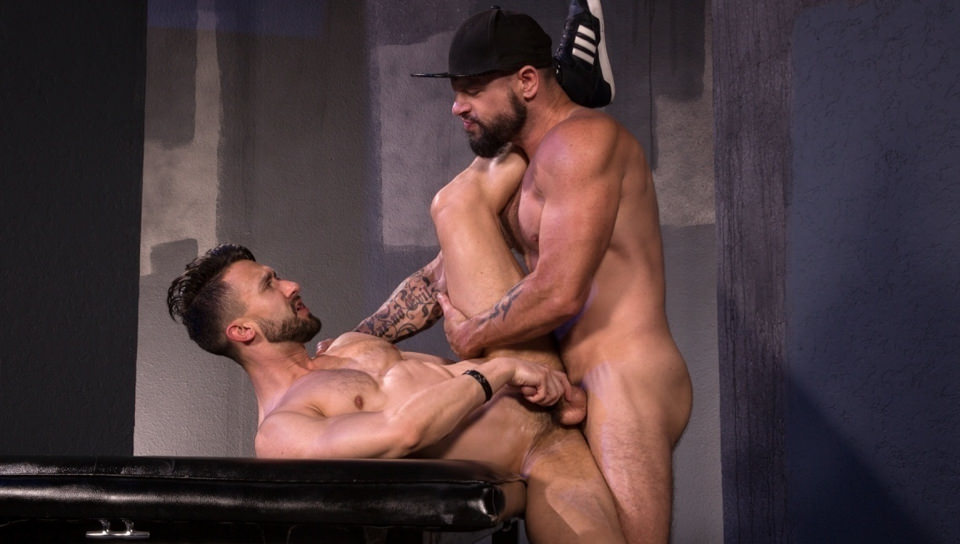 Tex Davidson and Ryan Finch don't fuck around when it comes to getting dirty. The hairy, rugged studs kiss and rub beards for a hot second before Ryan lies back with his legs in the air and offers up his fuzzy asshole.
Tex gets in deep with his tongue and fingers to get the tight, pink hole dripping wet with spit. Tex loves sucking on a nice asshole and he takes his time, savoring every lick he can get from Ryan's ready hole.
Ryan can't wait for Tex to stretch him out even more with his giant cock and hops on to ride the tatted stud's thick dick, taking it all the way down to Tex's big, tight balls. Ryan's wet, hairy dick and loose sack flop with every thrust from Tex.
The hunky muscle studs grunt and groan as they fuck and work their way to the final round of hairy man love. The more Ryan gets his hole plunged, the harder his big cock gets. He jacks the throbbing shaft up and down and massages his lubed-up head before the guys change up the fun.
Ryan submits and gets on his back for Tex to take charge and fuck his hole the way Tex likes it. The aggressive top pounds Ryan harder than he's ever been fucked before and keeps up the relentless reaming until he fucks the cum right out of Ryan's big pole.
Ryan sprays his own hairy crotch and then begs for Tex to do the same. Tex pulls his giant slab of meat out of Ryan's stretched out asshole and slathers Ryan's spent balls with every last drop of cum he can muster.
Ryan is a sticky mess of jizz, sweat, and spit by the time Tex is done having his way…Join them!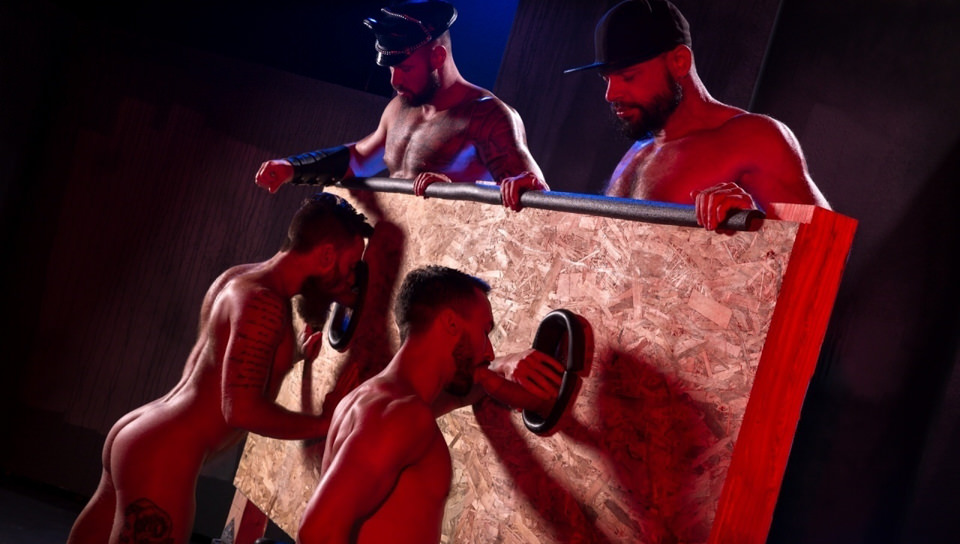 Tatted leather daddy Michael Roman and bearded muscle hunk Tex Davidson stick their big hard cocks through a double glory hole. They don't have to wait a second before Ryan Finch and Hoytt Walker come in and offer up their hungry mouths to suck them off.
Hoytt takes on Michael, and Ryan gets Tex's massive curved cock. The horny studs both suck dick like it's the last one they'll ever see. They gag and spit as they get their faces fucked and their throats stretched. Hoytt walks over to give Ryan a helping hand with Tex's tasty meat.
They take turns sucking him off and give him a double blowjob with a slobbery, wet mouth on each side of his big sweaty cock. Tex thrusts his pole between their mouths until Michael steps in to offer up a third mouth. Tex pounds Michael's mouth through the glory hole until the guys pair up again.
Snagging Hoytt away to a bench, Michael sits down to let the bearded stud suck his cock one more time. Hoytt's big balls hit the floor as he bobs up and down on the tatted daddy's cock. Hoytt tickles Michael's big hairy sack with his tongue and begs for cum in his face.
Michael lets go and slathers Hoytt's bushy beard and wide-open mouth with a massive load of jizz. Hoytt gobbles up every last drop and sucks what didn't land on his face off the tip of Michael's still throbbing cock. Michael returns the favor to the bearded stud.
He sucks him off and tugs his nuts until Hoytt blasts his own load on Michael's face, beard, chest, and in his mouth. The studs rub beards and swap cum as they catch their breath from the eye watering, thirst quenching, cock sucking marathon…Join them!