All gay porn videos and pictures of FX Rios.
Hair Color: Brown
Sign: Unknown
Eye Color: Brown
Dick Size: 9 inch dick
Height: 5'10"
Cut / Uncut: Uncut / Uncircumcised
Weight: 165lbs
Sexual Positions: Top
FX Rios gay porn scenes at Raging Stallion
Max Gianni's muscular thighs are defined in all the right places. He enters the room naked, shadowed by FX Rios, who can't keep his hands off Max's smooth ass. They face each other and kiss.
FX sits on a box and his ripped abs throw shadows as he watches Max inhale his cock with total commitment. Max's lips tug FX's foreskin taut, so you can see the veins. The combination of Max's tongue, lips and hand stimulates every part of FX's cock and balls.
But, FX keeps his eye on the prize: Max's bubble butt. He can't wait to touch it, taste it and fill it. Max can't wait to feel FX's pole inside him, and he takes every inch.
Twisting his nipple ring, Max grabs his cock and squirts parallel streams of cum across his smooth torso. FX's does the same, coating Max's face, chest and neck with semen and feeding him the last drop…Join them!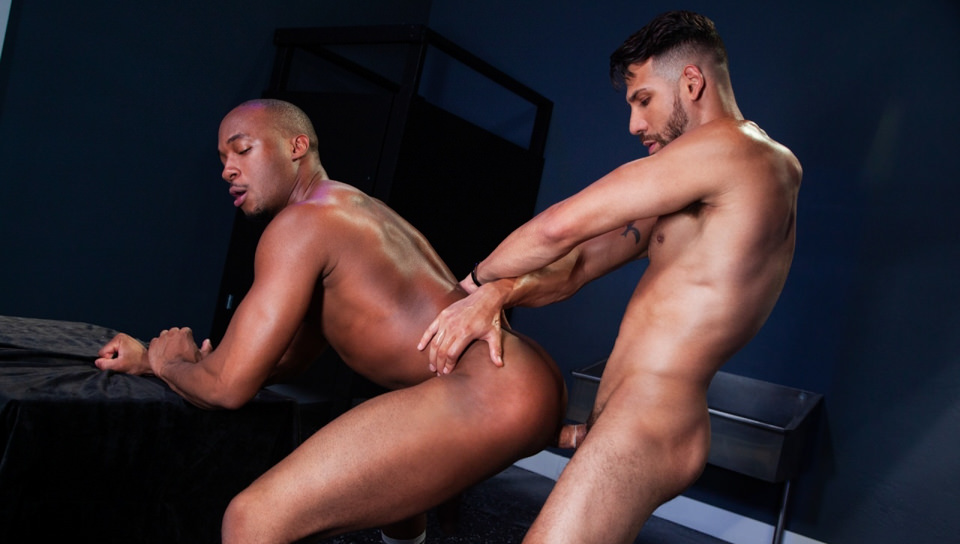 Bathroom attendant FX Rios gets a glimpse of Trent King's massive uncut cock as he finishes up at the urinal. FX quickly makes his move when Trent tells FX that he doesn't have change for a tip.
'There are other ways you can show your appreciation,' FX tells the stud as he pulls out his thick cock and presents it to the stranger. Trent gets the hint and sinks to his knees to take FX balls deep down his throat.
After servicing FX, Trent is hard as a rock and wants his turn at getting his dick sucked. FX can't wait to get a taste of Trent and drops to the bathroom floor to take the giant cock in his mouth. It barely fits down FX's throat, but he gives it his all as he slurps it down to the base.
FX is ready to fuck and bends Trent over the attendant's table to slam his cock deep into the muscle stud. FX pounds away from behind, opening Trent up until FX wants to look Trent in the eyes. Trent rolls over onto his back and continues to get pounded until FX fucks the cum out of the ripped stud's massive cock.
When FX sees all the cum fly from Trent's dick, he can't hold back and pulls out to cover Trent's cock and balls with a fresh, warm load…Join them!
Aboard the RSS 'Destroyer', FX Rios and Aaron Reese manhandle some hefty cargo. It's a tough job to do, but Bennett Anthony lounges in the background without helping. 'What are you, a lazy cocksucker?' asks FX. 'Yeah, you got half that right,' says Bennett, kneeling before his shipmates.
Without missing a beat, FX whips out his huge cock and shoves it down Bennett's throat. Aaron whips his dick out for Bennett too. Milking FX and Aaron's cocks at the same time, Bennett works up a heavy sweat that soaks through his shirt and drenches his tattooed, hairy chest.
Standing up, Bennett lowers his Navy blues, revealing his own massive cock and fire-red bush. Bending over the cargo container, Bennett receives a vigorous rim job from Aaron while deepthroating FX's meat. With Bennett's hole wet and slick, Aaron drives his fat cock deep inside, causing Bennett's muscled ass to bounce with each thrust.
After fucking Bennett's face, FX is ready to get in on some anal action, so he trades places with Aaron to feel Bennett's sweet hole for himself. Bennett moans and jerks his cock, and with FX still inside him, he blows a massive load that splatters across the red fur on his stomach.
Grasping his rod, FX shoots his cum through the air, landing it on Bennett's cock and balls. Aaron positions his cock right over Bennett's mouth, unleashing a gushing blast of semen that splatters across Bennett's face…Join them!