Every gay porn video and gay porn image gallery of Damian Taylor.
Hair Color: Black
Sign: Unknown
Eye Color: Brown
Dick Size: 7.5-inch dick
Height: 5'7″
Cut / Uncut: Cut / Circumcised
Weight: 165lbs
Sexual Positions: Versatile
Damian Taylor gay porn scenes at Raging Stallion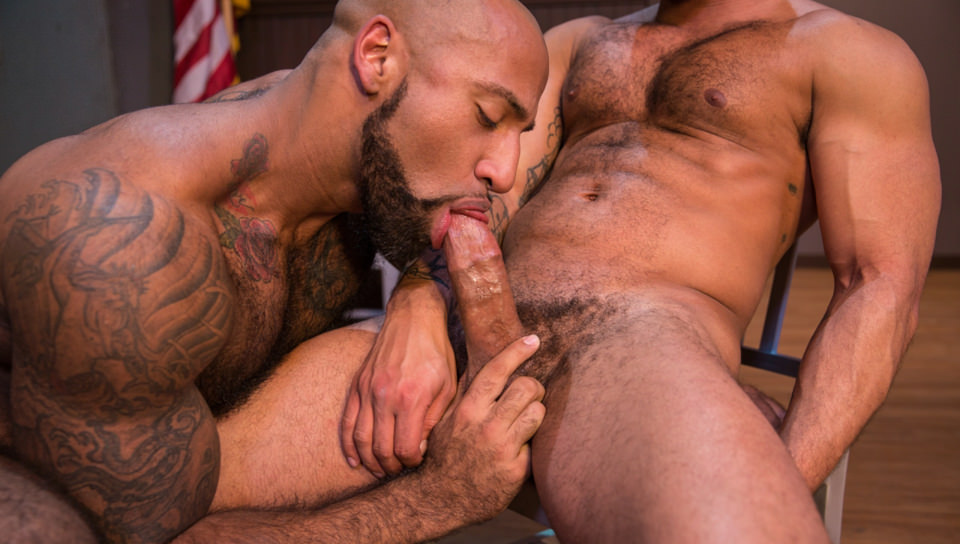 Vice cop Damian Taylor is at police headquarters with detective Daymin Voss. Daymin tells Damian that he 'wants to do gay shit' with him.
Damian takes his fellow blue brother up on the offer and frantically unbuckles the detective's belt to release his big hairy dick. Damian takes it in his mouth and sucks it like his life depends on it as he rips off his clothes.
Daymin's primal instincts kick in and he's soon the one begging for cock down his throat. The hairy muscle studs peel off the rest of their clothes and Damian takes his position in a chair.
He opens his legs wide for Daymin to get in with his mouth as he makes the hung detective gag and cough by stuffing his face with dick. Daymin is like a machine, sucking and slurping and spitting all over as he services the thick shaft and big balls in front of him.
His steady pace and talented tongue bring Damian to the brink and he pulls out to spray Daymin's face with cum.
Covered in Damian's load, Daymin pounds away on his ready-to-burst cock until he polishes the floor with buckets of sticky white jizz…Join them!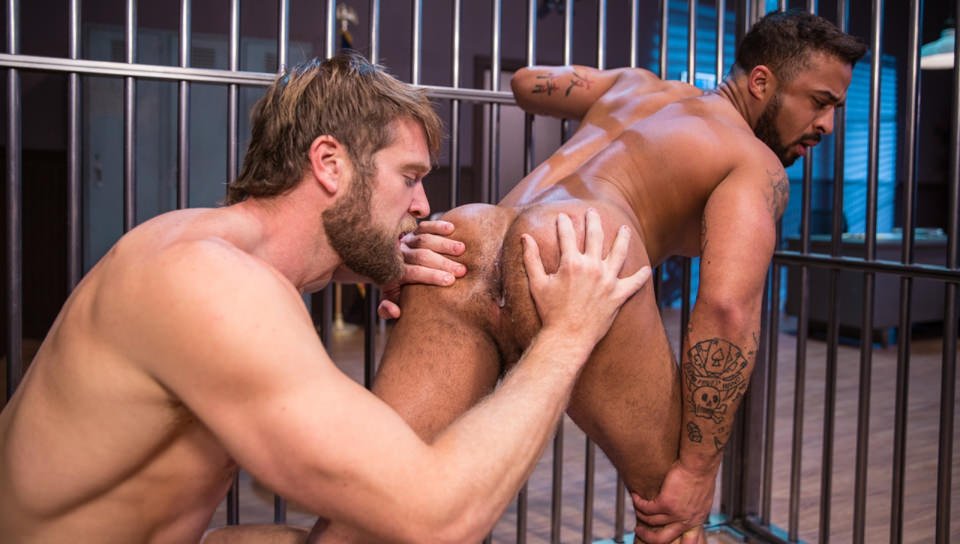 Damian Taylor is part of Vice and he has his perp, Colby Keller, behind bars. Colby won't nark unless he gets a taste of Damian's dick.
Colby gets on his knees to suck and does such a good job that Damian enters the holding cell to take it a step further.
'It's your turn man,' Damian declares as he gets down between Colby's thighs to service the hung stud's big hairy cock.
The taste of Colby down his throat gets Damian revved up and needing Colby inside him.
Colby opens Damian up with his tongue before Damian hops on to get what he wants most.
Colby slides his throbbing dick deep into Damian's furry ass as Colby bounces up and down taking it balls deep.
Colby wants control and bends Damian over the bench to pound his ass from behind.
He builds up to a frenzy, pumping in and out as Damian moans with each thrust from behind.
'Make me cum!' Colby demands, as he pulls out to spray Damian's lips and beard with ropes of thick white cum.
All of the cum on his face makes Damian ready to blow his load and he lets loose to shoot his jizz all over the holding cell floor…Join them!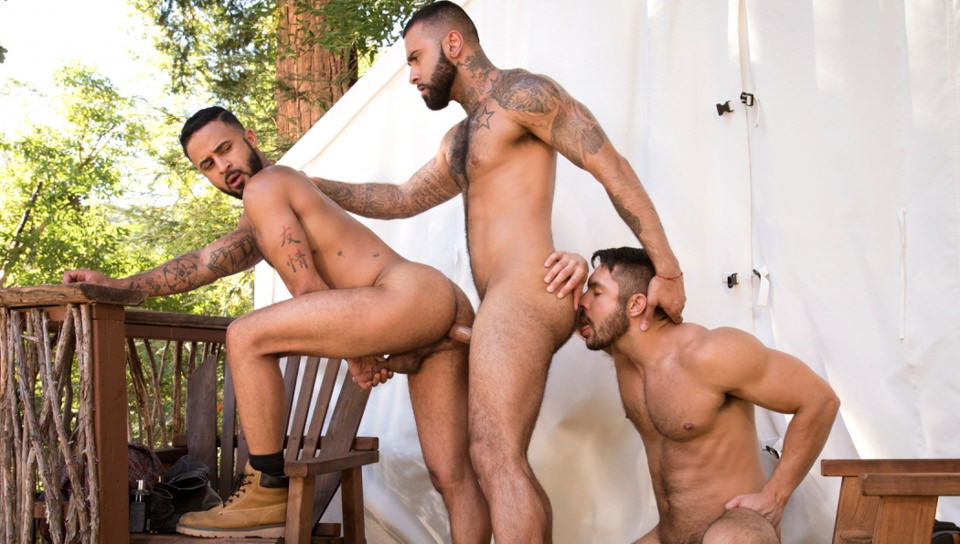 Rikk York has a dilemma. He's camping in the woods with Seth Santoro and Rikk York and he can't decide which one to fuck. Rather than make the decision himself, he lets the guys do their work to let the action play out naturally.
Damien is hungry for dick and gets down on his knees in front of both Rick and Seth to suck their big hard cocks. Damien and Seth make out as they get their dicks serviced by the horny stud. Seth wants to play the cock sucking game too and soon joins Damien on his knees to share Rikk's throbbing dick.
Each dude takes a side and opens his mouth wide to let Rikk take control and fuck their lips. All the attention feels amazing on Rikk's cock and he takes matters into his own hands. He bends Damien over a patio chair and slips his thick dick all the way into the tight ass in front of him.
Seth cheers the guys on and jerks his own meat before getting down to lick Rikk's hairy ass. He gets the ass lubed up and then stands to slide his cock deep inside. Rikk takes the dick like a pro and sucks on Damien's pole as Seth pounds away.
Rikk's asshole feels amazing enveloping his cock, and after a nice long fuck session, Seth pulls out and blows all over Rikk's fuzzy butt. Watching all the action around him is more than Damien can handle and he busts a load right into Rikk's open mouth.
One taste of Damien's jizz is all it takes for Rikk to let loose and return the favor by blasting all over Damien's beard and in his mouth. After all the fun, Seth and Rick get lost on a hike and stumble across Tegan and Colby outside. Something doesn't sit right with Seth.
Will he recognize Tegan and will he be able to help him before it's too late…Join them!
Men Over 30 gay porn scenes at Raging Stallion
Damian Taylor tops Greg Riley in this fiery magnetic scene.