Every gay porn video and gay porn image gallery of Zander B.
Hair Color: Brown
Sign: Unknown
Eye Color: Brown
Dick Size: 8 inch dick
Height: 5'9″
Cut / Uncut: Cut / Circumcised
Weight: 165lbs
Sexual Positions: Versatile
Zander B gay porn scenes at Next Door Studios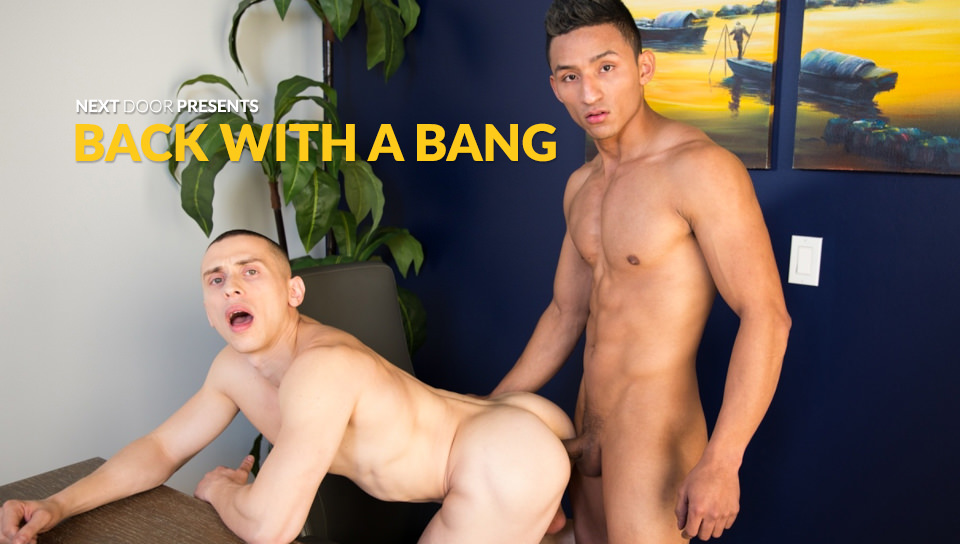 As he settles in to his new corner office, Dante Martin is visited by a blast from his past.
College flame Yoel Ortiz has been MIA in Dante's life since their school days, but now he's returned, and Dante could not be more surprised or more excited.
They quickly catch up and the chemistry is still apparent, even after all these years.
Dante tels Yoel he hasn't broken in his new office yet, and Yoel gets a sly grin on his face as they begin to make out.
Moments later, Dante is on his knees with a face full of Yoel's cock, downing it to the base as Yoel pushes his head further down onto the shaft.
Yoel closes his eyes and enjoys every minute of their reunion, especially when Dante bends over and tells Yoel to take him from behind.
Yoel plunges his bareback cock deep inside of Dante, who lets out a moan as Yoel tries to silence him from the rest of the office.
It's to no avail, as Dante continues to make noise with every thrust of Yoel's hard cock.
He pounds Dante all over his own office, fucking the cum out of Dante and pulling out to blast him with his long overdue load.
Dante takes it all willingly, vowing not to let so much time pass between now and the next time the two of them hook up. Yoel agrees…Join them!