Every gay porn video and gay porn image gallery of David Skyler.
Hair Color: Brown
Sign: Unknown
Eye Color: Brown
Dick Size: 8 inch dick
Height: 5'9″
Cut / Uncut: Cut / Circumcised
Weight: 165lbs
Sexual Positions: Versatile
David Skyler gay porn scenes at Next Door Studios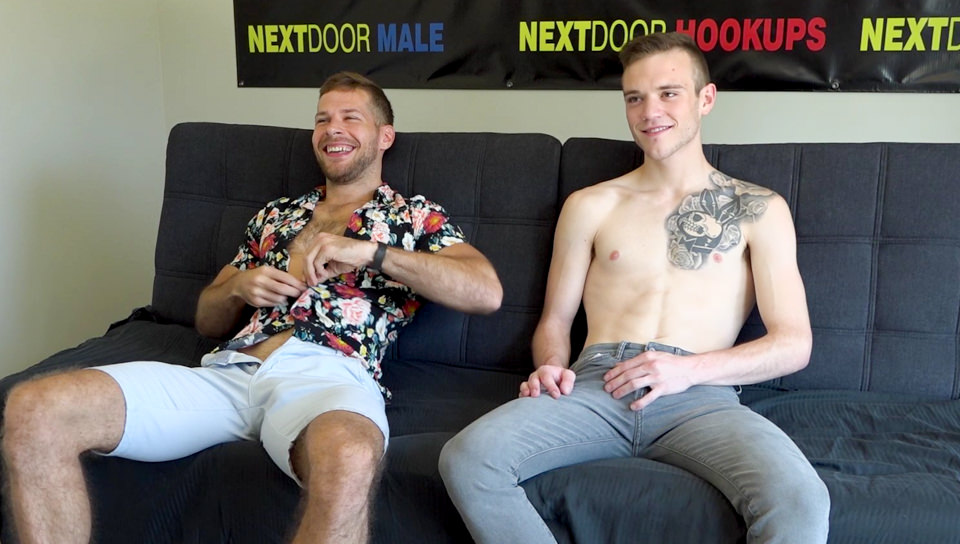 You guys wanted David Skyler back and he is back and you will love every minute of it. We didn't think David would go all the way but our casting agent and Scott Finn made him feel so comfortable that he decided to go all the way with Scott.
David was a little nervous but more so excited and our casting agent gave him the option of watching porn alone to get hard or watch it with Scott and than have him blow him and amazingly David wanted Scott in the room ASAP.
The boys didn't waste any time and Scott was devouring that long shaft of David's taking every inch down his wet mouth. David couldn't believe it and our casting agent told him it was all up to him if he wanted to do anything else and later on David wanted to fuck Scott.
David is a champ for never having his cock sucked on by a guy let alone fucking a guy and he knocked both of those off the list today. Check David out and let us know if you would like to see more of his tall sultry hunk…Join them!
David Skyler is 28 years old and one tall glass of water.
He's sitting with our casting agent today to see if he has what it takes to make it into the NDS family.
He says that he's been guided towards the adult industry throughout the years and he is finally ready to try it out.
He may be straight but he does tell one compelling story of a man on man encounter.
Come sit down with David and our casting agent and watch him pull out his big cock and see if he PASSES or FAILS…Join him!