All gay porn pics and gay porn videos of Tyler Carver.
Hair Color: Brown
Sign: Unknown
Eye Color: Brown
Dick Size: 8 inch dick
Height: 5'9″
Cut / Uncut: Cut / Circumcised
Weight: 165lbs
Sexual Positions: Versatile
Tyler Carver gay porn scenes at Next Door Studios
Quentin Gainz is charming, athletic, and hungry for cock. Don't miss this hot compilation of scenes featuring big dicks, blowjobs, deep throating, anal sex, rimming, threesomes, and so much more. From his sexy, amateur audition to a full blown orgy, we promise it's Ass Licking Good. Starring: Johnny Torque, Arad Winwin, Roman Todd, Justin Matthews, Dante Martin, Paul Canon, Tyler Carver, Evan Landers, Derrick Dime, Quentin Gainz, Scott Finn, Ian Oakley, Markie More, JJ Knight and Dante Colle.…Join them!
Donte Thick is salivating at the thought of his latest massage client, and as he slowly works out the kinks in Tyler Carver's hot body, he can tell this is one of those instances where deep body work is gonna be necessary.
He rubs Tyler's gorgoeous body down, rock hard at the thought of having a go at Tyler's ass, before finally giving in and pulling Tyler's cock through his legs into his mouth.
Tyler lets out a sigh and a moan as Donte sucks him off, and when Donte slides his thick cock deep into Tyler's waiting hole, Tyler realizes he's getting a full service massage today.
Donte proves he's got a magic wand as he pounds Tyler from behind, fucking him all over the massage table and hitting his troubled spots.
He takes all of Tyler's pain away, and Tyler proves he's no slouch when it comes to taking a dick.
He willingly works Donte's hard on, riding it hard as he strokes himself off, spitting his load as Donte continues to fuck him from behind.
Donte pulls out and blasts him with his load, and the mix of jizz and oil coats Tyler's backside as Donte exhales behind him, both of them loose, satisfied and ready for round 2…Join them!
Quentin Gainz and boyfriend Roman Todd are looking to hire some help around the house, and when they stumble across Tyler Carver's application, they are pretty sure they've found their man. All that remains is for them to conduct a face to face interview to make sure Tyler is a good fit for them.
Upon meeting him, their original assumptions prove true, as Tyler nails every part of the interview. Quentin and Roman are ready to offer him the job, but first there's one last qualification they need to check. Moving together to sit next to Tyler on the sofa, Quentin and Roman each place a hand on his thigh, sliding their hands up his pant leg to see what he's working with.
Tyler is visibly nervous, and Roman asks him if he knows what a house boy does. Tyler says sure, and communicates to them that he's ok with this, and so Roman and Quentin commence to breaking in their new employee, as Quentin strips him out of his shorts and begins to suck him off as Roman fondles his upper body, also working his way out of his shorts.
Setting Tyler up between them, Quentin moves on to eating Tyler's ass while Roman feeds him his hard cock, and after moistening up his hole, Quentin plunges his raw cock deep into Tyler, pounding him bareback from behind while Roman continues to gag him with cock on the front end.
Now good and hard, Roman wants to get a piece of Tyler's ass, so he has Tyler mount him, and proceeds to work Tyler's hole from beneath, before laying him out on his back.
Quentin and Roman then take turns pounding Tyler's hole raw as he strokes himself hard, and satisfied that the arrangement will work out, they pull out and both blast him with a double facial as Tyler strokes his own load all over himself.
Cum covered, Roman tells Tyler he's got the job, and that he can expect many more days like this one in the future…Join them!
Tyler Carver gay porn scenes at Next Door Buddies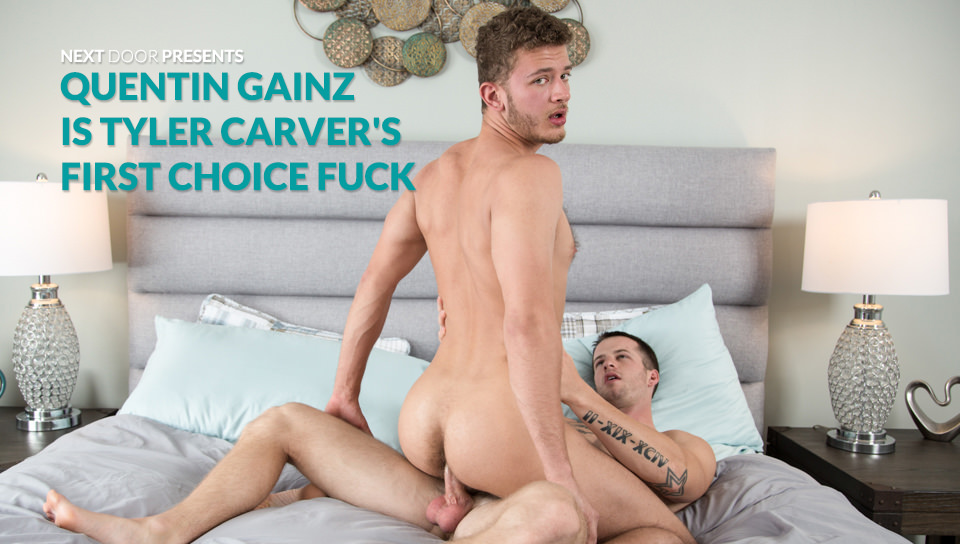 When given a choice for scene partners, Tyler Carver says he took one look at Quentin Gainz' abs and said, 'Yup. That's the one.'
Quentin's 'aw shucks' demeanor is on full display upon hearing this anecdote, and he says he feels honored. It doesn't hurt that Tyler's furry chest and striking good looks make him a fantasy pairing for anyone, especially when he tells the members that his favorite thing to do is ride a dick.
Quentin smiles at the thought of this, and a short time later, Quentin discovers that Tyler is a man of his word.
He shows Tyler the Next Door Way, fingering his hairy hole as Tyler sucks him off, and then sliding his bareback cock deep into Tyler doggy style.
Tyler lives up to his promise as he takes Quentin's cock for a spin, giving him a nice ride before flipping over to let Quentin have his way.
Quentin fucks the cum out of Tyler and then lets his own load loose as they fall onto the bed laughing…Join them!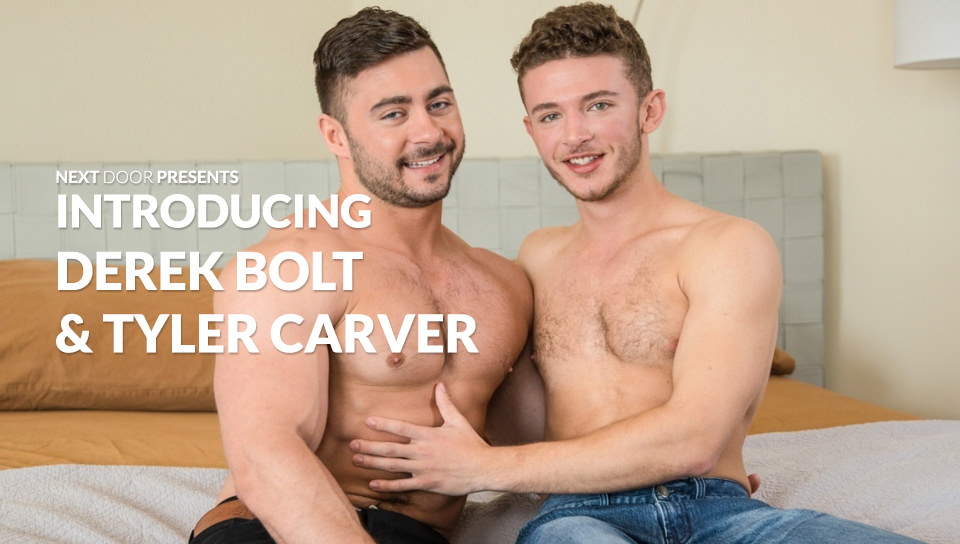 Introducing not one, but two new studs to the Next Door line-up in this heat filled exchange. Self-professed 'puppy dog', Derek Bolt, can't keep his paws off of brand newbie Tyler Carver.
It's Tyler's first time on film and his first time with a guy, but this adventurous stud from the midwest is a natural as he watches Derek suck him off, then proving a quick study, returns the favor, gagging on Derek's cock and taking it down to the base.
Derek flips him over and exposes his virgin hole, slipping his tongue deep inside before he can resist no longer.
Derek pile drives Tyler who takes it like a champ, before flipping Derek onto his back and riding him long and hard.
Derek's massive arms hold Tyler steady as the young stud bounces up and down on Derek's cock, before flipping him over onto his back as Derek fucks the cum out of him before dousing Tyler with his first load.
It's highly doubtful it will be his last…Join them!