All gay porn pics and gay porn videos of Steve Rogers.
Hair Color: Brown
Sign: Unknown
Eye Color: Brown
Dick Size: 8 inch dick
Height: 5'9″
Cut / Uncut: Cut / Circumcised
Weight: 165lbs
Sexual Positions: Versatile
Steve Rogers scenes at Next Door Studios
As Logan Cross suns himself by the pool, his brother's friend, Steve Rogers, pays a visit. Logan tells him his brother will be gone for a while and Steve decides to wait for him as Logan continues to catch some rays.
Steve tries hard not to stare at Logan's toned and tanned little ass but it's hard not to, and when Logan notices the bulge in Steve's shorts, he suggests they wait inside.
Steve agrees and in no time, Logan is indulging in one of his wildest fantasies. Having long dreamed of hooking up with Steve, Logan realizes the fantasy pales to reality as he goes deep on Steve's fat cock, slobbering all over it as he plays with himself.
Steve is rock hard and ready to pound, so Logan mounts him as Steve holds him close, slipping his raw cock all the way into Logan, kissing him passionately before pushing him back and fucking him harder than he's ever had it before.
He lets Logan have a nice long ride before flipping him over onto his back and pounding the nut out him.
Logan shoots his load all over himself as Steve continues his thrusting, pulling out just in time to blast Logan's sun drenched bum with a healthy load of straight boy cum…Join them!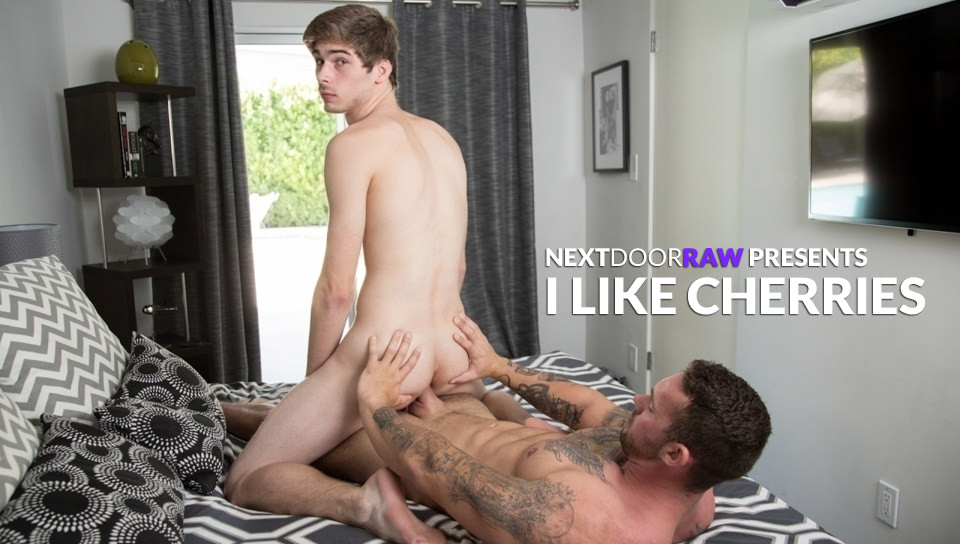 As Chad Piper makes his way home, he doesn't realize that he's being watched, until neighbor Steve Rogers approaches him at his front door way.
Steve cups his hand over Chad's mouth and tells him not to make a sound, explaining that he knows Chad has been watching him at night.
Chad begins to protest but Steve tells him it's ok, that he enjoys the idea of Chad watching him, and Steve wonders if Chad is willing to act on his desires. Chad tells Steve he's still a virgin.
Steve smiles, telling Chad he likes busting cherries, and they quickly make their way to Chad's room. Once there, Steve is all about business, telling Chad to suck him off. Chad does as he's told, taking Steve's massive cock into his mouth and downing it.
Steve gets rock hard as Chad deep throats him, telling Chad to bend over. Chad pensively gets on his hands and knees as Steve pops his cherry, sliding his bareback cock deep into Chad's virgin hole.
Chad surprises himself and Steve by taking every inch down to the base, so Steve proceeds to pound him, first from behind, then letting Chad mount him and take a spin.
Chad bounces his virgin ass up and down on Steve's meatstick, and having had his fill, Steve flips Chad onto his back and fucks him one last hard time, pulling out and spitting his seed all over Chad's hole, before shoving his cock back in and fucking the cum out of Chad.
As he bursts his first load all over himself, he smiles at the release, and Steve tells him he'll be back soon for round 2. Chad tells him he can't wait…Join them!
Steve Rogers scenes at Next Door Buddies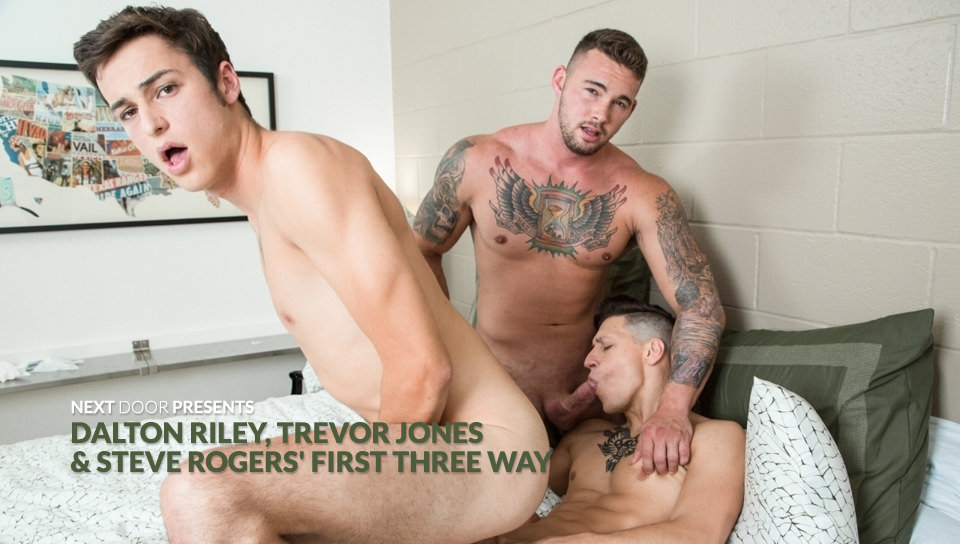 Dalton Riley finds himself smack dab in the middle of two first timers and he couldn't be more excited about his options. On his right, fresh faced Trevor Jones waits eagerly to show his stuff, while on his left, muscle bound stud Steve Rogers is ready to give everyone the business.
With so many choices, Dalton decides to dive right in, as the three of them engage in a kiss before stripping out of their clothes. The chemistry is palpable as all three guys take turns blowing each other, but Steve is here to fuck and rather quickly asks who gets to take the dick first.
Trevor volunteers and Steve goes right to work, plowing Trevor bareback from behind while Trevor eats Dalton's ass. Once Dalton's hole is nice and moist, he flips Trevor over and mounts him, as Steve continues to fuck Trevor missionary.
Trevor proves he can give as good as he gets, but it's finally Dalton's turn to do the fucking, so they switch positions and Trevor mounts Dalton reverse, bouncing his ass up and down on Dalton's raw cock while Steve gags Dalton with his hard on.
Dalton fucks Trevor hard and can't hold it any longer, so he pulls out just in time to jizz all over Trevor's suspended hole, just Steve drops his load in Dalton's mouth.
All that's left is for Trevor to complete the trifecta, so he turns around and shoots another load onto Dalton's face, who is in happy as a clam with the way it all turned out. The feeling is certainly mutual…Join them!
no images were found