Every gay porn video and gay porn image gallery of Miles Matthews.
Hair Color: Blonde
Sign: Unknown
Eye Color: Gray
Dick Size: 6.5 inch dick
Height: 6'2″
Cut / Uncut: Uncut / Uncircumcised
Weight: 165lbs
Sexual Positions: Versatile
Miles Matthews gay porn scenes at Next Door Buddies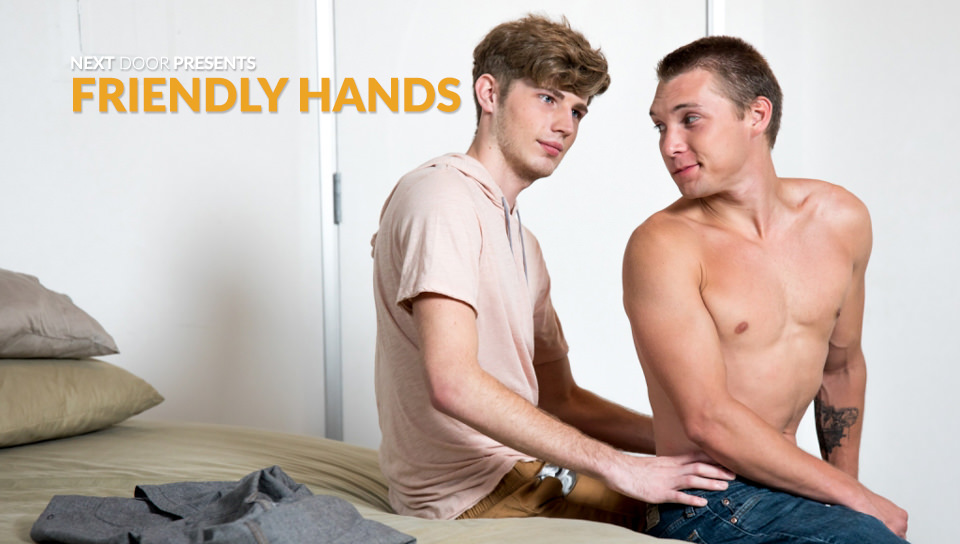 With his back hurting him something awful, Elye Black has asked buddy Miles Matthews if he can work a little bit of his massage magic on his ailment. Miles is happy to help a friend, and as he begins to work Elye's sore muscles, Elye feels the pain begin to dissipate.
Telling Elye that all the muscles are connected, Miles continues to give Elye his rub down, but Elye is beginning to get a sensation in other areas of his body. He flips over and reveals his rock hard cock. Miles double takes but when Elye tells him it's ok, Miles grips it and bends down for a taste. As he wraps his lips around the head of Elye's cock, Elye closes his eyes and lets out a moan.
Forgetting all about his sore back, Elye returns the favor before Miles offers a more prodding internal massage. Elye climbs aboard Miles' cock and gives it a ride, bouncing up and down on Miles bareback dick as it stretches his hole wide open.
Miles proceeds to fuck Elye in every different position until Elye is ready to cum. Flipping him onto his back, Miles fucks the cum out of Elye before pulling out and blasting his load all over Elye.
As Elye rests his head back on the bed, he exhales with satisfaction, barely even remembering what was hurting him in the first place…Join them!
Miles Matthews gay porn scenes at Next Door Studios
After missing his flight and with no one to call in town, Markie More is ass out as far a place to stay for the night. Luckily for him, one handsome stranger, Miles Matthews, sees he's stuck and offers Markie a place to crash for the night.
Markie is appreciative of the bed to rest his head, but when Miles makes a move on him, Markie realizes there are strings attached to his offer. Luckily for Miles, Markie is the kind of stranger willing to be seduced, so when Miles asks him if he wants to have some fun, Markie realizes this won't be an average extra night in the city.
He agrees, and Miles strips him out of his clothes as he kisses up his body. He takes Markie's cock into his mouth and Markie's reservations melt away, deciding to just enjoy his encounter. He returns the favor, sucking Miles' huge cock as it gags his throat halfway down.
Miles asks Markie if he wants to take his cock for a ride, and Markie nods, bending over as Miles slides his rock hard cock into Markie's bareback hole. Markie feels every inch of Miles' massive dong, moaning as he feels it pound him from the inside.
Miles fucks Markie ragged and raw, pumping him full of hard meat as Markie spits his load all over himself. Miles pulls out and coats Markie, and as they fall to the bed, Miles asks Markie if he wouldn't mind staying an extra day or two…Join them!
Miles Matthews is the strong, silent type and that's just how Ty Derrick likes them, so after their date, Ty invites Miles to come in to 'watch a movie'.
Instead, they quickly make their way back to Ty's bedroom where things get frisky, as Ty goes down on Miles.
Miles lives by the motto, 'Speak softly and carry a big stick,' and Ty quickly discovers that to be true, as he tries to fit all of Miles' cock into his mouth, choking on it as he goes all the way down.
Miles returns the favor, sucking Ty off as he lay on his back, and then, once he's ready, he spreads Ty's legs and proceeds to pile drive him from above, pounding Ty's hole with his bareback cock as Ty moans and begs for more.
Miles fucks him good and hard, letting Ty take a ride before bending him over and taking him to Pound Town. Ty strokes himself as Miles continues, then he lets go of his cock as Miles finishes him off.
He sprays his load all over the bed as Mile pulls out and unloads on his hole. Cum covered, Ty tells Miles this was one hell of a great date…Join them!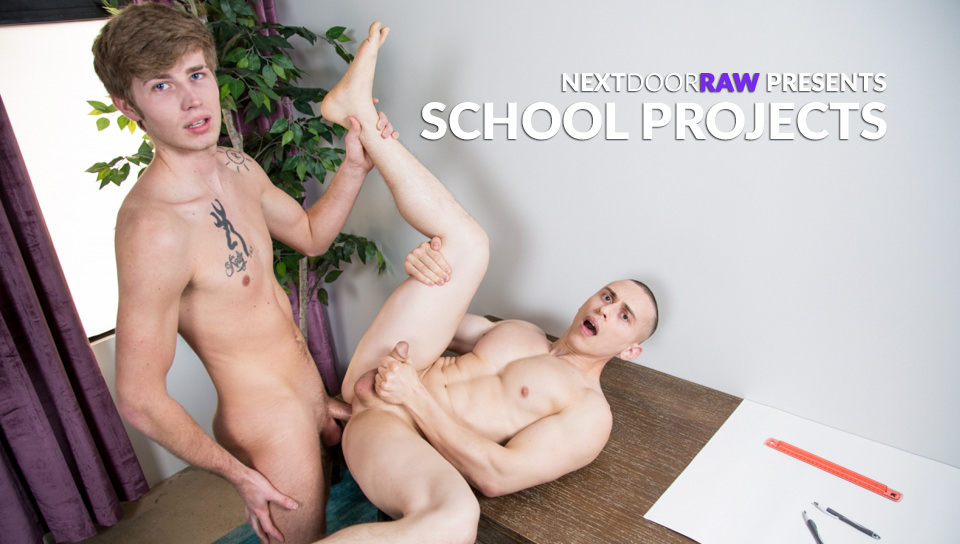 Dante Martin seems pretty stressed out about the school project that's due on Monday. Project partner and roommate Miles Matthews doesn't seem bothered at all, but that's likely because he forgot it was due and Dante's doing all the work.
Nonetheless, when he sees Dante stressing he tells him to take a break, rubbing his tense shoulders and giving him a small peck on the cheek. Dante smiles and looks up at Miles, suddenly realizing exactly what kind of break Miles is talking about.
Standing, he faces Miles, and they kiss as they both disrobe. Miles falls to his knees and takes Dante's hard dick into his mouth. Dante shoves his head down further onto his cock as Miles chokes on it. He quickly returns the favor, downing Miles' cock to the base, but Miles is so horny he wastes no time in standing Dante back up and bending him over the desk.
Now that he's got Dante where he wants him, he slides his big dick into Dante's waiting hole, spreading his cheeks wide so he can watch his cock going in and out. Dante closes his eyes and moans with every thrust, before Miles picks up the pace and begins to pound him.
Dante tells Miles to get on the desk, where he mounts him and begins to grind on Miles, before setting his hands on Miles' chest and riding him hard and proper.
Miles is ready to cum so he flips Dante back onto his back and gives him one last good round of hard pounding before pulling out blasting Dante's perfect ass with his load.
Dante feels it blast against his balls as he shoots a massive load onto his chest. Cum covered but much more relaxed, he tells Miles they need to work together more often…Join them!