My gay porn pics and gay porn videos of Lance Ford.
Hair Color: Brown
Sign: Unknown
Eye Color: Blue
Dick Size: 6.5 inch dick
Height: 5'10"
Cut / Uncut: Cut / Circumcised
Weight: 165lbs
Sexual Positions: Bottom
Lance Ford gay porn scenes at Next Door Taboo
The sun is shining and these two athletic step brothers are ready for an adventure.
After a long, hard ride of flexing those hot bods on the trail, steamy Lance Ford has a few more tricks to teach eager step brother Roman Todd. Lucky for Lance, Roman is a quick study…Join them!
Lance Ford gay porn scenes at Next Door Studios
There's nothing like the great outdoors, and park ranger Donte Thick knows this all too well. He's spent many an afternoon gazing at the sky and enjoying the natural surroundings.
Donte's seen a lot of beautiful sights in his life, but when he stumbles upon Lance Ford stroking one out in a closed part of the park, it's as eye pleasing as any sunset. Donte escorts Lance to a part of the preserve that isn't off limits, and then shows him just how liberating it can be to get back to nature, as the two of them strip down to their birthday suits.
Lance's eyes pop out when he sees what Donte the Ranger is packing, and when Dante slides it in between his cheeks and stretches his bare hole, he realizes this is his lucky day.
Dante gives Lane the bareback fuck of his life, pounding him every way he can think of, before unleashing his load all over Lance's freshly fucked hole, and as Lance lets his batch loose, Dante smiles, happy to have been able to share all the wonders of nature…Join them!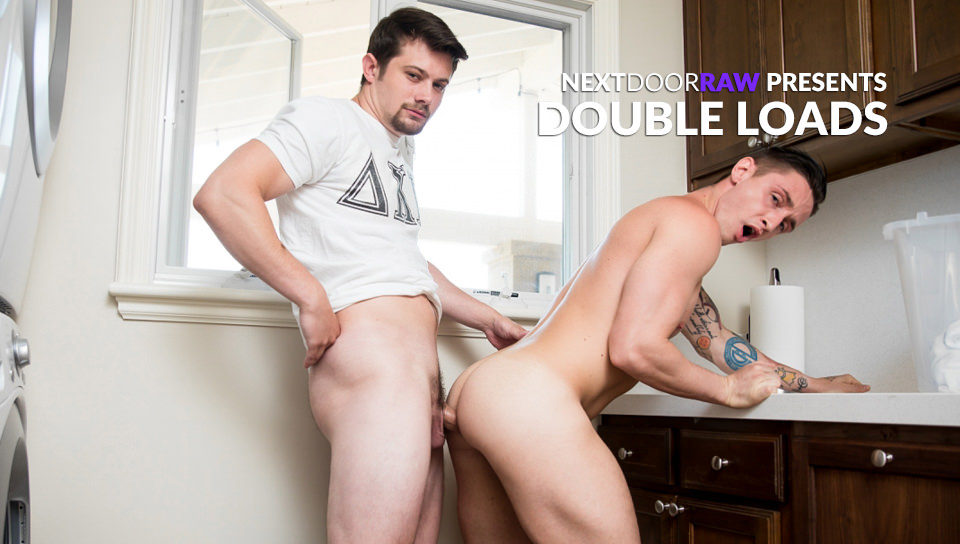 When Mason Williams catches roomie Lance Ford stroking his dick in the laundry room, it's an awkward situation, but it gets heated when Mason finds out Lance has been sniffing Mason's underwear to jerk off to.
Suddenly enraged, he accuses Lance of being unable to leave his shit alone. Lance tells him most people don't complain when messes with their stuff, and Mason seems confused until Lance falls to his knees and grabs at Mason's dick.
Hesitant at first, Mason lets his guard down when he feels how good Lance is at sucking a cock. He deep throats it in a way that none of Mason's girlfriends have ever done, and when Lance bends over and perches his ass high in the air, begging to be fucked… well Mason becomes a convert in that moment.
Plunging his rock hard cock into Lance, he pounds his roomie from behind, fucking him all over the laundry room before Lance finally spits his load all over himself.
As Mason pulls out ready to cum, Lance tells him to feed it to him, so Mason blasts his nut all over Lance's face, covering him jizz as Lance sucks Mason dry…Join them!
In hot pursuit of his target, Charlie Pattinson is locked and loaded, ready to shoot off just as soon as he locates the object of his desire.
Lance Ford is waiting by the bed to ambush him, but as Charlie enters, he lets his best shot fly and scores, sending Chad flailing onto the bed.
Charlie quickly moves in to help resuscitate Lance. Charlie whips out his cock and showing it to Lance. Lance deep throats it and Charlie moans with delight.
He returns the favor, moistening up Lance's hole and stroking himself. Lance mounts him as he plunges his raw cock deep inside Lance's hole.
Lance bounces on his bareback dick and spreads his legs as Charlie jerks him off. Lance's pre-cum oozes out as Charlie's big dick fills him up.
Charlie fucks him all over the bed, bending him over and fucking him doggy before flipping him over.
He fucks the cum out of Lance and then shoots his own load all over him. Lance, covered in Charlie's jizz, tells him that's the 2nd time he's been shot in the same day…Join them!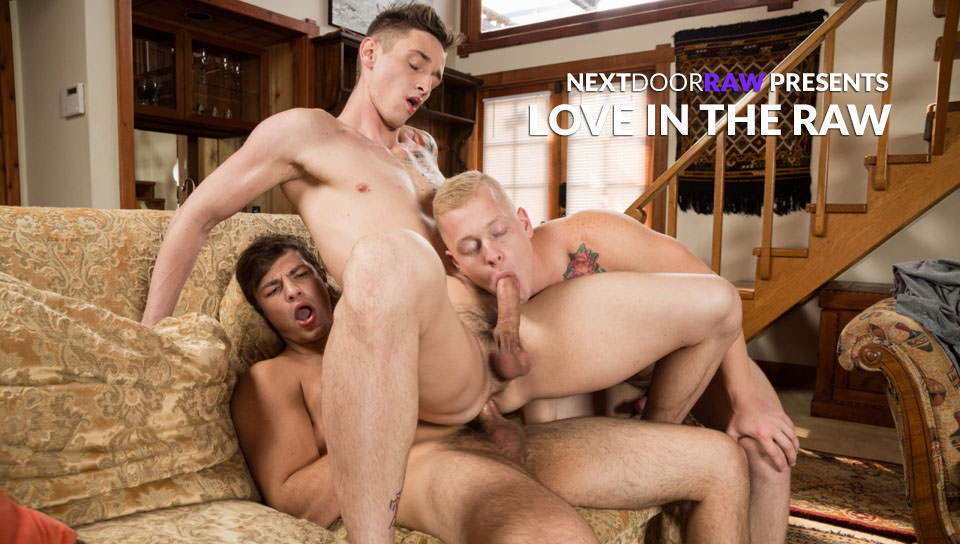 Out for a holiday drive, Leo Luckett and Lance Ford spot a wanderer on the side of the road.
Leo thinks nothing of it but Lance has seen the guy walking around town for a few days now, and despite his disheveled appearance, Lance thinks he and Leo can help the guy get back on his feet.
Charlie Pattinson is more than gracious for their help, and when the two of them set him up in their guest house, he feels like he's hit the lottery.
But Charlie's luck has just begun. Over the course of the next few days, he learns that Lance and Leo are in an open relationship, and he begins to wonder if maybe there isn't something to such a lifestyle.
When Lance catches him spying on him through the window, he invites Charlie inside and they talk about Charlie's sudden feelings on the subject.
Lance tells him he'll never know what it's like if he never tries it, as Leo makes his way down the stairs.
Charlie thinks about it and decides now is the time for him to engage in his fantasies, and that Lance and Leo are the perfect pairs to show him the ropes. What follows is an experience young Charlie will never forget…Join them!
no images were found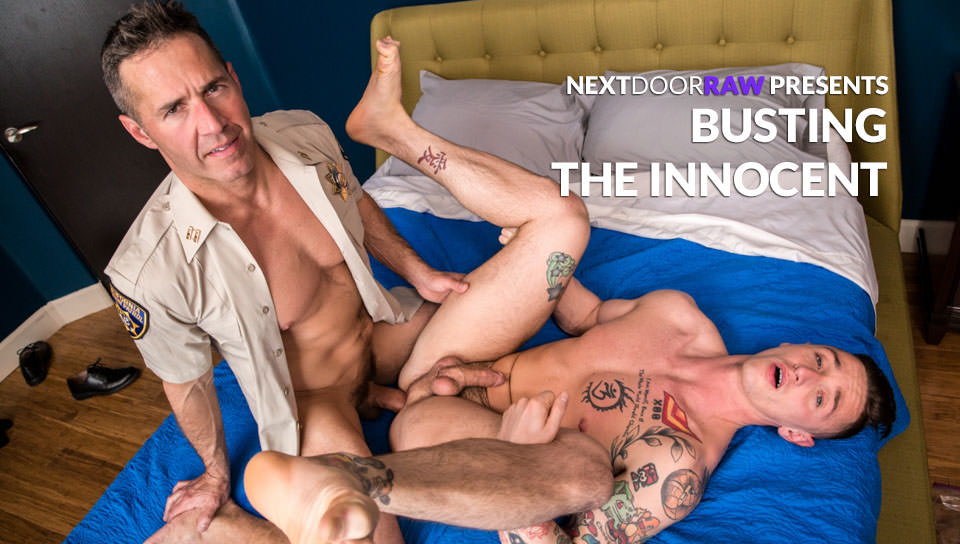 With a knock at the door, Lance Ford suddenly finds himself in a very compromising position. Officer Dean Phoenix has found the stash and is looking to bust the guilty party. Luckily for Lance, Dean has a soft spot for good looking perpetrators and a particular hard on for Lance.
Dean is willing to look the other way provided Lance can give him a reason to do so. Lance seems confused at first, so Dean unzips his pants and pulls out his baton to give Lance a better idea. Lance quickly understands the deal and falls to his knees.
Dean's cock grows to full mast inside Lance's mouth, but he's got his eye on Lance's pretty little ass, telling him to bend over. Lance does as instructed and Dean plunges his raw cock deep inside the would be felon, fucking Lance's bubble butt from behind as Lance grips the comforter.
Dean fucks Lance hard, meting out some 'street justice' and Lance takes it like a champ, riding Dean's nightstick and stroking his load all over the cop's chest, as Dean pulls out and spits his load all over Lance's face, and Lance drinks it dry as Dean dips his cum-dripping cock into Lance's mouth a facial courtesy of the long arm of the law.
Lance tells Dean he has no problem if the Sheriff decides further interrogation is necessary…Join them!
Lance Ford gay porn scenes at Next Door Buddies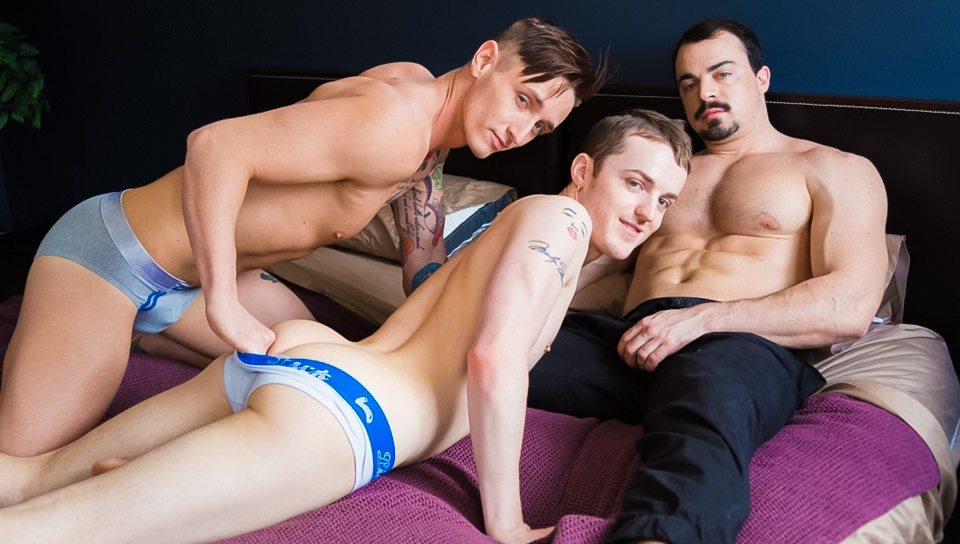 Well, well, well… looks like Alex James' secret is about to catch up to him.
It seems Alex has been running around on his boyfriend Dominic Green for the last 3 months.
When his sidepiece confronts Dominic, he finds out Alex and Dominic have been together for 4 years, and he's the one being played. Dejected, he apologizes for being a home-wrecker, but Dominic is surprisingly calm.
In fact, the whole situation gives Dominic an idea of how he and Alex can spice up their sex life, and he invites Lance Ford to be in on it.
After all, one look at Lance and Dominic has to admit: at least Alex picked a hot one to cheat with.
But now it's time for Alex's two worlds to collide, and Dominic has the perfect scenario in mind…Join them!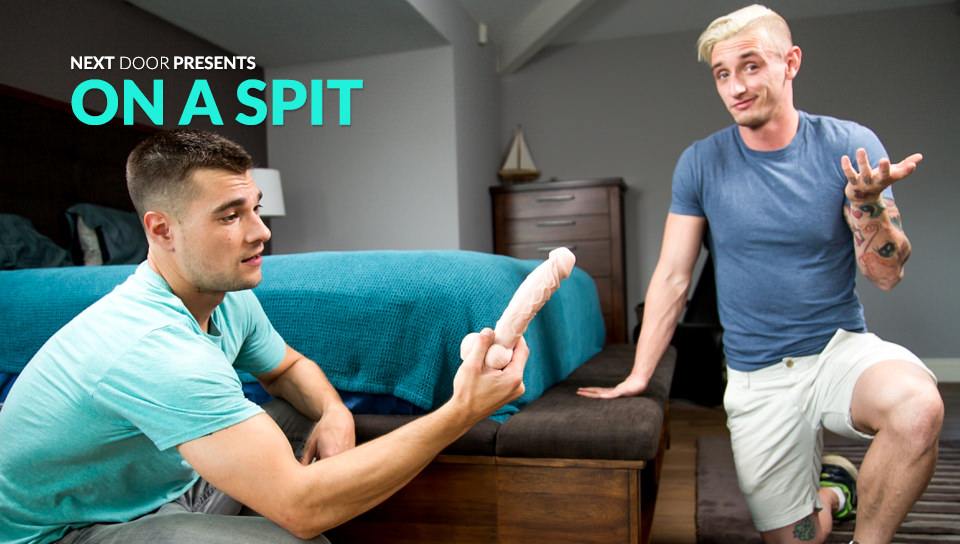 When Princeton Price accidentally finds roomie Lance Ford's dildo underneath the bed, Lance is embarrassed but explains it was part of his sex life with his ex. He piques Princeton's interest when he mentions getting spit roasted.
Princeton wonders what he's talking about, so Lance shows him, mounting him the dildo to the wall. Princeton's dick gets hard at the thought as Lance begins to blow him, simultaneously easing back against the dildo as it presses into him.
Princeton grabs his head and pushes it down further onto his cock, watching the dildo stretch Lance's hole open. Ready to fuck, he throws Lance onto the bed, eating his ass before sliding his bareback cock into Lance.
Lance reaches back and grabs his ass, spreading his cheek and showing off his hole as Princeton pounds his bubble butt into submission. Princeton fucks him all over the bed until a sweaty Lance can hold it no longer.
He unleashes his load as Princeton jizzes all over him, both of them exhausted and out of breath as they fall onto the bed…Join them!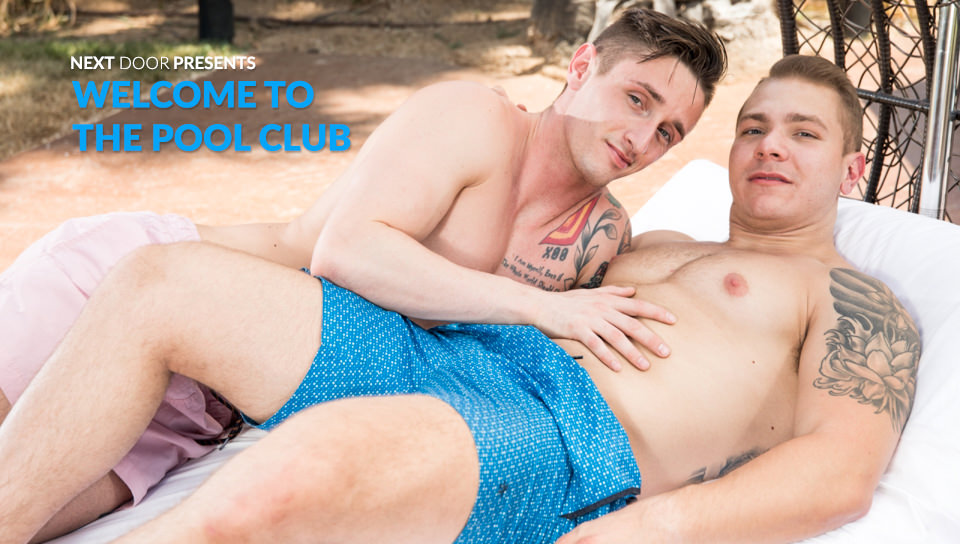 The sun is out and the water feels great, but it's gonna take a lot more than a quick dip to cool off all the action poolside, as Vince Michaels and Lance Ford take a time out under the cabana.
After stripping each other out of their swim suits, Lance and Vince take turns going down on each other before Vince bends Lance over and has his way with him, fucking him from behind right out in the open.
Lance takes Vince's raw cock as it thrusts in and out of him, then suggests they finish up in his private suite. He leads Vince back to his room and Vince throws him on the bed, fucking him raw every which way until Lance spews his batch all over his stomach.
Vince pulls out and showers Lance with his jizz, coating him with his first load of the summer, with many more to hopefully follow…Join them!
With his most recent relationship crumbling, Michael Del Ray recounts all of his laments about his girlfriend to best buddy Lance Ford over a couple of beers. Michael asks Lance if he has the same problems with the guys he dates, and Lance tells him that there's heartache on both sides.
'Yeah,' Michael counters, 'but I hear at least guys give better head.'
With that, Lance seizes the opportunity to cash in on a fantasy he's harbored for years, and that's to have Michael's meaty cock all to himself. Boldly, he makes move, getting up and brushing Michael on the leg. Michael quickly recognizes Lance's intent, and tells him he was just kidding.
Lance inches he hand up Michael's thigh, asking him if he's sure. Michael tells him he's not stopping him, and that's all the lead Lance needs. Unzipping his pants, he takes Michael's cock in his mouth and downs it whole, licking the shaft as Michael's eyes widen.
As his cock grows harder, Michael is amazed as Lance just keeps going deeper, taking the full girth of his dick down his throat all the way to the base. Michael realizes that what he's heard is true, and asks Lance if he has any more secrets to share.
Lance tells him to fuck him in the ass, bending over the table. Michael kneels down and spits on Lance's hole, tonguing him from behind as he strokes his cock, then plunging it all the way down as he spreads Lance's bubble butt wide open.
Michael's dick is everything he thought it would be, and Lance proves he's up to the task as Michael proceeds to pound him on the table. 'Let's finish this in bed,' Lance says, and Michael guides him to the bedroom where Lance rides the dick like a champ, bouncing and grinding on Michael's dick.
Michael flips him over onto his back and fucks him until he cums. Then, ready to burst, he pulls out and empties himself all over his friend, his girl troubles a distant memory in his mind…Join them!