Every gay porn video and gay porn image gallery of Alex James.
Hair Color: Brown
Sign: Unknown
Eye Color: Brown
Dick Size: 8 inch dick
Height: 5'9″
Cut / Uncut: Cut / Circumcised
Weight: 165lbs
Sexual Positions: Versatile
Next Door Buddies gay porn scenes of Alex James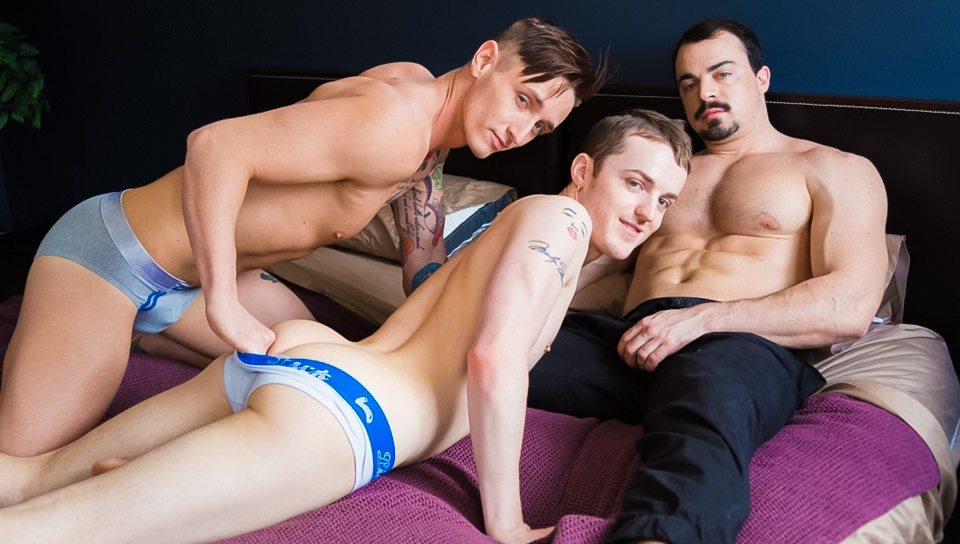 Well, well, well… looks like Alex James' secret is about to catch up to him.
It seems Alex has been running around on his boyfriend Dominic Green for the last 3 months.
When his sidepiece confronts Dominic, he finds out Alex and Dominic have been together for 4 years, and he's the one being played. Dejected, he apologizes for being a home-wrecker, but Dominic is surprisingly calm.
In fact, the whole situation gives Dominic an idea of how he and Alex can spice up their sex life, and he invites Lance Ford to be in on it.
After all, one look at Lance and Dominic has to admit: at least Alex picked a hot one to cheat with.
But now it's time for Alex's two worlds to collide, and Dominic has the perfect scenario in mind…Join them!
Active Duty gay porn scenes of Alex James
Alex James and Wade Clark are spending their downtime with a little double barrel action.
They were both so horny in the barracks that they decided to share a mutual jack-off, but once Wade sees the pistol that Alex is packing, he decides he has to get a taste of that for himself.
Alex is in no mood for reciprocation now that Wade has him rock hard, but he is spying Wade's hole with particular interest. Luckily for him, Wade likes nothing more than a soldier dick, so he lets Alex take a little extra target practice with his big gun.
Alex proves to be up to the task, as he manhandles Wade all over the bed before fucking the cum out of him, then blasting him with his incoming load…Join them!
Alex James' military experience has provided him with some first-hand experience with a heavy payload or two, and he's definitely packing a few guns of his own with those massive arms of his, but he's never been so close to the firing range as when he cums face to face with Elye Black.
Alex has always been a little curious what it would be like to get down and dirty with one of his fellow soldiers, and now he gets to live out that curiosity with new bunk mate Elye, who proves to be quite the brother in arms.
It turns out, Alex isn't such a straight shooter as he once thought, but that doesn't mean it isn't a joy to watch him fire away…Join them!
Princeton Price was excited that Alex James wanted his sweet ass again and he didn't wait long to wrap his wet mouth around Alex's big fat cock.
Princeton takes every inch down which always surprises Alex.
Princeton loves to gag on Alex's dick and let his drool slide down onto the balls.
Alex pushes into Princeton's tight little ass and begins thrusting deep into him making him squirm away.
Alex doesn't start out slow and he reminds Princeton who is in charge. He fucks him good and deep which Princeton loves.
He takes the lead for a short time as he rides that big dick like a sliding up and down every inch of that thick sexy cock.
Alex flips him onto his back where he fucks the cum right out of him and soon after strokes his load out onto him…Join them!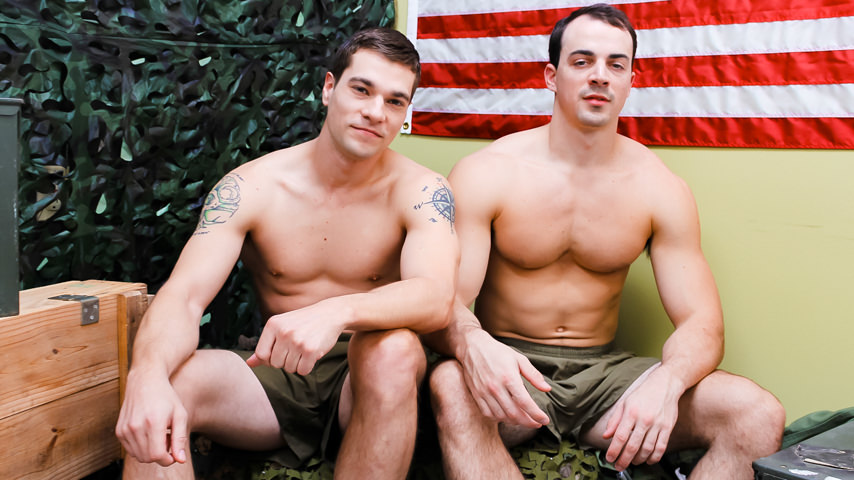 Alex James has a big build for a man and his dick is no different. Princeton Price can't wait to get his mouth around his meaty cock and once they lie down on the bed it doesn't take him long to begin sucking on every inch of that big dick.
Alex kicks back and enjoys the servicing by one of our best. Alex utilizes that sweet tender mouth as he face fucks him in different positions around the bed. Princeton is ready and has got Alex's cock rock hard.
Princeton tells him to fuck him and so Alex bends his sweet tight hole over the bed and he pushes his fat cock into him making him squirm with pain and delight. Alex does not take it easy on him as he pushes his thick meat into him.
Princeton takes it like a champ as he moans and groans with the pain of pleasure. Alex flips him onto his back where he continues to fuck him while Princeton strokes his dick building up his warm load.
Alex slides his cock out and Princeton blasts his load all over himself as Alex strokes his wet creamy nut out and all over Princeton's cum filled chest…Join them!
Richard Buldger sits in the middle between the two and watches them get hard and once Alex James is ready he wraps his eager mouth around his big hard dick. Today is John Hawkins' first time and he watches on as the other two enjoy.
Alex loves to have his cock gagged on as he pushes Richard's head down as far as it will go. Richard is in big boy heaven as he switches from the two sucking and stroking their big hard cocks. He can't believe how big they are in all formats. Alex is the first to bend Richard over as he slowly pushes his big manly dick deep into his tight little ass.
While Richard is getting fucked by Alex, John is fucking Richard's face hard and deep. Richard can barely take a breath in as he gasps for air. John is next to pound that ass which is now ready for his big long cock.
He pushes in quick making Richard squirm but he can't run away as John grips his hips and pulls him back fucking him harder and harder. Richard's mouth is once again full of dick as Alex face fucks him while John is still pounding away.
Richard gets man handled by these two giants until they take turns busting their big loads all over his eager smooth chest…Join them!
Hot sexy young privates Tyler Lakes and Alex James initially talk about how they've noticed each other on the base.
Big muscle hunk Alex caught slight young stud Tyler staring at his jockstrap with an enviable look on his face.
When Alex gets the chance he jumps at it, stripping off naked and wanking their soft dicks to hard erections.
Tyler falls to his knees choking Alex's huge muscle dick to the back of his throat.
Alex returns the favor splitting Tyler's ass cheeks apart and planting his tongue deep within his hot hole, lubing it with his spit.
Alex then presses his huge dick forcing it into Tyler's hot asshole, bareback fucking it with long deep strokes.
Tyler feels every inch of Alex's cock moving in and out of his bubble butt, sometimes slipping out but Alex guiding it back in forcefully.
The young army dude loves the unrelenting hardcore anal fucking that Alex gives him and he is very soon close to shooting his load.
He holds off briefly savoring Alex's hung monster but then cums spraying jizz all over them both.
Alex then pulls out to unload his balls over Tyler's freshly fucked asshole before fucking the cum back inside him.
New recruit Dex Wade has never done porn before but has always been eager to try it out.
What better way for his premier in porn than to have Alex James's big cock to try him out.
Beefy army instructor Alex James catches young private Brandon Anderson jerking off to porn in his army bunk.
But Alex has just the thing to wreak revenge on the young dude.
Alex grabs ahold of Brandon's head and forces his mouth down to his hard erect dick making Brandon swallow it whole till he gags when his big mushroom cockhead hits the back of his throat.
With Brandon on all fours, Alex parts his smooth ass cheeks and runs his tongue up and down his ass crack getting the tip deep into his hot asshole.
He rims Brandon's hole till it is well lubed and ready for his huge thick dick.
The big muscled army guy Alex pummels Brandon's bare ass in hard strokes till he is balls deep in the young lad.
Alex holds onto Brandon's waist with both hands, pulling his bubble butt hole back onto his huge erection making Brandon moan with pleasure.
Brandon moans loudly as he feels Alex's massive cock moving deep inside his hole.
They switch positions a number of times each time Alex power fucks the young dude's bareback hole hard and fast.
Brandon tightens his ass muscles clamping Alex's dick and bringing him close to orgasm.
Alex pulls out and showers his ass hole with his jizz before fucking his cum back inside Brandon's freshly fucked hole.
Brandon then blows his load with Alex's dick still pumping his asshole. Spraying his load all over his stomach.
Alex's punishment of the young private seems to fit the crime as both sexy dudes's horny desires are sated for now.
Alex James has been in the army for three years and he's ready to show boot Daniel Greene how it's done in the military by doing him good.