Every gay porn video and gay porn image gallery of Peter Polloc.
Born in Poland, young twink Peter Polloc is eager to travel the world and experience new countries and especially the guys within them. Luckily for him, he landed a place at Staxus to try some of the best European Twinks around, and now he's with us to discover his kinky side!
Hair Color: Brown
Sign: Sagittarius
Eye Color: Brown
Dick Size: 7 inch dick / 18 cms
Height: 5'9″ / 175 cms
Cut / Uncut: Cut / Circumcised
Weight: 165lb
Sexual Positions: Submissive Bottom
Sexual Orientation: Gay
Nationality: Polish
Peter Polloc gay porn scenes at My Dirtiest Fantasy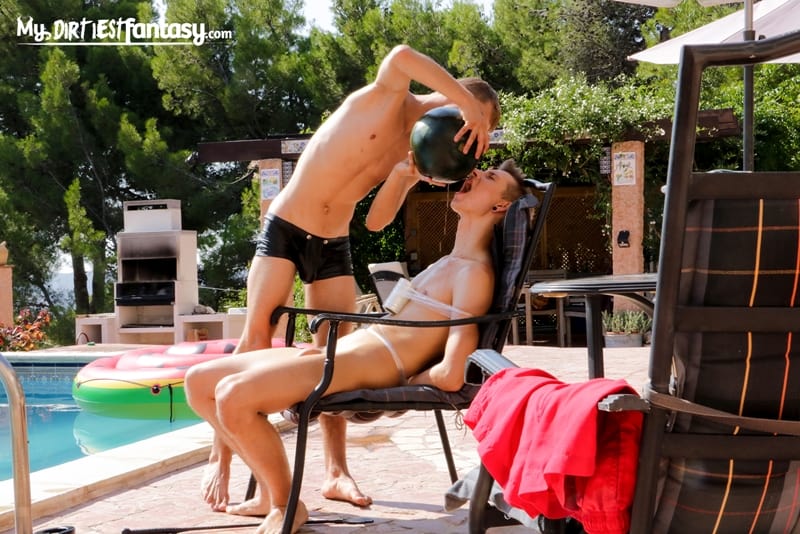 Poor Peter Polloc enjoying the sun is about to be molested by Ron Negba, who has some kinky ideas in mind for this fine summers morning.
After locking his hands and cock together in a wooden vice, he throws the key into the pool, so the boy definitely has no escape! Having that in mind, Ron now has his plan in motion.
With a few whips on the boys body he's quick to get sucking and playing with his cock, with a few whips every now and then Peter is soon moaning in pleasure.
Ron isn't going to be too hard with the boy, he removed the restraint and now gives the boy a slight wrap before getting the watermelon, after a few thrusts and the boy about to cum, comes the most food-fetish video we've seen so far…Join them!
After the first part, Silas Rise still hasn't finished with his boys, Peter Polloc and Daniel Karrington, and they are quickly ordered onto the table, where he shows no mercy in whipping the boys asses and feet, before jerking their dicks and using a dildo on their holes, to the point of almost cumming.
It goes without saying that Silas will not allow this, and he has both boys turn around before oiling them up and jerking their cocks…Join them!
As the title suggests, this is the perverted summer house where the boys get together to enjoy their respective roles.
Silas Rise goes to visit the boys, Daniel Karrington and Peter Polloc, outside who are chilling, and decides he too needs to chill by making the boys suck his dick whilst standing and watching, kissing and having his nipples sucked on by the respective slave boys.
This is until he has enough and moves the boys over, where he ties their hands to the patio ceiling, grabs a whip, and starts whipping the boys torsos and backs.
It goes without saying that Silas is trying to be nice to the boys, but pain pig Peter complains that he can hardly feel the whip, so Silas just has to whip him harder.
Of course that with a rock hard cock and helpless boys, all Silas can do is fuck them both and make them beg for cum…Join them!
Now with Peter Polloc butt naked on a pile of wheels the game isn't over yet. Rodion Taxa decides to oil up this twink, and play in some erogenous areas, with special focus on his dick, which he doesn't hesitate in giving an extra rub and even suck.
Now with his legs secured in the air with the help of some tyres, Rodion pulls out some toys to enjoy a bit further his ass, to the point of using a horse sized dildo to open up his hole whilst being jerked off.
Needless to say the humiliation is far from over as Rodion soon hops onto the table to give the boy a piss shower when he's done…Join them!
Starting with what would appear an alien walking in on a smoky room, we find a futuristic twink wearing a gas mask and covered in PVC clothing, needless to say that if a twink walks in a warehouse like this, he will not be welcomed warmly, as is the case, Peter Polloc's tied down to a chair for further exploration by Rodion Taxa.
His hand is quick to go to the groin area, where after a lot of rubbing, he's semi hard, and Rodion likes what he's seeing, so much so, that after he gets the boy hard he sucks his cock, and eventually makes the boy suck him off too before moving on to more of an ass wrecking act, needless to say that this boy will be covered in boy juice very soon…Join them!