Every gay porn video and gay porn image gallery of Zario Travezz.
Hair Color: Black
Sign: Unknown
Eye Color: Brown
Dick Size: 8 inch dick
Height: 5'10"
Cut / Uncut: Cut / Circumcised
Weight: 165lbs
Sexual Positions: Bottom
Noir Male gay porn scene of Zario Travezz
Colby Tucker is suffering from a broken heart so he's shirking his responsibilities at the office.
When Zario Travezz shows up at his house to get some paper signed, he's not too happy to find Colby wallowing in his self pity.
After some intense back-and-forth, the two men become heated and soon the heat translates into a hot fuck…Join them!
Sexy ebony muscle dude Deep Dic is prepped ready for a full-body sports massage and perhaps something more.
He lies on the massage table as masseur Zario Travezz drips oil onto his skin.
Deep relaxes as Zario hands and fingers smooth away all the stresses and aches in his muscular body.
As Zario massages his bare ass cheeks he can't help noticing that Deep's huge uncut dick is already getting hard.
When he gets Deep to turn over Zario grabs ahold of his big uncut monster cock with both hands.
Zario wanks him intensely sliding his foreskin up and down as he jerks.
He moves down and licks the tip of his cockhead before sucking his black dick deep into his mouth till it touches the back of his throat.
He can feel the movement of the foreskin in his mouth and he plays with it with his tongue.
Deep cannot wait any longer and he switches places with Zario so that he is lying on the bed and he presses his huge ebony cock deep between Zario's bubble butt ass cheeks.
Deep bareback fucks Zario in long hard strokes in and out pumping him full of his massive dick as Zario wanks his own cock hard.
They change positions a few times each with Zario taking Deep's big cock deeper and deeper his moans growing louder until Deep can hold off no longer and he blows his balls all over them covering them both in his hot cum.
Zario follows on quickly spraying cum all over his ripped abs and chest. What a relaxing happy ending massage that was.
Falcon Studios gay porn scene of Zario Travezz
The road to 'Bareback Ranch' is a happy trail, with Nick Fitt and Zario Travezz goofing off with a bit of innocent horseplay in the desert sunshine.
Before long Zario's shirt comes off and he manhandles Nick, slinging him over his shoulder like a sack of potatoes and carrying home his prize.
Back at the ranch, some ice-cold bottles await these two horny wranglers, who break open the brewsky to beat the blazing heat.
Zario lets a gulp of beer trickle cool and damp down his pumped chest and rippling abs onto his raging boner, as Nick kneels and slurps up every drop.
It doesn't take long till Zario is getting Nick's hole wet and ready for his unforgiving cock, then riding him raw and rough..Join them!
Hot studs Devin Franco and Zario Travezz are naked making out on the sofa.
They kiss passionately and their lips make their way around each other's bodies.
When Devin reaches Zario's big hard dick, he gets down on his knees and sucks it right to the back of his throat until his balls are on his lips.
After gagging on Zario's dick, Devin bends over and gets his hole tongue-fucked.
When Zario is finished probing Devin's smooth crack with his tongue and fingers, he upgrades by bending Devin over the nearby pool table and sliding his meat deep inside Devin for a bareback fuck.
Devin's eyes roll back as Zario opens up his hole with his thick dick.
Switching positions, Devin sits down on Zario's rod and rides it until Zario paints Devin's ass with a fresh coat of cum.
Having his ass covered in jizz makes Devin shoot into Zario's hungry open mouth.
Lights, camera, action, it's showtime at the Falcon Studios set for their latest porn movie and hot ripped stud Colton Reece and horny black dude Zario Travezz are naked on the bed.
They are under the lights making out and feeling each other's ripped bodies as the still photographer clicks away and the movie camera starts capturing another hot gay porn scene.
Colton pulls apart Zario's hairy ass cheeks and gets his tongue deep between them finally finding his hole and rimming it hard getting him lubed up for what comes next.
Zario then returns the favor as he just loves to rim a top's hot asshole.
Colton then forces his huge erect dick into Zario's butt hole getting his cock in balls deep with long strong pummeling action as Zario moans with pleasure.
Then Zario takes control hovering his asshole over Colton's huge thick cock before grinding his ass down over and over feeling every inch of Colton moving deep inside him.
The intensity of the bareback anal fucking is wild and both guys have to pause occasionally to prevent them from shooting their load too early.
Expert bottom stud Zario increases his ass muscle tension gripping Colton's dick like a vice and getting him close to orgasm.
Between fuck sessions, Zario bends down to suck on Colton's rampant cock before Colton shoves it back inside Zario's aching hole.
Now with Zario on his back, Colton power fucks him, quickly getting to orgasm and firing off volley after volley of jizz all over Zario's ass before fucking the cum back inside.
Zario wanks his own cock until he blows a huge load all over his ripped abs, with cum dripping down the two sexy muscle men embrace in a post fuck cuddle their sex drives sated for now.
Hot gay sex threesome with Devin Franco, Zario Travezz and Evan Knoxx.
What's better than makeup sex? A breakup threeway!
Well, at least according to the newly single Evan.
Moments after getting dumped by his boyfriend, the horny influencer is already filming his next piece of content by dropping to his knees and blowing Devin and Zario.
After throwing his legs back and presenting his new friends with a hole to rim, Evan finds himself getting stuffed with a hard cock at both ends.
Horny enough to bareback two hungry holes, Devin then has Zario stack his ass on top of Evan's, so he can easily drill both of their holes.
A few more thrusts has the muscle top fucking the cum out of both Zario and Evan with Devin pulling out shortly after to cover Evan in his own hot load.
Hothouse gay porn scene of Zario Travezz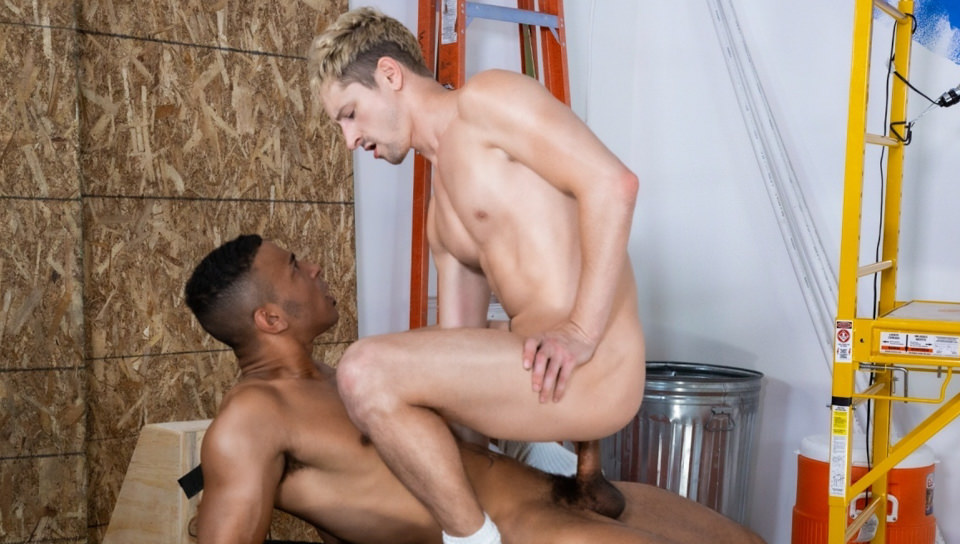 Zario Travezz and Taylor Reign are on a scaffolding painting a wall, but they get distracted by their attraction for each other. Zario runs his fingers along Taylor's firm, tight ass as Taylor tries to take all of Zario's big cock in his mouth.
As Taylor works Zario's hard shaft, Zario slips a couple fingers into Taylor's ass, stretching out his tight hole preparing it for his bare cock. Zario chokes Taylor with his dick, grabbing his head and forcing him down to take his full length down his throat.
Taylor's face is lit up as he tries desperately to please Zario's eager cock. Zario works his tongue up and down Taylor's sweet ass, enjoying the taste of his smooth hole. He lines his cock up with Taylor's raw hole and pushes his cock in, inch by inch.
Taylor moans out loud as his body opens up to Zario's bare, thick cock. Taylor gives in fully to Zario's needs and rides Zario's cock as he fucks every which way he can.
Taylor is ready to blow and pulls out as they both start jacking their cocks to cover each other's faces in sticky, hot cum…Join them!
Icon Male gay porn scene of Zario Travezz
Brian Bonds wants to go with Zario Travezz to the big poker night, but it's the one night Zario gets to hang with his friends.
Brian gets pissed and Zario knows exactly how to make him happy. He uses his huge cock and tight ass to put a smile and some cum back on Brian's face.
The bareback fucking will leave you breathless…Join them!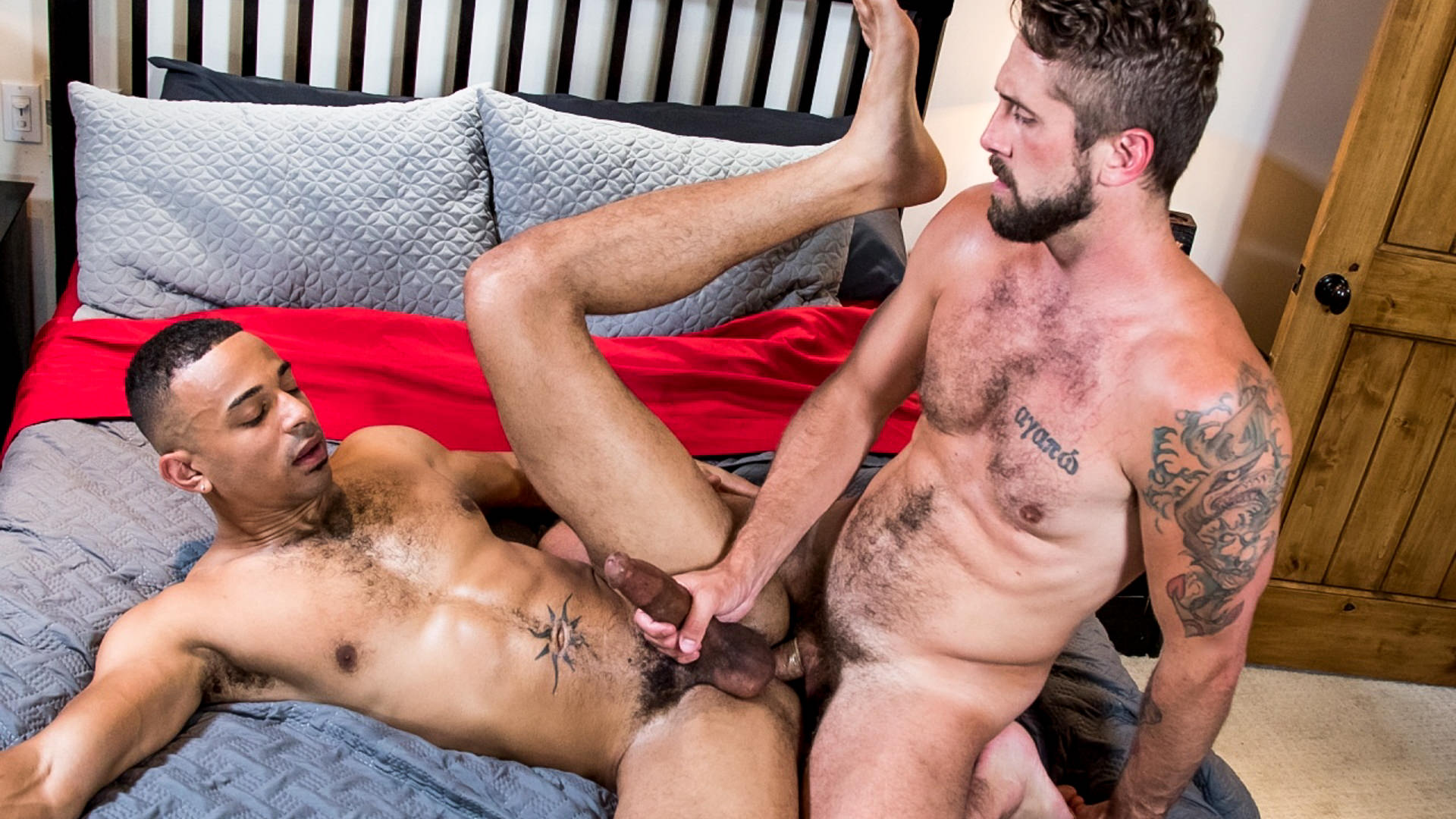 Uncle Wesley Woods is paying a visit to his favorite nephew Zario Travezz. It's been a while since the two have seen each other, so they are both horny.
Seizing the opportunity, the two men go for each other and devour all the cock and ass they can handle…Join them!
Men gay porn scene of Zario Travezz
Tall hunk Kelly Evans sees the perfect opportunity to get a piece of his stepson's ass when his wife leaves for the day. Fit cutie Armond Rizzo has wanted to wrap his lips around Kelly's big cock for quite some time, and doesn't hold back once it's deep inside his wet mouth. Little does he know, Kelly also wants a piece of brown-skinned Zario Travezz, and goes back and forth between both men until he's ready to cum….Join them!
Raging Stallion gay porn scene of Zario Travezz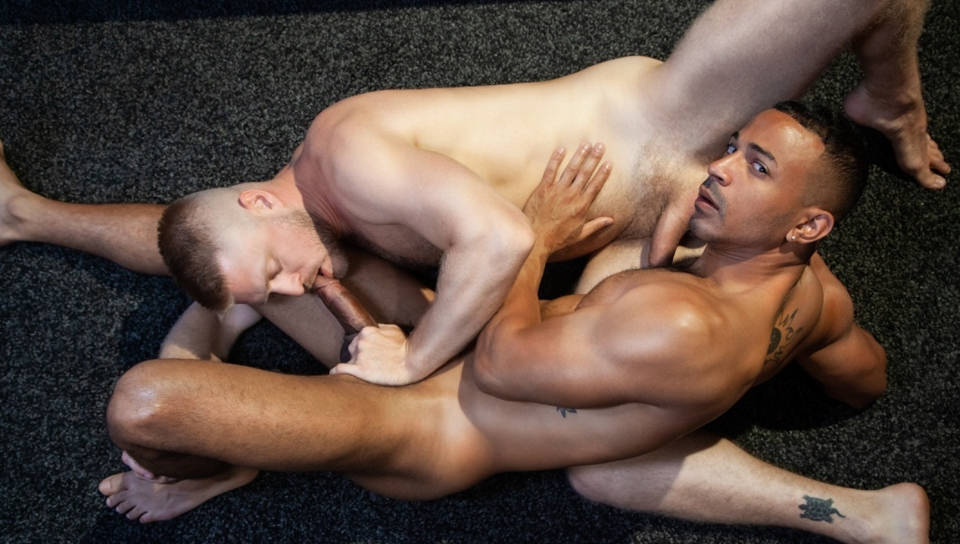 Zario Travezz is horny as hell and he can't stop eating Logan Stevens' insatiable ass. Logan loves the attention his ass is receiving and lies back on the couch with his dick in his hand to let Zario rim away. Zario gets in deep and opens the blond stud up until Logan decides to get a dick down his throat.
Zario stands up to let Logan get what he wants as Zario slowly starts fucking Logan's face. Zario knows how much Logan can take and gives him every inch he can handle. As the blond stud sucks away on Zario's plump cock, Zario goes even deeper, feeding the stud between his legs his nice fat dick.
Logan takes the big cock all the way to the base, choking and gagging on his favorite thing until Zario wants a taste of his own. Zario gets Logan's meat in his mouth and services him hard. Logan loves Zario's mouth wrapped around his shaft and can't wait to get a dick back down his throat.
The studs roll onto the floor and 69 so each of them gets a taste. Zario plants his face deep into Logan's clenched ass and licks away until Logan blasts his load all over Zario's tight body. When Logan's load hits his skin, Zario follows along.
With his face still planted firmly in Logan's hole, Zario unleashes a gusher and blows a massive load for Logan to lick clean…Join them!