Hair Color: Brown
Sign: Sagittarius
Eye Color: Hazel
Dick Size: 7 inch dick
Height: 5'7″
Cut / Uncut: Cut / Circumcised
Weight: 165lbs
Sexual Positions: Bottom
Tommy Regan scenes at Falcon Studios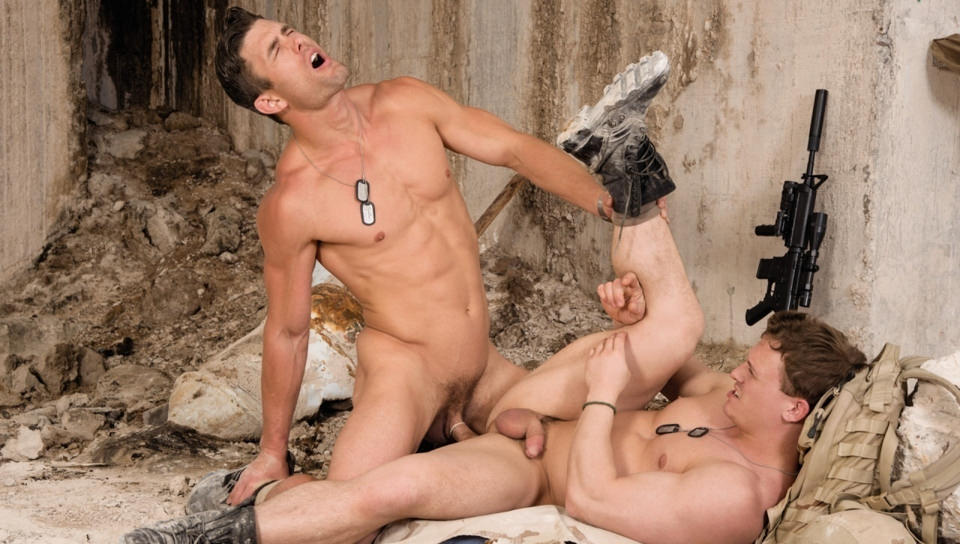 Handsome soldier Fane Roberts is assigned to his new post with fellow stud grunt Brandon Evans. After spending so much intimate time together, their attraction and feelings are undeniable. Unable to resist any longer, they secretly swap head in the barracks.
Fane moans loudly as he shoots a creamy load down Brandon's virgin throat. Sergeant Zevran passes by nearly catching them in the act. Meanwhile, out in the hot desert sun, Ryan Rose and Tommy Regan are on a military patrol.
There's no one around for as far as the eye can see so the Marines take off their protective gear to get more comfortable. Ryan takes it a step further and unbuckles his belt to pull his dick out of his fatigues. Tommy tries to ignore Ryan jacking off behind him and when Ryan asks Tommy to show his ass, Tommy refuses.
Ryan is the commanding officer and orders Tommy to remove his pants. Tommy obeys the order and bends over to let his superior officer rim his cute, fit bubble butt. Tommy admits that the rim job feels good, and as it continues, it gets him in the mood for more action.
Tommy turns around to offer up his growing erection. Ryan can't wait to get Tommy in his mouth and treats his subordinate to a nice long blowjob as he leans against a shelled-out cement wall. All the sucking gets Tommy in the mood to take a taste of Ryan's hard dick.
He services the ripped stud on his knees until Ryan instructs Tommy to turn around. Ryan slips his big stiff rod inside Tommy's tight ass and has his way with him as the muscled up military jock bends over to take it deeper inside his body.
Ryan keeps a steady pace and uses Tommy's perfectly fit form to get himself off. He pulls out and covers the military stud's groin and abs with a river of white and creamy satisfaction…Join them!
Tommy Regan scenes at Men Over 30
Alexander Garrett and Rego Bello have been a couple for a while and they have decided to take their relationship to another level by bringing in a 3rd. Rego shows Alexander a couple photos of Tommy Regan who's just moved in living on the first floor of the apartments.
Rego informs Alexander that Tommy will be arriving shortly. Tommy shows up to the room and they all share some awkward small talk before engaging in a sexy 3-way kiss. They soon have Tommy's clothes off and they begin to explore his body as they exchange blow jobs with each other.
The intensity increases as each one takes turns sucking and kissing each other. Tommy gets bent over the bed as Rego rims his ass while Tommy continues to suck Alexander thick veiny dick. Alexander says he wants to see Rego fuck Tommy, but Tommy wants to watch Rego fuck Alexander first.
Rego begins to fuck Alexander showing Tommy just how great his cock will feel deep in his smooth ass. While the fucking continues their hands roam and the ones not fucking are either sucking or getting blown. Alexander then fucks Tommy long and deep as he moans in delight with every thrust.
Tommy is so turned on by Alexander's huge cock in his ass that he shoots his own load all over himself and Rego and Alexander add their own loads to his creamy chest…Join them!
Tommy Regan scenes at Men.com
Luke Adams and Tommy Regan are determined to score with a hot guy. The only problem is these two
dweebs have no game. Good thing the nerds have enough brains to create their perfect man for practice, in the form of Charlie Pattinson. It's rock, paper, scissors to see who gets him first Tommy wins this round…Join them!
no images were found
Colby Jansen has his eyes set on Tommy Regan. The Patriot Act is going to help him get Tommy's ass—listening in on him via the ear piece he planted on Tommy's back, he realizes he has a boyfriend: Wesley Woods.
Tommy and Wesley get down to business, beginning with a blow and a rim before Wesley enjoys pillaging Tommy's tight hole—all while. Colby listens in…Join them!
Trying to overcome his drug addiction, young teenboy Tommy Regan takes a trip to a remote location with his sponsor Nick Capra. After a long walk around the lake, the boys head back to the house. Nick grabs some sodas from the refrigerator.
He tells this youth that he is proud of the progress he's made and that he'll keep supporting him even after his recovery. Touched by the man's words, he admits how grateful he is to have Nick in his life. Since they've arrived at the cottage, drugs have been the least of his cares, and that what he needed was to simply get off the merry-go-round.
Nick tells him he'll find other rides, better ones. Tommy laughs and Nick realizes how sexual his answer could be interpreted. Nick tells the dirty minded young boy that he can think what he likes. They both stare at each other for a moment, then Tommy walks up to his sponsor to kiss him.
Nick places his hands under Tommy's shirt to feel his little tight ab muscles. He slides his hands up the boy's smooth hairless body and takes his shirt off. Nick lifts him up with his big arms and carries him out of the room. Seems like Tommy found himself a better ride.
In the bedroom, Nick gently places Tommy on the bed and lays on top of him, kissing him. He stands back up to remove his shirt, while Tommy starts unbuttoning his pants to give him a blowjob. After enjoying getting his huge cock sucked, he feels like it's his turn to pleasure his boy.
He starts by licking on Tommy's sensitive nipples before making his way down his body. Nick removes Tommy's pants and put his legs up to get a taste of this young boy's ass. After rimming his hot boy hole, Tommy gets in a doggy style position, letting his sponsor know he wants to get fucked.
Nick accepts to give his son what he wants. He slides his big thick dick inside of Tommy's tight ass and fucks him hard. Tommy seems to enjoy getting fucked by this older guy that he lays down on his back and spreads his ass cheeks. Nick continue to ram his ass.
Tommy jerks off as he's getting fucked and shoots his load on his body. Nick lays down next to his young boy and jerks off until he cums on himself. Little Tommy may have a new addiction thanks to Nick…Join them!
Straight guys Adam Bryant and Ricky Larkin realize they've been played by their neighbor, Tommy Regan, so they decide to tag team his ass…Join them!
Phenix Saint's hard on is throbbing harder than ever and it's time to have it taken care of once and for all. That's where sexy stud Tommy Regan comes in. Tommy is eager to put that big, hard dick in his wet mouth, and stroke it just right as he sucks it good. Tommy sits on that excited dick before Phenix jackhammers his tight hole. Tommy cums as he's fucked and Phenix shoots his load on Tommy's pretty face…Join them!