All gay porn pics and gay porn videos of Scott Riley.
Hair Color: Blonde
Sign: Unknown
Eye Color: Blue
Dick Size: 7 inch dick
Height: 5'8″
Cut / Uncut: Cut
Weight: 165
Sexual Positions: Bottom
Scott Riley gay porn scenes at Pride Studios
Enjoy this compilation of stud Alexander Greene. From a hot threesome with a barber to locker room sex to shower sex and finally a solo masturbation scene. This is a compilation you do not want to miss. Starring: Alexander Greene, Rodney Steele, Kirk Cummings, Tony Orion and Scott Riley…Join them!
Scott Riley gay porn scenes at Extra Big Dicks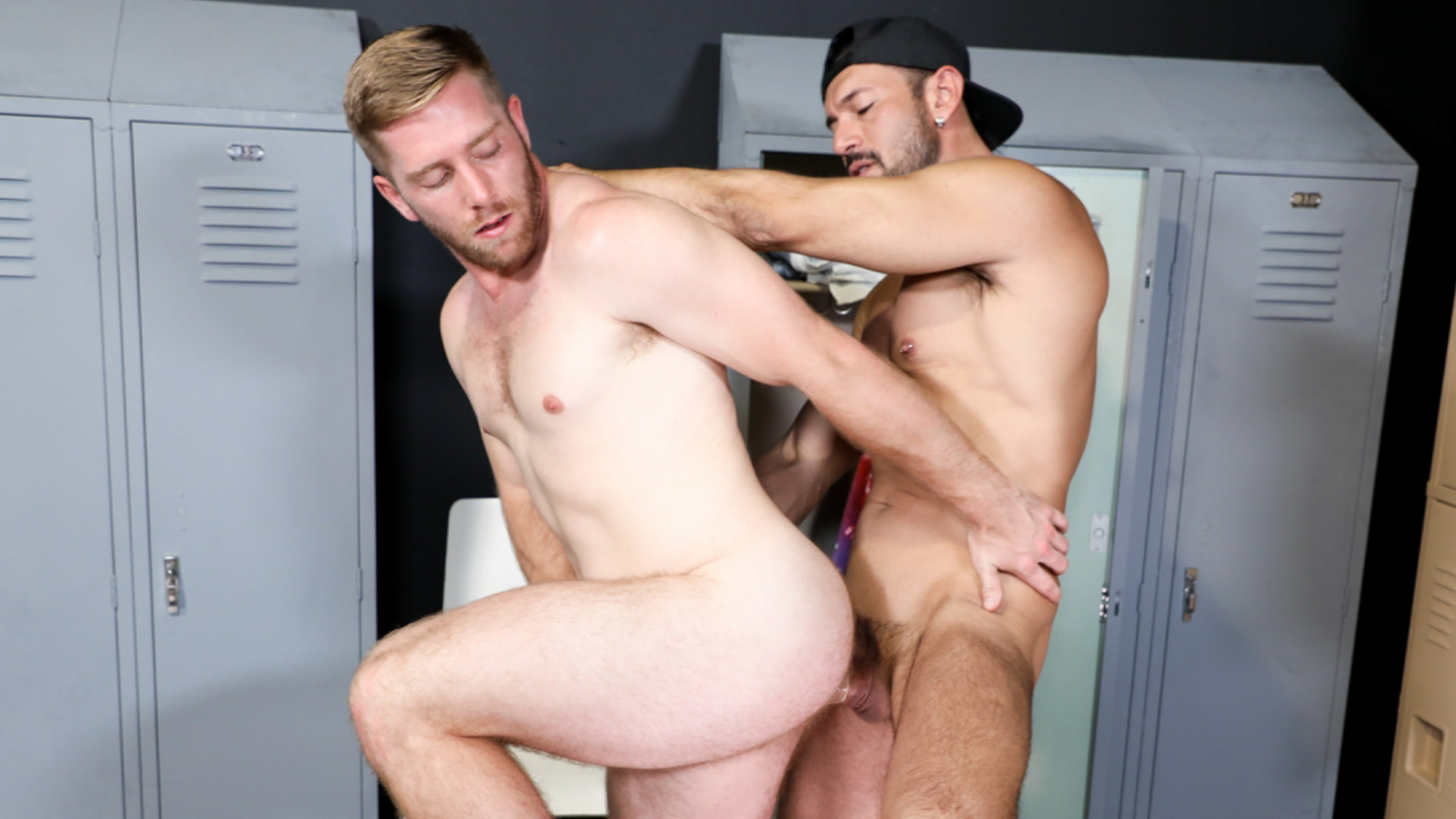 Scott Riley and Alexander Garrett are back in the locker room after their workout and Scott's shoulder is bothering him.
Alexander offers to help him my rubbing his shoulders and as he does, his massive cock gets aroused and rubs against Scott who is surprised and excited by it.
Scott grabs it and starts stroking it inside his sweatpants before pulling it out and sucking it.
He tries to deep throat all of Alexander, but struggles to do so.
They get naked and Scott bends over and gives his ass to Alexander who rims him while rubbing his massive cock on the gym bench.
Alexander then guides his big cock deep into Scott's ass as he fucks him from behind. Alexander then sits in a chair and Scott rides his huge cock.
Scott hem lies on his back and Alexander fucks him until he cannot hold back and he pulls out and then feeds his cum to Scott who eagerly sucks the last drops from Alexander's huge cock.
Scott then shoots his own load onto himself…Join them!
Scott Riley gay porn scenes at Icon Male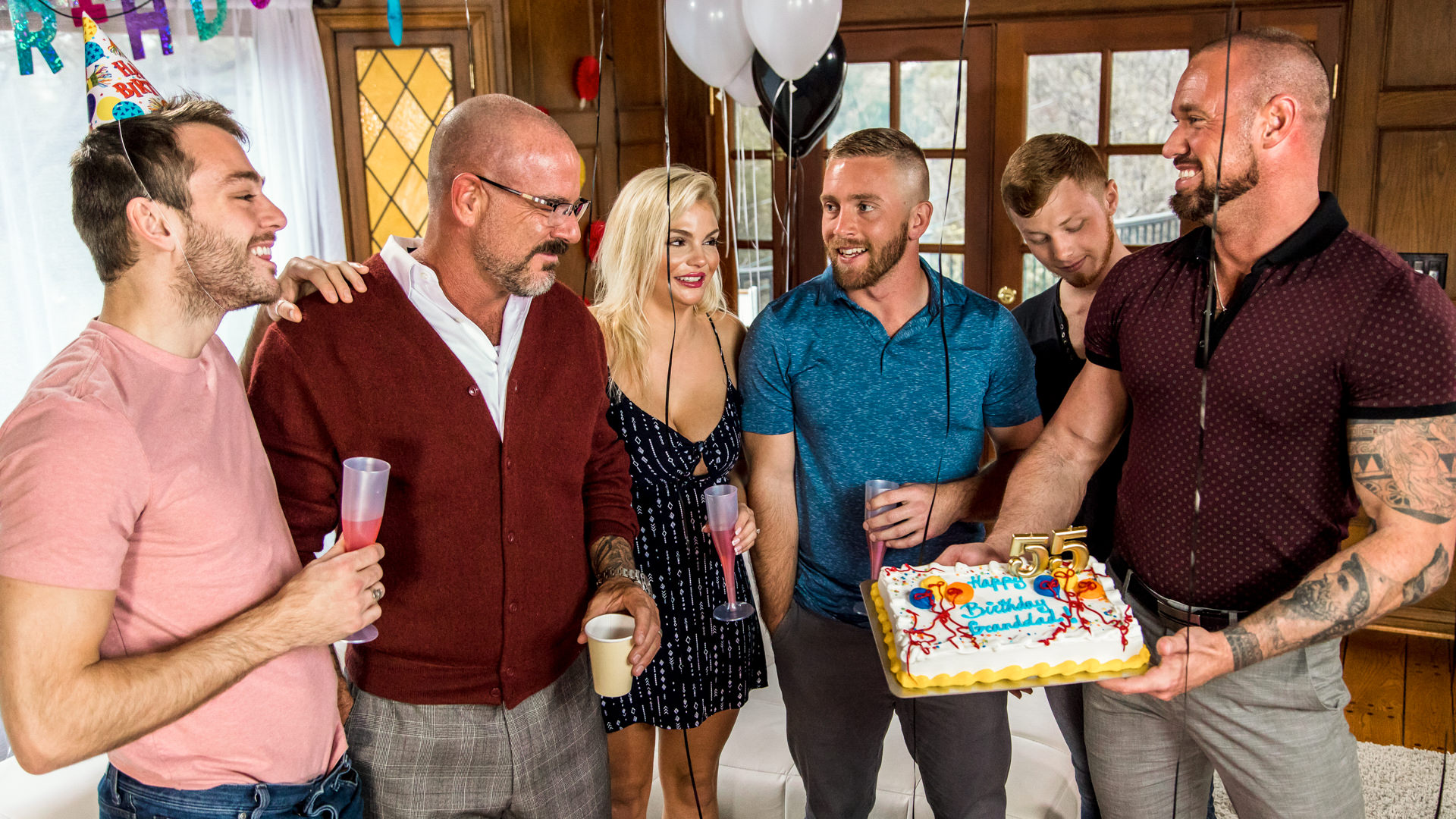 The party is over and the place is a mess. Scott Riley stays late to help his granddad clean up. Earlier, everyone had told grandpa Jack Dyer that he still looks hot.
He wants Scott to put his money where his mouth is or more like his Cock where his mouth is.
After suckin' daddy dick cock proud grandpa decides to get kinky and fucks the Birthday cake. After that he fucks Scott's cakes And the two swap creamy loads…Join them!
Scott Riley gay porn scenes at Breed Me Raw
Tyler Reed loves short muscle guys with big butts who love to get seeded. Except, Scott Riley was a little Alpha-Sub and wasn't going to submit so easily.
Eventually Scott gave in as Tyler was almost 3x his size and Scott desperately wanted that daddy load. So, he gave up that big butt, even if half way through the fuck session he DID need a little break from Tyler power fucking his sweet phat ass.
But no need to worry. Scott got his ass seeded like a good bottom boy should be…Join them!
Scott Riley scenes at Men.com
Scott Riley has had enough of Paul Canon's lies—specifically the lie about his split personality disorder. At this point the only thing Paul's good for is sex, and Scott takes full advantage.
Paul will do anything to make it up to him, so Scott commands him to get on his knees and suck his dick. Paul dips deep into Scott's ass and does what he does best…Join them!
Scott Riley scenes at College Dudes
Jay Alexander and Scott Riley push their lips together gently, making out as they get harder and when Jay's bulge is too much for Scott to resist, he unleashes Jay's cock from his pants and takes that thick meat in his hand.
Scott gets down and gives Jay oral, his soft lips wrapped around Jays' throbbing cock until it's Jay's turn to deliver some amazing head and he runs his tongue up and down Scott's hard cock. And when Jay's had his fill of dick he turns Scott over and gets a good taste of that sweet ass, rimming Scott's tight hole and then running the tip of his prick along it before he pushes his cock into Scott's tight ass.
Scott moans as Jay buries himself deeper in that ass, thrusting hard and making Scott's luscious ass jiggle as Jay slams his dick into him from behind. Scott turns over onto his back and lets Jay fuck him that way, slowly massaging his own shaft while Jay pounds him and then they flip and it's Jay who's taking Scott's big dick in his ass.
Jay rides Scott, bouncing up and down on his fat dick while Scott jerks him off until he drains his prick all over Scott's chest and then Jay helps Scott cum next…Join them!
Scott Riley scenes at Falcon Studios
As Scott Riley approaches the pool, Ryan Rose lifts his sunglasses to get a better look at Scott's perky butt. As Scott swims back and forth in the cool, refreshing waters, Ryan rises from his chair and wades into the pool too.
They immediately embrace and lock lips in a kiss. Ryan's hands move down to Scott's ass, pulling down his blue swimsuit to show the top of Scott's ass. Scott gropes Ryan's hard boner through his bathing suit. Pulling it down, Scott goes underwater to give Ryan a deep-throated blowjob.
They kiss again passionately, and then Ryan leads Scott to the edge of the pool for more. Using his hand against the back of Scott's head, Ryan guides Scott up and down the length of his shaft. Thick trails of spit roll down Ryan's shaft as Scott swallows Ryan's meat to the base.
Scott stand up in front of Ryan and Ryan pulls down Scott's suit. With Scott bent over the lounge chair, Ryan Spread's Scott's fuzzy blond butt cheeks and rims his tight, pink hole. Eager for more, Ryan mounts Scott from behind and fucks him doggy style.
They move to a sit fuck, and Scott's ass stretches around Ryan's huge cock. Using his muscular legs, Scott raises and lowers himself on Ryan's massive tool. Flipping Scott over, Ryan fucks him in missionary position until he can't hold back any longer.
Ryan moves forward and blows his load right in Scott's open mouth. Jerking his hard cock, with the taste of Ryan's cum on his lips, Scott busts his nut on his blond treasure trail…Join them!
A dip in the pool may be cooling for some, but it lights a fire in the loins of Chris Bines and Scott Riley. They jump out, towel off and get naked in a hurry.
Chris is hungry for the taste of Scott's succulent hole, so he helps himself by kneading Scott's bubble-butt and corkscrewing his tongue into his smooth crack. Scott assists by spreading his legs and his cheeks for Chris' tongue to go deeper.
Scott says thank you with a sopping wet blowjob as Chris tweaks his own nipples. Bracing himself against a pool chair, Scott prepares for a hole-stretching hard fuck.
Spit provides the lube for Chris' cock to slide in deep. Hitting the deck, they continue to fuck, missionary style.
Sunlight reflecting off their sweaty abs highlights every ridge and muscle. After filling Scott's ass with dick, Chris fills his mouth with hot cum.
Scott licks it all up, then shoots his bursting load onto Chris' abs…Join them!
Johnny V, a stripper and bartender, is turned on by the new dancer, Scott Riley. Warned to keep 'hands off,' Johnny jokes that he'll just use the rest of his body.
He propositions Scott in the dressing room, grabbing him by the wrist and guiding Scott's hand onto his cock. They are both smooth and muscular, both blond, and both glistening with perspiration from the dance floor.
Johnny yanks Scott's trunks off and sucks him in deep, hungry swallows, paying full attention to Scott's plum-sized balls. He pushes Scott backwards onto the counter and slams his tongue into Scott's twitching hole.
Scott is breathless and temporarily immobilized with ecstasy. He kneels to suck Johnny's fat cock, alternately pumping it with his hand and face-fucking himself with it.
Johnny shouts and whitewashes Scott's chest and chin with a warm wad. Scott licks Johnny's pulsating cock clean, then aims his own erection at Johnny's face and sprays his load…Join them!