Every gay porn video and gay porn image gallery of Mike De Marko.
Hair Color: Brown
Sign: Unknown
Eye Color: Brown
Dick Size: 8 inch dick
Height: 5'9″
Cut / Uncut: Cut / Circumcised
Weight: 165lbs
Sexual Positions: Power Bottom
Sexual Orientation: Gay
Nationality: American
Extra Big Dicks gay porn scenes of Mike De Marko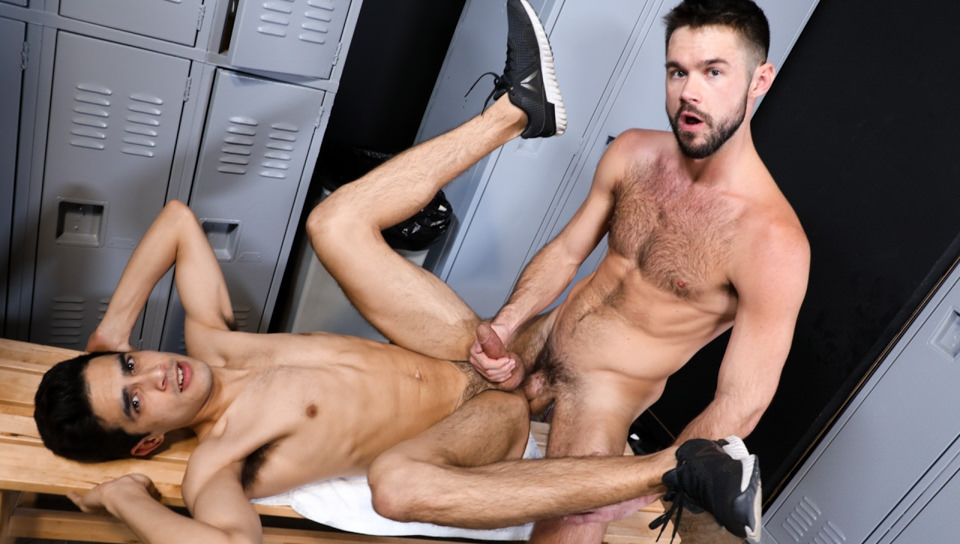 Mike De Marko and Zane Taylor are sitting in the locker room and Mike is questioning Zane on what happened with his relationship with Billy.
Zane opens up and admits that the sex was not good enough and that Billy had a small cock that did not satisfy him.
Seeing his opportunity, Mike makes a move on Zane and once Zane discovers that Mike has a big cock, he cannot resist.
He plays with Mike's cock through his shorts at first and then pulls it out the side and starts sucking it.
He does his best to take it all, but struggles a bit. Mike then pulls out Zane's long hard cock and sucks him.
Mike then moves to Zane's ass and rims him for a bit before he fucks him. He starts out slow as Zane gets used to every inch of his cock and then starts fucking harder and deeper.
He then flips him on his back and continues to fuck him. Needing some attention on his own ass Mike then puts a condom on Zane's big cock and rides him while Zane strokes his cock and makes him cum.
Zane then shoots his load all over Mike…Join them!
We see Mike De Marko sitting at his desk and he is counting money. Noticeably absent from his desk is his laptop. A knock at the door and Alex Torres walks in. Mike asks him where his laptop is, but Alex informs him that it is not ready.
Alex also tells Mike he wants to discuss something with him. He has overheard conversations about Mike hooking up with Brett and he has heard about Mike's big cock and is curious about it. After a brief exchange, Mike asks if he can just show Alex and the two begin kissing.
Soon, Alex realizes that the rumors are true and he is on his knees trying his best to take Mike's massive cock down his throat. Mike then bends Alex over the desk and rims his ass deep. He then starts fucking Alex with his huge cock and Alex struggles at first, but is soon begging to be fucked harder.
After fucking him in a couple positions on his desk, Mike moves Alex to the couch in his office and continues to fuck him until he cannot hold back and pulls out and shoots his load all over Alex and his cock. Mike then goes down and sucks his own cum off Alex's cock and then Alex cannot hold back and he shoots…Join them!
Men At Play gay porn scenes of Mike De Marko
In the hierarchy of the hospital, Mike de Marko believes his position as senior surgeon entitles him to humiliate and mock eager young student doctors. But he's met his match this time when Kayden Grey attends his practical study session.
With no patient available to analyse Dr. de Marko insists that Kayden sit in as the patient and proceeds to cut the trouser leg of Kayden's suit open up to his crotch to demonstrate assessment of a pelvic fracture. Kayden's naive demeanour is betrayed by a raging hardon that Mike de Marko attempts to deal with, at first professionally but then succumbs to his unprofessional desires.
After deep-throating Kayden's huge dick, Kayden decides it's time to retaliate and cut the senior doctor's trousers making a hole just in the right place. Cocky Doctor de Marko not only gets his precious suit trashed but also gets pummelled hard by young Kayden's thick rod.
We love seeing the tables turned like this, especially on cocky suited bosses who really deserve their comeuppance…Join them!
Men Over 30 gay porn scenes of Mike De Marko
Mike De Marko is having Austin Carter meet him at the local glory hole for some hot seedy action. Austin is preppy and very innocent. He has never done anything like this before and he's scared of Mike's big dick. Austin shows up while Mike is in the stall beating off to some porn on his phone.
Austin calls out to make sure it's Mike behind the stall before he starts to suck some strange cock. Mike pushes his cock through the hole and Austin slowly gets down on his knees and begins to suck the dick. Austin is enjoying himself finally as Mike is face fucking him from the other side of the stall.
You only live once and Mike has brought a condom which he slips on and pushes deep inside of Austin as his tight hole is waiting for that big dick to go deep inside. Mike gets it in and begins to fuck Austin through the glory hole.
Austin has a great ass that he uses to perfection as he backs it up against Mike's hard cock. Mike comes out of the stall to suck Austin's big hard dick than he lubes his ass up again with his tongue before bending him over and fucking him up against the stall.
Austin rides that throbbing cock deep and hard until he blasts his load. Mike shoots his all over Austin's manly chest…Join them!
Men gay porn scenes of Mike De Marko
Sex obsessed baseball coach Andrew Stark lines up Hunter Page, Riley Banks, Mike de Marko, and Johnny Rapid in the locker room.
He gets them to lower their pants exposing their bare twink asses before he goes down the line fucking each of them in turn.
The team break out and suck each others' big dicks.
Andrew and Mike fuck their asses hard with Johnny getting double penetrated by them.
Watch Johhny shoot his load with both their big dicks deep inside his young hole.
Pervert baseball coach Andrew Stark is at it again.
In this filthy orgy, Andrew lines up four hot twink asses and fucks them all.
Watch Hunter Page, Riley Banks, Mike de Marko, and Johnny Rapid all get some of Andrew's cock.
Watching Johnny shoot his load while getting DP's is a must see!
Titan Men gay porn scenes of Mike De Marko
Mike DeMarko and Nick Capra are together on the set of a new porn movie. Mike gets naked and gets into position for photographer Nick.
Mike strokes his soft dick until it is a raging hardon.
"You know what would be awesome?" asks Nick. "If you could give me full wood."
Mike smiles and asks for help, and Nick is quickly on his knees with the trim, hairy stud's shaft deep in his mouth. Nick's mouth widens as he engulfs the thick slab, which he works like a pro.
The breathless sucker whips it on his face and snaps it up, spit sliding down the rock-hard shaft and sac to the floor. Mike returns the favor, the verbal Nick moaning "Suck that fat cock!" as a big vein bulges out of Mike's neck.
Nick slaps it on Mike's mouth, their two huge boners in the frame in a hotshot. Nick tongues Mike's ass, then fucks him from behind ("There you go….take it!").
The top gyrates his hot muscle bod as he pounds Mike, who gets on his back as Nick hits the spot.
"Fuck a load out of you!" yells Nick as Mike shoots, the top then dumping his spooge on the bottom's shaft, balls, and pubes.