Every gay porn video and gay porn image gallery of Max Adonis.
Hair Color: Brown
Sign: Unknown
Eye Color: Brown
Dick Size: 8 inch dick
Height: 5'9″
Cut / Uncut: Cut / Circumcised
Weight: 165lbs
Sexual Positions: Versatile
Icon Male gay porn scenes of Max Adonis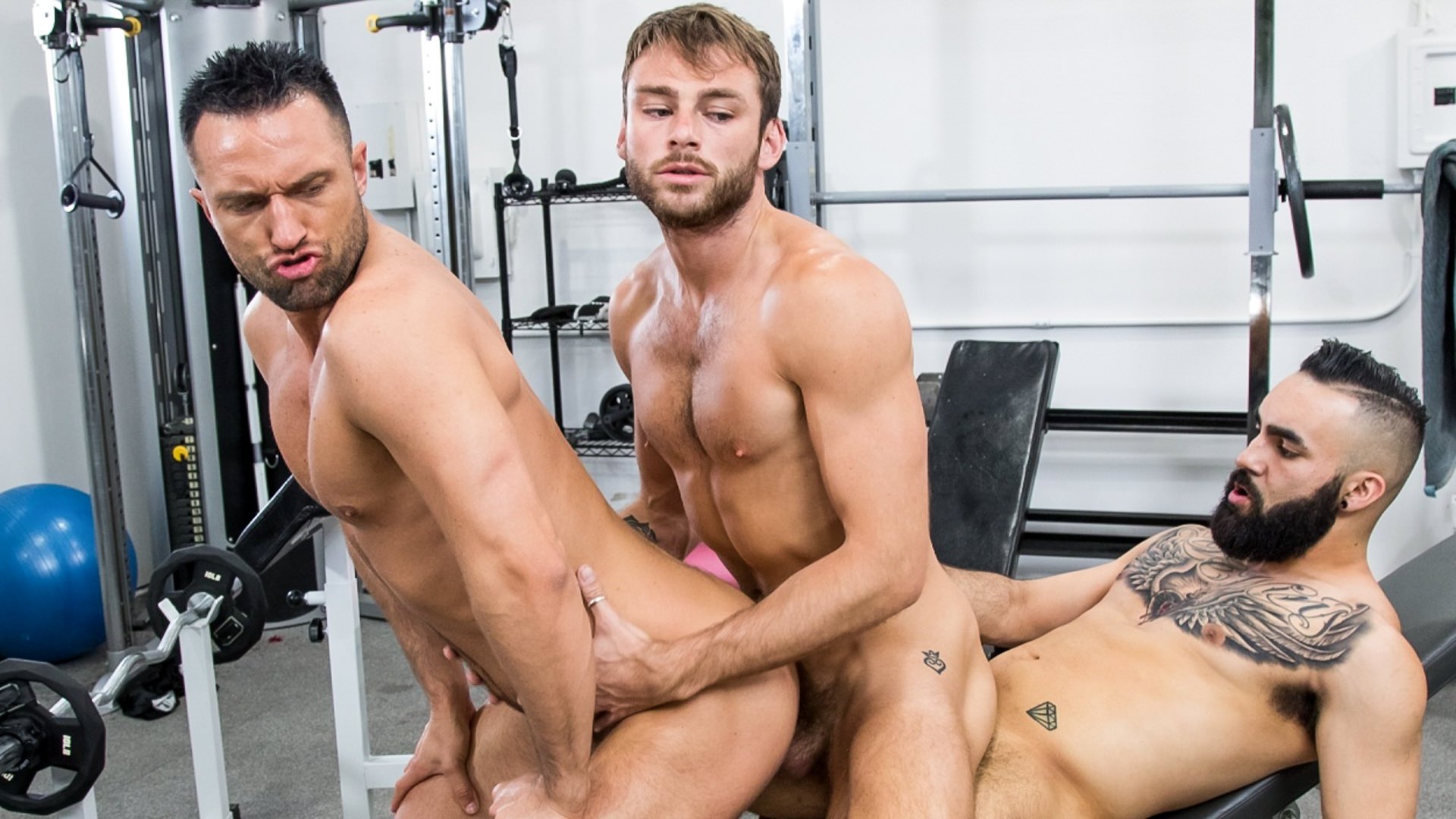 Hot sweat drips off these three sex beasts, Colby Tucker, Max Adonis and Zaddy as they take their workout to another level, Naked.
These 3 use all the sparkling equipment to pleasure hairy holes and drooling mouths with so much cock and ass.
Train fucks, double blowjobs and gushing cum shots…Join them!
Men gay porn scenes of Max Adonis
Max Adonis and his hubby are getting romantic when Max hears a noise and insists on investigating. They find Ricky Blue dripping wet.
The next day, their mysterious house guest overhears Max on the phone telling someone he'd like to take Ricky's cock, and Ricky uses his muscular body to distract Max from his work and keep him away from his phone… so he can't hear about the escaped madman on the loose.
Ricky definitely goes wild as he fucks Max's mouth and eats his ass, then bends the bottom over the kitchen island to breed his hole. Can anyone who makes Max cum this hard really be bad?…Join them!
Max Adonis' dirty deeds finally catch up with him in the final installment of this series. The scruffy stud comes home to find his lover Tyler Berg getting pounded out by Billy Essex.
Furious at first, Max quickly realizes that instead of a confrontation, this mutual betrayal can be an opportunity to become even closer as a couple. Tyler decides he'll give his boyfriend just what he's always wanted by fucking him relentlessly right there in their shared bed.
Max swallows Tyler's long hard cock all the way down, spitting and gagging as the muscular top fucks his mouth. Soon Max is bending over and spreading his hole for Tyler, hungry for the rough pounding that Tyler can't wait to give him.
Max rides Tyler all over the room, bouncing on his thick cock as it hits all the right spots in his tight ass…Join them!
Falcon Studios gay porn scenes of Max Adonis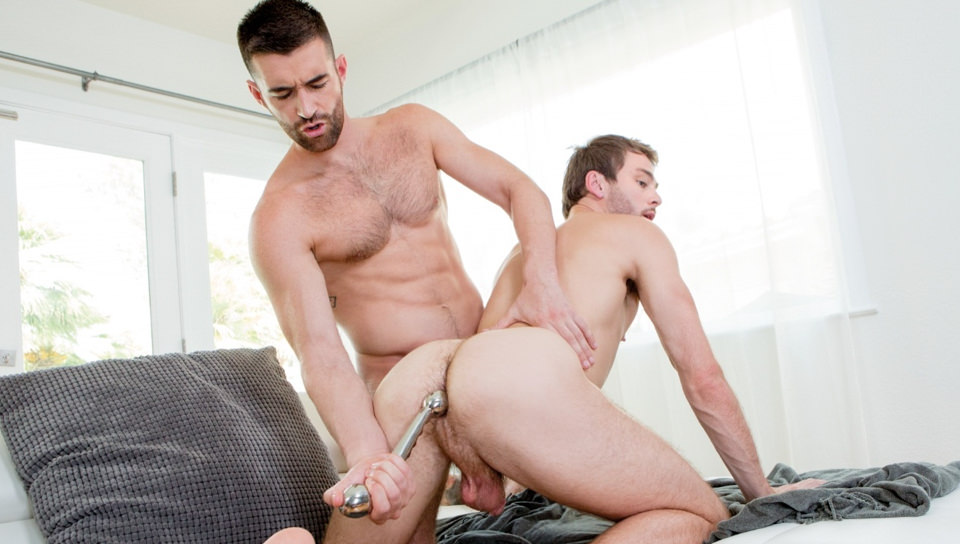 When Woody Fox starts his new job writing about consumer products, he's in for a big surprise when he discovers the products are actually sex toys. He immediately calls his buddy, Max Adonis, to help him try them out and the two waste no time getting to know the new toys.
The studs ditch their clothes and Max gets on his knees to service Woody's big, uncut hard-on. When Woody is as hard as he can be, he caves to his urges and decides to play with the toys. He bends Max over and plunges his hole with a big stainless-steel dildo.
It feels amazing to Max as it stretches his ass and prepares him for Woody's giant cock. When Woody senses that Max is ready for the real thing, he stands up and slips it deep into Max, pumping harder as he goes deeper on the ripped stud.
Max is fully open when Woody asks Max to ride his dick. Max is happy to give Woody what he needs and hops on to take the giant dick. The two switch it up one last time with Max getting plowed on his back until Max decides he needs to taste Woody's cum.
He rolls over and finishes his sexy buddy off with a hand job pointed right into his own mouth. After Woody blasts his cum into Max's mouth, he helps Max out one last time by shoving the dildo back into his ass until he blows his hairy cock all over his own writhing body…Join them!
Danny Montero comes home with Max Adonis knowing full well that Max lives in an established cam house. Danny loves the thought of being watched by people online and happily starts making out and grinding on his new buddy.
Danny is horny as hell and cuts to the chase when he pulls Max's pants down to his ankles to reveal his nice, hard cock.
Danny takes it in his mouth and gets Max revved up and ready for more. Max needs Danny down his throat and leans over to 69 the stud as the two suck dick and rim each other's asses.
After Max gets Danny nice and opened up, he bends the hunk over and slides his hard dick deep inside.
Max fucks Danny hard until Danny takes control and hops on Max to ride his probing dick. Max loves the feel of Danny doing the work and servicing his cock but wants to give Danny's hole one last plunge of his own.
Max works his dick in and out of his power-bottom until Danny's cock erupts with a river of cum that shoots onto his pumping fist and runs down his arm.
Max can't resist licking up Danny's mess before he aims his ready-to-burst cock at Danny's face and gives the young stud a creamy white facial to wrap up their cam house session…Join them!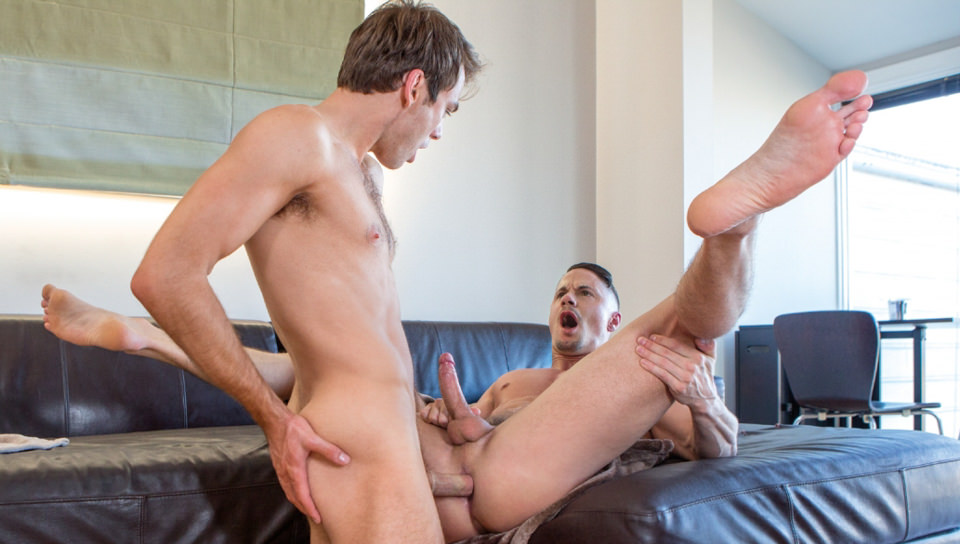 Max Adonis is coming home from the grocery store when he stops in to say hi to the new neighbor, Skyy Knox. Skyy invites Max in to check out the view of the neighborhood and works his magic by feeling Max's firm ass.
That's all it takes for Max to cave into his temptations and the two start making out hard. Skyy can't control his urges and reaches into Max's underwear to feel his hairy crotch. Skyy wraps his lips around the giant cock and gets to work sucking as he takes the whole thing down his throat.
He works Max hard before working his way down the hairy hole that awaits him. Both studs are raging hard when Skyy bends Max over to slide his dick inside. He pumps away on Max, quickening his pace until Max is panting and begging for more.
Max wants the chance to ride Skyy's massive uncut pole and hops on to take it deep, making Skyy moan out with each grind from Max's talented hole. That's not enough for Skyy, so he pulls out, lies back on the couch and asks Max to fuck him. Max happily agrees and slips inside the horny stud's tight ass.
He plugs away, stretching Skyy until he fucks the cum out of the muscle stud. When Max sees the giant load covering Skyy's heaving muscles, he pulls out and dumps his own load all over Skyy's face and tongue. Max cleans up his own mess by licking the cum off of Skyy's face and then feeds it to his new neighbor with a wet, sticky kiss.
Skyy thinks that the fog has rolled in. Max notes that it's not the fog, but they fogged up the windows with their hot session…Join them!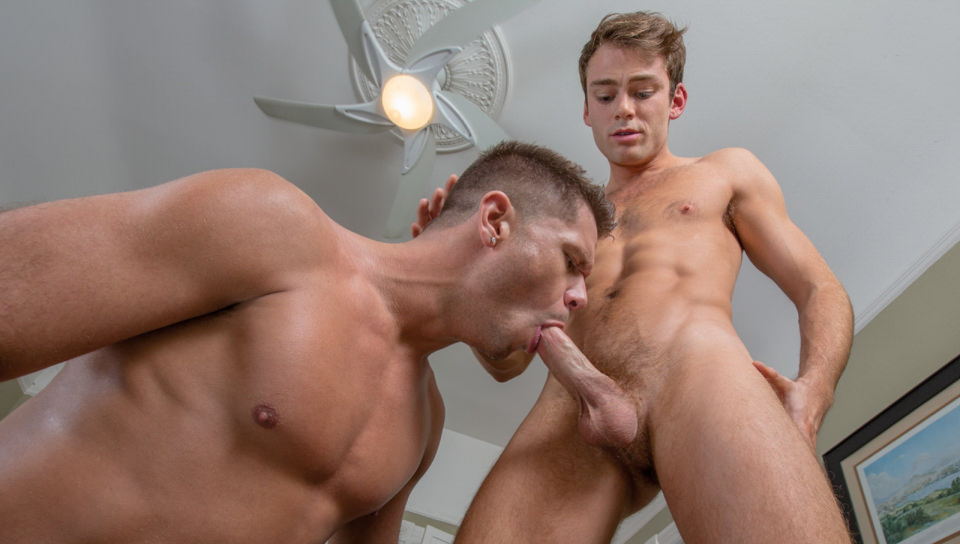 Tyler Roberts is delivering a pizza to Max Adonis when Max comes up short on cash. Tyler takes notice of Max's cute ass and body and throws out a few alternative options for payment; Tyler suggests that Max suck his dick.
With no other way of paying, and with a raging hunger for cock, Max agrees and gets on his knees. Max's mouth feels amazing wrapped around Tyler's impressive thick dick and soon the delivery guy is balls deep in Max's throat. He face fucks the eager hunk as he closes his eyes and enjoys every second.
Tyler wants a taste of Max's ass and throws him back on the couch to see what the fit stud has to offer. Tyler works his way up Max's hairy balls to his throbbing cock and takes it in his mouth to return the favor by sucking Max's dick.
Max plows the mouth of the hung delivery stud before lying back one last time to let Tyler eat him out to a creamy finish. As Tyler gets in deep with his tongue, Max blasts his load all over his own ripped body.
That's Tyler's cue to feed the hungry stud and with Max underneath him, eyes and mouth wide open, Tyler lets go and showers Max's face with cum…Join them!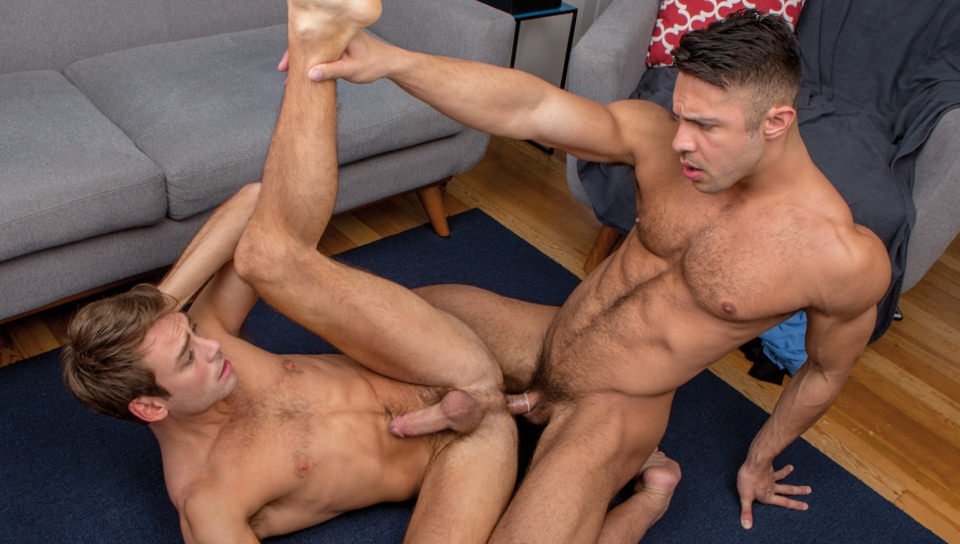 Max Adonis moves to San Francisco. Upon his arrival, first on Max's list is visiting his buddy, Seth Santoro, who he hasn't seen since they went to high school together 10 years ago. As they reminisce about what might have been, their hands wander, and one thing leads to another.
They start making out and soon their clothes are in a pile on the floor as Seth takes the lead to suck on Max's hard cock. Seth sucks Max like it's the last dick he'll ever get to swallow and greedily gobbles it down his throat.
Max needs to satisfy his own 10-year-old curiosity when he takes his turn sucking Seth's big hairy cock. All the sucking gets Max hard as a rock and soon his face is buried in Seth's hole. He laps it up with his tongue and gets Seth nice and open before the hunk is begging to get stuffed.
Max happily helps Seth with what he needs and slides his swollen cock deep into the stud's willing ass. Max pumps away from behind until he decides he wants to take Seth's meat for a spin. He hops on and rides his friend deep as his own dick flops up and down. Seth's cock feels amazing deep inside of Max backside.
Switching it up, Max gets on his back and cums hard as Seth continues to pound him. Seeing his buddy blast a creamy load is all it takes for Seth to let loose and blow his load all over Max's cum-covered body…Join them!
Lucas Entertainment gay porn scenes of Max Adonis
Stas Landon returns as a powerful businessman from overseas, and he's using his power and influence to bed American suits at his whim.
He takes young executives Max Adonis and Jake Morgan out for a high-powered business lunch, but it ends early at Stas' executive suite, where he oversees a bareback threesome where he takes turns fucking the asses of Max and Jake raw…Join them!
The high-level executive from South America, Rafael Alencar, is powerful in the business world, and he uses that power over all of the beautiful young men who are working long and hard to make their way in the world.
While conducting business in the United States, he has a late-night meeting at his Manhattan apartment with three beautiful young men trying to build a career in his white-collar empire.
Drew Dixon, Jake Morgan, and Max Adonis all have heard the stories of Rafael, and they're fully prepared to strip off their clothes and take their sexuality to the extreme, including rough and raw double-penetration…Join them!
Raging Stallion gay porn scenes of Max Adonis
Engine maintenance fitter Max Adonis leaves the garage and is in the office mucking about. He's been using the photocopier to make copies of his bare ass.
Coworker Logan Stevens rushes in and catches Max. Max pleads with Logan no to report him to their boss.
Logan agrees but he wants something for his silence.
Logan tells Max he needs to suck his cock on the spot or else!
Max eagerly obliges and gets on his knees to start servicing Logan's uncut rod.
A simple BJ turns into Max being bent over, rimmed and letting Logan slide his pole in raw.
On the desk doggy style, standing up and bent over, Max gets his ass stretched bareback by Logan before the tables are turned and Logan's ass is getting stuffed with Max's meat.
They take turns pounding each other's holes until Max is the last one filled with cock.
Logan paints his ass with a thick load. Filled to the brim with warm seed, Max gets blown by Logan until Max delivers a mouthful of fresh jizz for Logan to swallow down.