All gay porn pics and gay porn videos of Jay Alexander.
Jay Alexander is tall, lean and has a huge cock. His skin is gorgeous, his muscles pop out of his tight frame, and his dick leaves your mouth watering. And, he stars as Wes in our Parody of How To Get Away With Murder.
Hair Color: Black
Sign:
Eye Color: Brown
Dick Size: 8.5 inch cock
Height: 6'1″
Cut / Uncut: Cut / Circumcised
Weight: 170lbs
Sexual Positions: Versatile Bottom
Jay Alexander gay porn scenes at Extra Big Dicks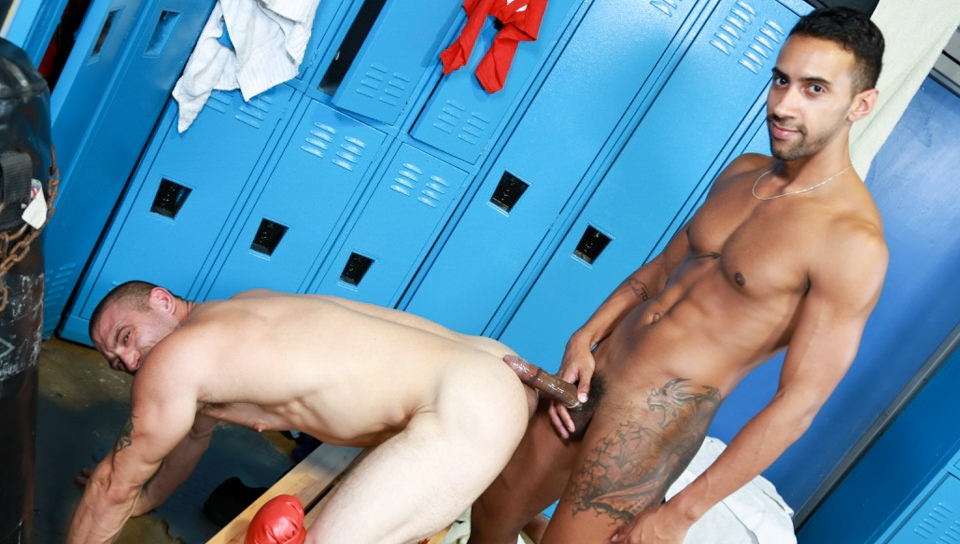 Ceasar Camaro is a boxer and has just finished his training session and is back in the locker room. Jay Alexander walks in and asks Ceasar if he would be willing to train him.
Ceasar thinks it is a joke at first because, although Jay has a great body, he does not appear to be the boxer type. He tells him that he would have to have some Big Balls and a Big Cock if he wants to be trained by him.
Jay responds by saying he actually does have a big cock and he grabs it through his shorts revealing it to Ceasar. Ceasar has him pull it out and once he sees how big it is, he drops to his knees and starts sucking it.
Ceasar chokes and gags on Jay's big dick for a while and then Jay has Ceasar bend over and he rims his ass. Ceasar wants to get fucked by Jay and Jay wastes no time in giving him what he wants.
Jay fucks Ceasar long and deep in a few positions until Ceasar cannot hold back any longer and he shoots on himself.
Jay then pulls his big dick out of Ceasar and blasts a huge load all over Ceasar's ripped chest…Join them!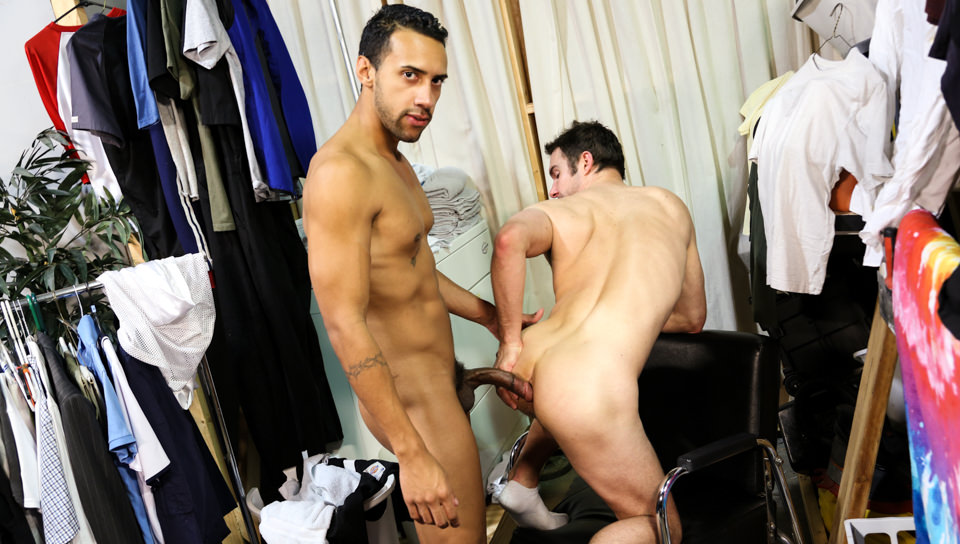 Cameron Kincade is working in the laundry room folding towels when his coworker Jay Alexander, comes walking in soaking wet from the rain. He asks Cameron if he wouldn't mind drying his clothes for him and when he takes them off Cameron is shocked to see the big cock hanging between Jay's legs.
As he stares at it, Jay starts to get excited and soon Cameron is on his knees doing his best to deep throat Jay's entire massive long dick. Jay then turns Cameron around and rims his ass in preparation for his big cock.
Cameron's ass is lubed up with enough spit that he can lower himself down on Jay's big cock and once he is balls deep Jay begins to fuck up into Cameron with ever inch. Cameron moans with intense pleasure as Jay's long shaft continues to penetrate deeper and deeper.
Jay then fucks him on the floor missionary style until Cameron explodes his load all over himself which makes Jay pull out and stroke his nut above Cameron who is eagerly waiting for it below…Join them!
Jay Alexander gay porn scenes at Dominic Ford
Donkey-dicked Jay Alexander makes his bareback debut breeding and seeding Sean Duran. In this passionate scene, the guy snuggle together after a long day of work. But Sean has one thing on his mind: getting Jay's cum inside him. The intense scene ends with Sean very happily taking Jay's cum in his ass…Join them!
Jay Alexander gay porn scenes at College Dudes
Jay Alexander and Zeus Michaels are two horny studs who're ready to have some fun, and these guys can't keep their hands off each other as they rub each other's cock and make out.
Jay gets on his knees and captures Zeus's prick in his mouth, gagging on that massive meat as he deepthroats it until Zeus is hard as fuck.
Jay gets on the bed and lets Zeus get a taste of his cock next as Zeus works it with his hand and lips, climbing onto the bed with Jay so they can 69.
When both guys are hard Jay sticks his ass in the air, taking Zeus's cock doggy style as Zeus pushes his prick into Jay and lets him get used to his size before fucking him deep.
Once Jay's ass is accustomed to Zeus's fat cock he gets pounded hard, his sexy little ass bouncing as Zeus pushes into him.
Jay turns over onto his back and lets Zeus hold his legs open and get deep inside of him, filling him up with every inch of his hard cock as he jerks the cum out of Jay and then pulls out and nuts all over Jay…Join them!
Jay Alexander and Scott Riley push their lips together gently, making out as they get harder and when Jay's bulge is too much for Scott to resist, he unleashes Jay's cock from his pants and takes that thick meat in his hand.
Scott gets down and gives Jay oral, his soft lips wrapped around Jays' throbbing cock until it's Jay's turn to deliver some amazing head and he runs his tongue up and down Scott's hard cock. And when Jay's had his fill of dick he turns Scott over and gets a good taste of that sweet ass, rimming Scott's tight hole and then running the tip of his prick along it before he pushes his cock into Scott's tight ass.
Scott moans as Jay buries himself deeper in that ass, thrusting hard and making Scott's luscious ass jiggle as Jay slams his dick into him from behind. Scott turns over onto his back and lets Jay fuck him that way, slowly massaging his own shaft while Jay pounds him and then they flip and it's Jay who's taking Scott's big dick in his ass.
Jay rides Scott, bouncing up and down on his fat dick while Scott jerks him off until he drains his prick all over Scott's chest and then Jay helps Scott cum next…Join them!
Jay Alexander and Scott Demarco tease each other with soft kisses and gentle touches as they get things heated up, making out while they feel those cocks bulge through each others pants. Scott leaves a trail of kisses down to Jay's big dick and sucks that sweet cock while he touches himself, then he lets Jay give him oral as he lies back and enjoys the feeling of Jay's warm lips around his cock.
They 69 next and Scott gets a taste of Jay's ass as he buries his face in it and rims that tight hole while Jay licks and sucks Scott's hard member. Jay climbs up and straddles Scott, slowly lowering his ass onto Scott's rigid cock and then grinding his hips as he pulls that dick in and out, riding Scott and then finding a new position to fuck in.
Scott pounds Jay from behind and then turns him on his back, spread his legs and dominates his ass until Jay cums all over himself. The sight of all that cum makes Scott bust a nut next and he covers Jay with his jizz…Join them!
Jay Alexander gay porn scenes at Next Door Ebony
As Jay Alexander hangs out in the park, he has no idea that model scout, Chris Harder is watching him. Just when the moment's right, Chris makes his move, approaching Jay. He tells him he likes his look and gives Jay his card.
Jay is intrigued by the prospect of modeling, and even more intrigued by Chris himself. When Jay gets home, he calls Chris, who is happy to set up an appointment for evaluation. After a few questions from Chris, Jay is advanced to the next level of scout evaluation, which involves becoming nude.
And once the undies drop, Chris wraps his mouth around Jay's hardening cock. This is a very important step in the evaluation process. It's the details that matter and Chris needs to know how Jay's boner tastes. Then, of course, they kiss for a while and jerk each other.
Then it's time for Jay to display his ass-eating abilities. Jay knows that if he wants to break into the industry, he needs to take advantage of this opportunity. That means licking this scout's tight hole. Then, in an effort to get an idea of Jay's stamina and strength, Chris has Jay fuck his asshole.
They start out with Jay behind Chris, pounding him over Chris's desk. Then Chris goes to his back on the couch to allow Jay to show him just how great a fit he is for the modeling job. Sit in on this interview to find out just how rigorous the process can be for an aspiring model…Join them!
Jay Alexander gay porn scenes at Men
Diego Sans and Jay Alexander worship each others' hot taut bodies and rock hard dicks…Join them!
Jay Alexander scenes at Extra Big Dicks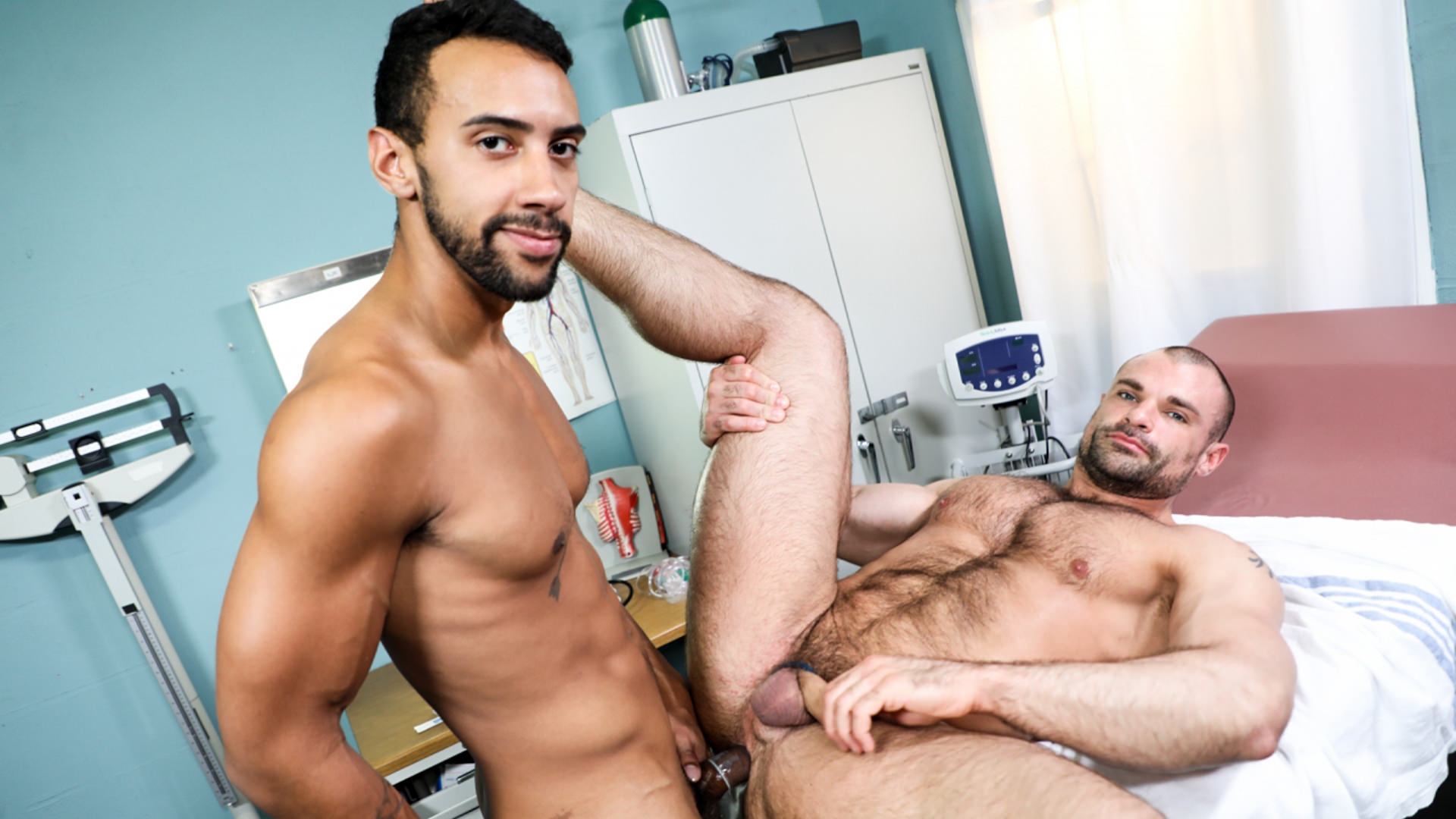 Jaxx Thanatos has come to be examined by the Doctor because he loves to suck big cocks, but lately his gag reflex has been kicking in too much and causing him to choke and gag.
Jay Alexander examines him and determines that he should try sucking his big cock to see if he can help him get over his gagging. He pulls out his big cock and Jaxx is excited. He drops to his knees and starts sucking Jay.
He does gag and choke a few times, but as time goes by it appears his gag reflex has relaxed and he is able to deep throat Jay's big cock. Jay then turns his attention to Jaxx's big beautiful hairy ass and starts rimming him.
He then fucks Jaxx bent over the exam table and then on his back on the table until he cannot hold back and he shoots his load all over Jaxx. Jaxx jacks himself off and cums on himself…Join them!
Jay Alexander and Eli Lewis are in Jay's bedroom kissing passionately and rubbing each other all over. It is the moment of truth for Eli tonight and the question is, Can Eli handle Jay's big cock? He is extremely nervous and hesitant about the whole situation.
He has to fit 9 inches of long dick plus girth into his tight little butt. After some reassuring from Jay, Eli agrees for the big step. Eli starts out by sucking Jay's big thick cock gagging and taking every inch down his throat.
Jay flips him over and rims Eli's beautiful round ass tongue fucking Eli until his dick is rock hard. Jay starts out slowly at first as he pushes his thick meat into Eli. He begins to pick up some speed as Eli's tight hole opens up for him.
He fucks Eli doggy style and once he is used to Jay's massive dick he increases the intensity as he fucks him in two more positions on the bed plowing away into Eli's eager tight ass.
With each thrust his cock goes balls deep into Eli's sexy ass until both shoot their creamy thick loads…Join them!
The new swim team outfits have finally arrived and are waiting for Jay Alexander and Javier Cruz in the locker room to suit up before practice starts. They are extremely small and Javier can barely fit his big ass in them while Jay's cock pops right out the bottom of his.
With nothing left to put on Javier helps Jay out and pulls his cock all the way out to start sucking on it. Jay gets hard instantly as Javier indulges on his thick man meat taking every inch into his mouth. Jay shows off his messy cock sucking skills with Javier's uncut dick inside his mouth.
He lubes it up with his tongue and spits all over Javier's cock making it really slippery as he grabs ahold of his hard dick while sucking on it. Jay bends him over the bench to spread Javier's legs wide open to reveal that smooth hole which is waiting to be lubed up by Jay's eager tongue.
Jay stares at the amazing sexy ass before diving head first licking every corner of that great ass. Finally it's ready for his big dick as he slowly pushes every inch into Javier. Javier takes it like a champ as Jay gets his rhythm going with each and every pump deep into his ass.
Once he fucks him all over the team locker room Javier unleashes the biggest load while being fucked which ends up all over his face, beard and chest…Join them!