All gay porn pics and gay porn videos of Gabriel Cross.
Hair Color: Blond
Sign: Unknown
Eye Color: Brown
Dick Size: 8 inch dick
Height: 5'6″
Cut / Uncut: Uncut / Uncircumcised
Weight: 165lbs
Sexual Positions: Versatile
Hothouse gay porn scenes of Gabriel Cross
Cute ginger, Gabriel Cross, is a house boy whose only job is to make his sugar daddy happy. Gabriel is enjoying an orange soda on the couch watching some porn when his hot muscle daddy, Dakota Rivers, storms in the room.
Dakota is mad as hell because Gabriel has racked up his emergency credit cards buying frivolous toys for himself and his friends with Dakota's money. Dakota demands more than a few answers, when he throws the bills to the side and slams his crotch in guilty Gabriel's face.
Gabriel knows he has a lot of work to do to get on his daddy's good side again and doesn't waste a minute taking the muscle stud's big hard cock down his throat. Dakota face fucks and gags the money-grubbing boy with his big daddy dick before he bends him over and eats his hot ass.
When Gabriel is nice and wet and opened up, Dakota slides his meat inside the ginger's hairy hole and pumps his ass hard. Gabriel needs it deeper and turns around to ride the massively thick cock as Dakota overpowers his tight asshole balls deep and stretches his hole wide open.
It's almost more than Gabriel can take and his cock explodes as his ass is getting pounded. Gabriel begs for Dakota's load and licks his daddy's big full sack as Dakota erupts all over Gabriel's hungry face.
The toned boy licks up his keeper's cum with the satisfaction of knowing he has a place to stay for at least another night…Join them!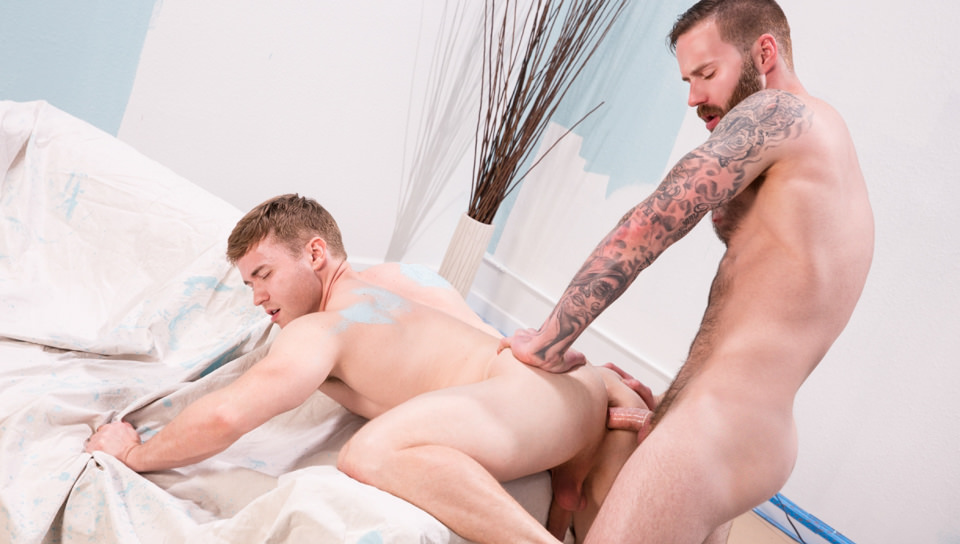 Painting is a boring-as-hell job, so to make things more interesting, Chris Bines tags his boyfriend Gabriel Cross with the roller. Gabriel retaliates, and things escalate quickly.
After a quick tussle, Chris grabs the back of Gabriel's head and gives him a deep kiss. A bulge shows in Gabriel's white shorts, and Chris heads straight for it, shoving Gabriel's cock down his throat.
Gabriel plays with Chris' nipples and rubs his hands through Chris' hairy chest. Leaning against a couch, Chris feeds his cock to Gabriel's thirsty mouth. Gabriel sucks Chris' cock using plenty of spit, and the intense oral pleasure makes Chris shoot a huge load all over Gabriel's face.
But Chris isn't done with Gabriel yet; bending him over the couch, Chris spreads Gabriel's ass and pushes his tongue into the tight pink center. With spit for lube, Chris uses his finger to feel inside Gabriel's sweet hole, and he can't resist putting his dick inside.
With a hot body like Gabriel's in front of him, it's no surprise that Chris is already ready for round two. Gabriel flips over and puts a leg over Chris' shoulder, enjoying the sensation of Chris' big, hard cock pushing deep inside him.
Sitting down on the couch, Chris invites Gabriel to sit on his cock, and Gabriel's uncut meat slices through the air as he rides Chris.
Jerking his cock with Chris still inside him, Gabriel shoots a massive load, then massages Chris' hairy body while he jerks out a second huge cum shot…Join them!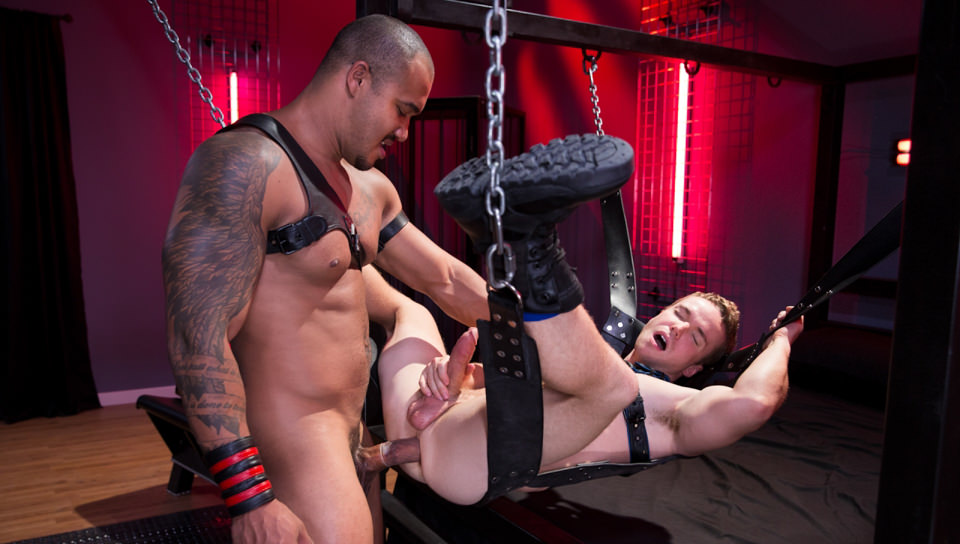 Jason Vario has his pup slave, Gabriel Cross, on a tight leash. Jason wants Gabriel to do everything he says and the pup is more than willing to comply.
First up is to worship Jason's massive, uncut cock. Gabriel loves a challenge and spits and sucks as hard as he can, taking the whole monster dick pelvis deep down his throat.
When Gabriel gets his master as hard as he can be, Jason throws his pup into a sling and opens his tight ass with a hardcore tongue pounding.
The taste of Gabriel's sweet ass makes Jason ready to conquer all that the young stud has to offer. Jason can't resist slamming his fat cock deep into Gabriel's hole and doesn't hold back.
Once he's inside the horny pup, he pounds away, letting his big apple balls bang back and forth on Gabriel's wide-open bubble butt. Jason knows he can get even deeper inside Gabriel and bends him over to fuck him doggy style.
Jason was right, and once he goes as deep as he can, his sack swells and he's ready to blow. Gabriel wants every drop in his mouth and Jason pulls out to reward his pup with a full face of jizz.
Not wanting to disappoint his daddy, Gabriel shows his appreciation by pounding out his own load and blasting his hairy chest with a geyser of cum…Join them!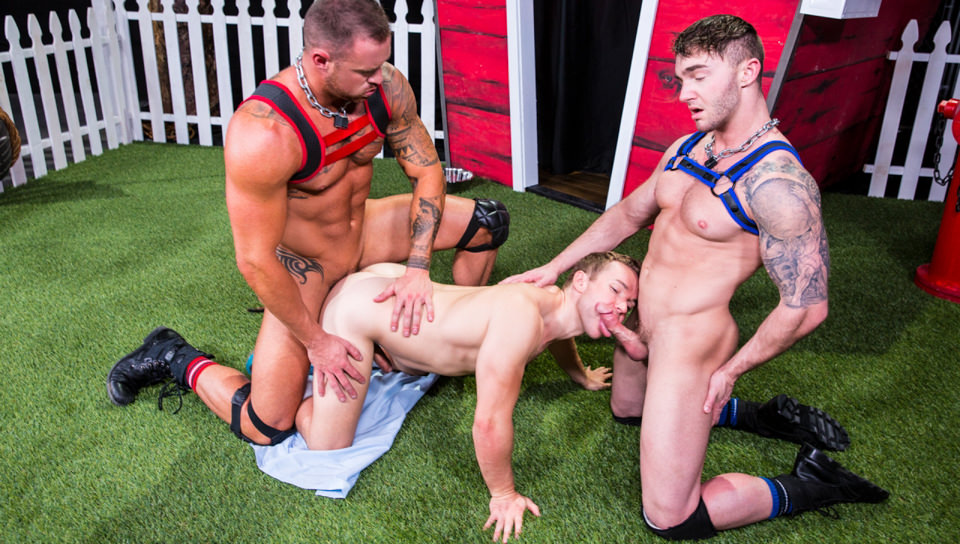 Poor Gabriel Cross is just trying to deliver the mail without a hassle like every other mailman. This isn't his first day at the 'Skuff: Dog House' and he knows that if he dilly dallies, he's going to be the main attraction for Michael Roman and Jake Ashford.
Sure as can be, Gabriel takes too long at the mailbox and his fears turn into a reality as Michael and Jake run out in their pup gear and wrestle Gabriel to the ground.
After a long ass-sniffing reception with plenty of barks and even a few growls, the guys get Gabriel out of his uniform. Gabriel submits to the pleasure and sucks both pups off to get them nice and hard for a rear entry.
Michael takes the lead and shows the guys how it's done as he humps the hell out of the mailman. A three way fuck frenzy happens next: Jake fucks Gabriel, Gabriel fucks Jake and Michael pounds them both.
With Gabriel and Jake's holes used for each of their pleasures, each stud gets the release he desires.The happy puppy pile turns out to be an awesome break in the day for the local mailman and he'll get to finish his route with a spring in his step and some cum in his tummy…Join them!
Next Door Studios gay porn scenes of Gabriel Cross
As soon as he exited the tarmac, exchange student Gabriel Cross knew Professor Dean Phoenix's tutelage would be an experience he'd likely never forget. His attraction was instantaneous, and when he accidentally spies Dean mumbling his name in the shower, Gabriel realizes his education will not just be in the classroom.
Dean's repuation for molding minds is legendary, but Gabriel soon finds out Dean's head game is not just scholastic in nature, as he swallows Gabriel's rock hard cock before extending his mentor-ship completely to a very receptive student.
Gabriel takes Dean's instruction and anything else Dean can throw at him, as Dean pounds him on the basics and shows him a trick or two. As they both lay exhausted and satisfied, Gabriel contemplates spending an extra semester abroad…Join them!
no images were found
When Jake Davis knocked on his neighbor's door, he never thought he'd soon be analyzing the construct of his marriage, but when Gabriel Cross enlightens him to the concept of an open relationship, Jake is immediately intrigued, concluding that ultimately his wife would find out.
Gabriel smiles and tells him his secret is safe, and without much more convincing, he's going down on his straight, married guy from next door. Jake can't believe how good Gabriel is at giving head, remarking that he puts much more effort into it than his wife.
Gabriel smiles again, realizing he's about to introduce Jake to a whole new world of sexual expression. He bends over his bar stool and props his ass into the air, instructing Jake to dive in face first. Jake tongue fucks his hole as he strokes his hard cock, standing up and plunging it raw into Gabriel.
He fucks Gabriel long and hard from behind before ceding control to Gabriel and letting him take a ride. Gabriel bounces on Jake's hard cock til he's content, then flips over onto his back and tells Jake to blow his load. Jake cums all over Gabriel's taint, dipping his throbbing head in the jizzy mess before seeding Gabriel's hole with his cum covered cock.
Jake continues to pound away, fucking the cum out of Gabriel as he spits his load all over his chest. Jake kisses Gabriel and promises to return the borrowed sugar as soon as he can steal away again…Join them!
Falcon Studios gay porn scenes of Gabriel Cross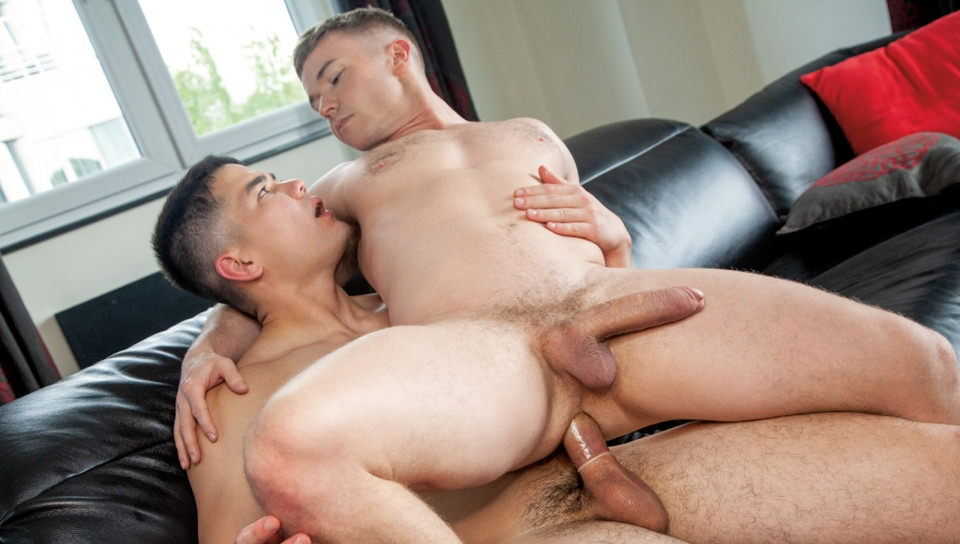 Gabriel Cross sends Colton Reece a message, and the two plan to meet out and about in London. Colton makes his way through the busy streets, navigating the streams of people and cars to finally find Gabriel, smiling and waiting.
The two meet up and head down the stairs into the tube station where they take the train back to a flat. When they walk through the door, the two are already hot and horny for each other. They quickly strip down, and Gabriel starts sucking on Colton's hard cock.
The site of Gabriel's sexy bubble ass drives Colton insane as he licks and fingers Gabriel's smooth hole. Colton uses Gabriel's mouth to lube his fingers as he prepares Gabriel for his huge dick. Colton needs to feel Gabriel from the inside and pushes himself deep into his British friend from behind.
Gabriel moans out with each thrust from Colton's thick dick, leaving both studs short of breath. Colton flips Gabriel around to let him ride the massive dick in his ass. 'Oh fuck yeah, ride that fuck!' Colton moans out as Gabriel works his asshole around Colton's hard dick.
Finally, it's more than Gabriel can take and he lets loose to shoot his load all over Colton's tight chest and abs.
Gabriel leans down to kiss Colton before he says 'my turn' and gets on his knees with his mouth open wide.
Colton gives Gabriel what he desires by blasting his face and tongue with a massive load of jizz…Join them!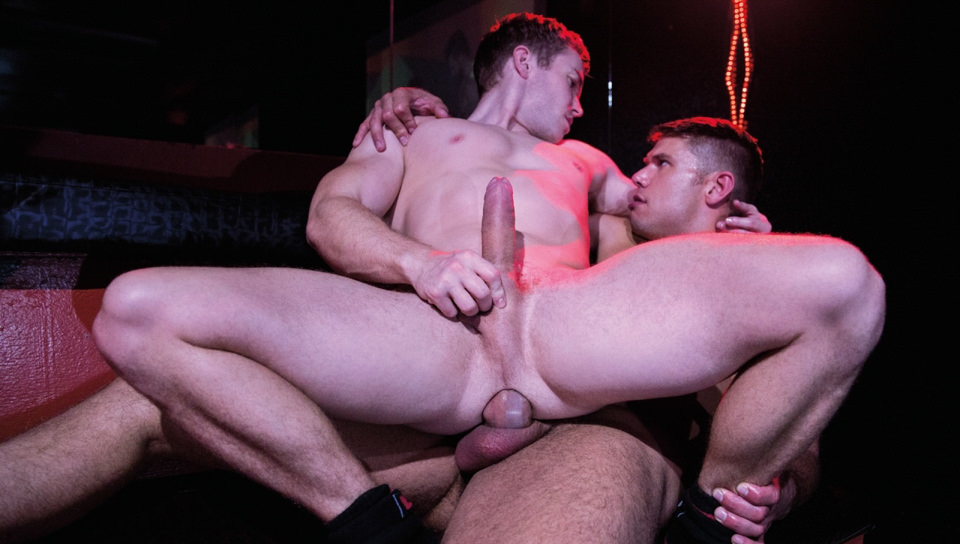 Gabriel Cross is jacking his thick, uncut pole watching porn at the sex club when Tyler Roberts walks by to lend a helping hand.
Without words, Tyler pops a finger into Gabriel's tight hole and opens his pants to show Gabriel what he's about to receive.
Tyler is already fully hard and Gabriel can't wait to wrap his lips around the massive dick.
After giving Tyler a sopping wet hummer, Tyler flips Gabriel around so the two hung studs can 69.
After both guys get their throats fucked, Tyler takes the action to a new level by bending Gabriel over to open his ass with his mouth.
When Gabriel is lubed up and ready, Tyler bends the hunk over and sinks his fat cock inside as Gabriel moans out with delight.
Tyler goes slow at first to let Gabriel get accustomed to his dick, then all bets are off.
Tyler's rhythm speeds up and soon he's pounding Gabriel with all 8.5′ of rock hard cock.
Gabriel wants to watch Tyler fuck him as he cums and rolls onto his back to continue taking the pile drive from the big dick.
With Tyler plunging in and out of him, Gabriel blows a massive load that gets Tyler ready to burst.
Tyler pulls out and drops his load all over Gabriel's ass that he promptly licks up with his tongue…Join them!
Gymnast-bodied stud Gabriel Cross is strutting in skimpy trunks as his throbbing hard on bulges out from the waist. It's not long before Sean Zevran's massive uncut cock is exposed. Gabriel wraps his hand around it, while Sean sucks on Gabriel's tongue.
Sean's flawless physique glistens under the summer sun, and his massive, curved pole slides completely down Gabriel's experienced throat. Gabriel has a plump, inviting bubble butt and Sean grabs it, squeezing and slapping.
But Gabriel's not ready to release Sean's cock and balls yet. Sean responds with a vigorous face-fuck, followed by a trip to the bedroom, where Gabriel assumes the position: on hands and knees. His tempting ass now belongs to Sean, who takes possession with mouth, fingers and cock.
Gabriel's ass is pinned between the bed and Sean's crushing erection. They face each other and Gabriel jumps board, hanging suspended from Sean's thick neck and shoulders for a mid-air fuck.
They switch positions, guaranteed to stimulate every square inch of excitable flesh until they erupt in massive loads…Join them!
Titan Men gay porn scenes of Gabriel Cross
Heat stroke got you horny? Get some relief with this hot cast, who appear from the pool as water cascades down the defined crevices of their bulging bodies.
David Anthony, JR Matthews, and Dakota Rivers lead the charge as massive muscles soak up the sun in this steamy effort.
You won't find a better way to beat off the heat and yourself.
Gabriel Cross dozes off by the pool, but his dreams come to life in the form of Travis James.
The two put on a passionate show highlighted by a truly unforgettable fuck.
After playing in the pool, Dakota Rivers and Sean Stavos get the temperature rising again as they take turns stuffing both of JR Matthews' holes.
Stroking in the shade, hairy hunk Jock Hudson is soon smiling at the site of tan top David Anthony whose monster cock keeps his admirer hard and happy.
Men gay porn scenes of Gabriel Cross
Sons of Anarchy members Paddy OBrian's massive thick dick fucking young punk Gabriel Cross.
Johnny Hazzard, Sgt. at Arms from The Men of Anarchy, is unable to stop rival gang, The Jackals, from stealing from their headquarters.
After a raid and shoot-out, President Paddy O'Brian calls a meeting and the gang decides they have to go on a stake out and retrieve what is rightfully theirs.
Paddy and Gabriel Cross keep watch and wait for the others to arrive.
Gabriel is itching for some action and excitement and he doesn't care what kind.
While they wait, Gabriel offers to serve the president some special attention.
The Men of Anarchy all turn up, but find themselves in a tricky situation.