All gay porn pics or gay porn videos of Eddy Ceetee.
Eddy Ceetee describes himself as a home-body; even though his career is focused more around being in the nightlife and in the gay scene, he takes a lot of time off just to relax at home. He feels like it's the only way to maintain his sanity.
Turn-ons: Personally I love myself hairy and there's nothing hotter to me than a beefy man with a hairy chest but i have also been very attracted to smooth guys my main thing is I love beef! hahah.
Hair Color: Brown
Sign: Unknown
Eye Color: Brown
Dick Size: 8 inch dick
Height: 5'9″
Cut / Uncut: Cut / Circumcised
Weight: 185lbs
Sexual Positions: Top
Eddy Ceetee gay porn scenes at Bromo/strong>
Escaped fugitive Bo Sinn runs into Eddy Ceetee's home while looking for a place to hide and finds Eddy buck naked with a dildo in his ass.
The horny bottom beckons Bo over and sucks his cock before the escapee fucks him doggystyle and spanks his booty.
Bo has to hide when the cops show up looking for him, but once they're gone he takes the time to let Eddy ride his cock, then pounds the sexy bottom in missionary till he cums, and breeds Eddy's hole…Join them!
Eddy Ceetee gay porn scenes at Raging Stallion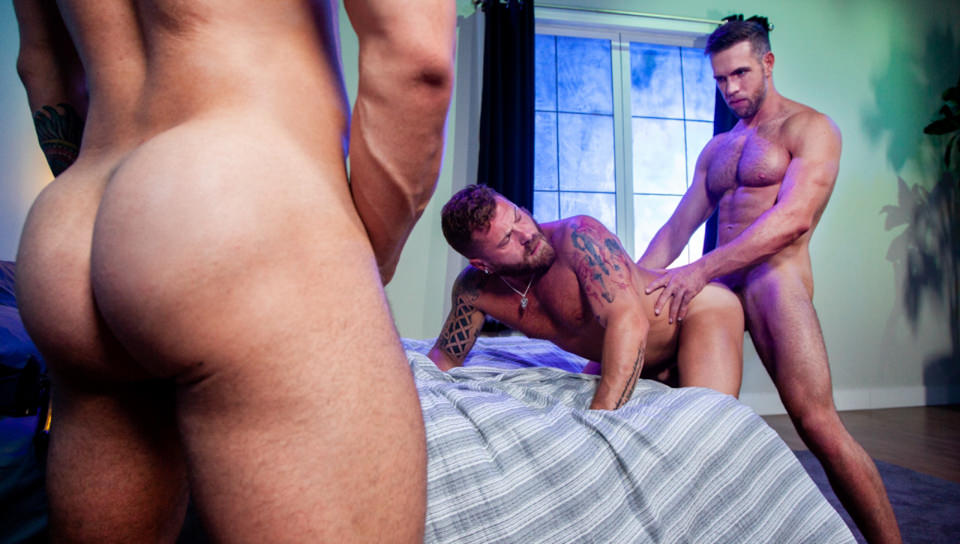 Desperate, sweaty and on the run, tattooed fugitive Riley Mitchell makes it home just in time to hide from the determined men on his tail. Hollywood handsome bounty hunters Eddy Ceetee and Alex Mecum burst into Riley's bedroom, guns drawn, just as Riley slides out of sight. A distraught Eddy is convinced they've lost Riley for now.
But he's sure their target will return home at some point and they should lie in wait. That means he and Alex have some time to kill. And when your partner's as hot as an social media thirst trap, what better way to kill time than deep throating his cock? At least that's what Eddy thinks.
The dark-haired stud hits his knees, gazing up at Alex with passion-filled, bedroom eyes as he swallows every inch of the man's gorgeous cock, leaving Alex breathless. Alex shows his appreciation for Eddy's perfect pecs by sliding his epic cock and low hanging balls between them.
Then he feasts on his on his partner's muscle ass, snapping the bands of Eddy's jockstrap as he nibbles, sucks, licks and tastes. Meanwhile, Riley, trapped in his closet, is getting too horned up by the action he's seeing to plot his escape.
He strips down, lubes his palm with spit and gives his full attention to the unbridled lust of the bounty hunters who have him trapped. Outside the closet, Eddy slides his raw length inside Alex, turning his fellow bounty hunter into a wild-eyed, teeth-gritting bottom beast.  'I want you to fuck me,' Eddy growls after plowing Alex to the brink.
Alex is happy to oblige, and soon Eddy's thrusting his flawless ass back onto Alex's raw inches. When Eddy flips Alex onto his back and gets on for a ride, Riley loses all control. At the loud crash from the closet, both buck-naked bounty hunters grab their guns and leap to their feet, cocks swinging.
As soon as they throw their naked and humiliated target to his knees, he hits them with a shocking request. 'You guys gotta fuck me raw before you take me in,' Riley pleads. Caught up in their debauched and reckless passion, the bounty hunters oblige. Alex rails the hardened criminal long, deep and raw before launching a gushing load across his flushed, sweaty ass cheeks.
Eddy visits the same sticky fate on Riley's scruffy face.  Marking your territory as you get your man, it's all just another day's work for the 'Bounty Hunters'….Join them!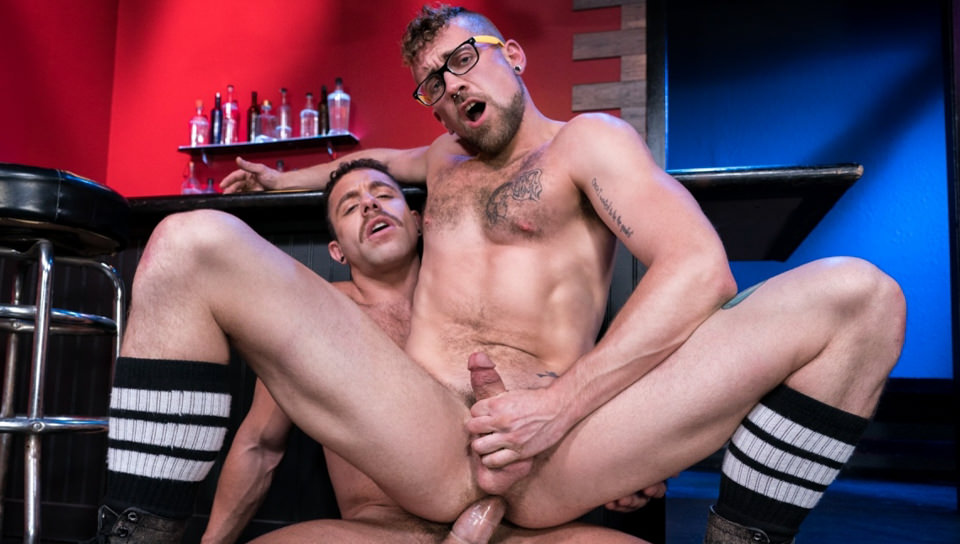 Eddy Ceetee rounds a corner at the bar to find Jay Austin rubbing his crotch, waiting for a horny hunk to help get him off. Eddy walks up to Jay and grabs his head to start making out as Jay's cock bulges out from under his jockstrap.
Eddy likes what he sees and opens his mouth to gobble up Jay's hard meat. He works the shaft and head as Jay moans out with each flick of Eddy's experienced tongue. It's not long before Eddy wants a taste of Jay's insatiable ass.
Eddy opens the toned stud up and then lies back to let Jay sit on his hole-stretching cock. Jay bounces up and down, riding the monster deep until he tells Eddy to fuck him on the bar. Jay lies back and spreads his legs to let Eddy plant his dick deep into Jay's fuzzy hole.
Jay keeps pounding as the two studs groan and grunt with each thrust from Eddy's hard cock. Eddy's thick pole feels so good ramming Jay's hole in and out that Jay lets loose and sprays his hairy stomach as Eddy continues to fuck his hole.
After Jay empties his balls, Eddy pulls out and adds to the sticky mix by dropping his creamy load all over Jay's spent cock and balls…Join them!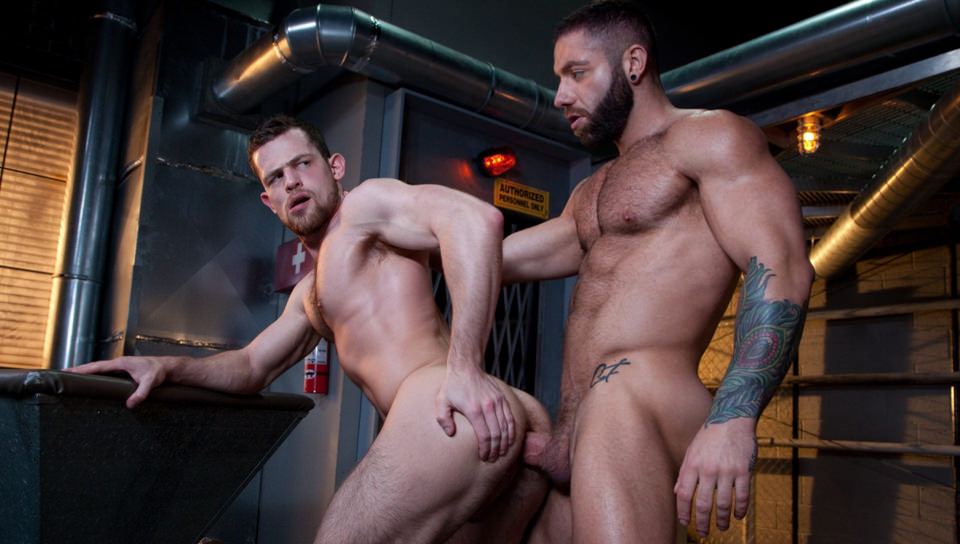 When sweaty studs Kurtis Wolfe and Eddy Ceetee meet up in their jock straps, they take their time getting each other hard with a nice long tongue bath. Eddy loves the taste of Kurtis and works his way down to his dripping cock.
Eddy licks the precum off before taking it down his throat to satisfy his primal cravings. Eddy begs for Kurtis to slide his unsheathed cock in his ass but Kurtis has something else in mind. Instead, Kurtis bends Eddy over and tongue fucks Eddy's hole until he's wide open and ready for dick.
Just when Eddy thinks he's getting fucked, Kurtis surprises Eddy by bending over to take Eddy's dick instead. Eddy loves the surprise and slides his pole deep into the stud's tight ass. He pumps away until he's ready to get fucked himself.
Eddy lies back with his legs open and invites Kurtis inside. Kurtis happily sticks his dick inside the hole in front of him and rams him hard until Eddy explodes all over his own hairy crotch.
The sight of Eddy erupting gives Kurtis the final push he needs to finish the job.
He pulls out and sprays Eddy's asshole with pure white cum before he fucks it back into the used up stud…Join them!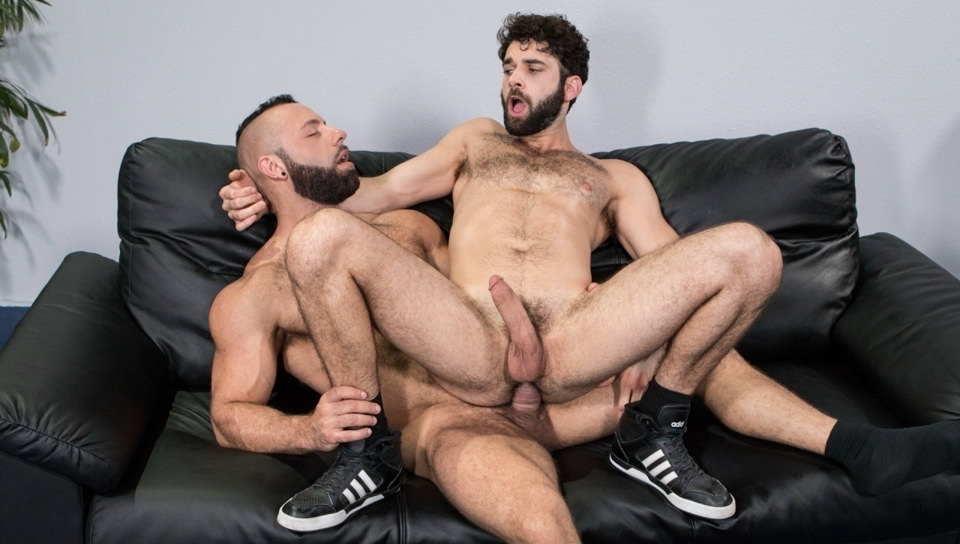 Tegan Zayne is traveling home to see some family for spring break when he decides to sneak into the air lounge to take a nap.
Luckily for him, hot daddy pilot, Eddy Ceetee, is on his break and suddenly Tegan is no longer tired. The two studs make some frivolous small talk and then cut to the chase by making out and helping themselves out of their clothes.
Tegan can't believe his luck and goes right for the cockpit when he gets the pilot's thick hairy rod down his open throat. Tegan gags and slobbers as the hairy muscle daddy fucks his face to get as stiff as he possibly can.
Eddy is ready for the next step and bends Tegan over the lounge couch to eat his hairy ass. Eddy gets Tegan opened up and ready for dick and then slides his massive meat deep into the college dude.
Tegan takes a long and frenzied pounding before he decides he wants to get fucked deeper. He hops on top of Eddy and goes balls deep riding the hung pilot as Tegan's big hairy cock and balls swing up and down.
Eddy hits all the right spots and soon Tegan is spraying his massive load all over everything within a three-foot radius.
Eddy can't control himself any longer and stands above the used-up ticket holder and dumps a thick load of jizz all over Tegan's beard and face.
Does fucking the pilot in an airport now make Tegan a member of the Mile-High Club…Join them!
Eddy Ceetee gay porn scenes at Men.com
Damien Stone slams Eddy Ceetee's tight little bottom with his hard pulsing cock…Join them!
Eddy Ceetee gay porn scenes at Titan Men
Store manager Eddy CeeTee heads to the factory to check out hot new designer Liam Knox who shows off a new fuck bench, hopping on to test it out. Eddy grinds his huge bulging cock against Liam's ass: "Looks good. How does it feel?"
They rub each other's buff bodies and take off their tanks, kissing as their hairy pecs meet. Eddy releases Liam's cock, sucking the moaner deep. He gets pulled up for a kiss before Liam returns the favor—grunting as he swallows Eddy's thick beauty ("Play with my balls!").
Liam bends over, offering his furry hole for Eddy's tongue ("Arch that ass up!"). Eddy pounds the verbal bottom from behind, Liam's tight ass rippling ("Gimmie that fucking dick!"). Liam turns over, his hard cock bouncing as Eddy fucks him fast.
Eddy then offers his ass in the sling, gripping onto the chain as he gets owned ("You like that dick?"). The excited stud gets on his back, yelling "Keep fucking me! Fuck me hard!" as he strokes out his load, his sac sliding against Liam's hairy groin.
Liam then dumps his hot load all over the bottom's cock…Join them!
Parole officers search for their man, who is nowhere to be found. With two hours to kill, they decide to practice their frisking technique on each other. Bruce Beckham gets up against the wall, but laughs at partner Eddy Ceetee's skills: "You gotta be more thorough than that.
Really get in there…make sure you get in the crotch area, too." Eddy wants to see what Bruce is hiding, and is soon stroking the stud's massive meat. They embrace, their buff bods rubbing against each other. Eddy licks down Bruce's tight frame and engulfs his beast, slurping up the veiny shaft as a spit strand connects his beard.
Spit drips from Bruce's shaft to the ground as the "Good cocksucker!" smiles up at him. Bruce sucks him back before getting his smooth hole tongued, then begs Eddy to go "Faster!" as he's pressed against the wall for a hard fuck.
Bruce fucks him back, kissing Eddy's hairy leg and licking his leather boot as he slams his hole—the two soon squirting…Join them!