Every gay porn video and gay porn image gallery of Donnie Argento.
Hair Color: Brown
Sign: Unknown
Eye Color: Brown
Dick Size: 8 inch dick
Height: 5'9″
Cut / Uncut: Cut / Circumcised
Weight: 165lbs
Sexual Positions: Versatile
Raging Stallion gay porn scenes of Donnie Argento
'Cake Shop' owner, Jake Nicola greets his old flame Donnie Argento, who wants to surprise his husband, Sharok, with a special cake for their first anniversary.
The secret ingredient he wants to add is his own jizz as the cream filling. Donnie is hot to trot and wants to extract it with Jake's help, but the chef wisely suggests that they include his man.
Sharok arrives, and the horny trio convene in the bakery for a three-way, bareback flip fuck with Donnie nude in position on the counter: rock hard cock, beefy butt and perky hole at the ready.
Jake and Sharok strip down and take turns eating his ass, especially after Donnie squats down on the special dessert and gets his own cakes covered in frosting.
Licking him clean, the boys get him primed and ready for a raw, deep-dick fuck as Jake's thick prick pries Donnie's ass open, and Sharok's huge tool gets in for sweet, sloppy seconds.
Donnie gives as good as he gets and he fucks his hubby hard, then climbs on the counter to sit on Jake while Sharok bangs the baker.
Sharok blasts his seed in Jake's hairy hole till Jake blows a load on his furry belly, then guzzles Donnie's jizz in a cum-thirsty finish…Join them!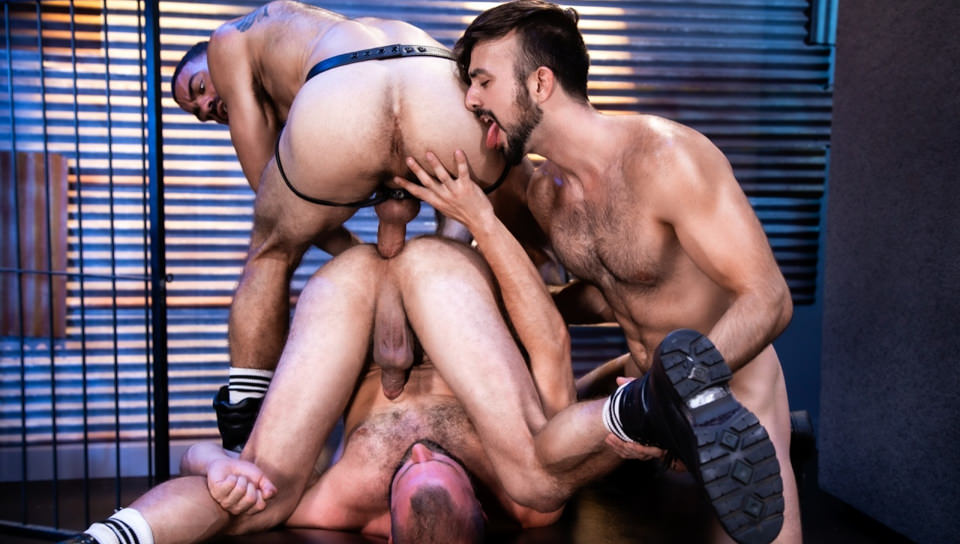 Mason Lear is stroking behind bars and Donnie Argento is masked and locked in a steel cell. Ricky Larking discovers the guys ready to fuck and slides his cock thru the bars on Mason's end.
Donnie watches from the other end of the room as Mason fits his head between to bars to get to Ricky's meat. Not wanting to leave Donnie out, Ricky unlocks his cage and attaches a metal leash to Donnie and leads him on top of a table on all fours.
Teasing and taunting the masked stud, Ricky sacks and sniffs Donnie's fuzzy hole as Mason watches with his cock in his hand. Donnie submits to every sniff, lick and probe Ricky is throwing his way.
He rolls Donnie around onto his back and shoves his raw cock in and Mason tries to fight his urges from behind the bars. Mason has had all the waiting around he can take and joins Ricky and Donnie, feeding Donnie his thick rod while Ricky keeps fucking his ass.
When Donnie wants a break from getting spit-roasted, Mason takes his place to let Donnie fuck his bare ass while sucking down Ricky's member. Donnie and Ricky take turns plugging Mason's ass before Donnie becomes the bareback bottom again, getting pile-drived by Ricky.
Mason wants one more stretching and lays back to receive Donnie's cock in his hole. He keeps pounding until both Donnie and Ricky paint Mason's hairy hole with their warm loads.
Making sure not to forget about Mason, Donnie shoves his cock back inside him as Ricky rims Donnie's hole. Mason strokes his cock until it lets out his creamy load…Join them!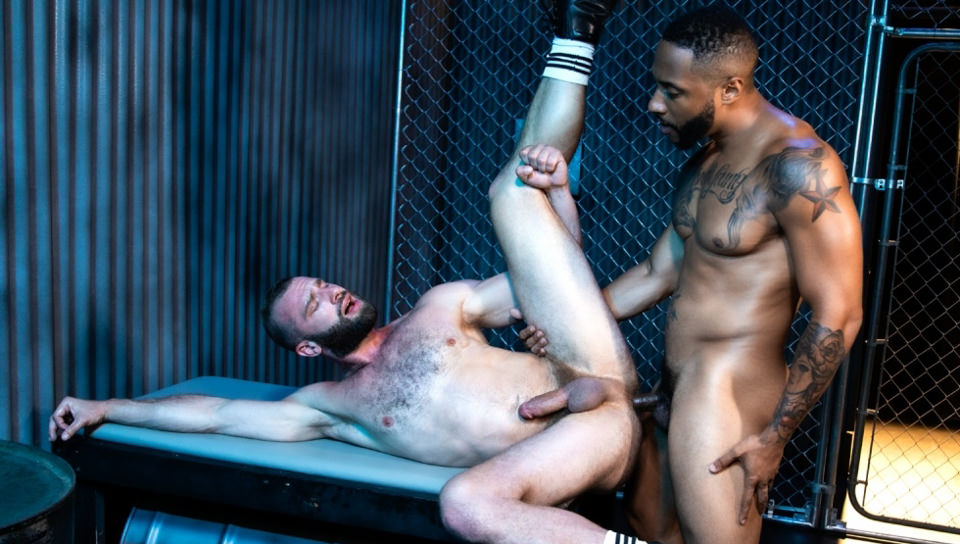 Tatted stud Jaxx Maxim and his hairy bud Donnie Argento inhale each other's 'Manscent' and have a quick make out sesh before Jaxx gets on his knees and starts deep-throating Donnie's hairy cock.
Donnie grabs the back of Jaxx's head to make sure he goes all the way down to Donnie's sack with his mouth. When it's Donnie's turn, he stares up at his tatted bud while he works his lips up and down Jaxx's shaft.
Jaxx reasserts his dominance when he bends Donnie over to lick his crack. The feeling of Jaxx's bearded face in between his fuzzy cheeks has Donnie's eyes rolling. When Donnie is ready for a bareback pounding, he bends over and Jaxx fits his thick cock into Donnie's eager ass.
He grabs Donnie by the hips to make sure his meat is reaching the maximum depths inside his hole. Switching positions, Donnie takes a few quick sniffs of Jaxx's pits before getting on his back and holding a leg up to continue taking his raw drilling.
While Jaxx keeps stretching his hole, Donnie grabs onto his thick cock and strokes it until it erupts with a fountain of cum that drenches his abs.
Seeing Donnie unload is all it takes for Jaxx to pull his cock out and coat Donnie's taint with his own thick load before sliding his dripping cock back into Donnie…Join them!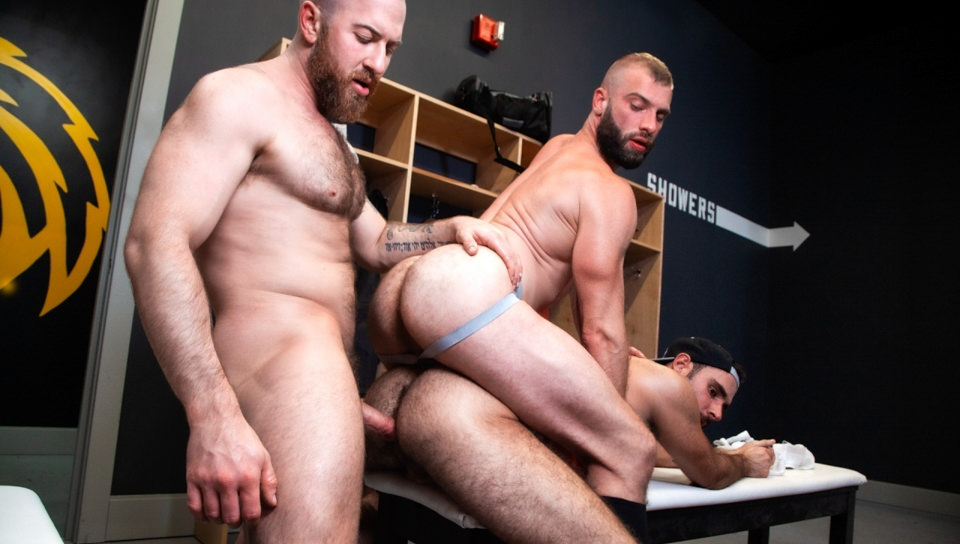 During the Stallions game Anthoni Hardie slips into the locker room to sniff the team's dirty jocks. He hits the mother lode when he finds a laundry bin stuffed to the brim with old smelly jocks. Ball players Nigel March and Donnie Argento catch the culprit in the act. When Anthoni asks for a couple to take home, Nigel offers up his own sweaty sack for Anthoni to sniff.
Anthoni gets on his knees between the two hung baseball players and goes back and forth sucking each of their musky dicks. Donnie wants in on the ball action and moves past first base to get Nigel's thick cock down his throat. The hunks form a rim train with Anthoni in the middle, both sucking ass and getting eaten out.
All the ass eating gets Donnie in the mood to fuck bareback and he moves to the scoring position with his ass in the air. Nigel steps up to the plate and drills Donnie hard, sinking his cock deep into his teammate's open, raw ass. Anthoni feels left out and bends over under Donnie to give Nigel all-access to two tight holes.
Nigel plugs both studs hard alternating holes until Anthoni flips over to watch his aggressor fuck him deep. Nigel hits just the right spot and makes Anthoni cum while he's getting fucked. When Nigel sees Anthoni's mess, he pulls out and blasts a load all over Anthoni's thick, black pubes.
Nigel finishes and goes directly in for a double play when he slides his cock back into Donnie and fucks his buddy until Donnie slathers himself with his creamy white cum…Join them!
Teammates Donnie Argento and Wade Wolfgar are training hard at the gym for this year's playoffs. As Donnie spots Wade doing bench presses, Donnie whips out his dick and lets it flop on Wade's forehead to distract him.
Wade takes the bait and promptly gets on his knees to suck the dick that was just slapped on his face. Donnie is cock-hungry too and eagerly opens his mouth to suck all the dick he can cram down his throat.
Wade's extra thick stick barely fits in Donnie's mouth, but Donnie is determined to get it all in and he does. There are no foul balls on this field as Donnie works Wade's meaty sack and sucks on his big nuts.
The guys are both eager to suck cock and continue switching it up fucking each other's throats until Wade wants a taste of Donnie's ass. He gets down between Donnie's cheeks and eats him out.
That's all it takes for Wade to get close and he stands up to spray his creamy load all over Donnie's waiting ass. He slaps his sticky, dripping cock on Donnie's hole then gets on his knees to take his teammate's load all over his hungry tongue…Join them!
Men gay porn scenes of Donnie Argento
Tall hairy chested Donnie Argento and athletic hunk Shane Jackson passionately kiss as they strip each other, feeling each other's hard bodies pressed together.
Shane takes Donnie's big cock out of his underwear and sucks it, taking it all the way down to the base as Donnie presses his head down on it.
Donnie wastes no time returning the favour, sucking and licking Shane's long dick while the brown haired cutie reclines on the couch.
Shane spreads his legs and lets Donnie shove himself inside his eager hole, both muscular men moaning in ecstasy as they get down to passion's pleasurable business.
Donnie fucks Shane all over the room, pounding him hard until he fucks the cum right out of him.
When the connection is as immediate and powerful as Donny and Shane's there's no need for build-up, story or anything other than their hard dicks and a place to put them…Join them!
Bareback That Hole gay porn scenes of Donnie Argento
Donnie Argento gets naked stripping off his clothes then sucking down hard on hairy hunk Jake Nicola's big thick cock.
Jack returns the favor deepthroating Donnie's slick dick. It isn't long before Donnie is bent over the bed, with Jack behind him, getting his ass wet and ready for some thick cock.
They take it slow to start, but that doesn't last long, as Donnie shows Jack just how good he takes dick from behind.
He also uses those dancers' legs to show us how good he can ride a cock as well.
Jake then flips Donnie on his back to show him a move or two as he fucks a load deep into him, then works Donnie's prostate, with his finger, till he shoots his load in Jake's mouth.
Club Inferno Dungeon gay porn scenes of Donnie Argento
Donnie Argento is at home, horny, and eager to open up his hole.
With the help of his buddy RopeTrainKeep, Donnie sits down on a fat dildo and plugs in the fuck machine it's attached too.
Donnie rides the dildo attached to the fuck machine at every intensity while RopeTrainKeep films.
Donnie edges for as long as he can before he spills out a thick load all over his floor.