All gay porn pics and gay porn videos of Derek Bolt.
Hair Color: Brown
Sign: Libra
Eye Color: Blue
Dick Size: 6.5-inch dick
Height: 5'10"
Cut / Uncut: Cut / Circumcised
Weight: 208lbs
Sexual Positions: Versatile
Raging Stallion gay porn scenes of Derek Bolt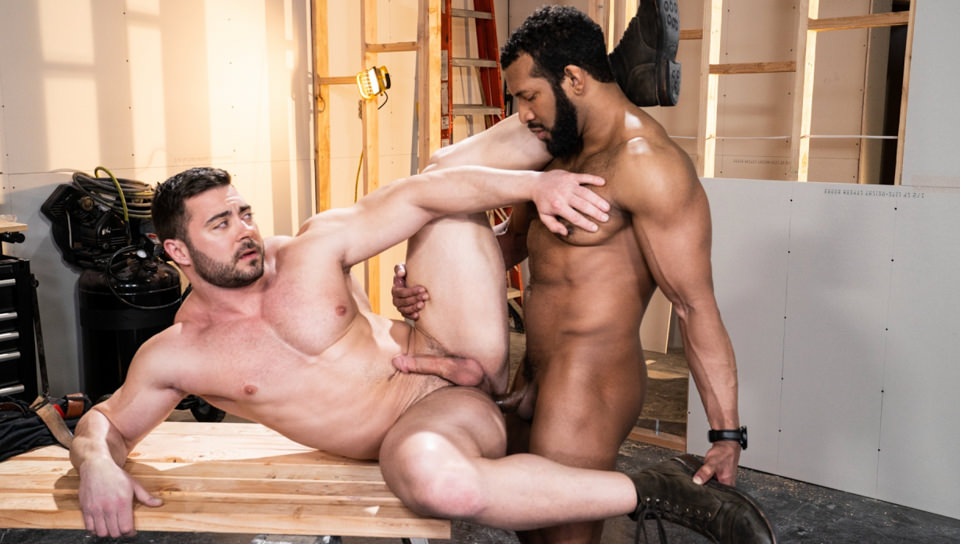 Derek Bolt is giving Jay Landford a tour of his new home that's still under construction. When Derek mentions that Jay will be able to 'fit all his junk' in the master closet, Jay gets distracted and can only think of Derek's big ass.
Derek is open to Jay's advances and soon both studs are getting undressed in the middle of the construction zone. Derek is the first to cave to his desires and drops down to suck on Jay's monster uncut cock. Derek can't get enough of the thick meat and would be content to suck it all day long if his ass didn't need a raw dick so bad.
Derek urgently bends over the work bench and arches his back to give Jay full access to his hole. Jay slips his bare dick in and pounds hard as Derek moans out with each thrust from Jay's swollen cock.
The studs switch it up a few times before settling back on Jay mounting up from behind one last time. With a few final thrusts of his giant dick, Jay cums all over Derek's bubble butt and shoves the jizz inside to continue fucking the construction worker all the way to the end.
With his ass full of cum, Derek is ready to blow and turns around to shoot his load all over the floor…Join them!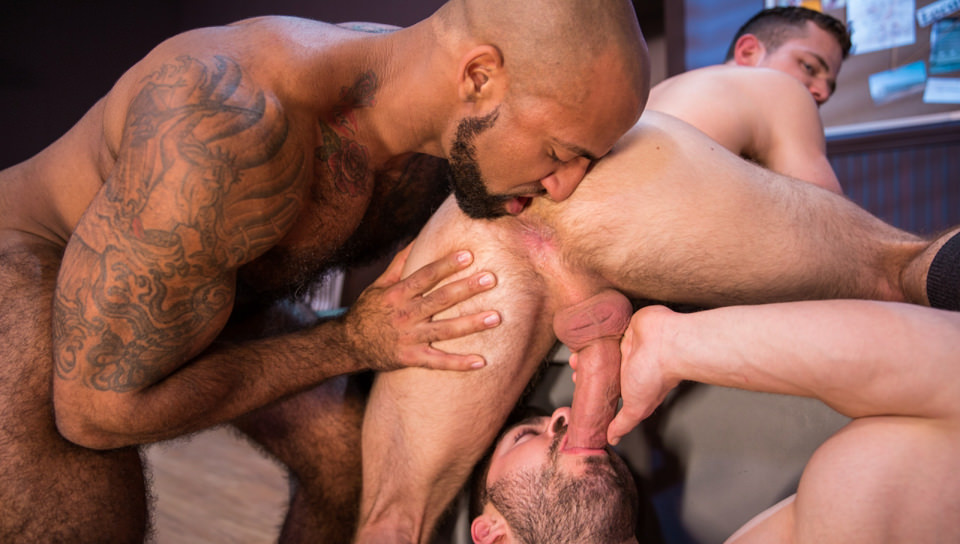 Daymin Voss walks in on Derek Bolt and Kurtis Wolfe making out in police headquarters. Their lowered inhibitions lead to a hot confession and Derek taking on both hung studs.
Kurtis gets on his knees and takes turns servicing the two hung muscle hunks in front of him, taking their cocks in and out of his warm, wet mouth.
Derek and Daymin both want a taste of Kurtis, so they bend him over a desk and lather their tongues in his willing ass. Kurtis loves every second of all the attention but wants to stick his dick in any available hole.
Derek is happy to offer up his body and sits down on Kurtis' massive fuck stick. Derek rides up and down as he sucks on Daymin, getting a dick in each end.
Daymin is throbbing hard and wants more than a mouth to satisfy his needs. He bends Derek over and shoves his dick deep inside the muscled-up cop to plow away as Derek once again, gets both holes stuffed with cock.
Derek's bubble butt feels amazing and Daymin pulls out to soak Derek's balls with jizz. The sight of all that cum makes Kurtis blast his load right after.
Daymin opens his mouth wide and takes every last drop of the hung stud's cum before he finishes off the fun with his own load on his smooth, ripped body…Join them!
Roman Todd calls a handyman to repair his furnace at the cabin where he's staying.
To Roman's surprise, hunky repairman Derek Bolt shows up, and Roman immediately likes what he sees.
Roman makes a quick pass at Derek and the two studs instantly lock lips.
As their clothes hit the floor, Roman can no longer contain himself and gets down to suck the muscle stud's thick cock.
It's so girthy that Roman has a hard time wrapping his lips around the whole thing.
Derek can see that Roman is throbbing and wants his turn with the stud.
Derek drops to his knees and takes Roman's meat down his throat until he's ready to get his hole fucked bareback.
After Roman opens Derek up with his talented tongue on his hole, Roman slides his raw cock deep into Derek's tight hole and drills his prostate.
It's a tight fit, but Derek is enjoying every inch that Roman is pounding into him.
When Roman is getting close to blowing his load, he rolls Derek over onto his back and pumps the handyman even harder.
Before Roman blows, Derek beats him to it and nuts all over his own muscled body.
Roman pulls out, and soon Derek is left with his ripped abs covered with cum.
Next Door Buddies gay porn scenes of Derek Bolt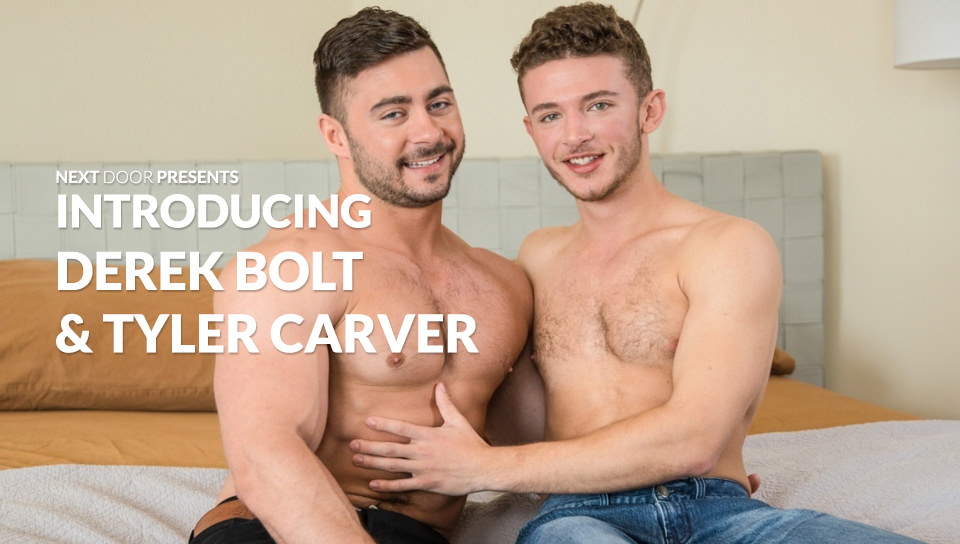 Introducing not one, but two new studs to the Next Door line-up in this heat filled exchange. Self-professed 'puppy dog', Derek Bolt, can't keep his paws off of brand newbie Tyler Carver.
It's Tyler's first time on film and his first time with a guy, but this adventurous stud from the midwest is a natural as he watches Derek suck him off, then proving a quick study, returns the favor, gagging on Derek's cock and taking it down to the base.
Derek flips him over and exposes his virgin hole, slipping his tongue deep inside before he can resist no longer.
Derek pile drives Tyler who takes it like a champ, before flipping Derek onto his back and riding him long and hard.
Derek's massive arms hold Tyler steady as the young stud bounces up and down on Derek's cock, before flipping him over onto his back as Derek fucks the cum out of him before dousing Tyler with his first load.
It's highly doubtful it will be his last…Join them!
Hothouse gay porn scenes of Derek Bolt
Muscle hunk Derek Bolt kneels eagerly in a steel cage sporting a leather collar and jockstrap. Brazilian stud Jimmy Durano approaches his sub and asks 'have you been a good boy?' Derek replies 'yes, boss' and Jimmy unlocks the cage and attaches a metal leash to Derek's collar.
Led out on hands and knees like a dog, Derek resists his 'boss' until Jimmy brings Derek to his knees and feeds him his uncut cock as a treat. Derek takes a proper mouth fucking from his boss as streams of saliva trickle down Jimmy's nutsack.
Boss man Jimmy wants a taste of his boy so he makes him assume the position and dives face first deep into Derek's smooth crack. Spit dribbles from Derek's hole as Jimmy works his tongue around the eager center. Derek begs for his boss' cock and Jimmy enters his ass with a swift thrust deep inside with his humongous meat.
Jimmy fucks his boy doggie style first then leads him into a sling for a better angle at Derek's manhole. With shouts of 'Yes, Boss!', Derek takes every thrust with stride until he jerks out his load all over his jock.
Ready to bust, Jimmy pulls his cock out and explodes a thick load adding it to the creamy mess all over Derek's soaked jock…Join them!
Doctor Pierce Paris pulls back the curtain to find Derek Bolt waiting for examination for a pulled groin muscle.
Pierce asks Derek to strip off his clothes so he can take a closer look.
As soon as Pierce sees Derek standing there in just his tight underwear the bulge in Pierce's crotch is getting larger.
It is only a matter of seconds before patient Derek notices the huge crotch bulge and he reaches forward and unleashes Pierce's massive thick dick.
Derek is hungry for cock and grabs Pierce by the crotch to pull him closer.
As Derek opens his mouth wide, he sucks the needy doctor until neither of them can possibly get any harder.
Pierce needs a taste of his horny patient and bends down over Derek so the two hunks can 69.
Pierce's fat, throbbing cock is calling out for an eager asshole and after gauging Derek's temperature with his tongue, the doc slams his big pole deep inside Derek's hole.
Pierce's massive sack flops against Derek's hairy taint with every frenzied thrust as the lucky patient calls out for more.
Before the doctor can blow his load, he wants a feel of Derek inside him, so he rolls over on the exam table and lets his patient impale him with his giant dick.
He slams Pierce, hitting all the right spots until both muscled-up studs make a mess on Pierce's washboard abs and sweaty crotch.
Men gay porn scenes of Derek Bolt
Vadim Black is practicing his magic tricks for a show when his roommate Derek Bolt interrupts. Vadim asks him to be his test audience and Derek gets just what he wished for in the grand finale…Join them!
Golden boy Colton Grey gets off on stealing from the rich, but this time his path is crossed by three hairy bears Dirk Caber, Derek Bolt, and Marc Giacomo. Caught in their bed, he coaxes the bears into joining him for one hot jizz orgy. Each bear gets a taste of the thief, eating his golden little asshole before jamming it full of their hot hairy cocks. Seems the three bears have a new addition to their hairy family…Join them!