Every gay porn video and gay porn image gallery of Damien Stone.
Hair Color: Brown
Sign: Leo
Eye Color: Brown
Dick Size: 7.5 inch dick
Height: 5'9″
Cut / Uncut: Uncut / Uncircumcised
Weight: 185 lbs
Sexual Positions: Versatile
Damien Stone gay porn scenes at Bromo
Damien Stone has a little fun playing with Johnny Rapid's ass. He gives him a taste of his ass controller before giving him the real deal…Join them!
Horny hunk Damien Stone is not yet satiated, but Casey Kole the dungeon fuck toy is waiting obediently on his leash for just such an occasion.
Watch as Damien turns Casey into his own personal cum dump, vigorously abusing all of his hungry holes.
No sooner than Damien shoots his hot load, this fuck toy is returned to the corner to await his next Bareback Inquisition…Join them!
Damien Stone gay porn scenes at Raging Stallion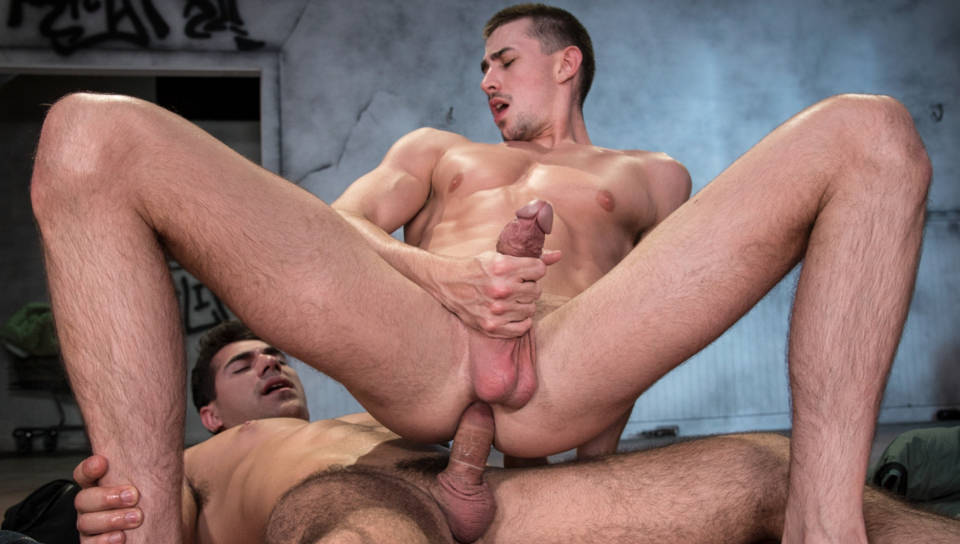 When a group of four hot jocks breaks into a dilapidated house to spend the night, they know that it was once the scene of a horrific crime.
The last guy left in the house will win $100 from each of the other three. When the sleeping bags get unrolled, there aren't enough to go around and Jack Hunter and Damien Stone have to share.
Damien convinces Jack that he will be less scared with a cock in his mouth. They try to be quiet but Damien's nice big uncut cock slides down Jack's throat with ease and as his moans get louder, waking their buddies up.
As they watch the darkened silhouettes of Jack bobbing up and down on Damien's crotch, their friends get to work sucking each other off.
When Jason and Lorenzo sneak off together, Damien decides it's time to conquer Jack's ass when he commands the toned jock to sit on his dick.
Jack hops on and rides it as his hard cock flops up and down with each bounce on Damien's glistening pole. Damien wants to get a different vantage point into Jacks ass and flips his friend on his side.
Damien reams the tight hole in front of him until he's ready to blow and pulls out to cover Jack's meaty balls with squirt after squirt of creamy jizz.
The feel of Damien's warm load hitting his nuts and ass is all it takes for Jack to follow along and bust a nut all over his hand and leg.
Will they make it through the night?…Join them!
Damien Stone gay porn scenes at Men.com
Damien Stone's boyfriend broke up with him just in time for his birthday and the muscular stud is feeling understandably down.
Luckily, Damien has great friends who are willing to go to any lengths to cheer their buddy up, even if it means taking a random hot passerby and tying him naked to their friend's bed.
Lucky for the overly enthusiastic pals, the man they pick is the always hot and ready Justin Matthews who happily goes along with their plan, giving Damien exactly the birthday gift he needs to get out of his rut.
Damien pounds Justin's tight hole all over the bed until they've both shot their big creamy loads all over Justin…Join them!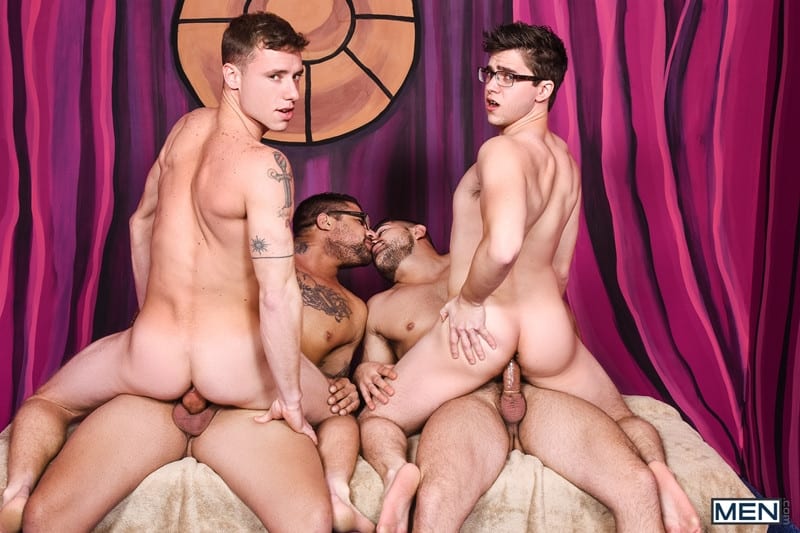 Justin Matthews is getting pretty familiar with the muscle-bound studs of Nutaku.net's GAME MEN BANG emerging from his computer screen and fucking him senseless. What he couldn't have expected is that after an in-game orgy he would get sucked in to encounter Damien Stone, Ryan Bones and Will Braun in the digital flesh! The four horny hunks hop up on the massage table for a steamy fuck fest that's almost too good to be true…Join them!
Athletic cutie Ty Mitchell just wants a man for V-day, and sends out a wish into the universe! Handsome, muscular Damien Stone is his granted wish, who appears out of nowhere to tease, please, and fuck Ty with his juicy cock. Horny Ty can't wait to suck on his dick before mounting him for a sweet ride…Join them!
The boys are being sent off to war, but not before one last hot and sexy romp. Slender Zach Country, beefy Damien Stone, chiseled Vadim Black, fit Brandon Evans and muscular Blaze Austin partake in some deep dick sucking before designating who's bottom will get dominated.
These hard-bodied men know just how to please each other, and can't wait to let off a satisfying creamy load.
Blue-eyed Jack Hunter and muscular Damien Stone have almost made it to the end of their journey! They must get to the extraction point, but they're both hungry, tired, and can't seem to find any food. Dark-haired Damien suggests giving athletic Jack a blowjob so he can get that cum protein, but Jack is a little hesitant. He eventually comes around but only on one condition; Damien will have to give up his uncut cock too! Good-looking Damien is definitely not one to say no…Join them!
Muscle hunk Julian Knowles has been working extra hard, putting in long hours so he doesn't get to see his boyfriend enough.
His boss, and equally muscular stud, Damien Stone keeps him busy with some extracurricular tasks that include, but not limited to, sucking his big, thick dick, turning his butt around for some ass rimming and opening his tight hole for some dicking…Join them!
Max Wilde finds himself in need of care after getting stung by a jellyfish so Allen Lucas goes off looking for help. He ends up finding some sexy lifeguards Diego Sans and Damien Stone who help them back to the hotel room. Now that Max Wilde is feeling better, these men are hot, horny and ready to get it on…Join them!
Damien Stone slams Eddy Ceetee's tight little bottom with his hard pulsing cock…Join them!