Hair Color: Brown
Sign: Aquarius
Eye Color: Blue
Dick Size: 7.5 inch dick
Height: 5'11"
Cut / Uncut: Uncut / Uncircumcised
Weight: 170lbs
Sexual Positions: Versatile Bottom
Chris Harder scenes at Raging Stallion
With passionate kissing, bearded studs Chris Harder and Damien Michaels explore each other's bodies. Chris gets things going by sucking on Damien's fat cock. Their lean, ripped torsos ripple under a thick coating of hair: Chris' is dark brown, and Damien's is light blond.
Standing above Damien, Chris presents his hard meat for oral worship. Damien takes Chris' cock and sucks with intense passion, pressing his face deep into Chris' groin. Damien presents his furry ass for Chris to rim, and Chris presses his bearded chin deep against Damien's crack.
With lots of spit, Chris lubes up Damien's furry hole, then presses his thumb deep inside. By the time Chris is ready to fuck Damien, the hair on Damien's ass is slick with spit. In doggy style position, Chris mounts Damien and pounds him with ferocious intensity.
Pulling all the way out, then thrusting all the way back in, Chris wields his cock to deliver a pounding that leaves Damien breathless. Turning the tables, Chris flip flops and gets on his back to take Damien's dick deep and hard. As Chris jerks his cock, Damien holds Chris' legs in the air to achieve serious deep prostate stimulation.
The intense, connected sex triggers Chris to shoot his load as Damien is fucking him: thick, white cum covers Chris' hairy torso as he erupts with a massive load.
This sends Damien over the edge, and he releases a blast of white spunk…Join them!
Chris Harder scenes at Next Door Ebony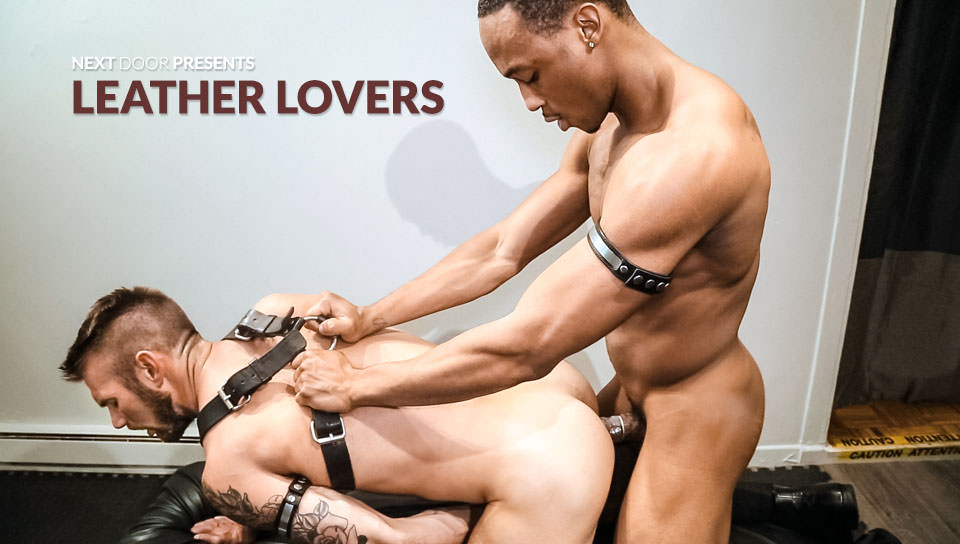 Trent King and Chris Harder are dressed in black and ready to attack. Trent's leathers can barely contain his big dick, and Chris is all to eager to help him out of duds.
Chris sucks him off on his knees before Trent bends down and turns him around, tonguing his hole before giving Chris the business end of his meat stick. He fucks Chris from behind, holding him by his leather straps and plowing his ass.
Just like his name says, Chris takes every inch of the pounding gladly and in every which way, before Trent is ready to spit his load, and the sight of it causes Chris to nut all over Trent's chest, leaving them both sticky and hot, and ready for round 2…Join them!
As Jay Alexander hangs out in the park, he has no idea that model scout, Chris Harder is watching him. Just when the moment's right, Chris makes his move, approaching Jay. He tells him he likes his look and gives Jay his card.
Jay is intrigued by the prospect of modeling, and even more intrigued by Chris himself. When Jay gets home, he calls Chris, who is happy to set up an appointment for evaluation. After a few questions from Chris, Jay is advanced to the next level of scout evaluation, which involves becoming nude.
And once the undies drop, Chris wraps his mouth around Jay's hardening cock. This is a very important step in the evaluation process. It's the details that matter and Chris needs to know how Jay's boner tastes. Then, of course, they kiss for a while and jerk each other.
Then it's time for Jay to display his ass-eating abilities. Jay knows that if he wants to break into the industry, he needs to take advantage of this opportunity. That means licking this scout's tight hole. Then, in an effort to get an idea of Jay's stamina and strength, Chris has Jay fuck his asshole.
They start out with Jay behind Chris, pounding him over Chris's desk. Then Chris goes to his back on the couch to allow Jay to show him just how great a fit he is for the modeling job. Sit in on this interview to find out just how rigorous the process can be for an aspiring model…Join them!
Chris Harder scenes at Men.com
Travis James is eager to get in on the case his team is working on but they won't give him a chance to prove his worth. His first order of business; getting Chris Harder on his side. He rims and fucks his ass so good that after their session he is sure he'll get in on the case…Join them!
Diego Sans tops Chris Harder in 'Only in Secret'…Join them!
no images were found